Across all sports, athletes who want to make the team can earn their spot at try-outs. For people looking to get in the business of sports, the path is less straightforward.
But despite the lack of a Front Office Draft or Team Executive Combine, the best way to make inroads into the sports industry is to act like an athlete: learn new skills, hone your abilities, and—most importantly—find a coaching staff that can prepare you for the opportunity to get in the game. And a Master's Degree in Sport Management from the University of San Francisco can be your ticket to the ballpark—and beyond.
Rated the No. 1 Sport Management program in California, USF has been a leader in educating industry professionals for more than 30 years. But classroom learning is only one part of the program—the greatest value of a University of San Francisco Master's Degree lies in the commitment to providing students with real-world experience and a dedication to helping students find their career foothold. Michelle Gong '11 a senior manager at Visa Inc. whose Global Sponsorship team handles high-level partnerships with FIFA, the NFL, and the Olympics, says USF's program is designed for on-the-job training and instilling management skills that apply in fields both inside and outside of the sports world.
"There are so many unique aspects of the sports industry," says Gong. "USF's program focuses not only on the coursework and how it relates to the sports industry, but why and how it differs from a typical business model. It's a well-rounded approach to ensure that academia is just as solid as your ability to apply it in real life."
From the day they set foot on one of USF's two campuses (San Francisco and Orange County), Masters candidates begin their career in sports through comprehensive internship and fellowship opportunities. Once students graduate, they become part of one of the most engaged alumni networks in the industry —and University of San Francisco alums make it their business to give back to their school —like Eddie Maisonet III, a Class of 2016 graduate and editor for ESPN who is still highly involved with his alma mater.
"Working in sports is challenging," says Maisonet, "but people in the industry recognize the USF program and can identify alumni that are thriving within their organization. For me, the bigger sell has been opening the doors for people coming behind me, especially those that come from diverse backgrounds like me."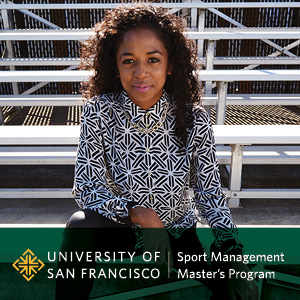 USF attracts a highly capable, diverse body of both domestic international students thanks to its worldwide reputation and program structure that enables candidates to accrue 1,000 hours of interning experience in just 23 months. Students are encouraged to leverage the University's partnerships and relationships throughout the sports industry and across the state of California from the Bay Area to San Diego. Their dedicated faculty are thought leaders with real-life career experience and a broad network of impressive guest speakers, and commute campus-to-campus each week to ensure students in both SF and SoCal receive the same high-quality education.
With such a deep dedication to students, it is no wonder that the University of San Francisco boasts an extensive, active, and supportive alumni network of more than 2,500 industry leaders around the world, many of whom directly mentor current USF students.
"Being able to connect with someone that has been through it helps to see the bigger picture," says Gong. "We joke, because at the end of the day you could end up working for that one person that you spoke with about getting started in sports!"
The sports industry itself now stretches further than ever before, creating thousands of new opportunities but making it harder than ever to stand out from the crowd. That's why USF prides itself on experiential learning and teaching skills that apply to every industry and will serve students for the rest of their lives, no matter where their career path may lead. With two campuses and strong connections up and down the California coast, candidates can gain invaluable experience across a broad business spectrum while building their own network.
Earning your Master's Degree at USF is about more than a piece of paper, says Brent R von Forstmeyer, the University of San Francisco Director of Administration. It's about joining an alumni community of leading professionals who go out of their way to help the next generation succeed.
"You're a student for 23 months, but an alumni for life." says von Forstmeyer, "We want students to give back in a way that's meaningful to them—not financially, but with their time and support and expertise."