On Nov. 13, 2020, the Miami Marlins hired Kim Ng as their new general manager, making Ng the first female general manager in Major League Baseball history. Ng, who has worked in baseball operations since 1990, is also the first female general manager in the history of major American men's professional sports. While there have been female owners and executives, Ng is the first woman in charge of roster construction and the full front-office suite.
With history like Ng's in mind, and with an eye towards empowering the future leaders of the sports industry, UMass's top-ranked Mark H. McCormack Department of Sport Management has announced the addition of a first-of-its-kind new course, Women in Business, which will launch during the Spring 2021 semester.
The course will feature 20 of UMass's top female undergraduate and graduate students, all of whom aspire to pursue a career in the sports industry.
The idea for the course, as well as its subsequent development, came from several prominent UMass Sport Management alumni including Zaileen Janmohamed, currently head of partnership development & Innovation for LA28; Karina Herold, vice president of major events at Los Angeles Sports and Entertainment Commission; Gloria Nevarez, West Coast Conference commissioner; and Karen Peters, senior associate athletic director at the University of Portland.
Janmohamed, Herald and Dr. Melton recently joined FOS Fundamentals to discuss the course's framework, and importance.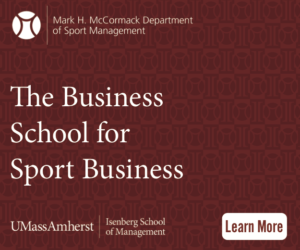 "UMass continues to be a pioneer in the education of the next generation of leaders in the sports industry, and there is no better time than now to provide a master class on the practical and professional development women need to navigate this business," Janmohamed said. "While the industry has come a long way in gender equality in sports, we still have so much work to do.
"I'm honored to participate in this course, to engage with and support the next generation of female sports executives."
The course will be taught by McCormack Department Associate Professors Dr. Nicole Melton, and Dr. Nefertiti Walker. Walker also serves as Vice Chancellor for Diversity, Equity and Inclusion at UMass Amherst. The course will feature case studies of women from across the commercial sports landscape who have succeeded in industry, and apply strategies they have used to breakthrough into roles that have long been dominated by men.
"It is a cool tie in with the moment we are seeing in sports," Melton said. "Kim Ng, that moment is so powerful. I have seen declarations all over social media with sayings like 'Put your shoes on women because glass is everywhere.' In this moment of women reaching levels and positions that we have never seen before, we need to prepare the next group of women to reach those goals. This class comes at the perfect time."
Along with Janmohamed and Herold, case studies will feature Kate Johnson (director, Global Marketing & Media, Google), Jessica Gelman (CEO of Kraft Analytics Groups) and Angela Ruggiero (CEO of Sports Innovation Lab), who have all contributed time, energy and insight in helping shape the foundation of this groundbreaking course. The case study approach will ensure students internalize key insights unique to these visionary women's careers in sport, across topics like design thinking, technology and innovation, emotional intelligence, and coalition building. The course will also include a mentor program, for participants in the class to directly connect with women who are leaders at various levels in the sport and entertainment business.
"The goal of the course is to create this powerful baseline of perspective, insight and confidence for women within McCormack, so they will have the support and knowledge they need to succeed at the highest levels of this industry," Melton said. "Who better to inject that insight on what it takes to succeed than leading women currently dictating positive change in the industry?"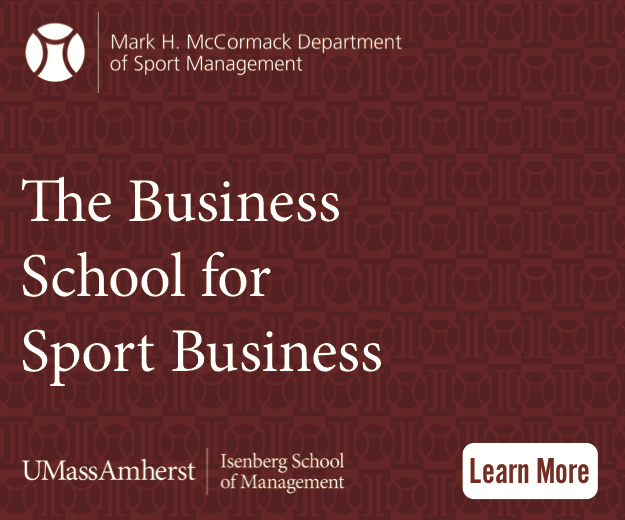 UMass's McCormack Department, which is housed in the Isenberg School of Management and was recently judged by its academic peers as the top-ranked sport management program in the world, is focused on consistently adapting to the shifting dynamics of the sports business industry. The Women in Business class came about through faculty and alumni engagement, as the program focuses on how to design meaningful student enrichment opportunities and establish UMass as the premier place for women to study and prepare for industry success.
"We feel the time is right to launch this new initiative, especially given the support and encouragement of some of our most notable women alumni," McCormack Department Chair Steve McKelvey said. "We are proud to have among the most renowned researchers in the area of diversity, equity and inclusion. We've had a vibrant Diversity and Inclusion course for a while now, and this new course is a logical extension of not only our existing research and teaching, but also our commitment to working with industry practitioners to provide our students with the training they need for future success."
Several students have also been crucial to the building of the class, including Lauren Elgee, a current first-year MBA/MS dual-degree student in McCormack. These students, both undergraduate and graduate, have assisted Melton and Walker in critical roles to help develop the curriculum of the course.
"It has been exciting to hear from leaders in such varied sports industry segments to assist in building this course," Elgee said. "I think it will be extremely valuable to hear their stories and learn from their experiences."
The University of Massachusetts continues to dedicate resources towards increasing diversity and inclusion learning platforms. This course addition is one piece of that larger puzzle, and hopefully a model of intentional, forward-thinking curriculum design crafted and applied within a business school.
Learn more about UMass' Mark H. McCormack Department of Sport Management