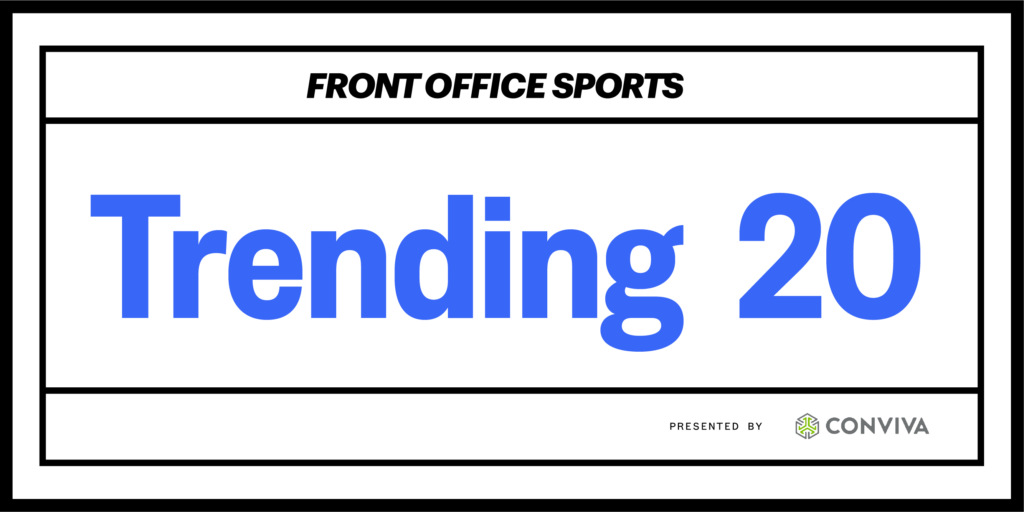 Welcome to the FOS Trending 20, presented by Conviva Social Insights
This new collaboration between Front Office Sports and Conviva ranks the pro teams and leagues/events which are driving the deepest cross-platform engagement across social platforms (Instagram, Twitter, YouTube, Facebook). Published every Tuesday morning, this leaderboard draws data from the prior Monday through Sunday. This page — updated weekly — contains two leaderboards; first, the Top 20 professional teams, ranked by cross-platform engagement rate, and then below it, the Top 20 leagues/events/properties, also ranked by cross-platform engagement rate. For more on the methodology and criteria on Trending 20, please visit our explainer section below the two leaderboards. All data is sourced using Conviva Social Insights, a social analytics platform for brands, media, entertainment and sports organizations worldwide. For additional context and information on this week's leaderboard, please see the "Notes" sections below each leaderboard. Skip to this week's Trending 20 leaderboards…
Rank
Last Wk
Account
League
Engagement
Rate
Audience
Growth Rate
Cross-Platform
Audience
Weeks in T20
(of 9 total)
Highest Rank
1
NR
Utah Royals FC
NWSL
2.79%
-0.81%
131.0K
2
1
2
2
Racing Louisville FC
NWSL
2.36%
0.77%
32.1K
6
1
3
13
Columbus Crew SC
MLS
1.65%
1.84%
527.4K
2
3
4
1
Angel City FC
NWSL
1.08%
0.42%
111.9K
6
1
5
20
Cruz Azul
Liga MX
1.00%
-0.17%
6.6M
2
5
6
NR
Los Angeles Angels
MLB
0.94%
-0.03%
3.3M
1
6
7
17
Houston Dash
NWSL
0.92%
0.00%
245.2K
8
6
8
NR
Buffalo Bills
NFL
0.90%
0.34%
2.8M
1
8
9
NR
Pumas MX
Liga MX
0.88%
1.20%
5.8M
1
9
10
11
Philadelphia Union
MLS
0.85%
0.03%
459.5K
6
5
11
4
Washington Wizards
NBA
0.81%
0.65%
7.3M
2
4
12
NR
Chicago Red Stars
NWSL
0.80%
-0.04%
181.3K
3
8
13
NR
Chicago White Sox
MLB
0.80%
0.00%
3.0M
3
12
14
16
Minnesota United FC
MLS
0.78%
0.42%
431.5K
2
14
15
NR
SC Freiburg
Bundesliga
0.78%
0.08%
687.2K
3
4
16
NR
Portland Thorns FC
NWSL
0.76%
-0.07%
415.3K
7
3
17
NR
Cleveland Indians
MLB
0.75%
-0.02%
3.0M
4
7
18
12
Carolina Hurricanes
NHL
0.73%
0.01%
1.1M
8
12
19
NR
Seattle Sounders FC
MLS
0.72%
0.49%
1.7M
1
19
20
NR
Kansas City Chiefs
NFL
0.72%
0.34%
5.4M
3
13
Each week, we'll try to add some context below the Trending 20 leaderboards, touching on why certain accounts are topping this week's leaderboards, along with tracking streaks and milestones, and highlighting the teams and leagues which consistently find themselves on the Trending 20 leaderboard…
Farewell, Utah Utah Royals FC topped this week's Trending 20 after it was announced the team's new ownership group would be moving the franchise to Kansas City. While it marked the Royals' second appearance on the leaderboard, the top finish came largely due to messages of frustration or farewell from loyal fans in the Salt Lake City area. While NWSL teams have outperformed those from other major leagues in the Trending 20 throughout, the Royals' #1 spot came in an unconventional manner. The Newcomers We welcome four new teams to the Trending 20 this week. Here's the quick look at each and how they landed on the leaderboard:
Los Angeles Angels (#6): A mix of engaging posts — including the celebration of the anniversary of signing two-way star Shohei Ohtani — and news of the club's new minor league affiliates (including the memorably named Rocket City Trash Pandas).
Buffalo Bills (#8): Fan excitement is at its highest in years for the Bills, and two consecutive primetime wins — both included in this week's data period — landed them in the Trending 20 for the first time this season.
Pumas MX (#9): Pumas MX and Club Leon faced off in the Liga MX title. While Leon ultimately captured the championship, the final result occurred after the data collection period for this week's Trending 20 had ended. Thus, the rabid Pumas fanbase (including a major presence on Facebook) spent last week excited and active on social leading up to the decisive second leg.
Seattle Sounders (#19): In one of the more thrilling MLS matches in recent memory, the Sounders stormed back from a 2-0 deficit in the Western Conference finals to score three goals in the final 15 minutes and take down Minnesota United. Alas, in a similar story to Pumas MX above, the Sounders ultimately fell short in the MLS Cup, as Columbus Crew (#3 this week) captured the championship with a 3-0 victory.
The five fastest-growing team audiences in the past week… 1) Columbus Crew SC (1.84%) 2) Red Bull Leipzig (1.79%) 3) Tottenham Hotspur (1.23%) 4) Pumas MX (1.2%) 5) AS Monaco (0.95%) — *The minimum for Trending 20 consideration is 20 posts in the prior week. This week, 8 of 282 tracked pro teams were ineligible for Trending 20 due to a lack of posts.
Trending 20: Leagues/Events (December 15th)
The 20 professional leagues and events with the highest cross-platform engagement rate from Dec 7-13th, 2020.
Rank
Last Wk
Account
Sport
Engagement
Rate
Audience
Growth Rate
Cross-Platform
Audience
Weeks in T20
(of 9 total)
Highest
Rank
1
1
Korea Baseball League
Baseball
2.80%
0.09%
172.6K
9
1
2
5
Premier Lacrosse League
Lacrosse
1.26%
0.07%
387.9K
8
2
3
NR
LOL eSports
eSports
0.78%
0.01%
8.6M
6
2
4
10
AFL Women's
Aussie Rules
0.75%
0.08%
321.4K
8
2
5
4
NCAA March Madness
Basketball
0.72%
0.13%
3.7M
4
4
6
2
Big Bash League
Cricket
0.72%
5.81%
10.4M
9
2
7
3
Formula 1
Auto Racing
0.70%
0.92%
31.2M
9
3
8
12
National Rugby League
Rugby
0.65%
0.03%
3.8M
8
4
9
19
Allsvenskan
Soccer
0.62%
0.18%
138.7K
8
7
10
6
UEFA Women's Champions League
Soccer
0.58%
0.20%
3.9M
9
5
11
NR
Overwatch League
eSports
0.56%
-0.04%
1.7M
2
11
12
8
Athletes Unlimited
Multi-Sport
0.55%
1.67%
144.0K
4
5
13
14
National Basketball League (NBL)
Basketball
0.53%
0.04%
446.4K
5
3
14
20
Int'l Table Tennis Federation
Table Tennis
0.51%
0.06%
1.5M
7
13
15
11
ATP Tour
Tennis
0.46%
0.08%
7.2M
4
7
16
17
Southeastern Conference (SEC)
College Athletics
0.45%
0.18%
1.6M
4
6
17
13
College Football Playoff
Football
0.44%
0.38%
1.2M
3
8
18
NR
National Lacrosse League
Lacrosse
0.42%
-0.02%
307.2K
4
10
19
NR
UEFA
Soccer
0.41%
1.06%
5.6M
2
18
20
NR
Indian Super League
Soccer
0.39%
0.52%
7.0M
8
3
Breaking Down The Juggernauts While we rank these brands based on cross-platform engagement, we wanted to take a moment to break down where each of the top leagues are driving the most engagement. Here's a surface-level breakdown of this week's top three brands, based on engagement split by platform: 1) KBO League: 91% Instagram // 9% Facebook 2) Premier Lacrosse League: 96% Instagram // 2.5% Twitter // 1% Facebook 3) LoL esports: 66% Instagram // 29% Facebook // 4.6% Twitter It's obvious to see the impact that a strong Instagram presence has on top-line engagement rate across platforms. While we know that all engagements are not created equally (from a monetization or audience loyalty perspective), Instagram reigns supreme as the top platform to drive high volumes of engagements. Big Month For Big Bash Big Bash League has dominated our "fastest growing" list (see below) in recent weeks, as the popular Australian cricket league has come out of the gates hot since resuming play last week. After posting a 5-percent growth rate in last week's rankings, the league nearly hit 6-percent weekly growth in this week's Trending 20, and has seen its audience grow nearly 15% in the past month alone. And this is not an upstart league posting high growth rates from a small base number: Big Bash has more than 10 million cross-platform followers, putting it in the same ballpark as stalwart American brands such as NASCAR and X Games. The league is particularly strong on YouTube, with 6.6 million followers on the video platform. The five fastest-growing league/event audiences in the past week… 1) Big Bash League (5.8%) 2) Athletes Unlimited (1.7%) 3) UEFA (1.1%) 4) Formula 1 (0.9%) 5) Copa Sudamericana (0.8%) —
*The minimum for Trending 20 consideration is 20 posts in the prior week. This week, 21 of 101 tracked leagues/events were ineligible for Trending 20 due to a lack of posts.
FAQ: METHODOLOGY & ELIGIBILITY
Q: How do we determine and rank the Trending 20 accounts? A: Trending 20 accounts are ranked based on cross-platform engagement rate, and all data is sourced from the Conviva Social Insights leaderboard platform. Q: What platforms are included in the "cross-platform" engagement rate? A: The four platforms included are Facebook, YouTube, Instagram and Twitter. Q: What is "engagement rate" anyway? How is it calculated? A: The engagement rate shown is the average engagement rate for all posts during the set period. Engagement rate per post is calculated by the total number of engagements divided by audience, expressed as a percentage. Q: My team/brand account had a higher engagement rate than others on this list, but we're not included. What gives? A: Sorry about that! In this case, your account either did not meet the minimum 20-post threshold for eligibility, or the account is not included in our current list of eligible teams/properties. Q: Will more teams/leagues be added to the list of eligible accounts? How can I request to have my team or league added? A: Yes, we will continue to add teams from more professional leagues, as well as potentially adding additional or emergent leagues or event properties. Please request an addition by emailing Edgar Walker (edgar@frontofficesports.com) or tweeting our FOS Insights department @FOSInsights. Q: Will you be ranking collegiate programs, as well? A: This one is a bit tricky — some athletic programs house all their posts from one central account while others have dedicated team accounts — but we are actively seeking out the best course of action to rank collegiate programs by the same methodology as professional teams. Q: How can I see more similar data and go deeper than the Trending 20? A: Conviva has an extensive, curated database of sports teams, athletes, leagues, and brands. As you've registered for access for the Trending 20, Conviva may reach out with information on their product. For more detailed leaderboard listings or to request a free trial, visit the Conviva website. If you have any additional questions about the methodology or data utilized for the Trending 20, please contact info@frontofficesports.com or tweet our FOS Insights department @FOSInsights.