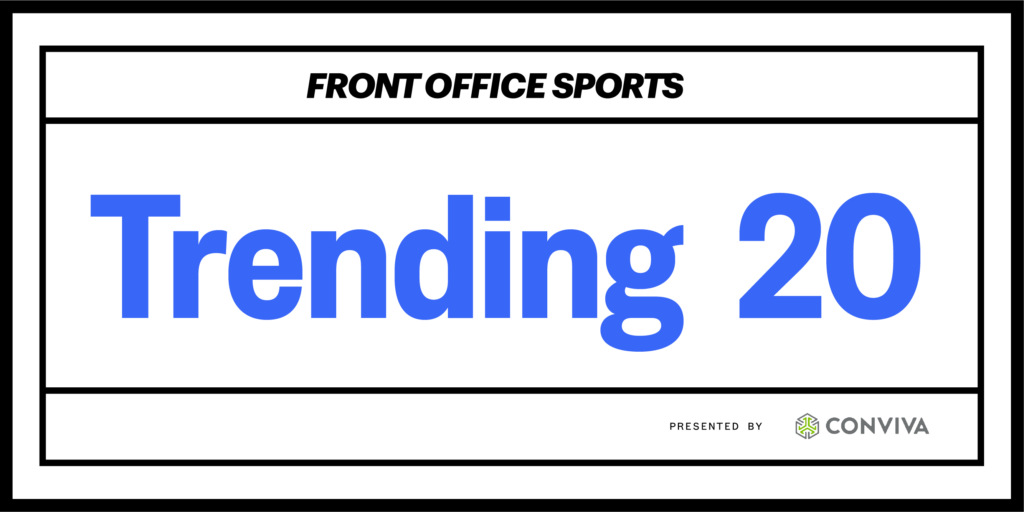 Welcome to the FOS Trending 20, presented by Conviva Social Insights
This new collaboration between Front Office Sports and Conviva ranks the pro teams and leagues/events which are driving the deepest cross-platform engagement across social platforms (Instagram, Twitter, YouTube, Facebook). Published every Tuesday morning, this leaderboard draws data from the prior Monday through Sunday. This page — updated weekly — contains two leaderboards; first, the Top 20 professional teams, ranked by cross-platform engagement rate, and then below it, the Top 20 leagues/events/properties, also ranked by cross-platform engagement rate. For more on the methodology and criteria on Trending 20, please visit our explainer section below the two leaderboards. All data is sourced using Conviva Social Insights, a social analytics platform for brands, media, entertainment and sports organizations worldwide. For additional context and information on this week's leaderboard, please see the "Notes" sections below each leaderboard. Skip to this week's Trending 20 leaderboards…
Trending 20: Pro Teams (December 29th)
The 20 pro teams with the highest cross-platform engagement rate from Dec 21-27th, 2020.
Rank
Last Wk
Account
League
Engagement
Rate
Audience
Growth Rate
Cross-Platform
Audience
Weeks in T20
(of 11)
Highest
Rank
1
NR
Real Salt Lake
MLS
1.86%
0.01%
481.8K
1
1
2
3
Buffalo Bills
NFL
1.18%
0.61%
2.8M
3
2
3
4
Columbus Crew SC
MLS
1.02%
0.15%
535.4K
4
3
4
NR
Atlanta Braves
MLB
1.00%
-0.01%
4.8M
5
2
5
NR
Washington Spirit
NWSL
0.87%
0.14%
215.0K
2
3
6
NR
San Jose Earthquakes
MLS
0.82%
0.07%
576.9K
3
6
7
NR
Philadelphia Union
MLS
0.80%
0.01%
459.8K
7
5
8
NR
Cincinnati Bengals
NFL
0.75%
0.41%
2.6M
3
8
9
NR
St. Louis Blues
NHL
0.71%
0.04%
2.2M
1
9
10
20
SC Freiburg
Bundesliga
0.70%
0.09%
688.8K
5
4
11
NR
Washington Nationals
MLB
0.69%
-0.02%
2.1M
1
4
12
NR
RCD Mallorca
La Liga
0.69%
0.00%
724.5K
1
12
13
NR
Minnesota United FC
MLS
0.69%
0.00%
431.6K
3
14
14
2
Pumas MX
Liga MX
0.68%
0.04%
5.8M
3
2
15
14
Celta de Vigo
La Liga
0.68%
0.35%
1.3M
4
9
16
13
Los Angeles Dodgers
MLB
0.68%
-0.01%
8.4M
10
1
17
NR
Vancouver Canucks
NHL
0.67%
0.03%
2.7M
6
11
18
NR
New England Revolution
MLS
0.67%
0.05%
431.5K
1
18
19
NR
Cleveland Indians
MLB
0.66%
0.00%
3.0M
5
7
20
NR
Cruz Azul
Liga MX
0.65%
0.03%
6.6M
3
5
Each week, we'll try to add some context below the Trending 20 leaderboards, touching on why certain accounts are topping this week's leaderboards, along with tracking streaks and milestones, and highlighting the teams and leagues which consistently find themselves on the Trending 20 leaderboard… A Quiet Week Whether teams and leagues decided to take a back seat during the holiday season or whether vacation schedules meant that brand accounts were less staffed over the past week, this was the most "quiet" week yet in terms of post frequency. In fact, 25 out of the 282 teams in our dashboard did not reach the minimum 20-post threshold to qualify. By comparison's sake, usually that number is 10 or less. As you'll see below, too, accounts grew at a snail's pace this week versus a typical week. While most weeks we see the fastest-growing audience increase by at least 2-percent, this week's leader barely topped one percentage point of weekly growth. No NBA Bump (…yet) Despite the NBA regular season tipping off this week, zero NBA teams landed in the Trending 20, while only one (the Brooklyn Nets) cracked our top five of fastest-growing audiences over the past week. Bills Spreading Their Wings In Buffalo For the third straight week, the Buffalo Bills landed in the Trending 20, and for the third straight week their ranking has improved upon the prior week's high. After debuting at #8 on December 15th, the Bills have landed in the Top 3 each of the past two weeks, and have also been among the fastest-growing accounts across all U.S. pro leagues each week. As the team locked up its first AFC North title in decades and storms into the AFC Playoffs, Bills fans are more engaged than ever across social. A Winter Of Goodbyes As speculation continues whether Real Salt Lake will stay in Utah or be relocated by a new owner (as NWSL club Utah Royals have been), RSL legend Kyle Beckerman announced his retirement, leading to an outpouring of support and engagement on social across RSL channels. It's the club's first week included in the Trending 20. The five fastest-growing team audiences in the past week… 1) LAFC (1.01%) 2) Tottenham Hotspur (1.00%) 3) Brooklyn Nets (0.95%) 4) Wolverhampton Wanderers (0.75%) 5) RB Leipzig (0.62%) — *The minimum for Trending 20 consideration is 20 posts in the prior week. This week, 25 of 282 tracked pro teams were ineligible for Trending 20 due to a lack of posts.
Trending 20: Leagues/Events (December 29th)
The 20 professional leagues and events with the highest cross-platform engagement rate from Dec 21-27th, 2020.
Rank
Last Wk
Account
Sport
Engagement
Rate
Audience
Growth Rate
Cross-Platform
Audience
Weeks in T20
(of 11)
Highest
Rank
1
1
Premier Lacrosse League
Lacrosse
1.24%
0.10%
389.7K
10
1
2
4
Formula 1
Auto Racing
0.98%
0.26%
31.4M
11
2
3
7
NCAA March Madness
Basketball
0.71%
0.08%
3.7M
6
3
4
6
Big Bash League
Cricket
0.70%
1.66%
10.8M
11
2
5
10
Allsvenskan
Soccer
0.66%
0.11%
139.1K
10
5
6
3
PGA Tour
Golf
0.61%
0.49%
8.4M
3
3
7
14
ATP Tour
Tennis
0.55%
0.05%
7.2M
6
7
8
NR
UFC Europe
MMA
0.54%
0.44%
2.6M
2
8
9
8
Eredivisie
Soccer
0.54%
0.21%
551.5K
9
2
10
11
UEFA Women's Champions League
Soccer
0.54%
0.13%
3.9M
11
5
11
NR
CONCACAF
Soccer
0.52%
0.16%
3.2M
1
11
12
NR
All Elite Wrestling (AEW)
Wrestling
0.49%
0.29%
4.2M
2
12
13
NR
Formula E
Auto Racing
0.49%
0.05%
3.2M
1
13
14
18
MLB
Baseball
0.47%
0.05%
25.8M
10
5
15
NR
Indian Super League
Soccer
0.46%
0.33%
7.1M
9
3
16
15
AFL Women's
Aussie Rules
0.45%
0.01%
321.6K
10
2
17
NR
National Basketball League (NBL)
Basketball
0.44%
0.06%
447.1K
6
3
18
17
Athletes Unlimited
Multi-Sport
0.42%
0.20%
145.5K
6
5
19
NR
The New York Racing Association
Horse Racing
0.42%
0.08%
280.1K
1
19
20
NR
World Surf League
Surfing
0.42%
0.09%
13.3M
3
19
A New Contender After sitting outside of the Top 3 for the first several weeks of our Trending 20 leaderboard, the Premier Lacrosse League (PLL) has taken the top spot for two consecutive weeks on the heels of their merger with Major League Lacrosse. Despite being deep in the league's offseason, the upstart — and digitally savvy — PLL remains active and intentional across social throughout the year. Consistently Bashing Big Bash League is one of only three leagues/properties that has landed in our Trending 20 all 11 weeks since inception; the others are Formula 1 and the UEFA Women's Champions League. Along with their consistently high engagement, the Australian cricket league has also topped our fastest-growing list (see below) each of the past three weeks, despite their already sizable audience (nearly 11 million cross-platform followers). As cricket thrives across India and Australia, the Big Bash League has emerged as a league worth keeping an eye on for those in North America. The five fastest-growing league/event audiences in the past week… 1) Big Bash League (1.66%) 2) Serie A (0.69%) 3) PGA Tour (0.49%) 4) UFC Europe (0.44%) 5) Ligue 1 (0.43%) —
*The minimum for Trending 20 consideration is 20 posts in the prior week. This week, 30 of 101 tracked leagues/events were ineligible for Trending 20 due to a lack of posts.
FAQ: METHODOLOGY & ELIGIBILITY
Q: How do we determine and rank the Trending 20 accounts? A: Trending 20 accounts are ranked based on cross-platform engagement rate, and all data is sourced from the Conviva Social Insights leaderboard platform. Q: What platforms are included in the "cross-platform" engagement rate? A: The four platforms included are Facebook, YouTube, Instagram and Twitter. Q: What is "engagement rate" anyway? How is it calculated? A: The engagement rate shown is the average engagement rate for all posts during the set period. Engagement rate per post is calculated by the total number of engagements divided by audience, expressed as a percentage. Q: My team/brand account had a higher engagement rate than others on this list, but we're not included. What gives? A: Sorry about that! In this case, your account either did not meet the minimum 20-post threshold for eligibility, or the account is not included in our current list of eligible teams/properties. Q: Will more teams/leagues be added to the list of eligible accounts? How can I request to have my team or league added? A: Yes, we will continue to add teams from more professional leagues, as well as potentially adding additional or emergent leagues or event properties. Please request an addition by emailing Edgar Walker (edgar@frontofficesports.com) or tweeting our FOS Insights department @FOSInsights. Q: Will you be ranking collegiate programs, as well? A: This one is a bit tricky — some athletic programs house all their posts from one central account while others have dedicated team accounts — but we are actively seeking out the best course of action to rank collegiate programs by the same methodology as professional teams. Q: How can I see more similar data and go deeper than the Trending 20? A: Conviva has an extensive, curated database of sports teams, athletes, leagues, and brands. As you've registered for access for the Trending 20, Conviva may reach out with information on their product. For more detailed leaderboard listings or to request a free trial, visit the Conviva website. If you have any additional questions about the methodology or data utilized for the Trending 20, please contact info@frontofficesports.com or tweet our FOS Insights department @FOSInsights.