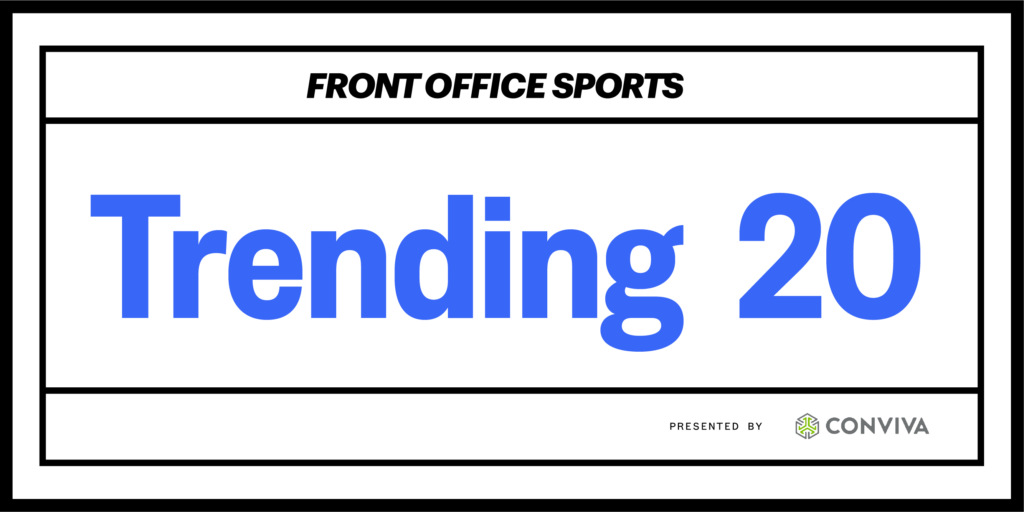 Welcome to the FOS Trending 20, presented by Conviva Social Insights
This new collaboration between Front Office Sports and Conviva ranks the pro teams and leagues/events which are driving the deepest cross-platform engagement across social platforms (Instagram, Twitter, YouTube, Facebook).
Published every Tuesday morning, this leaderboard draws data from the prior Monday through Sunday.
This page — updated weekly — contains two leaderboards; first, the Top 20 professional teams, ranked by cross-platform engagement rate, and then below it, the Top 20 leagues/events/properties, also ranked by cross-platform engagement rate.
For more on the methodology and criteria on Trending 20, please visit our explainer section below the two leaderboards.
All data is sourced using Conviva Social Insights, a social analytics platform for brands, media, entertainment and sports organizations worldwide.
For additional context and information on this week's leaderboard, please see the "Notes" sections below each leaderboard.
Skip to this week's Trending 20 leaderboards…
Trending 20: Pro Teams (December 1st)
The 20 pro teams with the highest cross-platform engagement rate from Nov 23rd-29th, 2020.
Rank
Last Wk
Account
League
Engagement
Rate
Audience
Growth Rate
Cross-Platform
Audience
Weeks in T20
(of 6 total)
Highest
Rank
1
NR
S.S.C. Napoli
Serie A
2.40%
0.00%
9.0M
1
1
2
1
Racing Louisville FC
NWSL
2.33%
0.01%
31.5K
4
1
3
2
Angel City FC
NWSL
2.09%
0.00%
106.5K
4
1
4
5
Portland Thorns FC
NWSL
1.66%
0.00%
415.4K
6
3
5
NR
Tampa Bay Rays
MLB
1.55%
0.00%
1.7M
4
3
6
12
Houston Dash
NWSL
1.46%
0.00%
245.0K
6
6
7
NR
North Carolina Courage
NWSL
1.14%
0.00%
115.5K
4
5
8
11
Los Angeles Dodgers
MLB
1.06%
0.00%
8.4M
7
1
9
6
Nashville SC
MLS
1.00%
0.00%
161.7K
2
6
10
9
Philadelphia Union
MLS
0.91%
0.00%
459.2K
4
5
11
NR
San Jose Earthquakes
MLS
0.87%
0.00%
576.3K
2
11
12
4
Las Vegas Aces
WNBA
0.84%
0.00%
159.3K
7
4
13
NR
Kansas City Chiefs
NFL
0.83%
0.00%
5.4M
2
13
14
NR
Arizona Coyotes
NHL
0.80%
0.00%
971.6K
1
14
15
8
Los Angeles Lakers
NBA
0.80%
0.00%
47.3M
3
6
16
NR
Atalanta B.C.
Serie A
0.80%
0.00%
1.3M
5
9
17
18
Carolina Hurricanes
NHL
0.78%
0.00%
1.1M
6
14
18
NR
1. FC Köln
Bundesliga
0.69%
0.00%
1.8M
1
18
19
NR
Atlético San Luis
Liga MX
0.66%
0.00%
516.2K
1
19
20
NR
Tampa Bay Lightning
NHL
0.66%
0.00%
1.9M
1
20
Each week, we'll try to add some context below the Trending 20 leaderboards, touching on why certain accounts are topping this week's leaderboards, along with tracking streaks and milestones, and highlighting the teams and leagues which consistently find themselves on the Trending 20 leaderboard…
Siempre Maradona
With the passing of Argentine soccer giant Diego Maradona — a legend for S.S.C. Napoli — tributes from fans and players poured into social media platforms. Lionel Messi was among the many players across the world paying tribute, while Napoli wore an Argentina-style kit in honor of Maradona. Napoli's efforts — along with the outpouring of tributes from fans — lands them atop this week's Trending 20 leaderboard, albeit under somber circumstances.

Results On Field, Engagement Off
This week, three MLS made a return to the Trending 20 leaderboard, but all three appeared on the heels of their seasons coming to a sudden end. San Jose Earthquakes entered the MLS playoffs as an 8-seed but lost to Sporting KC in a penalty shootout last Monday, while Philadelphia Union found themselves on the wrong end of an 8-over-1 upset at the feet of New England Revolution. Nashville SC actually won their opening round game over Toronto, but were bounced on Sunday night by Columbus Crew.
Meanwhile, 1. FC Koln (#18) made its first appearance on the Trending 20 after a blockbuster win over Bundesliga power Borussia Dortmund. Dortmund had dominated the prior four matchups between the clubs, but FC Koln (aka Cologne) pulled an upset on Saturday, displaying a rare case where a single, season-defining win lands a team inside the Trending 20, even if only for a fleeting single-week appearance.

The five fastest-growing team audiences in the past week were all soccer clubs…
1) Club Puebla FC (2.0%)
2) SSC Napoli (1.7%)
3) AS Monaco (1.6%)
4) Nashville SC (1.3%)
5) Racing Louisville FC (1.29%)
—
*The minimum for Trending 20 consideration is 20 posts in the prior week. This week, 20 of 282 tracked pro teams were ineligible for Trending 20 due to a lack of posts.
Rank
Last Wk
Account
Sport
Engagement
Rate
Audience
Growth Rate
Cross-Platform
Audience
Weeks in T20
(of 6 total)
Highest
Rank
1
1
Korea Baseball League
Baseball
2.45%
0.34%
172.2K
7
1
2
2
LOL eSports
eSports
1.99%
0.09%
8.6M
5
2
3
NR
XFL
Football
1.28%
0.19%
1.2M
1
3
4
17
World Rugby
Rugby
0.82%
0.21%
3.4M
2
4
5
NR
NCAA March Madness
Basketball
0.75%
0.15%
3.7M
2
5
6
NR
Southeastern Conference (SEC)
College Athletics
0.71%
0.24%
1.6M
2
6
7
NR
ATP Tour
Tennis
0.69%
0.11%
7.1M
2
7
8
NR
College Football Playoff
Football
0.67%
0.39%
1.2M
1
8
9
NR
Eredivisie
Soccer
0.67%
0.23%
546.6K
6
2
10
9
AFL Women's
Aussie Rules
0.63%
0.01%
321.1K
6
2
11
6
Big Bash League
Cricket
0.62%
2.03%
9.3M
7
3
12
7
Premier Lacrosse League
Lacrosse
0.59%
0.07%
387.6K
6
4
13
14
Formula 1
Auto Racing
0.57%
0.24%
30.4M
7
9
14
10
National Lacrosse League
Lacrosse
0.55%
0.01%
307.1K
3
10
15
16
MLB
Baseball
0.52%
0.05%
25.7M
7
5
16
8
Indian Super League
Soccer
0.51%
1.60%
6.9M
7
3
17
19
UEFA Women's Champions League
Soccer
0.50%
0.05%
3.9M
7
5
18
NR
UEFA
Soccer
0.48%
0.42%
5.5M
1
18
19
3
National Basketball League (NBL)
Basketball
0.46%
0.12%
445.5K
3
3
20
15
NCAA Division II
College Athletics
0.45%
0.14%
154.4K
5
12
XFL Emerges Again
Despite news that the shuttered XFL — now owned by Dwayne "The Rock" Johnson and Dany Garcia — won't resume play until 2022, the league generated major buzz on social this week, landing in the Trending 20 for the first time with a top-3 appearance. While the league continued to gain some attention for the performance of league standout PJ Walker in backup duty for the Carolina Panthers, the main reason the XFL is back in vogue this week? The rollout of a Black Friday merchandise sale awakening the league's loyal follower base.

Seasons Come, Seasons Go
We'd been noting that these rankings may begin to look a bit different once certain league seasons flip, and that has seemingly begun to happen this week: XFL (noted above), the College Football Playoff (rollout of initial CFP rankings) and UEFA (restart of Champions League) all enter for the first time, and we see NCAA March Madness, SEC and NCAA Division 2 pop up as the college basketball season begins.

The five fastest-growing league/event audiences in the past week…
1) Big Bash League (2.0%)
2) Indian Super League (1.6%)
3) Athletes Unlimited (1.2%)
4) Copa Sudamericana (1.1%)
5) Serie A (0.8%)
—
*The minimum for Trending 20 consideration is 20 posts in the prior week. This week, 24 of 101 tracked leagues/events were ineligible for Trending 20 due to a lack of posts.
FAQ: METHODOLOGY & ELIGIBILITY
Q: How do we determine and rank the Trending 20 accounts?
A: Trending 20 accounts are ranked based on cross-platform engagement rate, and all data is sourced from the Conviva Social Insights leaderboard platform.
Q: What platforms are included in the "cross-platform" engagement rate?

A: The four platforms included are Facebook, YouTube, Instagram and Twitter.
Q: What is "engagement rate" anyway? How is it calculated?
A: The engagement rate shown is the average engagement rate for all posts during the set period. Engagement rate per post is calculated by the total number of engagements divided by audience, expressed as a percentage.
Q: My team/brand account had a higher engagement rate than others on this list, but we're not included. What gives?
A: Sorry about that! In this case, your account either did not meet the minimum 20-post threshold for eligibility, or the account is not included in our current list of eligible teams/properties.
Q: Will more teams/leagues be added to the list of eligible accounts? How can I request to have my team or league added?
A: Yes, we will continue to add teams from more professional leagues, as well as potentially adding additional or emergent leagues or event properties. Please request an addition by emailing Edgar Walker (edgar@frontofficesports.com) or tweeting our FOS Insights department @FOSInsights.
Q: Will you be ranking collegiate programs, as well?
A: This one is a bit tricky — some athletic programs house all their posts from one central account while others have dedicated team accounts — but we are actively seeking out the best course of action to rank collegiate programs by the same methodology as professional teams.
Q: How can I see more similar data and go deeper than the Trending 20?
A: Conviva has an extensive, curated database of sports teams, athletes, leagues, and brands. As you've registered for access for the Trending 20, Conviva may reach out with information on their product. For more detailed leaderboard listings or to request a free trial, visit the Conviva website.
If you have any additional questions about the methodology or data utilized for the Trending 20, please contact info@frontofficesports.com or tweet our FOS Insights department @FOSInsights.