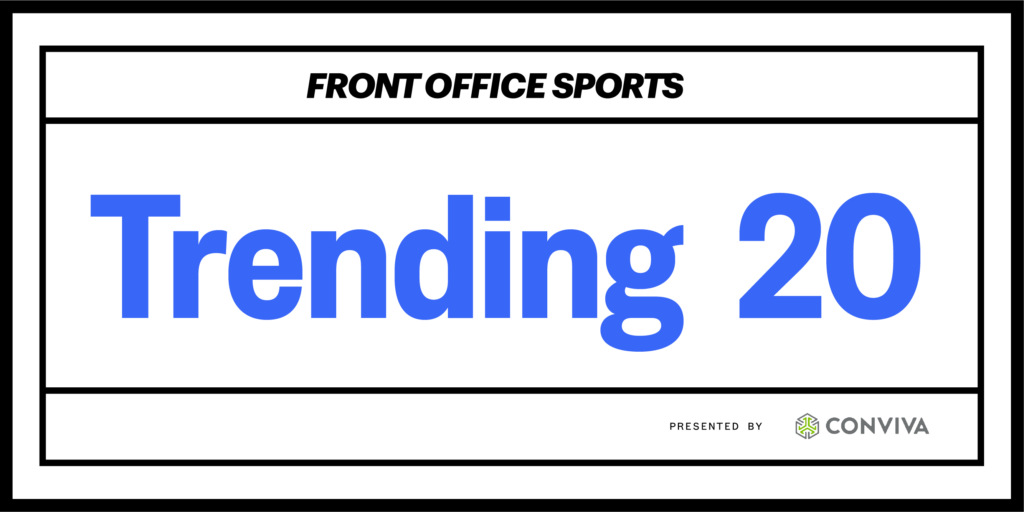 Welcome to the FOS Trending 20, presented by Conviva Social Insights
This new collaboration between Front Office Sports and Conviva ranks the pro teams and leagues/events which are driving the deepest cross-platform engagement across social platforms (Instagram, Twitter, YouTube, Facebook). Published every Tuesday morning, this leaderboard draws data from the prior Monday through Sunday. This page — updated weekly — contains two leaderboards; first, the Top 20 professional teams, ranked by cross-platform engagement rate, and then below it, the Top 20 leagues/events/properties, also ranked by cross-platform engagement rate. For more on the methodology and criteria on Trending 20, please visit our explainer section below the two leaderboards. All data is sourced using Conviva Social Insights, a social analytics platform for brands, media, entertainment and sports organizations worldwide. For additional context and information on this week's leaderboard, please see the "Notes" sections below each leaderboard. Skip to this week's Trending 20 leaderboards…
Trending 20: Pro Teams (November 17th)
The 20 pro teams with the highest cross-platform engagement rate from Nov 9th-15th, 2020.
Rank
Last Wk
Account
League
Engagement
Rate
Audience
Growth Rate
Cross-Platform
Audience
Weeks in T20
(of 5 total)
Highest
Rank
1
NR
Racing Louisville FC
NWSL
6.80%
36.12%
30.3K
2
1
2
NR
Miami Marlins
MLB
3.75%
0.23%
1.6M
1
2
3
NR
Portland Thorns FC
NWSL
1.79%
-0.11%
416.0K
4
3
4
NR
SC Freiburg
Bundesliga
1.54%
0.05%
685.8K
2
4
5
2
Atlanta Braves
MLB
1.11%
0.03%
4.8M
4
2
6
NR
SS Lazio
Serie A
1.05%
0.27%
2.2M
1
6
7
4
Las Vegas Aces
WNBA
1.02%
0.29%
158.9K
5
4
8
5
Philadelphia Union
MLS
1.01%
0.46%
457.9K
2
5
9
NR
Celta de Vigo
La Liga
1.01%
0.34%
1.3M
1
9
10
14
Atalanta B.C.
Serie A
0.96%
0.20%
1.3M
4
9
11
1
Los Angeles Dodgers
MLB
0.94%
0.05%
8.4M
5
1
12
NR
Stade Brestois 29
Ligue 1
0.92%
0.60%
262.0K
1
12
13
NR
Stade Rennais F.C.
Ligue 1
0.87%
0.27%
1.1M
1
13
14
16
Carolina Hurricanes
NHL
0.83%
-0.02%
1.1M
4
14
15
9
Dallas Stars
NHL
0.82%
0.01%
2.1M
3
6
16
NR
Newcastle United
EPL
0.81%
0.39%
4.6M
1
16
17
NR
Houston Dash
NWSL
0.81%
-0.03%
244.8K
3
7
18
NR
Buffalo Sabres
NHL
0.75%
0.00%
1.7M
2
15
19
NR
Vancouver Canucks
NHL
0.75%
0.04%
2.7M
3
11
20
19
Cincinnati Reds
MLB
0.73%
-0.01%
2.6M
3
16
Each week, we'll try to add some context below the Trending 20 leaderboards, touching on why certain accounts are topping this week's leaderboards, along with tracking streaks and milestones, and highlighting the teams and leagues which consistently find themselves on the Trending 20 leaderboard…
New Club On The Block For the second time in five weeks since we've launched Trending 20, NWSL expansion club Racing Louisville FC sits atop the Trending 20 leaderboard. As their audience grows, the club's engagement rate may tail off, but that certainly was not in the cards this week. Racing Louisville will begin play in 2021 and Thursday's NWSL expansion draft resulted in a social bonanza for the new club: over the course of the past week, they saw their cross-platform audience grow by 36% and posted the highest one-week engagement rate we've seen since launching Trending 20 earlier this fall. Trailblazing Into Trending 20 In a move which we've covered here at FOS, the Miami Marlins named Kim Ng their general manager on Friday. The first female — and Asian-American — general manager in MLB history, Ng's appointment made waves across the sports world, and the Marlins' ever-innovative social team took advantage of the spotlight en route to the team's first Trending 20 appearance (Note: As of Monday night, Ng's headshot is still the Marlins' official Twitter avatar). Vegas Rising? Only two teams have landed a spot in the FOS x Conviva Trending 20 in all five weeks since our launch. In what shouldn't be a coincidence, they are also two of the most successful organizations of the bizarre 2020 sports calendar. First up: the 2020 World Series champions Los Angeles Dodgers. The only other five-week mainstay? 2020 WNBA runner-up Las Vegas Aces. While the Dodgers' success is well-documented and the 2020 victory finally provided relief to a fanbase who had seen their team fall short in painstaking playoff runs, the Las Vegas Aces — led by 2020 WNBA MVP A'ja Wilson — surged to a 2020 WNBA Finals appearance and have been celebrated by the Las Vegas sports community that has witnessed the ascent of the Aces, embraced the early success of the Vegas Golden Knights, and now is enjoying a hot start from the newly-relocated Las Vegas Raiders. Only two teams saw their total cross-platform audience grow 1-percent or more in the past week, all soccer clubs… Racing Louisville FC (36%), AS Monaco (1.3%) — *The minimum for Trending 20 consideration is 20 posts in the prior week. This week, 17 of 274 tracked pro teams were ineligible for Trending 20 due to a lack of posts.
Trending 20: Leagues/Events (November 17th)
The 20 professional leagues and events with the highest cross-platform engagement rate from November 9th-15th, 2020.
Rank
Last Wk
Account
Sport
Engagement
Rate
Audience
Growth Rate
Cross-Platform
Audience
Weeks in T20
(of 5 total)
Highest
Rank
1
1
Korea Baseball League
Baseball
1.83%
0.29%
171.1K
5
1
2
NR
Super Netball
Netball
1.78%
0.06%
153.2K
3
1
3
6
Big Bash League
Cricket
0.86%
0.44%
9.1M
5
6
4
3
Indian Super League
Soccer
0.82%
0.44%
6.7M
5
3
5
14
UEFA Women's Champions League
Soccer
0.79%
0.09%
3.9M
5
13
6
NR
Premier Lacrosse League
Lacrosse
0.78%
0.03%
387.1K
4
4
7
NR
Athletes Unlimited
Multi-Sport
0.76%
1.70%
134.0K
1
0
8
9
Indian Premier League
Cricket
0.68%
0.15%
32.4M
5
9
9
10
Formula 1
Auto Racing
0.67%
0.51%
30.1M
5
10
10
7
Allsvenskan
Soccer
0.64%
0.27%
137.9K
5
7
11
4
National Rugby League
Rugby
0.63%
0.21%
3.8M
5
4
12
NR
National Lacrosse League
Lacrosse
0.61%
0.12%
306.7K
1
0
13
NR
QRL - Queensland Rugby League
Rugby
0.58%
0.70%
161.2K
1
0
14
16
AFL
Aussie Rules
0.58%
0.07%
3.0M
5
9
15
NR
AFL Women's
Aussie Rules
0.57%
0.07%
321.2K
3
2
16
12
NCAA Division II
College Athletics
0.53%
0.19%
153.9K
3
12
17
5
MLB
Baseball
0.51%
0.05%
25.7M
5
5
18
15
National Basketball League (NBL)
Basketball
0.49%
0.12%
444.4K
1
15
19
2
Eredivisie
Soccer
0.43%
0.25%
544.7K
5
2
20
NR
PGA Tour
Golf
0.43%
0.40%
8.3M
1
0
KBO Remains King For the third consecutive week, the Korea Baseball League — perhaps known more commonly as KBO — tops our Trending 20 for leagues and events, as the league's playoffs continue. Always a popular league due to its smaller structure and free-playing values (this is the league of bat flips, remember…), KBO found itself becoming far more relevant in U.S. circles this year as ESPN picked up the league's broadcast rights while all major American leagues were shut down in the spring. A Tradition Unlike Any Other While this year's Masters — played in November, without fans — felt quite different than any in the event's vaunted history, the event still had a major presence on the sporting calendar and helped PGA Tour make its first appearance in the Trending 20. The appearance is all the more impressive when you learn that across platforms, PGA Tour accounts posted nearly 700 times this week — the most of any account on this week's leaderboard by hundreds of posts. Take Note The highest ranked of five properties to debut in this week's Trending 20, Athletes Unlimited slotted in at #7 in this week's leaderboard, and was also the only league/property to see audience growth above the 1-percent mark this week (1.7%). The multi-sport, first-year league focused on women's sports with an emphasis on digital content will add lacrosse and volleyball heading into 2021. —
*The minimum for Trending 20 consideration is 20 posts in the prior week. This week, 19 of 101 tracked leagues/events were ineligible for Trending 20 due to a lack of posts.
FAQ: METHODOLOGY & ELIGIBILITY
Q: How do we determine and rank the Trending 20 accounts? A: Trending 20 accounts are ranked based on cross-platform engagement rate, and all data is sourced from the Conviva Social Insights leaderboard platform. Q: What platforms are included in the "cross-platform" engagement rate? A: The four platforms included are Facebook, YouTube, Instagram and Twitter. Q: What is "engagement rate" anyway? How is it calculated? A: The engagement rate shown is the average engagement rate for all posts during the set period. Engagement rate per post is calculated by the total number of engagements divided by audience, expressed as a percentage. Q: My team/brand account had a higher engagement rate than others on this list, but we're not included. What gives? A: Sorry about that! In this case, your account either did not meet the minimum 20-post threshold for eligibility, or the account is not included in our current list of eligible teams/properties. Q: Will more teams/leagues be added to the list of eligible accounts? How can I request to have my team or league added? A: Yes, we will continue to add teams from more professional leagues, as well as potentially adding additional or emergent leagues or event properties. Please request an addition by emailing Edgar Walker (edgar@frontofficesports.com) or tweeting our FOS Insights department @FOSInsights. Q: Will you be ranking collegiate programs, as well? A: This one is a bit tricky — some athletic programs house all their posts from one central account while others have dedicated team accounts — but we are actively seeking out the best course of action to rank collegiate programs by the same methodology as professional teams. Q: How can I see more similar data and go deeper than the Trending 20? A: Conviva has an extensive, curated database of sports teams, athletes, leagues, and brands. As you've registered for access for the Trending 20, Conviva may reach out with information on their product. For more detailed leaderboard listings or to request a free trial, visit the Conviva website. If you have any additional questions about the methodology or data utilized for the Trending 20, please contact info@frontofficesports.com or tweet our FOS Insights department @FOSInsights.