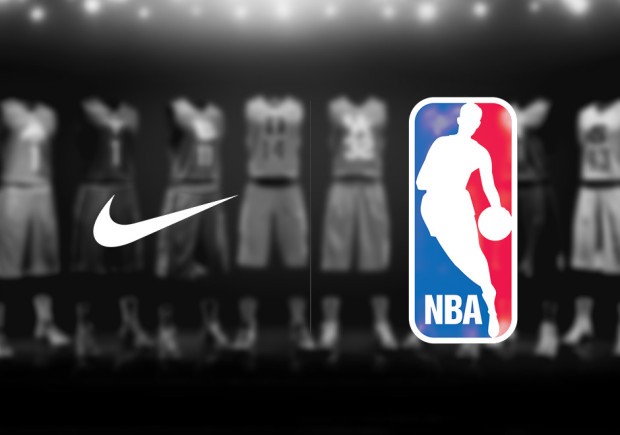 If you're a fan of the NBA and sports apparel you probably know how dominant Nike has been over the years. Between Nike Basketball and the Jordan Brand, the two powerhouses under one umbrella generated $4.2 billion in revenue for 2016.
While Under Armour and Adidas have staked their claim and grabbed market share, Nike still remains the pinnacle of the sports shoes and apparel world.
Want more great content like this? Be sure to subscribe to our newsletter!
Adidas, the company with the most potential to grow based on its athlete cliental, celebrity endorsers (i.e. Kanye West) and innovation will pass on the reins as the NBA's official uniform provider to Nike after an 11 year relationship with the NBA.
Nike's new deal, that will begin after this season, is worth an estimated $1 billion dollars over 8 years.
With Nike taking over next year, we had the chance to sit down with a marketing employee, who asked to remain anonymous, to discuss their current roster of professional ballers and how the company implements new products, technology, and promotions to the masses.
FOS: Tell me about the direction Nike Basketball is aiming for with its core signature lines (Lebron, KD, Kyrie).
Source: Coming off an epic NBA Finals, we really listened to the consumer and went back to the fundamentals and redesigned our signature products with stronger esthetics, unexpected launch moments and delivered better price value to our consumers. That was evidenced by the Kyrie 2 and recent launch of the Kyrie 3 as well as the LeBron Soldier 10 and the LeBron 14. Both shoes (3 & 14) were unveiled on Christmas day.
As it relates to new features in shoes versus previous models, consumers will see a greater focus on the traction, forefoot stability and cushioning in the Kyrie 3. His shoe is built for athletes that use their feet to beat opponents, as it is a key part of his game that translates to athletes around the world.
The LeBron 14 is a much sleeker shoe to past models and provides a lighter feel while also providing the lockdown support an athlete needs. We went back to the drawing board on both products this year to make sure we were creating premium solutions for our athletes. For the first time, the Melo M13 features the brand's pinnacle FlightSpeed technology and utilizes an injected phylon midsole allowing athletes to feel fresher in the fourth (quarter).
FOS: How did the retirement of Kobe Bryant change his signature line? Are there plans to retro his earlier shoes now that he's away from the court?
Source: Kobe is one of the greatest and most competitive players to play the game and his signature line will continue to launch. We recently unveiled the Kobe A.D. and his signature product will continue to be worn by some of the game's elite including men's and women's college basketball teams and NBA players such as Isaiah Thomas, Devin Booker and Buddy Hield to name a few.
FOS: What was the strategy behind Paul George's "PG1" debut model, in relation with the London International game?
Source: Continuing our seasonal theme of "Come out of Nowhere," we thought this was a great and unexpected moment to launch his first signature shoe. The consumer feedback has been excellent and Paul will continue to wear PEs (player editions) and colorways for the remainder of the season.
FOS: Does Nike Basketball operate separate from Jordan Brand and their signature athletes? (i.e. Melo, CP3, Westbrook)
Source: Yes, we operate separate, but we look to align on bigger moments on stories such as Christmas Day, All-Star Weekend and the NBA playoffs.
FOS: How long in advance do designs with marketing/branding get green lit take in order to meet demand for the season?
Source: Typically, our footwear takes anywhere from 12–16 months and our marketing efforts are based off similar time lines.
FOS: It seems that All-Star Week(end) has become a big tradition for releasing new shoe colorways, apparel, etc. When did this trend start?
Source: Yes, All-Star traditionally has been a big moment for us to unveil new colorways of our signature and team shoe models given the number of eyeballs on the weekend. In fact, this year, 20 of the 24 players are Nike Basketball and Jordan athletes. In addition to All-Star, we also ramped up a lot of our energy on Christmas. For many basketball fans, it's the day that truly kicks off the season because of the magnitude of the matchups.
Since the Finals last summer, we've felt and heard the excitement from consumers on how much they are looking forward to this day. This year we decided to shake it up. For the first time in our history, we're offering not just new styles, but we're debuting actual new basketball shoes on Christmas.
*Regarding next year's NBA uniforms, our source would only confirm that sleeved jerseys would not be in production.