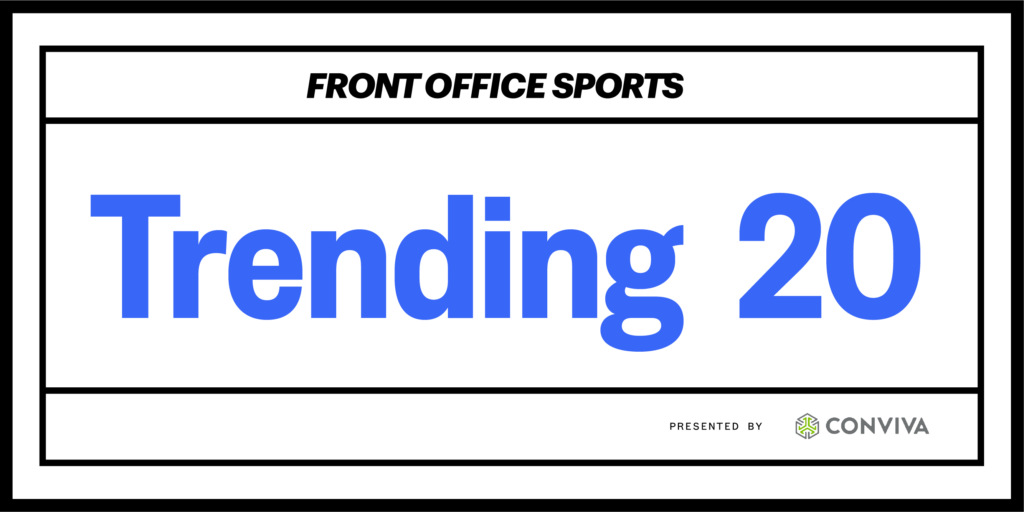 Welcome to the FOS Trending 20, presented by Conviva Social Insights
This new collaboration between Front Office Sports and Conviva ranks the pro teams and leagues/events which are driving the deepest cross-platform engagement across social platforms (Instagram, Twitter, YouTube, Facebook). Published every Tuesday morning, this leaderboard draws data from the prior Monday through Sunday. This page — updated weekly — contains two leaderboards; first, the Top 20 professional teams, ranked by cross-platform engagement rate, and then below it, the Top 20 leagues/events/properties, also ranked by cross-platform engagement rate. For more on the methodology and criteria on Trending 20, please visit our explainer section below the two leaderboards. All data is sourced using Conviva Social Insights, a social analytics platform for brands, media, entertainment and sports organizations worldwide. For additional context and information on this week's leaderboard, please see the "Notes" sections below each leaderboard. Skip to this week's Trending 20 leaderboards…
Return of the…Winners?
Three NFL teams are among this week's Trending 20 and for two of them, the Las Vegas Raiders and the Washington Football Team, it was only the second appearance since we've been tracking.
Both the Raiders and Washington Football Team have struggled the past few seasons. Raiders coach Jon Gruden has not recorded a winning season since joining the team in 2018 and the Washington Football Team has not recorded a winning season since 2016 (despite winning the NFC East in 2020). However, both teams found their way to the Trending 20 leaderboard again thanks to fans' engagement with the teams' posts after primetime wins. The Raiders have started this season 2-0 with a thrilling overtime victory over the Ravens on the first Monday Night Football game of the season and another win over the Steelers on Sunday, September 19th. Four of the Raiders' top five most-engaged posts over the past month were posted last week. The most-engaged post was the final score from the win over the Steelers and the third most-engaged post was the recap from the victory over the Ravens.
Washington Football Team's most-engaged post from the past month was its final score from the Thursday Night Football win over the New York Giants. Washington won on a field goal with no time left on the clock. Fans commented on Washington's post about everything from the game making them nervous to singing quarterback Taylor Heinicke's praises.
This week's lone newcomer:
Stockton Heat (#11): This AHL affiliate of the Calgary Flames cracked the Trending 20 leaderboard for the first time due to significant engagement on posts made on September 17th. The team posted three times on Instagram – the most-engaged post being a carousel of its new coaching staff for the 2021-2022 season.
Trending 20: Pro Teams (September 21st)
The 20 pro teams with the highest cross-platform engagement rate from September 13th to September 19th.
Rank
Last Wk
Account
League
Engagement
Rate
Audience
Growth Rate
Cross-Platform
Audience
Weeks in T20
(of 49)
Highest
Rank
1
1
Racing Louisville FC
NWSL
2.26%
0.23%
54.7K
44
1
2
NR
San Jose Earthquakes
MLS
1.37%
0.76%
601.9K
13
2
3
2
KC NWSL
NWSL
1.33%
0.75%
60.4K
34
1
4
NR
Laval Rocket
AHL
1.03%
0.14%
140.8K
7
3
5
11
El Paso Locomotive FC
USL
0.90%
0.38%
56.8K
7
5
6
4
Carolina Hurricanes
NHL
0.89%
0.07%
1.2M
22
4
7
NR
Chicago White Sox
MLB
0.84%
0.10%
3.2M
15
5
8
NR
RCD Mallorca
LaLiga
0.82%
0.20%
777.8K
11
2
9
8
Cincinnati Bengals
NFL
0.81%
0.46%
2.7M
26
3
10
NR
Portland Thorns FC
NWSL
0.81%
0.07%
431.9K
17
3
11
NR
Stockton Heat
AHL
0.80%
0.05%
59.3K
1
11
12
NR
Las Vegas Raiders
NFL
0.79%
0.55%
7.1M
2
12
13
5
Las Vegas Aces
WNBA
0.77%
0.57%
203.2K
39
1
14
NR
New York Islanders
NHL
0.77%
0.04%
1.3M
7
13
15
NR
Los Angeles Lakers
NBA
0.76%
0.19%
49.8M
5
5
16
NR
1. FC Köln
Bundesliga
0.74%
0.11%
1.9M
8
8
17
10
Los Angeles Dodgers
MLB
0.73%
0.11%
8.7M
35
1
18
NR
Washington Football Team
NFL
0.72%
0.11%
4.0M
2
14
19
NR
Angel City FC
NWSL
0.72%
0.35%
154.8K
16
1
20
NR
San Diego Loyal SC
USL
0.71%
0.31%
54.9K
6
7
The five fastest-growing team audiences in the past week…
Manchester United (1.24%)

Real Valladolid (1.20%)

San Jose Earthquakes (0.76%)

KC NWSL (0.75%)

Miami FC (0.60%)
*The minimum for Trending 20 consideration is 20 posts in the prior week. This week, 25 of 334 tracked pro teams were ineligible for Trending 20 due to a lack of posts.
US Open Back on the Board
The US Open made just its seventh appearance in the Trending 20 leaderboard this week and at number four overall it is the highest the tennis tournament has ever been ranked. Although the men's and women's singles championships were on September 12th and 11th respectively, the US Open's two most-engaged posts from the past month were shared on Monday, September 13th.
The top two posts feature the same photo and similar captions but one was posted to Facebook and the other was posted to Instagram. As of Monday, September 20th, the post on Facebook has generated over 40,000 more engagements than the one on Instagram. The photo in the posts featured the US Open singles champions, Emma Raducanu and Daniil Medvedev sitting together after their wins. Several comments on the post were from tennis fans who seemed to be thrilled that there are new faces in the game and not the usual dominant ones.
Trending 20: Leagues/Events (September 21st)
The 20 professional leagues and events with the highest cross-platform engagement rate from September 13th to September 19th.
Rank
Last Wk
Account
Sport
Engagement
Rate
Audience
Growth Rate
Cross-Platform
Audience
Weeks in T20
(of 49)
Highest
Rank
1
NR
Super Netball
Netball
2.78%
0.45%
177.4K
26
1
2
1
Korea Baseball Organization
Baseball
1.79%
0.12%
193.5K
33
1
3
10
Allsvenskan
Soccer
1.06%
0.22%
149.6K
34
3
4
NR
US Open Tennis
Tennis
1.02%
0.87%
9.1M
7
4
5
2
Premier Lacrosse League
Lacrosse
0.96%
0.46%
464.1K
47
1
6
19
ATP Tour
Tennis
0.88%
0.21%
7.5M
35
6
7
5
Formula 1
Auto Racing
0.86%
0.81%
37.8M
46
2
8
13
NCAA March Madness
Basketball
0.76%
0.01%
4.0M
28
1
9
NR
Indian Super League
Soccer
0.67%
0.18%
7.4M
43
3
10
NR
AFL Women's
Aussie Rules
0.65%
0.02%
346.2K
44
2
11
4
UEFA Women's Champions League
Soccer
0.63%
0.05%
4.0M
44
3
12
NR
Australian Open
Tennis
0.62%
0.27%
6.1M
11
11
13
14
Southeastern Conference (SEC)
College Athletics
0.62%
0.37%
1.7M
14
5
14
11
Ryder Cup USA
Golf
0.57%
0.71%
176.6K
3
11
15
9
National Basketball League (NBL)
Basketball
0.56%
0.11%
515.0K
22
1
16
18
National Rugby League
Rugby
0.55%
0.22%
4.0M
42
4
17
6
LOL eSports
eSports
0.52%
-0.01%
8.6M
40
2
18
NR
Athletes Unlimited
Multi-Sport
0.48%
1.31%
264.6K
26
3
19
8
Eredivisie
Soccer
0.48%
0.19%
605.3K
41
2
20
17
Women's Tennis Association (WTA)
Tennis
0.47%
0.46%
3.9M
5
5
The five fastest-growing league/event audiences in the past week…
Athletes Unlimited (1.31%)

US Open Tennis (0.87%)

Formula 1 (0.81%)

Ryder Cup USA (0.71%)

All Elite Wrestling [AEW] (0.62%)
*The minimum for Trending 20 consideration is 20 posts in the prior week. This week, 24 of 102 tracked pro leagues were ineligible for Trending 20 due to a lack of posts.
FAQ: Methodology & Eligibility
Q: How do we determine and rank the Trending 20 accounts? A: Trending 20 accounts are ranked based on cross-platform engagement rate, and all data is sourced from the Conviva Social Insights leaderboard platform.
Q: What platforms are included in the "cross-platform" engagement rate? A: The four platforms included are Facebook, YouTube, Instagram and Twitter.
Q: What is "engagement rate" anyway? How is it calculated? A: The engagement rate shown is the average engagement rate for all posts during the set period. Engagement rate per post is calculated by the total number of engagements divided by audience, expressed as a percentage.
Q: My team/brand account had a higher engagement rate than others on this list, but we're not included. What gives? A: Sorry about that! In this case, your account either did not meet the minimum 20-post threshold for eligibility, or the account is not included in our current list of eligible teams/properties.
Q: Will more teams/leagues be added to the list of eligible accounts? How can I request to have my team or league added? A: Yes, we will continue to add teams from more professional leagues, as well as potentially adding additional or emergent leagues or event properties. Please request an addition by emailing Kyle Martin (kyle@fos.company).
Q: Will you be ranking collegiate programs, as well? A: This one is a bit tricky — some athletic programs house all their posts from one central account while others have dedicated team accounts — but we are actively seeking out the best course of action to rank collegiate programs by the same methodology as professional teams.
Q: How can I see more similar data and go deeper than the Trending 20? A: Conviva has an extensive, curated database of sports teams, athletes, leagues, and brands. As you've registered for access for the Trending 20, Conviva may reach out with information on their product. For more detailed leaderboard listings or to request a free trial, visit the Conviva website. If you have any additional questions about the methodology or data utilized for the Trending 20, please contact kyle@fos.company.