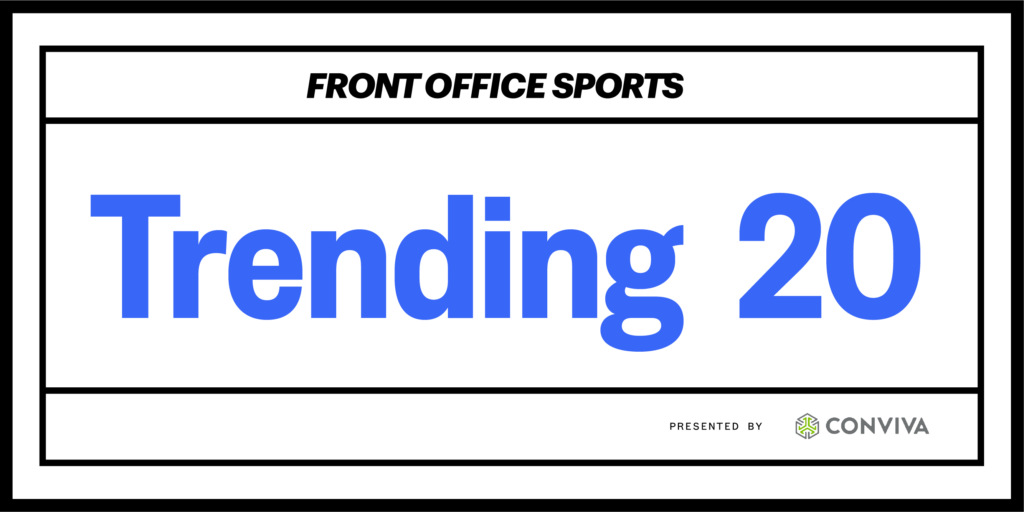 Welcome to the FOS Trending 20, presented by Conviva Social Insights
This new collaboration between Front Office Sports and Conviva ranks the pro teams and leagues/events which are driving the deepest cross-platform engagement across social platforms (Instagram, Twitter, YouTube, Facebook). Published every Tuesday morning, this leaderboard draws data from the prior Monday through Sunday. This page — updated weekly — contains two leaderboards; first, the Top 20 professional teams, ranked by cross-platform engagement rate, and then below it, the Top 20 leagues/events/properties, also ranked by cross-platform engagement rate. For more on the methodology and criteria on Trending 20, please visit our explainer section below the two leaderboards. All data is sourced using Conviva Social Insights, a social analytics platform for brands, media, entertainment and sports organizations worldwide. For additional context and information on this week's leaderboard, please see the "Notes" sections below each leaderboard. Skip to this week's Trending 20 leaderboards…
Trade Deadline Drama
Baseball fans were eager to see a busy trade deadline, and MLB clubs delivered. The ensuing buzz on social platforms can be seen in this week's Trending 20, as three of the four MLB teams on our leaderboard this week were key players in the shakeup of the league.
The Chicago Cubs organization traded away the core of its 2016 World Series Championship team. The team's (cross-platform) video tributes to both Kris Bryant and team captain Anthony Rizzo were four of the Cubs' top five most-viewed videos of the past month. Not only did the team trade Bryant, Rizzo, and Baez to the Giants, Yankees, and Mets (respectively), it also traded all-star closer Craig Kimbrel and reliever Ryan Tepera to the White Sox, outfielder Jake Marisnick to the Padres, and starting pitcher Trevor Williams to the Mets. Social media reactions to these trades contributed to the Cubs ranking 7th on our leaderboard this week.
The White Sox' announcement of the Craig Kimbrel acquisition was its second-most engaged social media post in the last month. Several comments were in support of the acquisition but there were a number of angry White Sox fans who questioned why the team traded rising star Nick Madrigal in the deal with the Cubs.
The Dodgers, ranked number 15 on this week's leaderboard, completed a blockbuster trade with the Nationals for ace Max Scherzer and shortstop Trea Turner. The team's Instagram post announcing the trade is its second-most engaged post from the past month (just a few thousand engagements shy of the photo of new dad Max Muncy and mom Kellie Muncy on July 24th).
This Week's Lone Newcomer:
Colorado Avalanche (#12): The NHL team made headlines last week when it re-signed captain Gabriel Landeskog to an eight-year contract. The team's top post from the past month was the

Instagram photo

announcing the return of fan favorite Landeskog. This post received nearly twice the engagement any other post received in the past month.
Trending 20: Pro Teams (August 3rd)
The 20 pro teams with the highest cross-platform engagement rate from July 26th to August 1st.
Rank
Last Wk
Account
League
Engagement
Rate
Audience
Growth Rate
Cross-Platform
Audience
Weeks in T20
(of 42)
Highest
Rank
1
2
Las Vegas Aces
WNBA
1.76%
0.45%
196.7K
34
1
2
1
Racing Louisville FC
NWSL
1.33%
0.65%
51.4K
37
1
3
6
San Diego Padres
MLB
1.27%
0.67%
2.1M
33
3
4
11
Hershey Bears
AHL
1.17%
0.08%
184.3K
4
4
5
7
Phoenix Suns
NBA
1.10%
0.26%
5.5M
3
5
6
NR
Vegas Golden Knights
NHL
1.06%
-0.13%
1.6M
4
4
7
NR
Chicago Cubs
MLB
1.04%
0.22%
7.9M
3
7
8
NR
Toronto Maple Leafs
NHL
1.02%
0.02%
4.6M
3
6
9
NR
Carolina Hurricanes
NHL
1.02%
0.07%
1.2M
16
4
10
NR
Washington Capitals
NHL
1.02%
0.05%
2.5M
4
10
11
19
Laval Rocket
AHL
1.00%
0.30%
139.9K
4
11
12
NR
Colorado Avalanche
NHL
0.89%
0.14%
1.9M
1
12
13
NR
Tampa Bay Lightning
NHL
0.88%
0.11%
2.0M
4
4
14
NR
Chicago White Sox
MLB
0.88%
0.22%
3.1M
10
10
15
NR
Los Angeles Dodgers
MLB
0.88%
0.18%
8.6M
28
1
16
4
KC NWSL
NWSL
0.87%
0.63%
57.2K
27
1
17
15
SC Freiburg
Bundesliga
0.85%
0.08%
707.7K
27
2
18
3
Milwaukee Bucks
NBA
0.81%
0.64%
7.7M
2
3
19
12
Seattle Kraken
NHL
0.80%
1.72%
498.5K
5
5
20
NR
Cincinnati Reds
MLB
0.80%
0.22%
2.7M
8
13
The five fastest-growing team audiences in the past week…
Seattle Kraken (1.72%)

Granada CF (1.16%)

Nashville SC (0.89%)

New Mexico United (0.88%)

Charlotte Independence (0.75%)
*The minimum for Trending 20 consideration is 20 posts in the prior week. This week, 15 of 334 tracked pro teams were ineligible for Trending 20 due to a lack of posts.
South Korean Baseball Dominance
Korea Baseball Organization (KBO) has been on the Trending 20 leaderboard 26 out of the 42 weeks we've been tracking – 20 weeks as  the top-ranked league. Usually, the South Korean league generates its engagements from posts related to its own league's games. As we've previously mentioned, KBO became popular even amongst American baseball fans during the height of the pandemic.
This week, however, KBO topped the leaderboard due to engagement on posts surrounding the Tokyo Olympics. South Korea's Olympic baseball team advanced to the semifinals by beating Israel 11-1 (mercy rule) on Monday. The top post of the past month for the league was its Instagram recap of the national team's game against the Dominican Republic on Sunday, August 1st. South Korea rallied to score three runs in the 9th inning to beat the Dominican Republic 4-3 in the matchup.
Trending 20: Leagues/Events (August 3rd)
The 20 professional leagues and events with the highest cross-platform engagement rate from July 26th to August 1st.
Rank
Last Wk
Account
Sport
Engagement
Rate
Audience
Growth Rate
Cross-Platform
Audience
Weeks in T20
(of 42)
Highest
Rank
1
1
Korea Baseball Organization
Baseball
2.65%
0.86%
190.4K
26
1
2
2
Super Netball
Netball
0.99%
0.45%
171.7K
20
1
3
5
National Basketball League (NBL)
Basketball
0.96%
0.44%
506.5K
16
1
4
4
Allsvenskan
Soccer
0.86%
0.20%
147.2K
28
4
5
20
Women's Tennis Association (WTA)
Tennis
0.68%
0.07%
3.9M
3
5
6
NR
NCAA March Madness
Basketball
0.66%
-0.01%
4.0M
25
1
7
16
ATP Tour
Tennis
0.65%
0.07%
7.5M
30
7
8
9
AFL Women's
Aussie Rules
0.64%
0.33%
343.3K
38
2
9
7
USA Table Tennis
Table Tennis
0.60%
0.36%
143.5K
2
7
10
NR
Big Bash League
Cricket
0.57%
-0.01%
12.1M
27
2
11
12
Australian Open
Tennis
0.57%
0.10%
6.1M
9
11
12
3
Premier Lacrosse League
Lacrosse
0.54%
0.47%
457.5K
40
1
13
15
Indian Super League
Soccer
0.53%
0.01%
7.4M
37
3
14
8
UEFA Women's Champions League
Soccer
0.52%
-0.03%
4.0M
38
3
15
14
MLB
Baseball
0.51%
0.31%
27.6M
41
5
16
NR
Copa Sudamericana
Soccer
0.48%
0.17%
2.3M
11
2
17
NR
Southeastern Conference (SEC)
College Athletics
0.46%
0.43%
1.6M
10
5
18
NR
World Surf League
Surfing
0.43%
0.06%
13.3M
6
18
19
19
National Rugby League
Rugby
0.43%
0.09%
4.0M
36
4
20
NR
Int'l Table Tennis Federation
Table Tennis
0.40%
1.16%
1.3M
18
1
The five fastest-growing league/event audiences in the past week…
Olympics (3.47%)

Athletes Unlimited (1.35%)

International Table Tennis Federation (1.16%)

Korea Baseball Organization (0.86%)

ONE Championship (0.85%)
*The minimum for Trending 20 consideration is 20 posts in the prior week. This week, 22 of 102 tracked pro leagues were ineligible for Trending 20 due to a lack of posts.
FAQ: Methodology & Eligibility
Q: How do we determine and rank the Trending 20 accounts? A: Trending 20 accounts are ranked based on cross-platform engagement rate, and all data is sourced from the Conviva Social Insights leaderboard platform.
Q: What platforms are included in the "cross-platform" engagement rate? A: The four platforms included are Facebook, YouTube, Instagram and Twitter.
Q: What is "engagement rate" anyway? How is it calculated? A: The engagement rate shown is the average engagement rate for all posts during the set period. Engagement rate per post is calculated by the total number of engagements divided by audience, expressed as a percentage.
Q: My team/brand account had a higher engagement rate than others on this list, but we're not included. What gives? A: Sorry about that! In this case, your account either did not meet the minimum 20-post threshold for eligibility, or the account is not included in our current list of eligible teams/properties.
Q: Will more teams/leagues be added to the list of eligible accounts? How can I request to have my team or league added? A: Yes, we will continue to add teams from more professional leagues, as well as potentially adding additional or emergent leagues or event properties. Please request an addition by emailing Kyle Martin (kyle@frontofficesports.com).
Q: Will you be ranking collegiate programs, as well? A: This one is a bit tricky — some athletic programs house all their posts from one central account while others have dedicated team accounts — but we are actively seeking out the best course of action to rank collegiate programs by the same methodology as professional teams.
Q: How can I see more similar data and go deeper than the Trending 20? A: Conviva has an extensive, curated database of sports teams, athletes, leagues, and brands. As you've registered for access for the Trending 20, Conviva may reach out with information on their product. For more detailed leaderboard listings or to request a free trial, visit the Conviva website. If you have any additional questions about the methodology or data utilized for the Trending 20, please contact kyle@frontofficesports.com.