Panini finds success in diversifying their portfolio to meet the needs of a changing industry.

The 21st century consumer has changed in many ways. Interests and technology have evolved. So, too, have products and entire industries.
Enter an industry with a basic model of packaging collectable trading cards into packs, boxes, and factory sets and selling them at local stores and collector's shops. Trading cards go back to the turn of the previous century, but chaos in the injury left the hobby in the 20th century for many.
In the late 80s, mass production of card sets dampened individual card values as supply and demand could not find their equilibrium. As the 90s began, more and more card sets and companies found a low barrier to entry and muddied the waters to a point that drove many collectors out of the game.
Now, a leader in the industry is looking to drive change through digital solutions to make the product and industry more relevant again through diversification of their offering to help define what the business should look like in the digital age.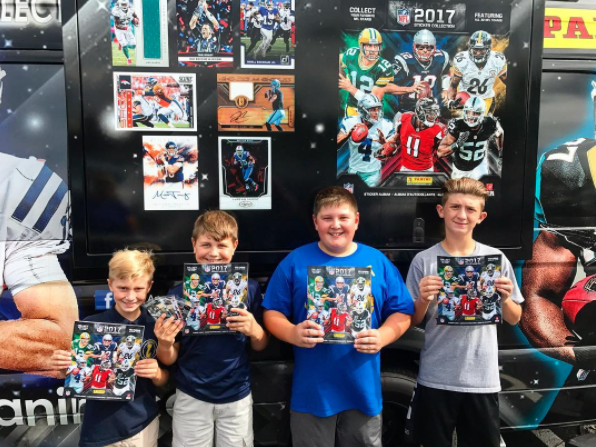 BACKGROUND & STRATEGY
Panini (@PaniniAmerica) as a company has been in business since the 1960s — founded in Italy with a corporate headquarters there today. With well-known items like sticker collections and yearbooks in the US and an especially popular FIFA World Cup sticker collection produced around the globe for each tournament since 1970, the brand has been around for a long time.
Things have been busy at Panini's US subsidiary, Panini America, since 2009. That year, the company acquired an exclusive license from the NBA as their trading card provider and also purchased what was one of the old school, big three sports card companies in Donruss.
That acquisition brought with it NFL and NFLPA licenses held by Donruss, and after adding NHL and NHLPA licenses in 2010, a portfolio of three major sports suddenly made Panini a substantial player in the US card industry.
Add to that, Panini struck a deal with the NFL and NFLPA, similar to what they held with the NBA, starting in 2016 as their exclusive provider of cards and stickers — a partnership now in its second season.
In trying to better understand Panini's approach to succeed in the market, Jason Howarth (@sportsmktgguy), Vice President of Marketing for Panini America, shared some of the strategy and approach have changed in his time with the company.
Howarth, who has been with Panini for seven years, noted that what has stood out to him in particular is the company's change in strategic direction the last two years.
More than anything, the company has worked to diversify their portfolio of products beyond the physical trading card.
In addition to the traditional player card, Panini has leveraged their sticker platform and reintroduced sticker yearbooks to the market.
Realizing that an inherent problem in the sports card industry is timing and having to wait for a new release for a product to collect a card for a new star or rookie, Panini rolled out a Panini Instant digital card offering.
Most recently, the company has been engaged in rolling out apps for collecting and trading NFL and NBA cards — NFL Blitz and NBA Dunk respectively — with the latter launching as the curtain rose on this year's NBA season.
Beyond the expansion of the portfolio of trading card options, another tenant of the Panini strategy has been to build awareness of the brand.
Since Panini made its first big splash the US sports market in 2009, the industry has seen notable growth as shared by Panini's Howarth:
"The marketplace is built on scarcity as always. People get engaged about cards. (In particular) Walmart and Target are huge for us. Six to 13-year olds just have fun and collect. The 20 to 30-something demographic collected when they were kids and are now just out there having fun."
At Target and Walmart, the product often has a price point in the neighborhood of $1.99 a pack. For more serious collectors, additional outlets such as hobby stores or the online market place can see special products run into the thousands in some instances.
Part of driving the growth in the market has also been increasing the value built into packs and cards. Howarth notes that, in recent years, the number of autographs in card packs has been increased alongside game-worn jersey inserts. Today, you can even find jewels, diamonds, rubies, or even platinum embedded into cards!
THE DIGITAL MOVE
At the 1990 NFL Draft, we unexpectedly saw a bit of the future. After the Indianapolis Colts made Illinois quarterback Jeff George the first pick of the draft, ESPN's Chris Berman held a rookie card of George up to TV cameras to whet the appetite of collectors.
At the time, the idea of having a card ready to go, even as a prototype, so soon after an event took place was mind-boggling. Today, not so much…
Last summer, the Panini Instant product debuted during the 2016 NBA Finals and Euro Cup.
Panini Instant is designed to capitalize on real-life moments in sporting events with announcements made through their @PaniniDigital Twitter account. After significant moments or events, a card product is made available online only for a short period of time for purchase.
This spring, Panini produced their Panini Instant product for the NFL after draft picks were made at the Annual Selection Meeting in Philadelphia.
Today we are releasing a 2017 NFL Draft Instant Set. Check the news section of Gridiron and collect the inserts nowhttps://t.co/AGIJOdxHUe pic.twitter.com/WwTibLRBDZ

— Panini Digital (@PaniniDigital) May 3, 2017
The product returned this fall as, after each week of the season, Panini Instant is making various highlight moments from games available for print as a card for order within a 24-hour window.
NFL Week 5 Instant cards are now available on Blitz! https://t.co/lHKgg0wlAG pic.twitter.com/0z0OlDmkXr

— Panini Digital (@PaniniDigital) October 12, 2017
The key is to reduce the cycle time for collectors to be able to celebrate a key moment or a new star in the game to capitalize on the excitement and connection. A customer can't act on impulse if they're waiting months for their first chance!
As this year's NFL and NBA seasons started, the company introduced yet another unique product with digital trading cards — digital apps.
Through the NFL Blitz and NBA Dunk apps, collectors can not only do what comes naturally — -but they can also find new levels of engagement through a series of contests and games Panini is rolling out with collected card sets.
The digital trading apps have also afforded Panini the ability to learn more of what's driving engagement for fans with what naturally is more timely data available.
Collectors can roll their cards into online contests within the app. In doing so, players and their cards are assigned points based on their performance in games multiplied by a factor that coincides with the level and scarcity of card in the collection.
Panini's Howarth shared that more is still ahead for the two digital apps. In the next few weeks, additional functionality will roll out — including a game called Pack Wars.
Pack Wars will allow collectors to compete against each other to capture cards. Sounds a little like how the playing card game of War works, right?
The thinking and strategy is that everyone collects in different ways, and the digital platform is meant to help empower and engage both current and potential collectors looking for something new and different.
NBA Dunk, released within the week, picked up some publicity when two YouTube influencers showed off the app and explained how it works in videos that blew up online.
Speaking of an online push to influence, Dallas Cowboys wide receiver Cole Beasley joined collectors online in trading cards — including his own — with the NFL Blitz app this month.
Reportedly, he was most interested in acquiring cards of his teammates…
When @Bease11 begins trading today on Blitz, he will also be trading 2 brand new Donruss inserts to Blitz users! https://t.co/9vhUuDlC82 pic.twitter.com/M0uwNUfCTI

— Panini Digital (@PaniniDigital) October 17, 2017
The phenomenon of "case breaking" has also been utilized to help promote the brand. For those new to the term, this involves a scheduled event streamed online through dedicated channels for fans — similar to how Twitch serves as a platform for video games.
Here, there's skin in the game, as collectors purchase slots in the break to help cover the cost of the purchase of the card cases. Slots are often purchased by team (known as a team break) where a collector would receive every Warriors card in the case or every Rockets card in an NBA box.
Events like this, shown on a digital platform, further and drive engagement in the brand and the hobby.
Social influencers, digital sports products, and even the integration of esports aspects is all a different industry strategy as Panini continues evolving from the past.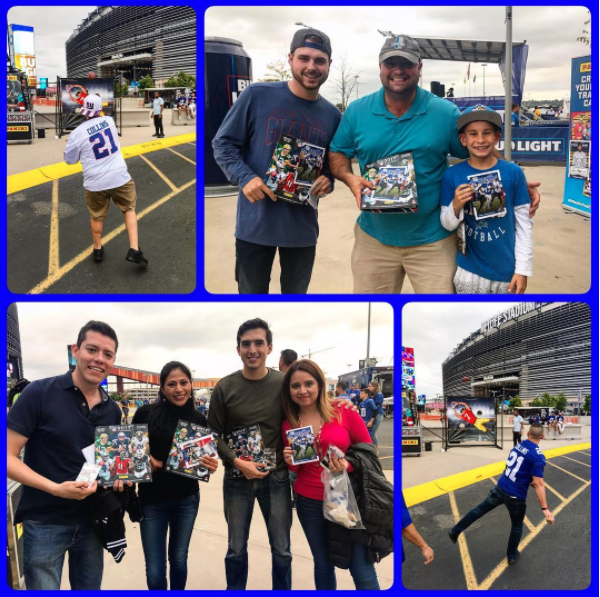 AUTHENTIC EXPERIENCES
Starting at the NFL Draft as a new season dawns, Panini takes their show on the road to interact with fans.
Jason Howarth revealed that the experience is huge for fans and another key touchpoint with the athletes. It allows the company to expose the product directly, and as he put it, "give a razor and sell a blade."
Every May after the NFL Draft concludes, select rookie draft picks (roughly 40 of them) gather in Los Angeles at the famed Los Angeles Memorial Coliseum as a rite of passage to create their first team rookie cards in their new uniforms.
Panini puts the draft picks through all the photo shoots necessary to make the rookie cards but also works to allow the athletes personality to shine at the event. Much of that content is shared via social media feeds like Instagram.
To Howarth, the personalities of the players just "jump off the page" and have you rooting for many of them to succeed right away. For example, he recalled, "no one really paid attention right away to Dak (Prescott) last year."
Fans can learn more about the athlete as well as what goes into producing trading cards through the additional online content.
https://www.instagram.com/p/BUVWp-gFqOH/?taken-by=paniniamerica
According to Howarth, this is major key to Panini's success.
Their motto: "Be authentic to the athlete."
"The athletes are really ecstatic over the way their cards look!"
The company conducts a very similar exercise over the summer for NBA draft picks at the Knicks practice facility in New York as potential future stars like Markelle Fultz, Lonzo Ball, and Jayson Tatum gathered for the event.
Another way to help athletes shine is through on-site appearances and interaction at major sporting events.
This past year in Tampa, former Miami Dolphins and New Orleans Saints running back Ricky Williams took part in a case break at the College Football Playoff National Championship.
The idea is to expose the players to the industry and the fans, and in turn allow the fans to see what the players are really like off the field.
Beyond the NFL Draft and the College Football Playoff, the company also is a regular at the NBA All-Star Game and the Super Bowl.
They'll be back at the Super Bowl again this season in Minneapolis (which is still in the planning stages), but last year, the company made serious waves in their promotion in the most unlikely fashion.
Trent Dilfer, who Panini will partner with again this year at the big game, helped a 7-year old fan named Joseph ask New England Patriots quarterback a question at Media Day. Joseph won a contest with Panini to earn the honor.
Howarth recalls that the event "changed the degree of the week" in media coverage.
Last year, Panini brought Leonard Fournette to the Super Bowl to help introduce him and will again be looking to bring another projected draft pick this year. As with several other athletes, the company had signed him to an exclusive autograph and memorabilia contract.
There's a chance you could see the road show at an event near you before the Super Bowl as well.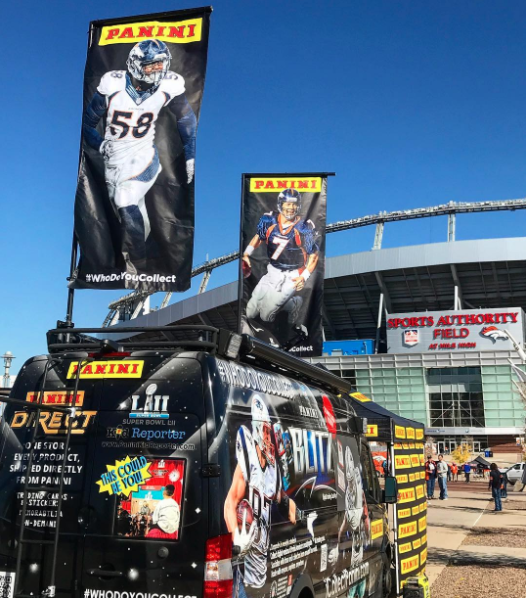 Panini has been conducting a tour this fall and just wrapped up a visit to Denver with an upcoming stop in the Dallas/Fort Worth area for two weeks.
Following the stop in Texas, the caravan will continue on to Florida for part of November and most of December before the big circle on the calendar that is the College Football Playoff championship game in Atlanta this January.
WHAT'S AHEAD
Panini's Howarth notes that October is "really a fun time of year for us" on a number of fronts. Rookies are stepping up in three leagues. New York Yankees outfielder Aaron Judge making an impact in the playoffs has been immense for their MLBPA products as a unique athlete. The same goes for Leonard Fournette in the NFL, who has the ability to transcend fan bases with his ability and play.
Despite all this, popular traditional products are still central to the company's portfolio. NFL Panini Contenders, one of Panini's signature products will be released in either November or December later this year.
---
The trading card industry has not been immune to the changes in society with the digital revolution, and perhaps here, more than most places, the change is welcome.
Capitalizing on new opportunity to expose the product to demographics that truly embrace new technology has helped Panini find success within the whirlwind of the last two years of unprecedented change for the company.
New, exciting young players have joined the mix to make things increasingly interesting in an industry that had been stagnant for far too long.
---
This piece has been presented to you by SMU's Master of Science in Sport Management.
---
Front Office Sports is a leading multi-platform publication and industry resource that covers the intersection of business and sports.
Want to learn more, or have a story featured about you or your organization? Contact us today.