Another social media platform has been added to the mix for professional sports brands: Reels. Having already debuted overseas and been adopted by the likes of Chelsea F.C. and Paris Saint-Germain, Reels grew even more when it launched in the United States on Aug. 5. 
Since the launch, notable domestic partners like MLB, the NBA, NFL, NHL and New England Patriots wideout Julian Edelman have already emerged as Reels users. Now, the feature is already being employed by numerous U.S. sports organizations.
"We've heard from a lot of teams that they are really bullish on using Reels as a unique, creative way to engage their fans and their prospective fans there as well," Dev Sethi, head of sports at Instagram, told Front Office Sports in early August.
With the help of Social Media Coordinator Cassie Calvert and director of digital media Garrett Downing, Instagram has arguably become the Baltimore Ravens' most engaging app. In July 2017, the Ravens' following on the Facebook-owned platform was roughly 734,000; as of Aug. 13, 2020, they are at more than 1.3 million followers — a 77% increase during that stretch.
Given the Ravens' growing success on Instagram, Downing is confident about the team's future on Reels. Baltimore's first Reels video was a compilation of snippets featuring running back Mark Ingram on the sidelines last season. As of Aug. 13, the video has been viewed more than 212,000 times. The Ravens' second video — which captured the tradition of Ravens players running toward Calvert during pregame ceremonies — has become the team's most-successful Reels post with more than 617,000 views and 32,200 likes.
Despite Downing's optimism, he says the Ravens are still months away from developing a full-fledged Reels strategy. If the initial videos are any indication though, he sees Reels becoming an important figure in the team's social media portfolio.
"We have high hopes for Reels and what that could mean for our audience," Downing said. "I think that there's going to be a big opportunity there, especially with uncertainty in that [short-form] space and the popularity of Instagram. It could be a real winner and we're going to be taking a look at it."
Before Reels and TikTok, Scott Kegley — executive director of digital media and innovation at the Minnesota Vikings — remembers when short-form content came largely from Vine, the Twitter-owned app that helped spearhead the short-form video movement. Now with the addition of Reels, he wants the opportunity for his department to further build out its short-form presence.
Four videos in, Kegley has been impressed with the Vikings' engagement numbers on Reels. Its first video — which saw players recreate teammate Danielle Hunter's sack celebration — already has more than 504,000 views and nearly 34,000 likes since launching. Its latest clip of wide receiver Justin Jefferson showing off his dancing celebration, the "Griddy," has more than 459,000 views and 31,500 likes. As of Aug. 13, the Vikings boast more than one million Instagram followers.
As the Vikings continue their training-camp season, Kegley views this time as a great opportunity for the team to create unique content — with the players at the center of it all.
"One thing with the short-form content that we've seen is now players are getting more involved and want to be involved more with some of the videos," Kegley said. "They know what it is. It's not an abstract concept. They know what Instagram Reels is, what TikTok is and I think — in part because we've utilized some of the players — that is why the engagement numbers have been strong thus far."
Similar to the Vikings' player-focused content, the University of Texas has applied that strategy not only to TikTok, but to Reels as well. Through their first 10 Reels videos, four have incorporated Longhorns student-athletes — and another featured former student, current professor and Oscar-winning actor Matthew McConaughey.
Within one week, the Longhorns have already surpassed one million views on Reels, the most popular one starring McConaughey as he shows off his Texas pride. Assistant Director of Social and Digital Strategy Marc Jordan is hoping that what's propelled the Longhorns to 256,000 Instagram followers will translate well to Reels.
"When creating content for Reels, we stuck to our initial Instagram strategy and thought, 'Well, what do our fans like to see?'" Jordan said. "[Reels posts] have worked well thus far whereas with TikTok, it's still very much a different animal in that our audience is a little younger and engaging that audience just takes a different type of strategy. I really enjoyed having our initial strategies for Instagram work well with the launch of Reels."
Since Reels' domestic launch, NASCAR has already started producing content at a clip unlike many of its peers. As of Aug. 13, it has posted 10 videos on the platform — significantly more than other leagues and teams. One post of a shirtless fan interacting with a driver during a race delay has eclipsed 408,000 views; another of driver Danny Hamlin celebrating after a race has roughly 5,560 views. NASCAR has 1.3 million followers on the platform.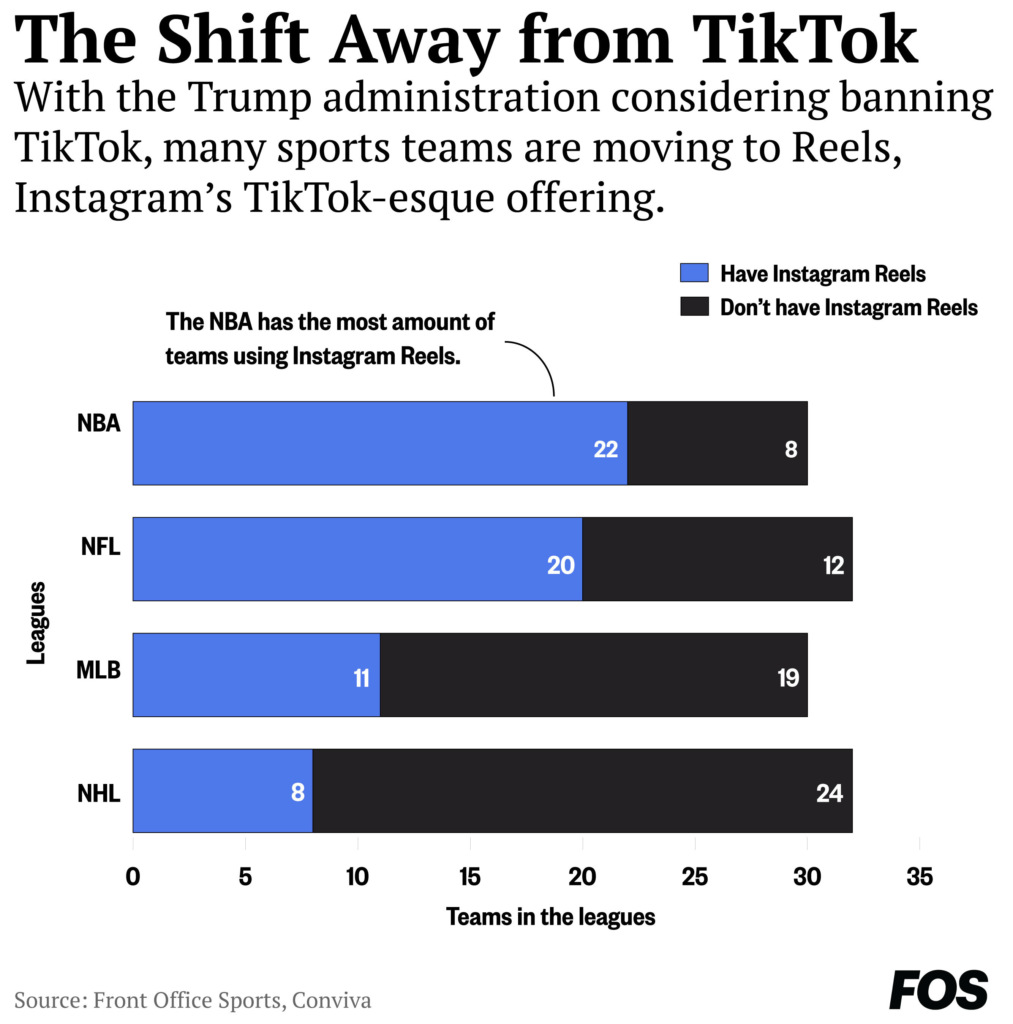 In the short time that NASCAR has been on Reels, Director of Social Media Strategy Chris Littmann said he only has one takeaway thus far: If users don't share a video to the grid in their Instagram profile, they might as well not post it. When it launched, Reels was placed directly next to the Grids section of their Instagram account, ahead of others like Series and Shopping.
To Littmann, only featured launch partners — like the NFL and other major sports accounts — have been able to see successful posts on Reels. For other brands that aren't launch partners and who preloaded content into the Reels platform specifically, he believes that they will struggle to generate visibility.
"There are some people who are so precious about their profile grid — I am not one of those people," Littmann said. "If you go look at my Twitter bio, it even says, 'Anti-grid aesthetic obsession.'"
Outside of its emphasis for short-form videos that are no longer than 15 seconds, Littmann does not see any similarities between Reels and TikTok.
"I've seen no indication in the first week that you have to do all the things you do on TikTok to succeed on Reels," Littmann said. "A key differentiator right now is: Reels is so new, I couldn't tell you a trend that has developed in Reels and so you don't see that super specific, surreal content yet. It remains to be seen whether they cultivate that type of [TikTok] audience."
With more than 2.5 million Instagram followers, Nathan Rauschenberg looks at the platform as one of significant importance for the Seattle Seahawks.
"When Instagram is doing something, it'd be wise of us to pay attention," Rauschenberg, the Seahawks' assistant director of social and digital content, said.
Through three videos, the Seahawks have already eclipsed 1.5 million video views, but Rauschenberg does see challenges with using Reels. In the short-term, he has struggled with finding exclusive content for Reels compounded by the NFL's strict COVID-19 regulations around working with players.
The timing around training camp also hampered the Seahawks' ability to jump in early to Reels; while some NFL teams are already well into practices, Seattle only began practicing on Aug. 12, one week after Reels' U.S. release.
The content that has resonated well with Seahawks fans in the past always revolved around their players. That approach is no different for Reels — but Rauschenberg will be paying close attention to its analytics, how they compare to Instagram Stories and organic posts and if Instagram will be prioritizing Reels in the future.
"Is Instagram going out of their way to favor this type of feature?" Rauschenberg wondered. "Regardless of what they're doing, how are fans consuming it? Are they actually watching and interacting with it, because that will give us a good sense of if that's the type of content that they ultimately want."
Early on, there are still plenty of unanswered questions about Reels and its sports popularity.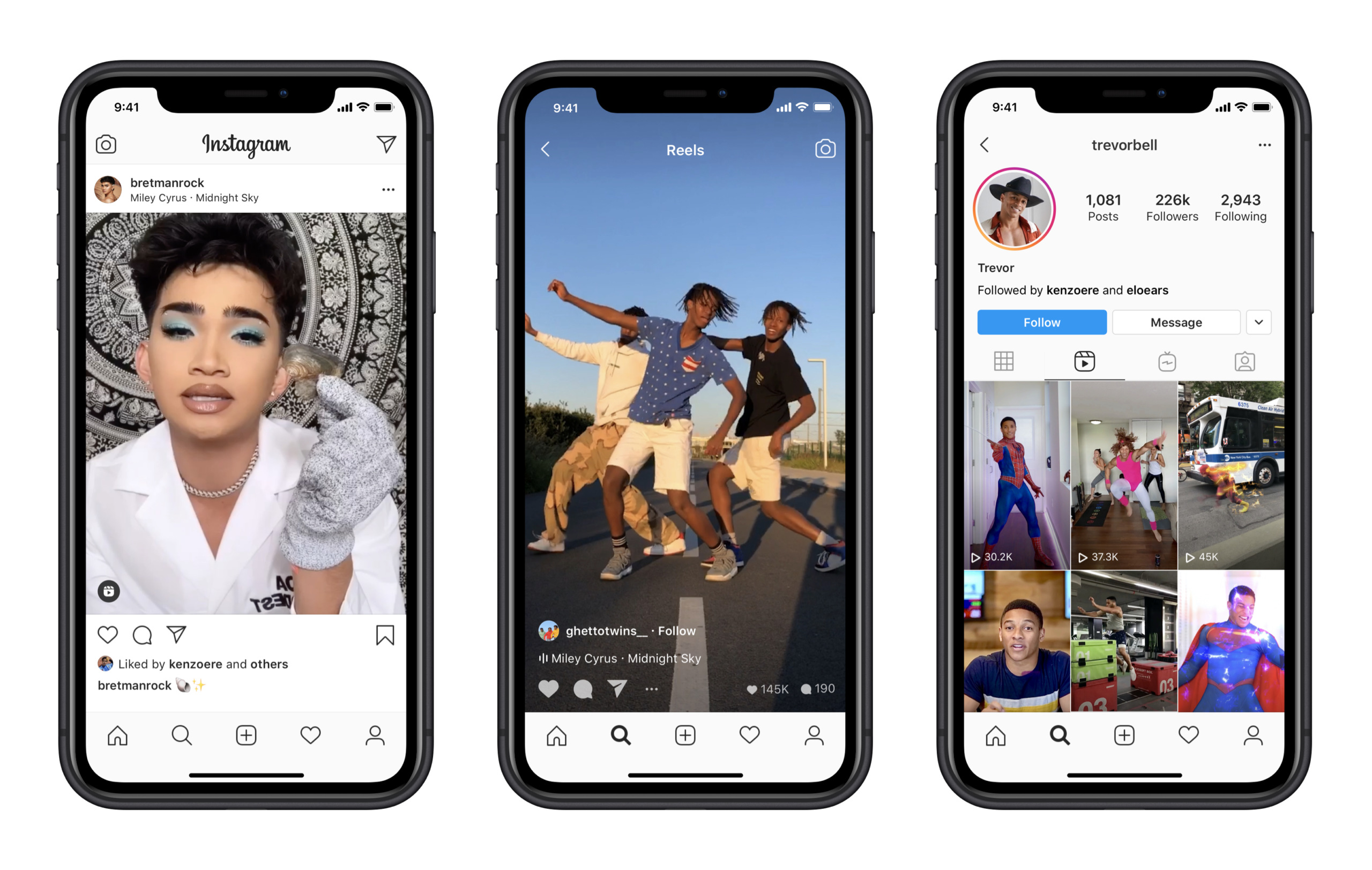 According to data from Conviva, which specializes in global streaming and social media intelligence, 20 of the NBA's 30 teams have posted at least once on Reels as of Aug. 13. Of those 20, the average team has posted less than 3 Reels — 2.8 to be exact — since launching on Aug. 5. However, the average engagements per Reel was 22% higher on average than the team's average engagements per video during the last week.
Across the big four sports leagues, NFL teams have also begun activating on Reels, with 22 of the league's 32 clubs posting at least once on the platform. MLB and the NHL have seen a smaller number of their organizations utilize the platform; as of Aug. 13, 11 of MLB's 30 clubs have launched on there, and only 8 of the NHL's 32 teams — including the new expansion team Seattle Kraken — have used it.
While not every big four sports team has activated on Reels, precedence shows that all Reels needs is a little momentum before it becomes popular. On Dec. 1, 2019, the NFL and NBA saw 29 and 22 of their clubs on TikTok, respectively, while MLB had only 12 on the ByteDance-owned platform. The NHL had 17 of its 32 clubs — including the Kraken — on TikTok.
Fast forward to August, and one would be hard-pressed to find a team that isn't on TikTok.
With TikTok serving as an important case study in how an app can become an overnight sensation in sports, teams are confident that Reels could provide the same effect on their franchise.
"[Instagram is] one of our most engaging platforms because there's just this insatiable appetite that fans have in its consumption," Downing said. "Instagram's great, and so whenever they add a new feature to the equation, it's worth figuring out how to best use it."