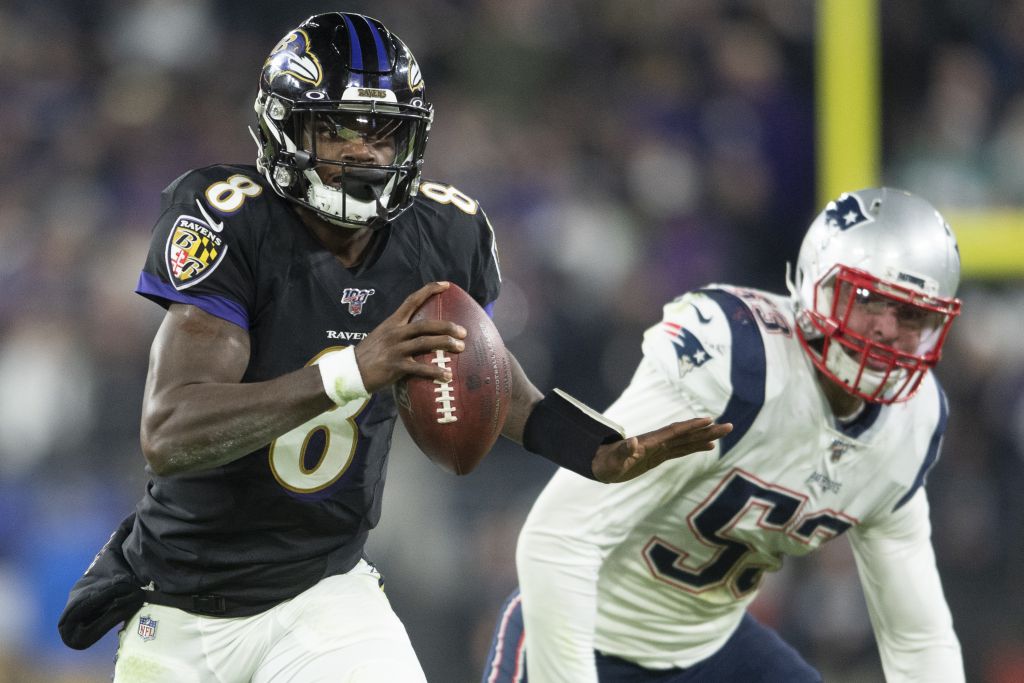 Baltimore Ravens Director of Social Media Garrett Downing remembers 2011 as a turning point for his department.
At the time, the Ravens' social media accounts comprised of only Facebook and Twitter. Instagram was still relatively unknown to the masses – as was Snapchat.
Now with the conclusion of the last decade rapidly nearing, Baltimore has shown how its social media strategy has evolved. On October 24, it reached one million Instagram followers – a jump from roughly 734,000 in July 2017. Doing so makes the Ravens one of 18 NFL teams that have hit that mark on the Facebook-owned platform.
"One thing that we're seeing is that [social media] is in many ways the biggest window of opportunity that we have to connect with our fans at a vast level," Downing said. "Certainly there are games and there's nothing that replaces the game atmosphere and being there on a Sunday and seeing and feeling a Lamar Jackson touchdown run."
"But at the same time for people that aren't able to be at the games – what they can do is they can follow us on social media," Downing added. "They can stay connected with the team and we take seriously the importance of reaching, cultivating, and growing our fans on a day-to-day basis."
When Cassie Calvert was hired during training camp in 2017 as the Ravens' social media coordinator, the team's digital approach was lacking distinction.
No one on the Ravens' three-person social media team had focused heavily on the team's different platforms. Graphics weren't made specifically for social media, video content was infrequent, and the posts were often reused from Baltimore's official website.
The biggest change Calvert wanted to make was the social media department's standing with its fanbase. Since 2017, there's been an emphasis on becoming the voice of the fan through content that connects them to the Ravens.
Programming and video content began being curated specifically for social media. The Ravens' marketing team developed a brand look that was more consistent and recognizable across digital. Now with Instagram posts, fans can instantly notice that it was posted by the Ravens, said Calvert.
For Calvert in particular, Instagram is, "kind of her baby." While the Ravens' Twitter profile is more inclined to deliver team news and drive fans to their website, Instagram shows their creative side – and tries to reflect Baltimore's classic attributes.
"Baltimore is a very gritty city," Calvert said. "The city loves the team, there's a die-hard fan base here, and I've tried to incorporate that as best as possible. I use a lot of rap song lyrics that resonate with our fan base just because that's kind of like the culture of the city here. It's that underdog mentality that I tap into that a lot – and our look is a darker, grittier kind of feel."
READ MORE: NWHL Gets Assist From New Twitch Deal
Something as simple as employing a social media-focused photographer hadn't been a part of the Ravens strategy previously. In past seasons, it was not uncommon for cell phone pictures to be posted immediately on Instagram with little editing or color correction, said Downing.
With little emphasis on photo quality, a highly engaged Ravens post in past years might have drawn upwards of 10,000 likes – which would get the social media team excited, said Downing. Since adding more resources to the department, the benchmark now is four or fives that figure.
From an engagement perspective, post likes aren't the only area of the Ravens' Instagram account receiving notable gains. In 2019 alone, Baltimore has added over 153,000 Instagram followers. It's also garnered 22.6 million interactions – which are likes and comments – and 29.2 million video views in 2019, compared to 12 million interactions and 10.1 million video views in all of 2017.
One theme that epitomizes the Ravens' evolved direction on Instagram is filming players during the pregame festivities, said Calvert. Videos where the players run directly towards her while filming has performed well on social media.
Having a personable quarterback like Lamar Jackson has also given the Ravens ample opportunities to grow on Instagram. On October 17, the former Louisville quarterback became the first player in the NFL award's 17-year history to win both the FedEx Air & Ground NFL Player of the Week in the same season.
Football fans want to see exciting games and plays, said Keith Harrison, the chief academic officer for the University of Central Florida's DeVos Sports Business Management Graduate Program. The era of pure-pocket passers – like Tom Brady and Eli Manning – is shrinking and making room for mobile quarterbacks like Jackson and Arizona Cardinals rookie Kyler Murray.
"I think we're going to see much more differentiation with the way NFL teams approach things," Harrison said. "You gotta give Coach Harbaugh, Lamar Jackson, and everyone credit that they thought differently. They rearrange the offense around his skillset."
"Fans want to see jukes, they want to see smarts, and it just makes the game better," Harrison added. "It spreads the field, and who wants to see three yards and a cloud of dust?"
Capitalizing on milestones like Jackson's recent feat has become popular on Instagram with Ravens followers, said Calvert. Adding onto individual moments like that are Calvert and her team being able to leverage their insider access to Ravens personnel.
When the Ravens traveled in Week 7 to take on the Seattle Seahawks, the score was deadlocked at 13-13 late into the third quarter. Baltimore was faced with a fourth-and-two from the Seattle eight. Before the snap, the Ravens' video team was able to capture footage of Jackson imploring Head Coach John Harbaugh to go for it on fourth down.
Harbaugh gave the OK, and Jackson responded with an eight-yard touchdown run to give the Ravens the 20-13 lead – and eventually, the 30-16 victory.
"They originally were going to kick a field goal," Calvert said. "We captured that moment. The added subtitles did well on Instagram because most people are watching without sound and that video will probably be one of our top-performing videos."
READ MORE: Golden State Warriors Quickly Find Success On TikTok
Eclipsing one million Instagram followers doesn't mean that the Ravens are done with improving their Instagram presence, said Calvert. With more followers coming on every day, she now wants to see that translate to higher engagement – meaning more likes, comments, and views across their posts.
Downing said he hopes to keep attracting a younger audience to the Ravens' Instagram feed. As follower count and engagement rates continue to increase, he – like his competitors – will be closely watching Baltimore's Instagram fans and how they interact with the organization online.
"There's a reason that so much of the focus – not just for the Ravens, but in the sports world and the entertainment industry – is placed on Instagram," Downing said. "It's because of the engagement there and the way that its consumer habits are so clearly connected to that platform, you want to be in that space at a very significant level."