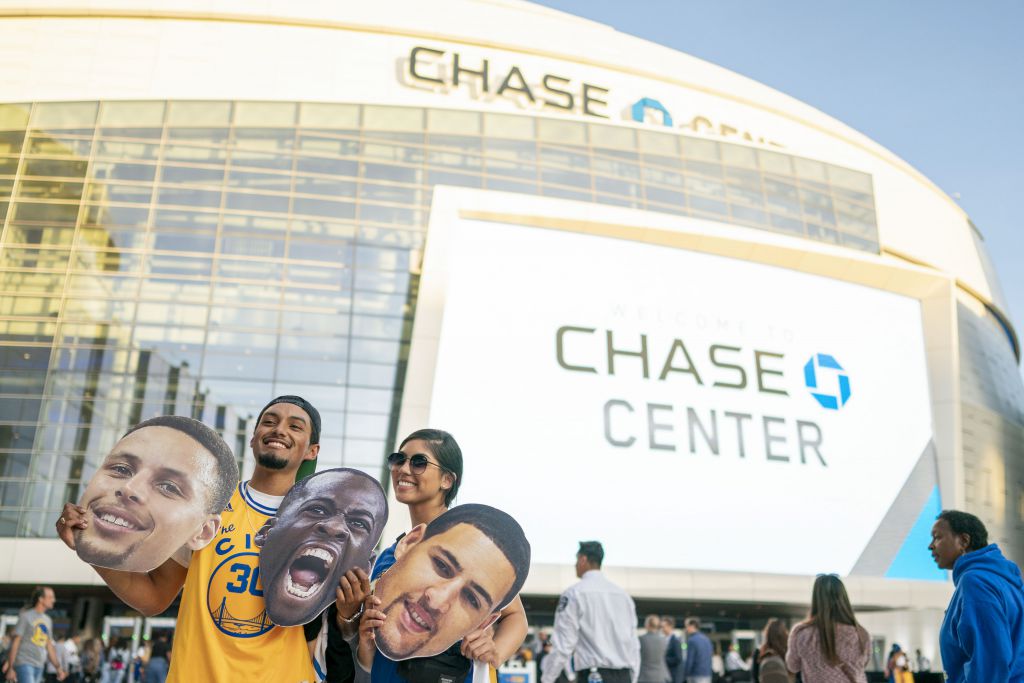 The Golden State Warriors have broken many records dating back to their 2015 NBA championship – their first in 40 years. Now playing in its new $1.6 billion Chase Center, Golden State's impact has extended onto TikTok.
On November 5, Golden State became the first North American sports franchise to eclipse one million TikTok followers. It caps off a TikTok ascension which has seen the Warriors grow at least 300,000 followers per month since it launched in April, said Warriors Senior Vice President of Marketing Jen Millet.
"I think it's just appealing to this younger audience," Millet said. "I think we have more room to grow because the numbers started lower but we feel confident in meeting fans where they are on that platform and giving them content that's engaging and is opening us up to new audiences as well."
A distinct feature on TikTok – which is owned by Bytedance Ltd., a Chinese-based internet technology company – is its sound-on approach to user engagement, said Millet. While Facebook and Instagram content varies between pictures and videos, music is a key component of TikTok's posts.
On TikTok, the Warriors have been able to pair two key features: their players with culturally and socially relevant music.
On August 1, they posted a TikTok video with Curry kicking a basketball across the practice facility with Fort Minor's "Remember The Name" playing in the background. It reached two team members, with the latter hurling it to Curry, who proceeded to drain a three-pointer from beyond the three-point line.
As of November 6, that post has more than 18 million views, said Warriors Vice President of Corporate Communications Lisa Goodwin. It's also garnered more than 1.4 million likes and nearly 16,000 shares via TikTok.
"Sports brands are extremely well-positioned to grow significant followings on TikTok if they can get their content right," said Nick Cicero, vice president of strategy at Conviva, which specializes in global streaming and social media intelligence. "The Warriors are the perfect example of this – when you combine quality content, recognizable faces like Steph Curry, and a built-in fan base that spans all ages, you have a recipe for success."
Another popular post from the Warriors' TikTok account did not have Curry in a starring role. Rather, the center of attention was four-year-old Zahara "ZaZa" Bean, whose dance moves made her a viral star on The Ellen Degeneres Show in September.
After her Ellen appearance, ZaZa performed at the Warriors' Chase Center during their November 4 game against the Portland Trail Blazers. In the two days following her performance, the Warriors' Zaza-TikTok post became the most viewed in team history, receiving 2.2 million likes and more than 115 million views.
Over three days, Zaza's presence helped Golden State gain 190,000 new TikTok followers.
"It demonstrates the power and reach a single piece of content can have on TikTok," Cicero said.
READ MORE: Blue Wire Expects New Partnerships to Accelerate Growth
Besides posting content with popular music and recognizable faces, the team's home in California has also been seen as playing a role in developing a TikTok presence. Joe Gagliese, co-founder and CEO of media-marketing agency Viral Nation Inc., sees social-media influencers coming out in bunches across Illinois, New York, Texas, and lastly, California.
With the Warriors being located in San Francisco, this helps them resonate more with Bay Area locals – people who Gagliese sees as heavy TikTok users.
"If you were going to compare that to Milwaukee or these different places, I think [the Warriors] just have a much higher propensity to get that following than other places do," Gagliese said. "It's also a testament to them being ahead of the curve and posting consistently. A lot of things play into their success, but good for them for kind of engaging in that opportunity – had they not done that, they would have had nothing."
READ MORE: Kansas City Chiefs Quickly Carving Out Podcast Kingdom
Exceeding one million followers is only the beginning of the Warriors' TikTok presence. Heading into 2020, Millet wants to broaden Golden State's international presence on the platform. With roughly 63% of the Warriors' followers being female, she hopes that TikTok will help provide future insight on how to further diversify and expand its current audience.
When it comes to future growth though, it all comes down to content, said Millet. The Warriors have rostered some of the most famous basketball players, and they will inevitably appear on their TikTok profile. But for Millet, there's more to the Golden State franchise that is deserving of attention on the social media platform.
"It's about continuing to highlight and showcase our players and their amazing personalities, but also looking for opportunities to extend beyond that and share experiences that are happening throughout the arena," Millet said. "The game around the game, making that content fun and exciting for fans to consume and not having it be about the team or specific players, but opening up to fans that are a part of the experience at every game."