This feature is presented to you by the University of Nebraska — Lincoln Master of Arts in Business with a Specialization in Intercollegiate Athletics Administration.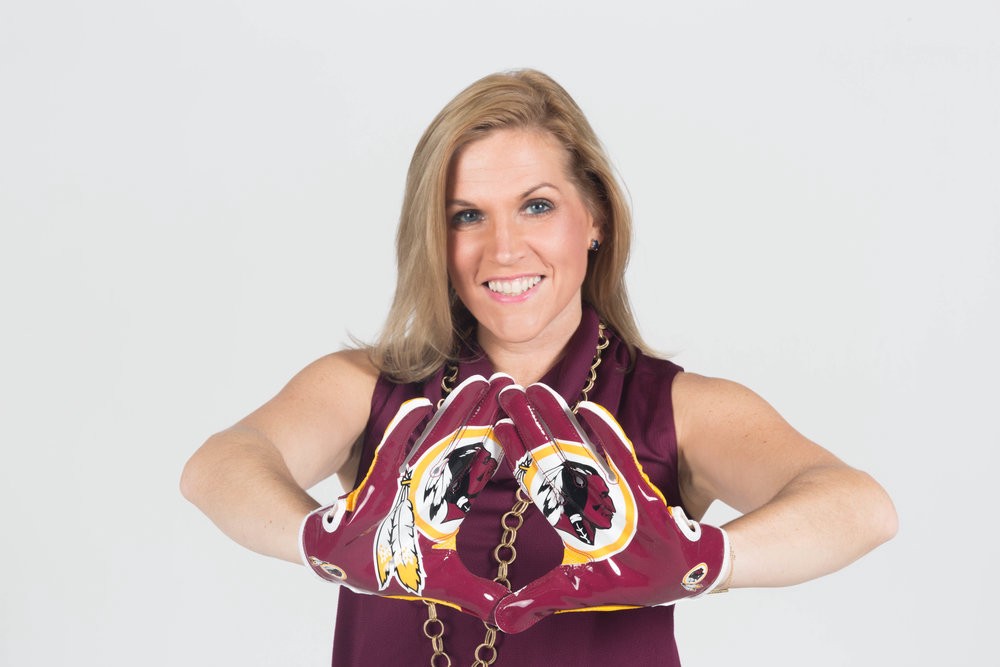 Like most college students, LaRhonda Burley, Senior Director of Partnership Marketing at the Washington Redskins, was unclear as to what she wanted to spend the rest of her life doing. This uncertainty left the University of Maryland graduate with an important decision upon receiving her diploma: follow the path of her peers or blaze her own.
"Candidly, I had no idea what I wanted to do. Most graduates from the University of Maryland joined big firms, but for me, none of that felt right."
Consequently, Burley elected for the unconventional route. After some searching, she was able to find a position coaching Lacrosse at Maret School, a private school in Washington D.C.
Shortly after joining the school, Burley's role expanded from coach to administrative coordinator. Burley was soon managing events, organizing team transportation and logistics and working with community based programming.
While at Maret, Burley was constantly reflecting on which direction she wanted to take her career. With a body of experience in coaching and sports administration and a heightened self-awareness, she ultimately decided to apply to the Sports Industry Management Master's program at Georgetown University.
Burley was accepted into the program's inaugural class and matriculated in the fall of 2008. From day one, Georgetown flaunted the immense working opportunities it afforded its students. One in particular, the Tiger Wood's Foundation, caught the eye of Burley at new student orientation.
Burley was able to land the only graduate student internship with the Tiger Wood's Foundation that summer, when she joined the team as a Ticketing Operations & Events Intern working on the 2009 AT&T National. Due to the small size of the foundation, Burley was able to gain a plethora of experience in only a limited time.
Given the size and structure of the Foundation, there were no full-time opportunities available after graduation. Burley recognized this early on and shifted gears immediately, using the experience as a launching pad for her career.
"I remember when I walked in there thinking 'I'm going to get a job. They're going to hire me.' I realized week one that that was not going to be the case. So I changed my goal to 'This internship will lead me to a job.' And it did."
In her summer working on the AT&T National, Burley developed mentors that, to this day, support her both professionally and personally. These individuals leveraged their networks to land her interviews, ultimately resulting in job offers from two local sports teams: the NFL's Washington Redskins and the WNBA's Washington Mystics.
After some thought, debate and an internal gut check, Burley opted to join the Mystics. She finished up her Masters, graduating at the top of her class and began a new role as Sponsorship Coordinator at the WNBA franchise in the fall of 2009.
"Everyone told me I was crazy for choosing the WNBA over the NFL, but I knew it was the right choice at the time based on the description of the job itself. I felt it was going to give me the experience I needed and take me where I wanted to go. I was very proud to join the Mystics, not just because it is a first class organization that represents its product well, but for what it means for women to have female professional sports leagues in the US."
"From a business standpoint, this position showed me the importance of understanding the consumer and educating potential consumers on a product that wasn't understood by everyone. Personally, it was inspiring to see how hard these women worked to maximize the opportunities in front of them."
Within just a year with the Mystics, the property merged with the Washington Wizards to form Monumental Sports & Entertainment. Consequently, Burley's role evolved into Manager of Programs and Administration within the newly formed business operations team. Burley spent another three years in that position before leaving for other pursuits.
After a stint as Senior Manager of Partnerships for the 2013 Citi Open and some other consulting work, Burley realized her passion was on the team side of sports. Luckily for her, the Washington Redskins now had the perfect opening available. During her interview for the Redskins position back in grad school, she was asked the standard question "Where do you see yourself in five years?" Without hesitation, an eager Burley responded "Working for the Washington Redskins."
In 2014, exactly five years to the week following that original job offer, she joined the Redskins as Senior Manager of Partnership Marketing. Within a year, the department underwent some internal shuffling, providing Burley with the opportunity to reconfigure the business unit. With the reorganization Burley was able to hire and build her own team, while also being promoted to Director of Partnership Marketing.
Today, Burley operates as the Senior Director of Partnership Marketing with a team of six, managing the sponsor services team as well as the military and female affinity marketing initiatives. Overall, Burley is extremely happy with her decision to return to the team side.
"On the team side, we have the opportunity to create memories for people and we place a high level of importance on that at the Redskins."
"Sports is a special space. If you're sitting at a bar and someone is wearing team apparel, you're likely going to engage in a conversation. When a game is on TV it's commonplace for strangers to share memories and hi-five each other when "their team" scores. In general, shared interest in sports often leads to communication between people of different backgrounds and I've always found that to be fascinating. You're not going to draw that same human connection because you meet someone who has the same insurance or cell phone carrier as you. On the team side, we have the opportunity to create memories for people and we place a high level of importance on that at the Redskins. I grew up in Burgundy & Gold…to be a part of a product and legacy that means so much to people, that is something that I really value."
For Burley and her team, the goal of Partnership Marketing is to go beyond standard client services. Every day, they strive to understand each brand's wants and needs in order to leverage the Redskins' tools and resources to help them get there.
"With everything being digitized and measurable, just 'checking the boxes' doesn't work anymore. Everybody wants impressions, everyone wants to see how things perform and we have to be clear and transparent. If something isn't working, then we communicate that. If we're not performing for our partner in any given marketing area, we need to retool the plan and figure out how we're going to get them to their business goals."
"It's important that our team members operate as both business managers and marketers. We rely heavily on our digital, PR and data analytics teams to provide us with insight on how partnership assets are performing and guidance on how to optimize it. They are constantly coming up with fresh, creative ideas on how we can get ahead for our sponsors and working with the partnership marketing team on the implementing these new concepts."
For Burley and her team, active listening is the cornerstone for understanding the needs of their partners and connecting the dots.
"You need to have a pulse on the market and personally and professionally look for best practices. If I see a really cool program, I'll call another team and ask them about it. It's really important to have open lines of communication and to always be an ally to others in the industry."
In her current position, Burley views her greatest accomplishment as hiring young employees and doing her best to create an opportunity and learning environment for them.
"As a leader in general, I think it's valuable to think about the influence you have and how your actions impact others. My personal goal is to maintain an environment for our team that fosters success, where they feel challenged yet supported and have the resources to do what is being asked of them. Working in sports is incredibly rewarding but can also be a grind. I do my best to ensure that our team works collectively, not focusing on individual successes. Teamwork is not an option, it's an expectation."
When it comes to young professionals, Burley emphasizes the importance of self-awareness in the work place.
"Self-awareness is very important. People come in and oftentimes try to put themselves into a position where they may not be the best fit and they typically don't last. Having an understanding of what you'd like to do and what your personal skill set is, is really important. Be confident and work hard."
"Through [coaching], I had the chance to learn about myself and figure out what I wanted to do. You have to trust your gut."
"Don't be afraid to try new things and don't feel that everything you do is set in a final decision. This job most likely won't be the last job you have and this probably isn't going to be the last organization you work for. Taking the coaching job was the best thing I did, even though it was a risk at the time. Through that experience, I had the chance to learn about myself and figure out what I wanted to do. You have to trust your gut. If you like doing something, go find a way to develop that skill set."
At a franchise like the Washington Redskins, thousands of resumes cross the desks of hiring managers each year. Burley offered this advice to those hoping to land a job.
"You need to make your resume thought provoking. While in grad school, I went out and volunteered for several events in DC to build my resume. I didn't have relevant working experience, so I needed to create it. I listed an "event operations experience" section on my resume and named dropped some of the events I volunteered for. That helped get me some interviews as my experience provoked questions and it helped me start the conversation."
"Don't get bogged down by the big brand. If I see someone who worked in minor leagues and for tournaments, I will often pay closer attention to them than someone who has worked for every professional team. It shows that they know how to grind and likely have had a wide array of professional experiences. I've worked in the WNBA and Major League Lacrosse: you learn how to do everything because you don't have the headcount of major sports properties. To me, that's marketable."
"I appreciate when people are bold, and are not afraid to ask for what they want, but they make sure they cover their bases, they research first and do it in a respectful, professional way."
"I really appreciate when people are genuine and reach out directly. I appreciate when people are bold, and are not afraid to ask for what they want, but they make sure they cover their bases, they research first and do it in a respectful, professional way."
Front Office Sports is proud to have spoken with LaRhonda Burley. We would like to thank her for her time and insight and we wish her the best in all her future endeavors. You can connect with her on LinkedIn.