In the News
Last week, it was announced that Peloton will be providing exclusive content to Delta customers that cannot be accessed on their connected devices or apps. The company has agreed to a deal with Delta Airlines to provide five classes to airline passengers. They will provide exclusive classes that help flyers stretch, meditate, relax, and sleep during their travels.
The move for Peloton is indicative of their need to continue to find new distribution channels for their content. Chief Product Officer, Jen Cotter, noted that many individuals are unaware of the fact that Peloton offers classes outside of their traditional cycling and running content. The push for more visibility on their "non-cardio" content is not only indicative of their need to diversify, but also of their bet on a trend that continues to gain steam as it evolves – mental fitness.
In addition to Peloton's push for content, there have been large-scale moves made by existing mental health and wellness companies which have caught the attention of the public at large. In August, Meditation app HeadSpace merged with on-demand mental health service Ginger. The combined entity would employ over 800 individuals and be valued at ~$3 billion.
Meditation app Calm has also been in the news. When world tennis phenom Naoimi Osaka decided to withdraw from the French Open due to mental health concerns, Calm stepped in and offered to pay the star's fines – which were incurred for not showing up to her first media appearance – as well as donate $15,000 to Laureus Sport, an organization dedicated to improving the mental health of young people through sport.
Lastly, Betterup – a digital platform for professional performance – raised $339 million at a $4.9 billion valuation in early October of this year. The company, though not a traditional digital mental health company, does represent the growing class of companies that have moved into the consumer space and target mental health coaching as a complementary product or service to their core offering.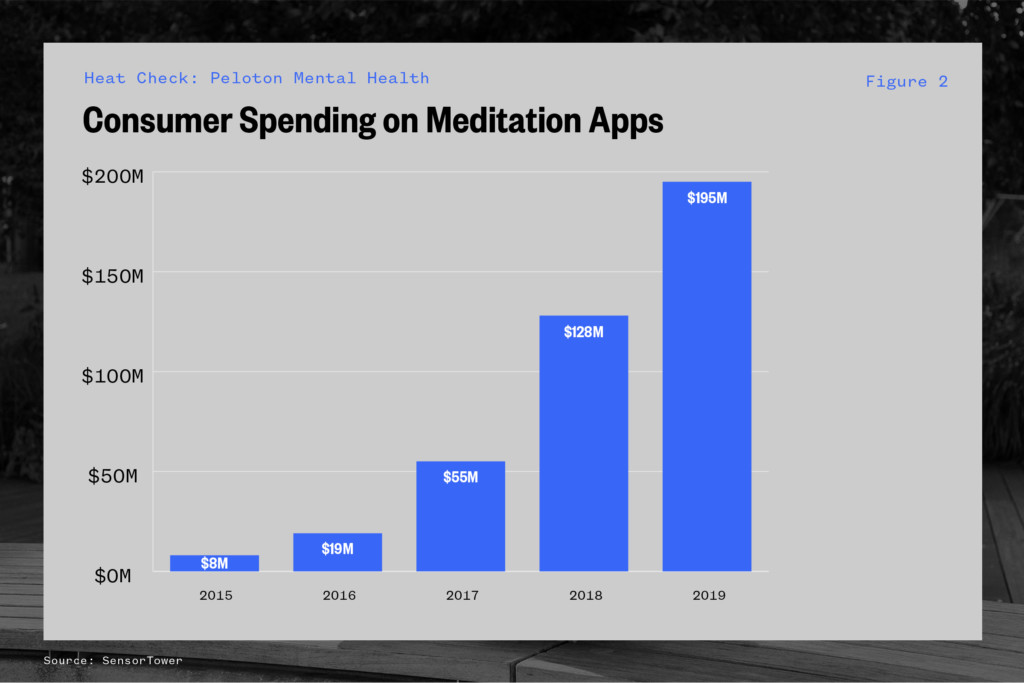 Why Does It Matter?
Mental health and the now growing trend in mental fitness are becoming key areas of focus not only for consumers but for employers as well. As we look at company funding data, we can see that there are dual applications for many of the companies that are currently receiving some of the highest valuations.

Consumer: From a consumer standpoint, apps have been developed in the "mental wellness" space which act as gamified forms of traditional zen practices. Athleisure, connected fitness, and bio wearables have all been benefactors to the mental wellness space as they bring attention to and provide context for those practices.

Athleisure: Lululemon and yoga culture have helped introduce meditation to a wider consumer base. According to the CDC, the increase in the number of adults who participated in meditation practices tripled from 2012-2017. Furthermore, according to Google Insights, searches for yoga and meditation apps, such as "mindfulness apps" or "yoga for beginners app," grew 65% YoY.
Connected Fitness: Some of the world's largest connected fitness providers are also using their distribution platforms to provide more mindfulness content. Peloton, Apple Fitness+ (through the Apple Watch), and iFit have all introduced mindfulness and meditation as an ancillary service to their core fitness products.

Bio Wearables: Wearables have also shown great benefit. The ability to track the physiological response to mindfulness and meditation practices allows individuals to quantify the benefits. Firms such as mybrain, Halo, Kakoon, and Core, all provide users with technology to track and stimulate brain-wave action in the process of reaching "flow state."

Corporate: From a corporate standpoint, there has been a large push to provide employers with a new suite of tools and services to improve their employees' mental health. Startups such as Lyra, Modern Health, Viva Health, and Alma are all examples of corporate B2B healthcare companies which have recently garnered high valuations. Why the boom in corporate wellness – particularly on the mental health side? Harvard Business Review recently published an updated "Mental Health at Work" study in October, which showed that employees who faced mental health challenges increased from 2019 to 2021. Some interesting stats from the study:

Attrition rates increased from 2019 to 2021 in both Gen Z and Millennials — 50% to 68% and 75% to 81%, respectively.
76% percent of respondents reported at least one symptom of a mental health condition in 2021, up from 59% in 2019.
Nearly two-thirds of respondents talked about their mental health to someone at work in the past year.

There is clear demand for continued product innovation in the space. From an individual and corporate standpoint, mental health and mental "fitness" are becoming increasingly important in providing a holistic healthcare stack.
Market Size
And then there is the total market size. According to the Global Wellness Institute, the global mental wellness industry was estimated at $121 billion in 2019. According to the report, the market can be broken down into four main segments:
Self Improvement: $33.6 billion
Brain-Boosting Nutraceuticals & Botanicals: $34.8 billion
Meditation and Mindfulness: $2.9 billion
Sense, Spaces, and Sleep: $49.5 billion
Additionally, when looking at the global search interest for "mental fortitude" and "mental fitness," Google trends data shows that both search terms are at their highest frequency over the last three years.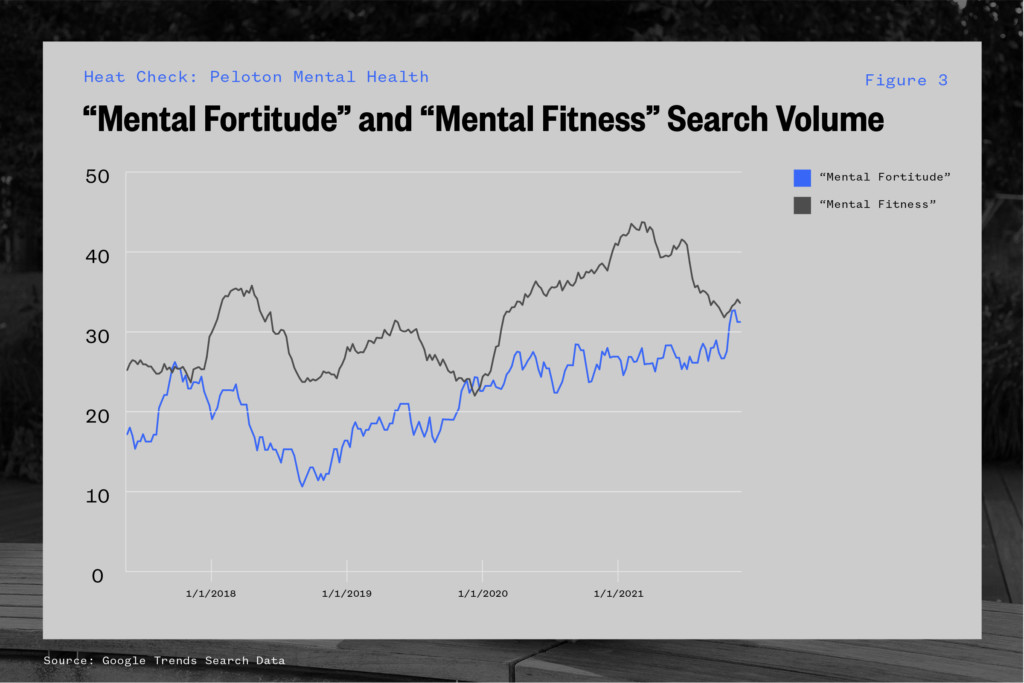 Companies in the Space
Below we have included a list of companies in the space along with the total funding raised and links to their respective websites.
| | | | |
| --- | --- | --- | --- |
| Company | Category | Total Raised ($mm) | Website |
| Calm | Meditation | $191.3 | Link |
| Headspace | Meditation/Therapy | $215.7 | Link |
| Alma | Therapy | $90.5 | Link |
| Coa | Mental Fitness | $3.0 | Link |
| Lyra | Behavioral Therapy | $671.8 | Link |
| Modern Health | Mental Health Benefits | $171.1 | Link |
| Core (HyperIce) | Meditation Tracking | N/A | Link |
| Muse | Mindfulness Tracking | $29.8 | Link |
| BetterUp | Leadership Development | $631.7 | Link |
| Talkspace | Digital Counseling | N/A (Public) | Link |
| Dreem | Sleep Tracker | $52.0 | Link |
| Neurable | Brain Computer Interface | $13.9 | Link |

What's Next?
Mental health began receiving increased attention in 2019. Since then there have been various permutations of "mental health" which have grown into their own categories. From meditation, to flow state, to mental fitness tracking – the total addressable market has expanded. Larger technology companies are prioritizing their employees' mental health and athletes specifically have been at the forefront of the movement to normalize mental health care. Going forward, we anticipate heightened emphasis on mental fitness and products and services around this particular category which is anticipated to grow at an 18% CAGR through 2027.