As fans slowly make their way back to stadiums after months of events with no fans, the rules of the game have changed. Expectations for a live event experience are different. Fans want to feel safe, and contactless solutions are the key to success for the teams that serve them.
From Now On, an Omaha, NE mobile communications platform provider, works with colleges, high schools and sporting events around the country to optimize mobile touch points for fans. Their FanX™ mobile app includes access to everything the fan needs for gameday: game event schedules and team information, live stats and streaming, even digital programs and tickets, and more. Now, to bring even more value to their customers, From Now On has announced a partnership with FanFood that will bring another essential element to their mobile apps: mobile concessions ordering and delivery.
FanFood brings contactless delivery to the concourse for all schools on the FanX platform. Now, Instead of having to get up and wait in line to get concessions, fans can put their order via the app, and go pick it up once it is ready or even have it delivered to their seat, depending on the venue.
"Patrons need to feel safe. If they don't feel safe, they're unlikely to spend more time and money at a venue," Carson Goodale, Co-Founder & Chief Strategy Officer of FanFood recently told Front Office Sports. "So being able to offer that contactless solution is top of mind for most venues. It's almost an expectation that venues should have something like this as an option. On top of all that, it also saves venues money on labor costs, which can translate to more revenue."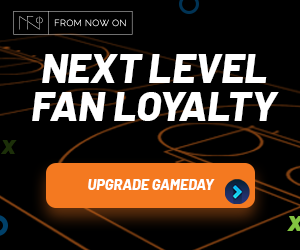 A major factor in the two companies partnering together was a shared goal: giving athletic departments access to great tools at low financial cost. Because of the financial effects of the COVID-19 pandemic, staying digitally connected with fans is even more important in achieving an organization's goals. Being able to communicate real-time updates to fans via push notifications, sharing content like digital programs and sponsored offers, and now mobile ordering, have all become key tools for organizations seekins to improve the digital journey of the fan on gameday.
"I think FanFood and From Now On both are very community focused," Sue Thaden, CEO of From Now On said. "We really look at our customers as a community, and together what we're able to do is take those best practices of all of our partners, all of our schools, and together create an even greater community of best practices and ideas for those folks to draw on."
Because of the low financial cost in implementing these solutions through From Now On, even smaller colleges and high school programs can afford to invest the resources necessary to create a memorable game day experience.
"In many ways, I think contactless solutions have leveled the playing field," Thaden added. "With platforms like ours, it's reasonably affordable and all levels are utilizing it as a great communication platform to keep people informed."
Moving into 2021, both parties see the contactless solution they have collaborated on as a huge part of the new normal. When fans are fully allowed back into venues, it's likely that the convenience of solutions like these will have altered the behavior and preferences of many fans permanently.
"Once habits are changed, they're the new habit," Thaden concluded. "If the new habit is more convenient, they will never go back."
Learn more about From Now On | Learn more about FanFood
Ready to see more? Find out how you can get started with an all-in-one contactless gameday solution from FanFood & From Now On here!