Nearly 100 years have passed since the inception of New York's famed Winged Foot Golf Club.
Erected in 1921, the Mamaroneck-based golf course has hosted some of the biggest amateur and professional golf tournaments in the United States. Since it held the 1929 U.S. Open, Winged Foot has been the host site for events ranging from the U.S. Amateur and U.S. Women's Open to the U.S. Senior Open and PGA Championship.
When 156 of professional golf's best players stepped onto Winged Foot Sept. 17 for round one of the 2020 U.S. Open, they will be onsite at one of sport's most notable relics during a time when the industry has seen fewer new golf courses to boast.
Dating back to 1936, the National Golf Foundation has maintained records on every golf course in the U.S. from verifying facilities to checking on those that are open, closed or in development. During that time, more than 16,300 golf courses opened across the U.S.
Between 1986 and 2005, there was a 44% increase in the number of domestic golf courses. Helped by a flourishing economy, a surge of interest in the sport led by Tiger Woods, and the desire for architects and designers to build golf courses to help sell homes, the U.S. golf industry suddenly had a surplus of courses.
Little did the golf industry know that 2005 would be one of its last successes from a course and facility standpoint.
Beginning in 2006 and extending beyond the financial crisis of 2007-2008, the industry entered 2020 with the number of golf course closures outweighing new openings for the 13th consecutive year.
In 2018, golf saw only 12.5 new course openings — measured in 18-hole equivalents — and the permanent closure of 198.5 courses. The NGF reported that 12 new golf courses were built in the U.S. the following year.
As a protege of famed golf course designer Pete Dye, Bobby Weed has had a hand in dozens of projects. He most recently designed Grove XXIII, a personalized golf course for NBA legend and golf enthusiast Michael Jordan. But outside of Grove XXIII and an active job in northern Florida, Weed — like his peers — isn't working on any new facilities.
"We have too many golf courses," Weed said. "To me, I think it's just a natural supply and demand. We probably overbuilt, and there's a little retraction going on now, so we don't need a lot of new golf courses because we're not filling up the ones that we have. The ones that we have — many are being renovated to become more competitive in today's marketplace."
With the golf industry changing drastically since he got his start, Weed has approached designs by catering to an entirely different audience. On top of having less time to play a round of golf, today's golfers also have less disposable income.
Arguably the most affordable way for most golfers to play is through municipal golf courses. These city-owned courses are usually, on average, $10 cheaper than other courses. On the flip side, name brand golf courses come with a hefty price tag.
Peak green fees at Shadow Creek — the site of Tiger Woods and Phil Mickelson's "The Match" in 2018 — are $750. Other notable venues like Pebble Beach and TPC Sawgrass, which hosts the annual Players Championship, can cost anywhere from $500 to $575 in green fees for 18 holes, according to Golf Advisor.
Even if someone pays to play at one of these iconic courses, the experience doesn't always align with the price tag. Data from the USGA shows that recreational golfers face pace of play issues, with their biggest concern being waits during a round.
At a golf course like Los Angeles' Rancho Park Golf Course, it can take as long as six hours for a golfer to complete their round during peak times. Even at prestigious tournaments like the 2012 U.S. Open and 2012 U.S. Women's Open, the pace of the world's elite players has been sluggish.
The average round during the first two days of the U.S. Open at the Olympic Club took well over five hours, with only the final round being completed at its allotted time of completion. Blackwolf Run — the site of the U.S. Women's Open — was worse, peaking at six hours, 14 minutes for one round.
To combat the slowness that has long plagued golf, course designers have addressed it, unexpectedly, through tee-time intervals. By increasing the tee-time intervals from six to eight minutes, Rancho Park golfers saw a perceived improvement in pace of play and a corresponding rise in the golfer experience.
At the 2013 U.S. Open and Women's Open, the USGA lengthened the starting intervals and recalculated the allotted times. The changes helped all but one of the U.S. Open's rounds at Merion Golf Club improve year-over-year, and round time at Sebonack Golf Club decreased by nearly 40 minutes during the U.S. Women's Open. Even at the 2018 U.S. Junior Amateur at Baltusrol Golf Club, increasing the tee-time intervals from 11 to 12 minutes helped round times decrease by 20 minutes.
By using tee-time intervals to space out golf groups, it has helped decrease golf-course congestion and minimize the number of "bottlenecks" that develop as a result of slow play. The quicker it takes for a golfer to play a round, Weed believes that it will translate to a better-all around experience for both them and the course.
"Time constraints seem to be a big issue with golf," Weed said. "If we can get them around a little bit quicker, we can design for speed a little bit more efficiently. I think that kind of flexibility resonates with the new generation, and for the most part anyone today simply because we just don't have as much disposable time as we might have once had — unless you're retired."
Another barrier that has kept golf course architects and designers from erecting new state-of-the-art venues is the exorbitant cost of doing so. Due to the widespread nature of golf courses across the U.S., it is difficult to offer up an apples-to-apple comparison of the cost to operate a golf course.
Bob Randquist, chief operating officer of the Golf Course Superintendents Association of America, estimates that the cost to achieve the golf-course conditions that players expect or tolerate range from roughly $500,000 annually for a daily-fee course to $1 million per year for a private golf course. Due to the shortness of the season, north central states spend, on average, $556,000 per golf course. The southwestern U.S.'s average yearly maintenance cost per golf course is $1.05 million, while Hawaii's $1.44 million annual costs to maintain a golf course is the most of any state.
Out on the golf course, typically the most expensive parts to maintain are the greens and bunkers. While the green is one of, if not, the most important aspect of the golf course, it has often been overshadowed by the resources used on bunkers. In a 2009 USGA article titled, "Bunkers: Can Your Golf Course Afford Them," a telephone survey featuring 12 golf-course superintendents revealed that they are spending more on maintaining their bunkers than their greens.
The USGA estimates that bunker construction can cost as much as $4 per square foot. When the association surveyed those 12 superintendents, their courses averaged more than 200 labor hours per week to prepare the bunkers for golf season. Total labor costs exceeded $10 per hour, and Randquist estimates that every-day labor costs for bunker maintenance can be $300,000 to $350,000 annually.
Some facilities have noticed the cost-savings associated with renovating their golf courses to be more eco-friendly. In Rhode Island, the Laurel Lane Country Club is entirely solar, powered by 14 solar arrays that move with the sun and has helped increase efficiency by 30% to 40%.
In Japan, Kasumigaseki Country Club, which will host golf at the Tokyo Olympics next summer, have employed GPS loggers from the USGA's Resource Management tool that highlights numerous areas for maintenance efficiency, such as the possible removal of bunkers. Eliminating such hazards would lead to quicker pace and lower maintenance costs.
Before the coronavirus pandemic, George Waters, manager of green section education at the USGA, saw many courses nationwide taking measures to cut costs. Nowadays, he sees an even greater focus from golf courses at limiting as many extraneous costs as possible.
"When courses started off this year with varying degrees of restrictions on how many hours they could work, how much staff they could have, what the budget was going to be, the responses were pretty similar to just more extreme versions of trends that have been going on," Waters said. "Not putting bunker rakes out — that was sort of a reducing touchpoints issue, but also just a maintenance time issue as well, and a lot of courses haven't put bunker rakes back out because of that touchpoint reason, but also as part of the scaled-back approach to bunker maintenance that's been going on. The ability to fully staff a maintenance department was becoming increasingly difficult, both from a budgetary standpoint and a hiring standpoint."
Beyond the on-the-ground makeover that comes with golf-course renovation are the financial dividends that accompany it. Since 2006, the NGF estimates that there have been nearly 1,300 major golf course renovations in the U.S. totalling roughly $3.75 billion in total investment.
As covered by Golf Inc. in July 2015, a report from the NGF and Sirius Golf Advisors revealed that eight courses which underwent major renovations in the Dallas area spent an average of $5 million. On average, annual revenue soared from $939,000 pre-renovation to $1.6 million within the first year of reopening. Small-scale renovations that cost approximately $445,000 increased annual revenue by anywhere from $1.1 million to $1.5 million.
Rees Jones knows firsthand how to create a quality golf course. His father, Robert Trent Jones Sr., was a golf course architect who designed or redesigned more than 500 golf courses across 45 states and 35 countries. Rees Jones himself has been involved with reconstruction projects at famed golf courses ranging from The Country Club in Brookline, Mass. to Torrey Pines in La Jolla, Calif. , and is well known for his work behind such legendary courses as Pinehurst Resort in North Carolina and New York's Bethpage Black Course.
Recent years have seen Rees Jones work on courses like The Breakers Rees Jones Course in West Palm Beach, Fla., and Coral Ridge Country Club, a nine-hole par-three course in Fort Lauderdale. From increasing the greens' sizes at the Breakers to making Coral Ridge an "executive golf course," he is working to ensure that today's golf sites are designed with amateurs in mind.
"If you have small targets, the average golfer can't hit them in there," Jones said. "He doesn't have the recovery game that the pro has. [Somewhere like] Pebble Beach is a great golf course for the pros because it's got the small greens and are smaller targets, so there's a lot of recovery shots for them. But for the average golfer, he needs a bigger target, both off the tee and into the green."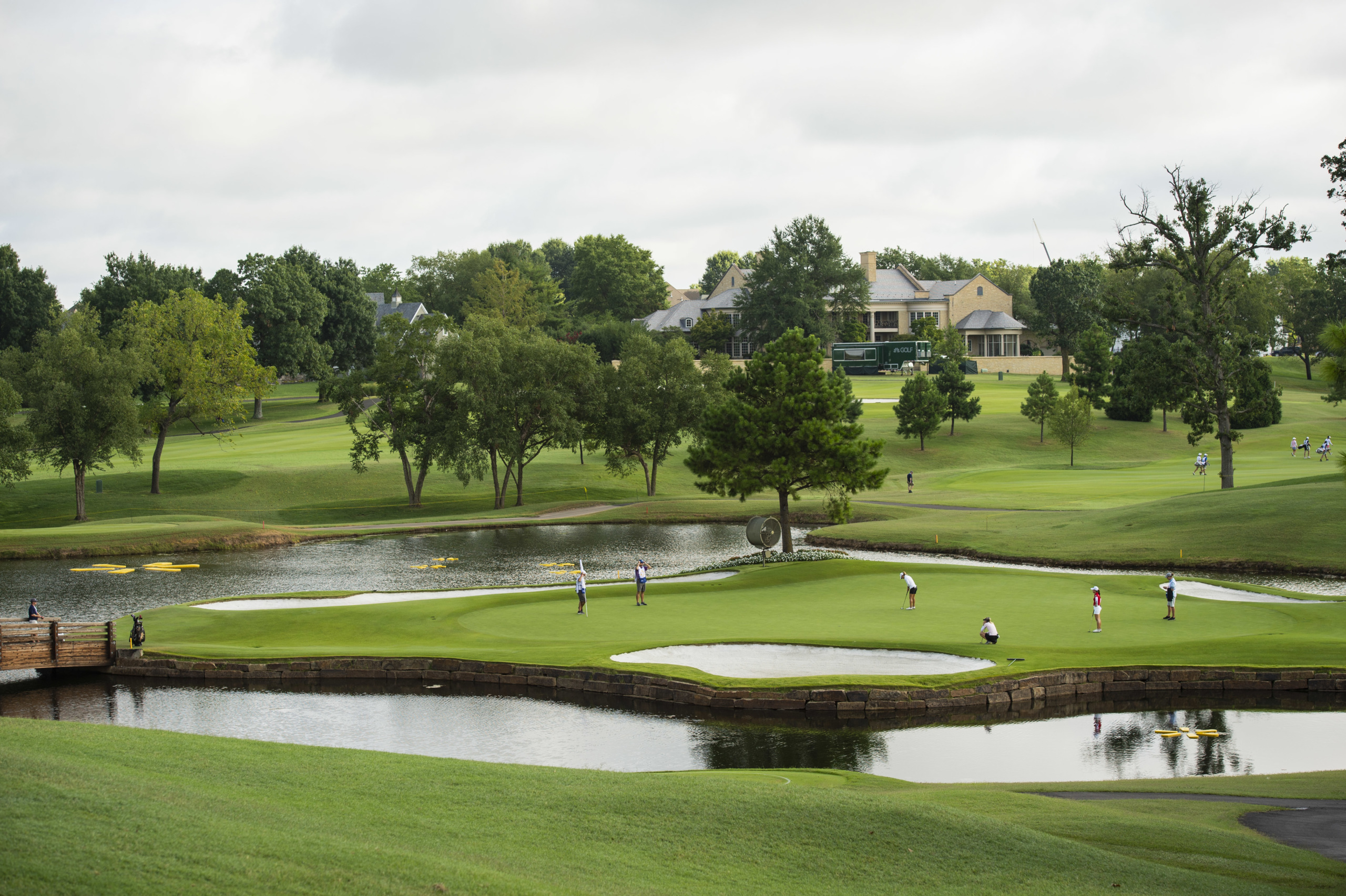 Once considered a separate, inadequate part of golf, varying types of golf courses — from nine-hole to par-three — have seen a major surge in popularity in recent decades. It wasn't that long ago when the USGA finally acknowledged a nine-hole handicap index in 1998. A decade later, shorter golf courses were legitimized when Augusta National Golf Club began televising the Masters Par 3 Contest.
The appeal of short courses reached new heights in 2012 when architect and famed golfer Ben Crenshaw designed Bandon Preserve, a 13-hole golf course located above a southern Oregon sand dune that wades into the Pacific Ocean. Since then, golf course architect Forrest Richardson has joined Jones in advancing the sport through creating shorter courses that offer a vastly different — but still enjoyable — fan experience.
Richardson recently led the renovation project behind Mountain Shadows Golf Club in Scottsdale, Ariz. Debuting in early 2017, the recreation focused on making it fun for both the casual and serious golfer. Featuring 18 par-three holes, each hole plays anywhere from 75 to 200 yards. Unlike the experience and pace challenges that hover over golf courses measuring over 7,000 yards, golfers have marveled at the ease that comes with playing at Mountain Shadows Golf Club. They also get to play 18 holes in only a few hours.
Not only has Mountain Shadows Golf Club provided much-needed enjoyment for the average golfer, it's also helped the local environment. Turf area has been reduced by more than 50% and the increased water conservation makes for an even more sustainable golf course.
Richardson is now constructing a new 12-hole par-three golf course in Buckeye, Ariz., that is expected to open in 2021, according to Golf Course Architecture. Going forward, he wants to continue pushing for smaller innovations in golf that can eventually see massive payoff.
"We owe it to the golf course world — and the world as a whole — to continue to find ways to make golf fit in smaller spaces with fewer inputs, fewer resources, less water, less labor," Richardson said. "What I'm going to really be focusing on over the coming year is the notion that … if you look at the entire global world of golf, there is no better group equipped to think creatively about the future of the game and the playing board than the golf course architects."
Despite the obstacles that the golf course industry has endured in 2020, it has ironically benefited from the coronavirus pandemic. June saw golf equipment sales soar 51% year-over-year after seeing 22% growth in May, according to the NPD Group. Sales of full sets of golf clubs also increased 68% in June.
The increase in golf equipment sales correlates with a rise in golfer participation. According to the NGF, recreational golf rounds in the U.S. in July were up 19.9% year-over-year, equating to more than 10 million additional rounds than at that time last year.
July's bump comes after play rose 13.9% in June and 6.2% in May, which has helped the golf industry offset the loss of 20 million spring rounds due to the COVID-19 outbreak. Entering August, play in 2020 was up 3% year-over-year, and continued growth could see this year eclipse 2019's 441 million total rounds nationally.
While many amateurs will make their way to the golf course during the U.S. Open at Winged Foot's West Course, even more players and fans will be at home marveling over the toughness and length that accompanies the biggest test in golf. Outside of tournament play, the West Course measures in at 7,426 yards from the furthest tees — long, but not nearly as long as past U.S. Open courses.
Despite the "wow" factor that comes with longer golf courses, Jones, Richardson, Waters and Weed are all in agreement that length doesn't benefit the largest contingent in golf: the everyday golfer. There will always be a need for championship golf played by the sport's top 1% of talent — but there's one important voice that needs to be prioritized on future golf-course designs and renovation.
"When we build these championship golf courses, we need to make sure that the other 51 weeks of the year — they're enjoyable and playable for the average golfer," Rees Jones said.