The Philadelphia Eagles are giving up more real estate space at Lincoln Financial Field to a sports betting partnership, building on a trend that many NFL clubs have embarked on this season.
Less than a month after the Eagles announced a partnership with Fox Bet that will give the sports betting operator a premium lounge at the stadium, the organization announced an expansion of its partnership with DraftKings — which will include "The DraftKings Field Club." The premium lounge offers an on-field viewing area in the north end zone, as well as a private club space.
"It was a space we'd utilized in the past with a former banking partner, but we wanted to reimagine what it could look like," said Catherine Carlson, Eagles senior vice president of revenue and strategy.
The partnership also includes designation as an official sports betting partner and daily fantasy sports partner, a natural progression of the two organizations' relationship as the NFL has evolved its policy around gambling entities. Along with Fox Bet and DraftKings, the Eagles also have an official casino partnership with Unibet.
While Carlson said the team's gambling industry partnerships will continue to evolve as rules and regulations change around the category, it's likely that three partners will be the cap. At least one other NFL team has also picked three as the magic number — the Denver Broncos have deals with FanDuel, Betfred and BetMGM.
"At some point, there's diminished value once you go beyond three," Carlson said. "For 2020, we want to focus on the partners we have in place."
Carlson also acknowledged the decision to keep the category non-exclusive as the team works to figure out the best way to maximize the partnerships from a commercial standpoint. As a maturing industry in the U.S., sports betting operators are seeking different objectives from their sports partnerships, as some want to simply drive awareness while others are looking to bring in new customers or garner deeper loyalty.
The Eagles have built the partnerships with those different objectives in mind. The sports betting category will remain a growing segment for teams for the time being, especially as the league and teams are taking the "crawl, walk, run" approach Carlson suggested they are.
"You have to maintain a reasonable share of voice and provide the partners with different assets and opportunities," Carlson said. "This is a new category and we're all learning as we go. It's a very lucrative and growing category and we'll continue to monitor it as we go."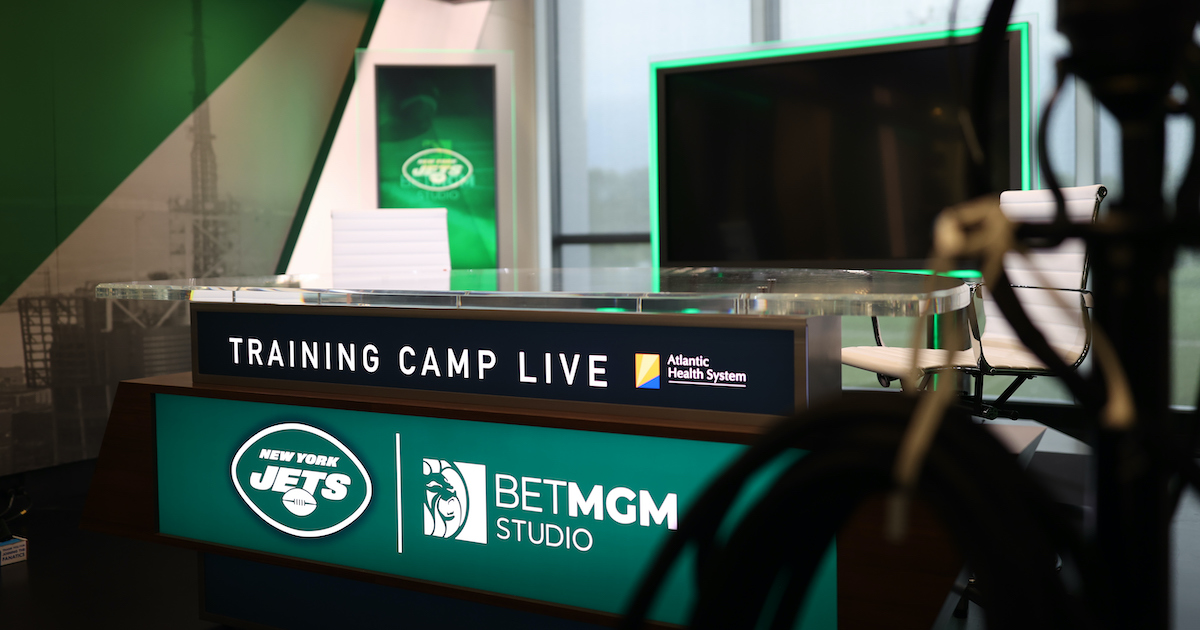 Along with the field club, the DraftKings partnership will include a new free-to-play game called "Eagles State Showdown" within the Eagles app that allows fans to make predictions for a chance at weekly prizes. DraftKings will also be the presenting partner of practice livestreams and will receive regular digital and physical signage.
"Be it fans at home, on the DraftKings mobile app, or inside Lincoln Financial Field, we look forward to introducing Eagles fans and DraftKings customers alike to an all-encompassing DraftKings experience," DraftKings Chief Business Officer Ezra Kucharz said in a statement.
New sports betting partnerships are emerging on a weekly, if not daily basis. Recently, DraftKings announced a deal with the Chicago Cubs that could result in a sportsbook at Wrigley Field. PointsBet has announced several NFL partnerships this season, including the Chicago Bears and Indianapolis Colts, as well as a deal with the University of Colorado.
With the Eagles in Pennsylvania, one of the largest legal sports betting markets in the U.S. — was No. 3 state in August with $365 million bet — Carlson said the team feels a responsibility to lead the category in a way. With that in mind, she said they're maintaining four key objectives: protecting the integrity of the game, maintaining the brand reputation of the league and team, driving fan engagement, and growing commercial opportunities.
"Rather than focusing on the restrictions, we're focused on what's possible," Carlson said. "We want to build a foundation of what the future holds and continue to evolve."