Without fans at MetLife Stadium, the New York Jets — like most teams — have placed an added emphasis on content to keep fans up-to-date and engaged. This season, it just so happens the team has an expansive new studio: BetMGM Studio.
Last year, the Jets also recorded content, including pre- and post-game shows, at a BetMGM-branded studio, but it was cramped, said Chris Gargano, Jets vice president and executive producer. Gargano said the discussion of a new studio came up and quickly presented itself as a value-add for the partnership between MGM Resorts and the Jets. Cost of the studio was not disclosed.
"It's night and day," Gargano said. "What we have now is palatial in comparison and we're extremely grateful to have a space like this."
The nearly 1,000-square-foot studio sits in a space overlooking the Jets practice field at the Atlantic Health Jets Training Center in Florham Park, New Jersey, and features two workable sets. A crew of more than a dozen staffers works on the set for the shows, which includes Pregame Central presented by Pepsi, Jets Overtime presented by Dunkin, the Jets presented by EY and JetLife presented by New York Lottery.
A new state-of-the-art studio was an effective way to naturally expand on a sports betting partnership, BetMGM Head of Public Relations and Communications Elisa Richardson said.
Providing a team's content department with direct access to betting information can help further engagement with the fans, something many of the organizations are looking for from their new sports betting partnerships.
"We had BetMGM branding at their studio space last NFL season but we are really excited about their new space, it's larger and offers us more opportunity to be involved with their programming," Richardson wrote in an email. "[The] synergies between gaming partners and individual teams in terms of data and insight sharing make successful partnerships and ours with the Jets definitely speaks to that."
"Having access to our trading team directly to supply betting insight makes for some really smart content," she said.
Sports betting partnerships are starting to explode across leagues and teams — a team like the Denver Broncos has three official sports betting partners — and it can take some work to integrate the brands into activations. During the week of Sept. 21, PointsBet announced two NFL team deals: the Indianapolis Colts and Chicago Bears.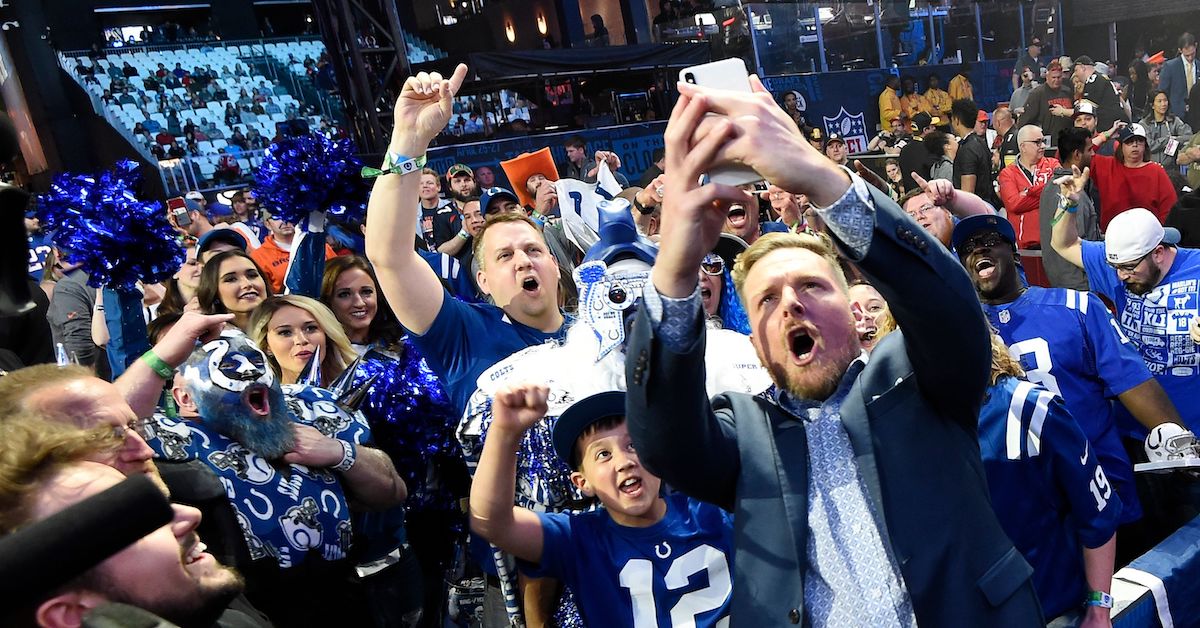 The legalization of sports betting has widely been seen as a way to increase fan engagement by teams, leagues and broadcasters — driving value up across the board. And sports betting operators see engaged fan bases as an opportunity for increased bettor loyalty. So there's a symbiotic relationship for both sides if they crack the code to best activate their partnerships.
That's why there's been more than 100 official partnerships between teams, leagues and media entities and sports betting operators, said Casey Clark, senior vice president of strategic communications at the American Gaming Association.
Along with the branded studio, BetMGM also controls and operates a Jets-branded free-to-play game betting within the team's app. The partnership also comes with a variety of digital, stadium and broadcast advertising and a ticket discount program for MGM Loyalty Program members.
The team's partnership with MGM Resorts started in 2018 and Gargano said the research for the new studio began in fall of 2018, with conversations with studio designers, audio and lighting experts.
Then, it all came to fruition and opened in a time when connecting with fans digitally is more important than ever.
"Where we are in the world today, we're appreciative the Jets fanbase is engaged with our brand and we try to produce content at the highest level for them," Gargano said. "With this studio, we're trying to live up to that standard."