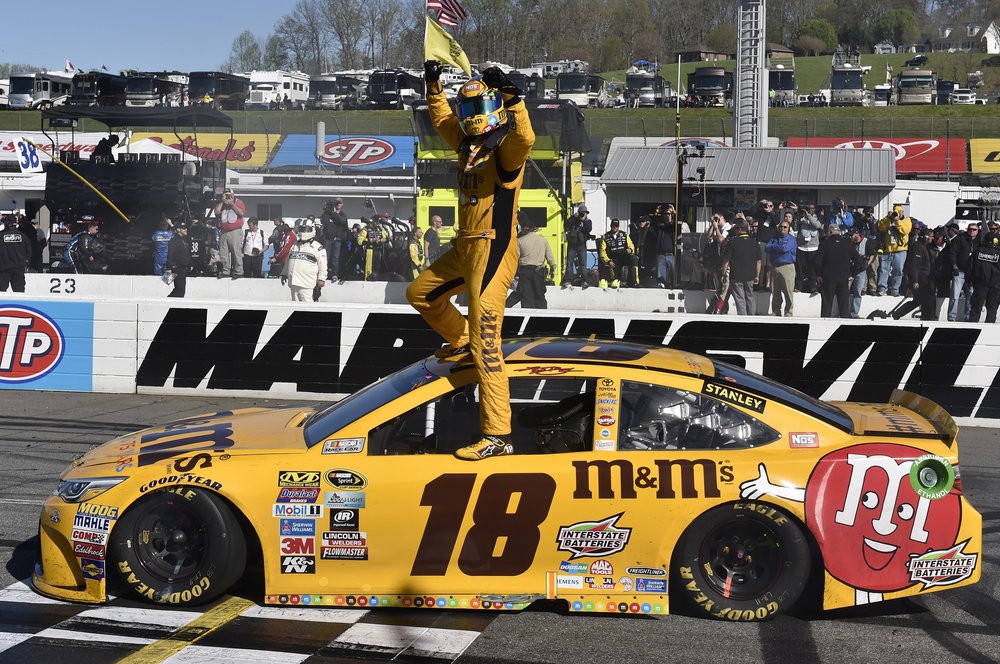 With the 2017 season set to get underway in late February, it's time to begin season previews. Our first installment features Joe Gibbs Racing and Richard Petty Motorsports.
Joe Gibbs Racing Overview
Joe Gibbs Racing (JGR), founded by former NFL Head Coach Joe Gibbs, made its debut in NASCAR's top series in the 1992 Daytona 500. Currently, JGR operates four full-time Monster Energy NASCAR Cup Series teams, the maximum amount allowed by the sanctioning body.
JGR Drivers
Denny Hamlin : Hamlin began driving the #11 FedEx car for JGR in 2006, his first full-time season in NASCAR's premier series. FedEx signed on to sponsor the #11 car prior to the 2005 season with Jason Leffler behind the wheel.
When Hamlin took over the car the next year, FedEx remained loyal and has been the primary sponsor on his car during his entire time in the Cup Series. Hamlin, the 2016 Daytona 500 winner, is signed through the 2017 season, but said in early January that his contract extension with the Gibbs organization is complete, although no formal announcement has been made.
Want more great content like this? Be sure to subscribe to our newsletter!
It remains to be seen whether FedEx will continue its partnership with JGR beyond 2017, as the last contract extension between the two parties was announced in 2012, but there seems to be no reason for the partnership to cease.
In 2016, Hamlin ran all but two races with FedEx on the hood and found himself in victory lane four times. With the FedEx colors, Hamlin had an average finish of 12.4.
The only other primary sponsor for Hamlin was Sport Clips, which was featured on the car at Auto Club Speedway and Darlington. Hamlin finished in the top 10 both times Sport Clips' colors were on the hood. He finished sixth in the standings in 2016.
Kyle Busch: After breaking into NASCAR's main series with Hall of Famer Rick Hendrick, Busch has driven the #18 Joe Gibbs Racing Toyota since 2008.
One of two current JGR drivers to win a championship, the 2015 Cup Series champion's contract with Gibbs runs through the 2019 season, while two sponsors, Interstate Batteries and M&Ms, have deals through 2017 and 2019 respectively.
Busch signed his contract extension the week prior to the conclusion of his 2015 championship season and two days after JRG extended its relationship with M&Ms through 2017.
He called Joe Gibbs Racing his "true home," according to NASCAR.com's Zack Albert, while Gibbs noted that it was great to have both Busch and M&Ms partnered together for the future.
Busch's 2015 championship was the first NASCAR championship for M&Ms and the second for Interstate Batteries, which sponsored former JGR driver Bobby Labonte during his 2000 championship season.
Interstate Batteries is scheduled to be the primary sponsor for six races in 2017, and most likely a brand of MARS (M&Ms parent company) will be on Busch's #18 JGR Toyota for the other 30 races of the season.
Busch has 38 wins in the Monster Energy series and 26 of those have come with a brand of MARS on the race car.
Interstate Batteries, which has a longstanding relationship with Joe Gibbs Racing dating back to 1994, has been in victory lane with Busch on six occasions. He has won nine races over the past two seasons, including six in 2015. With three seasons left on his contract, Busch and JGR could easily find themselves atop the point standings at the seasons end multiple times. In 2017, the team hopes to be two spots above its third place finish in points and win its second championship.
Matt Kenseth: Kenseth, who won the 2003 championship for Jack Roush and Roush Fenway Racing, made the transition to Gibbs following the 2013 season. He won seven races in his first season with JGR, setting the record for most wins in a single season by the 20 car, which was previously driven by Tony Stewart and Joey Logano.
The soon to be 45-year-old enters the final year of his contract and although he has not discussed his plans for retirement, fans have to wonder if Kenseth will step away from the sport and spend more time with his wife and young daughter and also preserve his health.
While owner Joe Gibbs did not discuss Kenseth's contract, he, in a press release on the organization's website, stated that he fully expects him to retire as a member of JGR.
The one-time champion will be sponsored by DeWalt for 15 races in 2017, which is up from 10 races in 2016. With DeWalt on the hood in 2016, Kenseth won at New Hampshire and Dover and had average finish slightly better than 14th position. DeWalt has a contract with JGR and Kenseth through this upcoming season, but has had a longstanding relationship with the championship winning driver. The company was the sponsor during his 2003 championship season and was affiliated with him at RFR from 1999–2009 before rekindling the partnership in 2016.
Perhaps the biggest news out of Kenseth's camp during 2016 came Dollar General announced it would be ending its time in NASCAR. The company was the primary sponsor on his Toyota from 2013–2016, but left the sport in an effort to reallocate its marketing assets to programs other than NASCR.
With DeWalt as the primary sponsor, Kenseth hopes to continue the positive momentum of 2016, which saw him capture two wins and finish fifth in the standings.
Daniel Suarez: The lone new driver to the JGR Cup Series stable comes over after Carl Edwards announced his retirement, something that shocked seemingly everyone in the motorsports world.
Edwards had raced full-time in NASCAR's highest series since 2005 and spent two seasons with Joe Gibbs Racing, which began fielding a fourth team upon his arrival.
Perhaps nobody was more shocked about Edwards' announcement than Gibbs, who told Kenny Bruce, "Honestly, it was a total shock…I could really tell in his face that it was something he'd really thought about…he was kind of emotional and it was something he really felt like he needed to do."
Shortly after Edwards called it quits, former driver Jeff Burton, who Edwards replaced in the #99 Roush Fenway Racing car prior to the 2005 season, called his decision "courageous."
Edwards' sponsors had to have been both shocked and disappointed when learning about his retirement, but companies appear to be in good hands with Suarez, who became the first Mexican-born driver to win a championship in one of NASCAR's national series in 2016.
He won the 2016 Xfinity Series Championship by winning three races and finishing outside the top 10 only six times.
Three sponsors, Aaris, Subway, and Sport Clips are expected to remain with the team despite the driver change. Aaris, which first announced an agreement with Edwards in 2014, will be Suarez's sponsor for 17 of the 36 races.
While he has big shoes to fill, the 25-year-old steps into a top-quality ride with an organization that has two championship winning drivers in Matt Kenseth and Kyle Busch, as well as proven winner Denny Hamlin. Suarez competed against several Cup Series regulars during his time in the Xfinity Series, which will significantly help his transition and make him a driver who has a legitimate chance to end up in victory lane this season.
Richard Petty Motorsports (RPM) Overview
Formerly known as Petty Enterprises, the team founded by Lee Petty and his two sons, seven-time champion Richard, and Maurice, merged with Gillette Evernham Motorsports in January of 2009. The organization recently announced that it would downsize to a single-car operation in 2017 and focus its efforts solely on the #43 car and driver Aric Almirola.
RPM Driver
Aric Almirola: Almirola and the #43 team are the sole focus of RPM this season. The organization announced that it would field only a single team upon the retirement of Brian Scott, who drove the #44 machine in 2016.
Almirola returns two major sponsors in Smithfield Foods and the U.S. Air Force. The Air Force will be featured on the car for the July race at Daytona International Speedway, as well as the November race at Phoenix, which falls near Veterans Day.
Of interest to fans, the USAF will continue to hold swearing in ceremonies of Airmen in the Delayed Entry Program at NASCAR racetracks. 2017 marks the ninth straight season that the military branch has been associated with Richard Petty Motorsports and its 17th year in the sport.
Regardless of the sponsor featured on the car, Almirola hopes to improve on a frustrating 2016 campaign. The Tampa, Florida native failed to win a race for the second consecutive season and finished outside the top 20 in points for the first time in his career.
Almirola's average finishing position of 23.9 was his lowest since he joined the Cup Series full-time, as was his 26th place finish in the final standings.
With this being a contract year for him according to Jayski, Almirola will need to perform up to Richard Petty's standards.
Perhaps a sponsorship renewal and the fact that the organization will focus all of its efforts on his team will provide him with some peace of mind.