In hindsight, the live sports hiatus during the 2020 pandemic might be one of the most pivotal moments in the history of streaming and subscription video on demand (SVOD). 
With live sports on hold and extra time on their hands, households scrambled for other forms of entertainment — and for sports fans, there was a plethora of options for original content. 
Michael Jordan's "The Last Dance" became the most in-demand documentary worldwide only two weeks after its debut on ESPN and Netflix, averaging around 5.9 million viewers per episode.
The show's buzz blew up social media and likely attracted many new subscribers.
Netflix's Formula 1 docuseries "Drive to Survive" converted millions into F1 fans —  34% of viewers — and continues to drive engagement.
From fictional shows like Apple's "Ted Lasso" to nonfiction series like Netflix's "Last Chance U,"  production studios, sports properties, and SVODs are leveraging the power of sports to provide exciting original content.
And lately, some major brands have taken strategic steps within the same playbook.
Earlier this year, the PGA

closed

a deal with Netflix for the rights to an exclusive documentary series around its major championships.

Last month, Amazon Prime

signed

an exclusive three-year media rights deal with Overtime Elite to stream 20 games live each season and

launched

a live daily show, "Sports Talk." 

The NFL

inked

a deal with Skydance Media to produce documentary and fictional content.
But how did sports content proliferate so quickly and get so popular — and how did it become a core element of content strategy for SVODs?
Arms Race
After the pandemic initially provided a bump in revenues and subscribers, most SVODs have struggled to keep the business flat, let alone grow.
In 2022, lost subscribers, price hikes, layoffs, and ad-tier versions have been the norm during what seems to be a rough year for the entertainment sector.
Netflix and Disney — two of the most prominent SVOD players — are down over 50% and 40% YTD, respectively. The latest report from JustWatch claimed that the competition for market share in the U.S. has been getting extremely tight, with no clear winner.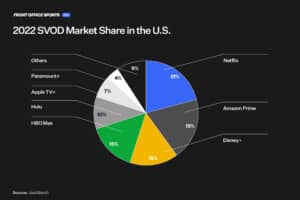 As competition stiffens, and both veteran and new SVOD entrants fight for a piece of the pie and the highest number of eyeballs, companies are looking for better differentiation strategies.
While SVODs curate, aggregate, and distribute most of the content, they don't always produce it. Previously, they signed distribution deals with production studios or outsourced most of their content. 
But the streaming wars demand a more robust content strategy and higher quality content — paving the way for the rise of original content. 
The Rise of Original Content
In a paper published in 2017 in the Journal of Economics & Management Strategy, Jeff Prince and Shane Greenstein studied the value of original content from streaming providers — particularly whether an investment in OG in-house content production was a reliable measure to influence consumer behavior and increase the number of subscriptions.
"Our results indicate that if a streaming service wants to attract subscribers, offering content from [regular] TV channels is not a sufficient strategy. We found that offering original content can be one important way streaming services can differentiate their offerings from competitors," they explained to the Harvard Business Review.
Thus, the frenetic activity on this front makes sense.
In 2017, Disney

announced

it was launching Disney+ and would pull all its content from Netflix.

That same year, Netflix aggressively

raised

its budget to

$8 billion

for original content production. 

Hulu, Apple, and Amazon Prime allotted respective

$2.5 billion

,

$1 billion

,

and

$4 billion

budgets for original content.
With loads of new capital, streaming providers began outsourcing or closing deals directly with actors, directors, writers, and producers to create original in-house content.
In essence, SVODs became production studios — some even merged with or acquired existing entities in the field. For example, Amazon acquired television studio MGM in an $8.5 billion deal to produce more content for Prime Video and Amazon Studios.
The meteoric rise and value of original content forced a backward integration in the entertainment industry, where the distributor became the producer. 
Now, the focus shifted to the details.
Sports for SVODs
A recent report by S&P Market Intelligence revealed staggering numbers about the demographic of SVOD users and their preferences and engagement across different sports, providing more signposts for boosting platform growth.
According to the data, roughly three out of four SVOD users (~74%) already follow and watch some form of live sports on TV in the U.S., while around half of viewers do so weekly.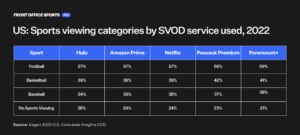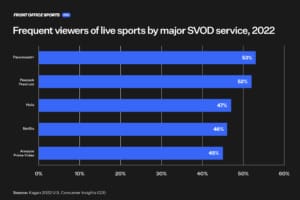 Furthermore, data shows that the demographic of sports viewership among fans in the U.S. is even and relatively diverse.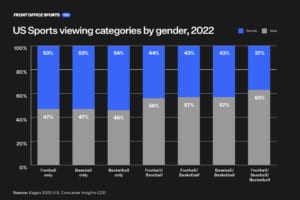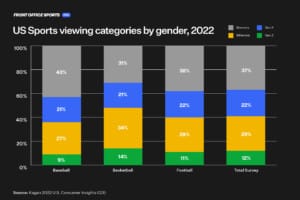 The balance in interest suggests that sports-related content would not represent a significant attraction skew for a particular consumer within any platform — and that a more extensive target audience could command more content that appeals to various demographics. 
From a production standpoint, knowing that an audience has an evenly distributed interest and is driven by a popular topic simplifies strategic content decisions like choosing topics and spending and allocating a budget.
Besides serving as confirmation bias, this also suggests that the diverse demographic of people already subscribed to SVOD platforms have an evident interest in live sports. 
And still, there's a big argument against betting on them for growth.
A Double-Edged Sword
Many streaming providers with deep pockets have made a significant push to bring live sports to their platforms — most notably, Amazon Prime with the NFL and Apple with MLS and the MLB.
And it's not stopping anytime soon. 
As of Nov. 20, Apple, Disney, Amazon, and Google are all still in contention to acquire NFL Sunday Ticket.
The benefits seem straightforward: Live sports increase customer interest, reduce subscriber churn, and improve product mix and retention.
But locking in TV rights is a substantial expense that increases overall customer acquisition costs and threatens profitability.
Netflix co-CEO Ted Sarandos called live sports "dramatically expensive" and a "loss leader," and though the company was pushing for the rights to Formula 1 earlier this year, it has yet to offer live streams in its ecosystem.
"We're not anti-sports," said Sarandos. "We're just pro-profit."
According to the Wall Street Journal, Netflix also explored streaming lower-profile products like the World Surf League and the ATP tennis tour to avoid the expensive rights for Tier 1 sports leagues. 
And since many SVODs can't afford the TV rights for broadcasting live sports — particularly Tier 1 leagues — original sports content is the next-best alternative.
The Dilemma
When SVODs became production studios, public and media scrutiny soared.
Many have criticized Netflix for using one of the biggest budgets in the industry to deliver quantity over quality. In 2022, Netflix only won a single Oscar despite being the movie distributor with the most nominations.
On the other hand, Apple — known for its smaller catalog and shorter experience producing original content — became the first streaming service to win Best Picture with "CODA."
As the streaming wars continue, it feels like pouring billions into original content will not be enough – reputation, budget per title, quality vs. quantity, nominations, and awards will dictate success in the competition for eyeballs and attention. 
Moving forward, the SVODs who can afford rights to live sports will continue pushing for them, and those who cannot, will continue leveraging the value of original sports content to grow.