Jamal Crawford didn't have a gym with interactive tools to help hone his basketball skills, but he wants his children – and others in the Seattle area – to have that advantage.
Five years ago, the 19-year NBA veteran heard about Shoot 360, a gym concept employing technology to help improve basketball skills, from a friend while on a road trip. Crawford was tired and didn't make the trip to check it out, but it stayed on his mind.
"Fast-forward a few years, and I see everything they've been doing, and I see [former NBA player] Rodney Stuckey has one, so I took my son and nephew out there and didn't tell him, and from the second I walked in, it was like basketball heaven," he said.
Surprised to see another NBA veteran, Stuckey put Crawford's boys through workouts. The interactive technology employed features both games and more traditional drills for shooting, ball-handling and passing, all while tracking players and giving them instant feedback.
"I saw the looks on their faces and how excited they are; they enjoy working out, but it doesn't look like that," he said. "When we left, my son said he'd come to work out twice a day."
With his son's enthusiasm in tow, Crawford started talking to Shoot 360's founder, Craig Moody. Now, Crawford not only has opened his own Shoot 360 gym in Seattle, but is also part of the company's advisory board and is taking on a global ambassador role as well.
While Crawford enjoyed the way he came up playing basketball, he said like anything the game evolves – comparing it to how the features on a 2020 Cadillac Escalade have evolved since 1999.
"It's pushing the game forward, another tool to have," Crawford said. "The real deal breaker for me was the technology; you get instant feedback on what you're doing. And you don't feel out of place, any age, beginner to pros. It's all about the fun of it; like now, kids love video games, the passing, and ball-handling, you're hitting the mark of a shooter on perfect stride. It's all muscle memory; it takes over.
"It's just perfect from the kid aspect; it's not the mundane of the same thing three times a week," he said.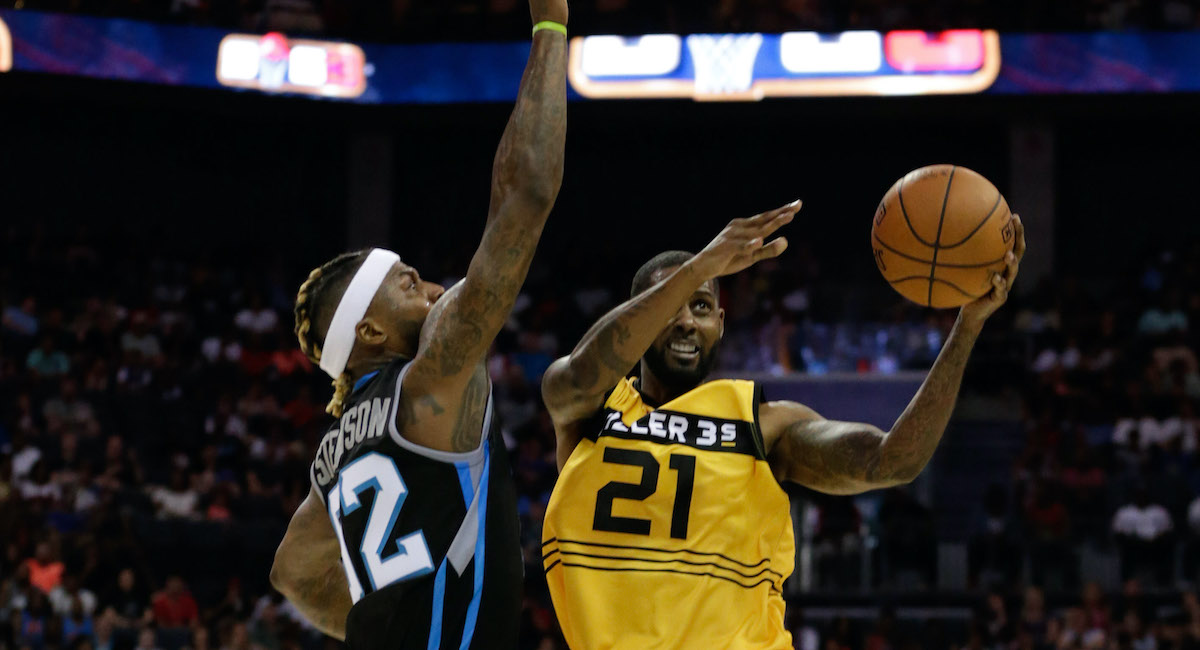 A Seattle native, Crawford still lives in Washington and does his best to stay engaged with the community, including 'The Crawsover,' an annual pro-am summer league at Seattle Pacific University. With Shoot 360, he hopes to help take the local basketball community to another level, but he also has global ambitions.
"From my point of view, Shoot 360 can grow across the country, but from there, growing it internationally," he said. "Basketball is a universal language. You can go to China, and I might not speak the language, but we know how to play together, and it ties people together."
While the three-time NBA Sixth Man of the Year has worked to diversify his investments and off-the-court dealings, Crawford foresees Shoot 360 as his most passionate project.
"I have camps all the time, seeing kids get better; of all the things I'm invested in, basketball is the most near and dear thing to me," he said. "I've had opportunities to do other things, but I've never said there's something else. The main thing is the main thing, and that's why it's so important to me – improving and having a good time.
"I played 19 years, and that passion is what's kept me playing so far. I play every day in the summer, and the next day I'm back playing. So as my career winds down, it's not just a financial thing; it's to occupy my time."