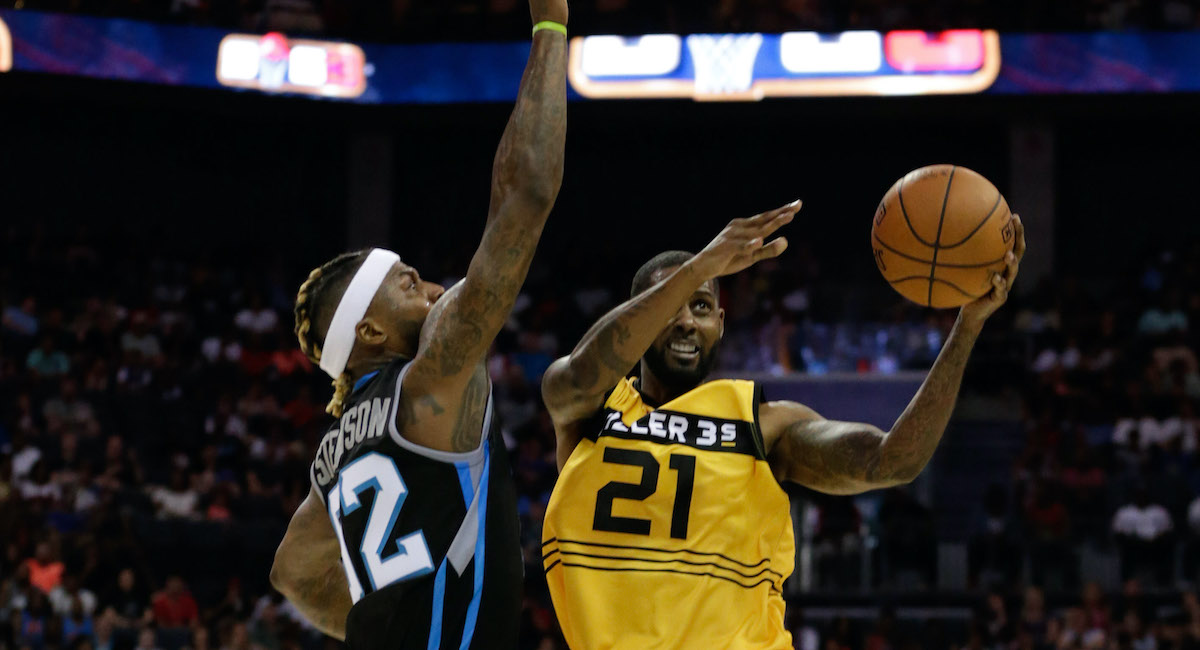 Many athletes use their sport as a platform into other non-sports business ventures, but former NBA guard Larry Hughes is using his post-playing career to transform basketball training.
In April, Hughes, who retired in 2012 following a 13-year career, opened the Larry Hughes Basketball Academy in his hometown of St. Louis after four years of running a remote training company. Along with the academy is a Hughes-co-founded venture, Basketball Training Systems, a full-service platform to support youth basketball programs.
While basketball was an obvious choice for a career, it wasn't where his thoughts initially pointed.
"I don't know that there was a definitive point of where I was headed[after the NBA]," Hughes said. "I just knew I had a good business understanding and that I'd live much longer after I was done playing. I'd always focused on the people and community around me.
"I was just interested in what was next and let things happen."
The basketball business ventures came after four years of running ROC House Women's Fitness Spa, an Atlanta-based wellness company geared toward empowering women to have a space of their own, he said. His involvement in Rackhouse was fueled by his wife and daughters and the desire for them to have their own holistic space.
Hughes, however, wanted to get back into basketball, spurred by his involvement in youth basketball and watching how games were being played at the youth and high school levels. He started to think about how he could get the players to feel more successful, as he helped in practices and worked on skill development.
As part of his skills development training, he felt it was important to incorporate things he learned playing with some of the game's greatest ever – like Michael Jordan when he was with the Washington Wizards and LeBron James when he was with the Cleveland Cavaliers.
"When I played growing up, we didn't have the amount of skill development as we do today," Hughes said. "I saw this as an opportunity to, after all the years of being around different players, to look at what were the most important, foundational things to learn. So I built the organization and curriculum-based program."
As Hughes' basketball training business got off the ground, there was always an issue of facilities – schools are quick to bump out sports for other events. He always had the vision of owning a multi-court facility. He was able to secure a two-court building, which opened in April. The new Larry Hughes Basketball Academy allows for greater technology integration into the sessions.
The academy has incorporated both RSPCT and Kinexon technology. RSPCT uses optical sensors on the backboard to track shots, makes and misses, arc, angle, and point of entry, while Kinexon measures athletes' speed, jumps, positioning, and other stats.
Currently, there are approximately 300 K-8th-aged participants and another 200 players participating on the team-play side.
"Using technology has been huge for us, and when we were at multiple gyms we weren't able to do that," he said. "It's an understanding, awareness, and validation. You never get away from the human element of training, but the kids want to understand the whys, and with the help of technology you can explain those whys better."
READ MORE: James Harden Acquiring Minority Stake In Houston Dynamo, Dash
While the Larry Hughes Basketball Academy is based in St. Louis, Hughes has hopes of scaling the methodology through Basketball Training Systems, the platform he co-founded with Richard Campbell and the New Amsterdam Group. The platform provides human resources support to on-the-court programs.
BTS is currently used at several other high-profile academies, including Chris Paul's CP3 Academy and Bobby Jackson's Bobby Jackson Academy. Included in the platform is also a not-for-profit arm that takes charitable donations to help support members who can't pay academy dues and elite-level team travel costs.
"The focus is using technology to help build players on and off the court," Hughes said. "We want to help standardize basketball development."