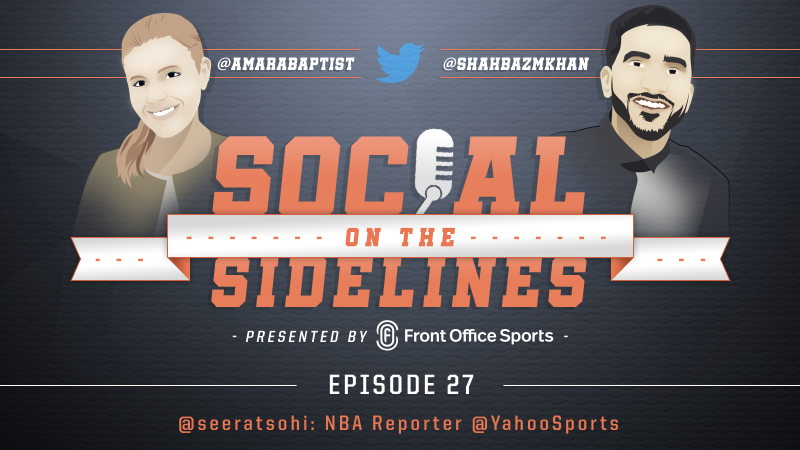 As another NBA season comes to a close, the social and digital content surrounding the league has once again been among the best in sports. Someone creating such content is NBA writer Seerat Sohi.
A graduate of the University of Alberta, Sohi is currently an NBA reporter for Yahoo Sports based in Toronto. She has covered the league for the last seven years with pieces published by outlets like SB Nation, The Athletic, ESPN, and more.
Sohi joins Shabaz Khan and Amara Baptist to discuss getting started as a journalist/content creator, covering teams on deep playoff runs, and more.
Edited highlights appear below:
On her first steps toward a career in sports (14:27)
Sohi: "When I was 17, I was sitting in the library at my school after getting a particularly bad grade and realizing that I can no longer rest on my laurels. It was my first year of university and I thought maybe trying to go to business school and becoming a lawyer might not be the best path for me or that feasible…I started actually just scrolling down the majors lists … and journalism popped up and it kind of just clicked….that was never really something that I had considered up until that moment. So it kind of clicked with something somebody else had said to me before about how I was posting too much on forums and posting like tirades basically against the [Chicago] Bulls. I was a Bulls fan at the time and they were frustrating. So then I decided to just take all of my thoughts onto a blog and it was right around the time that NBA Twitter was sort of coming into the mainstream… it was around the time that team blogs, like SB Nation and ESPN True Hoop were starting to blow up. So I just kept writing and talking to people and just trying to improve and eventually landed …with True Hoop blogs. And from there it's like anything where you slowly go up the ladder and then you meet more and more talented people and you're like 'how could I be a little bit more like them?'"
On being a woman in a mostly male career field (26:25)
Sohi: "I think the number one thing I'd say is that there are just so many women who came before me who made this so much easier than it could have been. I think now when I look at the Raptors' locker room, I always see like two or three other women in there with you pretty much no matter what time of year. I think that alone made a huge difference for me. I think that if I hadn't had that, I probably would have been feeling like people were watching me, making me feel self-conscious, something which is still something that I think sometimes. And that's probably one of the bigger challenges is just getting to a place where you feel like you belong so you can actually just go do your job instead of worrying about what other people are thinking about you doing your job."
Social on the Sidelines is Presented to You By:
On how covering the Raptors has changed in the midst of their postseason run (32:13)
Sohi: "Day to day, not too much changed up until probably the Eastern Conference Finals. Before that it was like, okay, you're covering this pretty promising team. So obviously the Kawhi Leonard trade changes some things and the element that he's a "rental" there's a little bit more pressure… I'd say around mid-May was when things really started changing and ramping up. It was like, 'oh this run is really something special.' We're in the midst of it right now. It's been one of the coolest things that I've ever been a part of, to be honest."
SEE MORE: Twitter's Will Exline on the Platform's Evolving Place Within Sports
Advice for people trying to break into a career in sports (38:54)
Sohi: "I think the core thing of it all, especially with content creation now, is just try to be yourself, especially with the amount of noise that's on Twitter. Whether it's people saying that you should write a certain way or 'why aren't you writing about this'? or 'why aren't you paying enough attention to this?' especially if you're trying to grow as a writer. I always think about this now as somebody who got into Twitter at a time when it was a much friendlier place. Just try to shut everything out and do your best and gravitate towards the things that you like and have the confidence to follow your curiosity because there's so much out there that if you aren't going to a place only you can know, you're not really going to be able to survive."
Love what we are doing? Help us grow and get in front of more people by subscribing below and leaving a review!