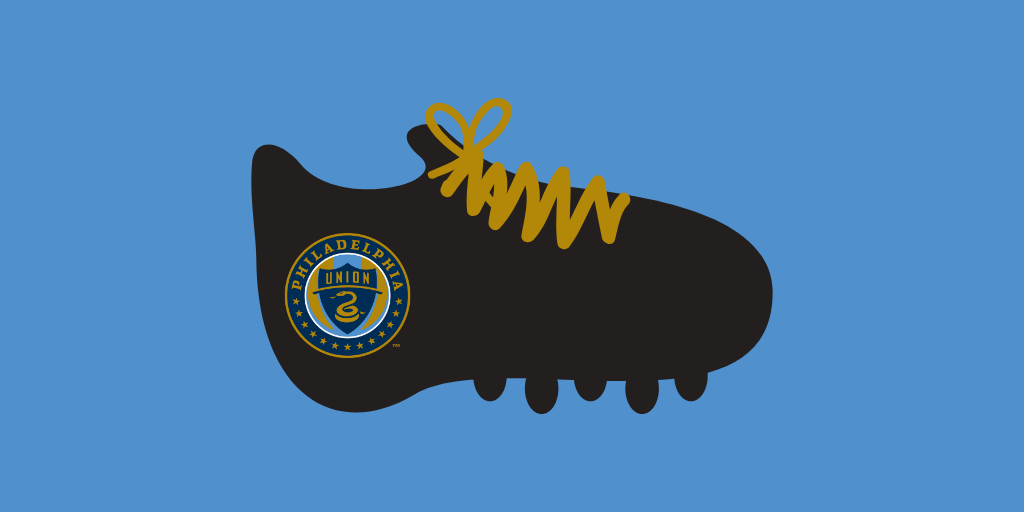 Custom kicks are where it's at.
One look at a Twitter or Instagram timeline and you are bound to see a custom cleat or shoe for an NFL, MLB, NBA, WNBA or even a college football player. While there are rules across every league as to what can or can't be worn during games, the ability for players to showcase their personality through their kicks has helped create unique opportunities for both themselves and the brands they work with.
Now, players on MLS' Philadelphia Union will be able to lace up new custom boots thanks to the club's deal with KicksUSA.
The partnership makes the retail chain the "Official Footwear Customization Service of the Philadelphia Union." If that sounds unique, that's because it is. The partnership is a first-of-its-kind and one that the Union hopes can add a different kind of value to its players.
"No professional team has ever had a boot customization service to this level, creating cleats from the ground up at this intricate standard of personal service and style," said Doug Vosik, senior vice president, marketing and communications for the Union. "KicksUSA is at the forefront of design and innovation, and we're excited to see what they can create in partnership with our players."
[mc4wp_form id="8260″]
The partnership came about after leadership from the Union connected with Cesar Vizcarrondo, head of marketing for Kicks USA, and invited him out to a game. That casual encounter turned into a deeper discussion about how each of the parties could play a role in each other's growth.
With the Union needing a stronger retail distribution presence and KicksUSA looking for some differentiated inventory offerings for its stores, the timing and the opportunity was right.
Beyond working with the players to create custom kicks, the store will carry Union merchandise in select Philadelphia-area stores starting next season, expanding the Union brand within the market and also offering customized Union-themed kicks at the Union shop during games.
The goal of this partnership, along with the moves that the club has made in the past — including hiring a Chief Tattoo Officer, and partnering with Levi's to outfit its entire front office — is to connect with the youth culture inside of Philadelphia.
"The new 20- to 30-year-olds in Philadelphia are are really into the arts, fashion, culture, tattoos, and lifestyle recreation," added Vosik. "The Levi's partnership was a way to really reflect that culture and then now with KicksUSA and customizing the shoes, it's just everything we can think about from a lifestyle apparel perspective."
READ MORE: Carolina Hurricanes Put Local Emphasis on New Marketing Initiatives
Although the partnership is groundbreaking, the Union and their players have experience with custom boots. Last year, for Pediatric Cancer Awareness Month, the club teamed up their players with kids who had battled or who were battling cancer to draw what their favorite boot would look like. Once they had the designs, they turned them over to well-known designer Kickasso, who brought each of them to life.
Polling the players this year, Vosik and the staff found that it was something that they wanted to do again. Instead of just a one-off, now they can do it all year 'round.
"Through building a relationship with KicksUSA, we realized that they had an amazing partnership with Garrixon to do a customization service. For us, it was a natural fit of our interest in soccer, our interest in footwear from a club, from a player and from a partner perspective that led to it."
[mc4wp_form id="8260″]
While the Union could have just slapped KicksUSA's logo on a billboard or some in-stadium signage, the partnership became an opportunity to "be involved in as many different aspects of life as possible." Whether it's on social media, on a podcast, or now on the feet of fans, Vosik doesn't just want the Union to be known, he wants them to be felt.
"It's about creating unique ideas that are more than just putting a logo on something that truly gets our fans excited and gets them engaged."