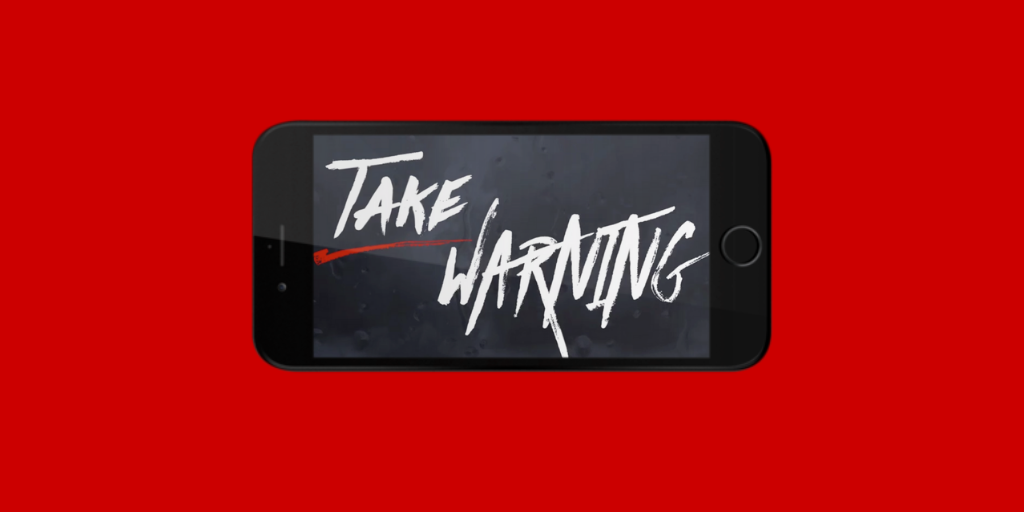 New year, new slate, and for the Carolina Hurricanes, a new marketing slogan and campaign.
For the past three years, the club had used "Redvolution" as its rallying cry for the fan base and team, but with significant changes both on and off the ice in the past 8-10 months, the team's marketing department, led by Mike Forman, decided to change things up heading into the 2018-2019 season.
This change led them to land on their new slogan, "Take Warning."
Armed with a new third jersey and a new secondary logo, Forman felt that the time was right to put in place a campaign that would be felt across all of the club's marketing efforts.
"The more you celebrate local, the more invested that fans will be in your brand." – Mike Forman
"We were really happy with how that campaign ("Redvolution") performed the last three years and how fans, players, and the media rallied behind it, but we didn't make the playoffs during that time, so we wanted to come up with something that kind of reflected the new feel and new look for our organization and 'Take Warning' was born over the summer."
SEE MORE: Arizona Coyotes Go Local As Season Begins
From graphics on social media to in-game videos, "Take warning" will be reflected and prominently featured. While an asset may not specifically have the "Take warning" verbiage on it, Forman noted that the creative will have a "tougher feel" to represent the vibe they are trying to create.
#TakeWarning #TakeWarning #TakeWarning #TakeWarning #TakeWarning #TakeWarning #TakeWarning #TakeWarning #TakeWarning #TakeWarning #TakeWarning #TakeWarning #TakeWarning #TakeWarning #TakeWarning #TakeWarning #TakeWarning #TakeWarning #TakeWarning #TakeWarning pic.twitter.com/EJZSirGSI8

— Carolina Hurricanes (@Canes) October 1, 2018
Outside of the new marketing campaign, the club is bringing back its "Homegrown Series" that celebrates local beer, music, food, art, and clothing. The six-game series is meant to "celebrate the community beyond hockey" and "showcase some of the best that North Carolina has to offer." Now in its third year, Forman has credited the success of the initiative to an increasing desire from fans to support businesses and figures from their community.
"We think our fans and people in general are more invested in local more than anything. When you show that you have a vested interest in the success of not just your team but also the community you become a better representative of the state and what it has to offer. The more you celebrate local, the more invested that fans will be in your brand."
A great example of this is the fact that when the team allowed the fans to crowd-source their new goal song for the year they selected "Raise Up" by Petey Pablo, a local artist who was born and raised in North Carolina.
Being in one of the most fertile college areas in the country, the team has also retooled their college program in recent years. Like others, they have a college program that offers discounted tickets to students, but they found that while somewhat effective, it wasn't a true "partnership".
Instead, the Hurricanes started a "College Colors" program that featured a co-branded hat from NC State, Duke, ECU, and UNC. Sharing a building and colors with NC State, Forman wanted a "fun way to break down the notion that just NC State was their school" because of their shared characteristics. The program was so successful that this year they will see it expanded from 4 schools to 9 schools, pulling from outside of the "The Triangle" that is Duke, NC State, and UNC.
SEE MORE: BreakingT: Breaking the Sports Memorabilia Mold
One of the Hurricanes most-unique new initiatives that they are rolling out this season is a player inspired apparel line. Teaming up with local artists, the department will work with select players this year to not only create apparel, but sell said apparel at games and in the team shop.
Something that Forman notes is an "another way to showcase player personalities other than just behind the scenes video content."
In an era of cookie-cutter hats and teams shirts, the Hurricanes are taking the approach of successful moment-based apparel brands like BreakingT to provide new options for fans.
The idea is focused around instead of having players go out and do it on their own with a third party, the Hurricanes will provide creative, marketing, and distribution help, a move that is a win for the player and the brand, and when all is said and done, the future of the franchise.
"We can only do so much on the business side, but if there are ways that we can collaborate with the hockey side and help make the brand something that free agents want to be associated with, that is going to go a long way," said Forman. "That starts with us being able to build their individual brands with something like this. Other teams aren't making those same types of promises or guarantees, so maybe this can give us a leg up."