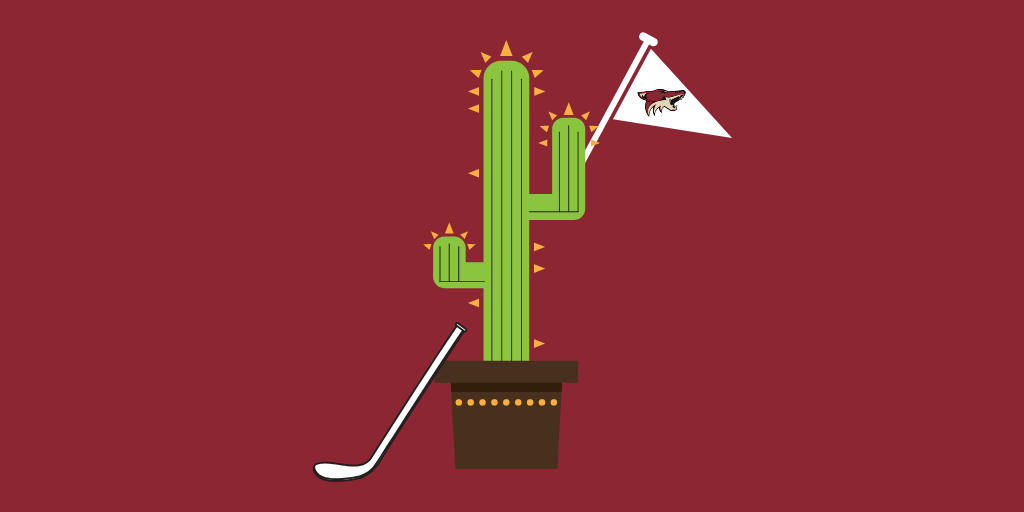 The Arizona Coyotes enter their 23rd year in the desert with lofty organizational goals and a vision that they hope cements them in the mind of Arizona sports fans.
Steering the ship is Ahron Cohen, the team's newly appointed president and CEO. In his fourth year with the organization, Cohen had spent time as the team's general counsel and the team's COO before being promoted to president and CEO this fall.
The Coyotes have not had an easy road to sow over the last 5-10 years. From bankruptcy and talks of relocation to an on-ice product that didn't produce well enough to compete for the attention of a transient market with three other professional sports teams, the franchise struggled.
Now, with solid ownership, new leadership, and a squad that many expect to be one of the best young teams in the league, Cohen believes the Coyotes have the pieces in place to take the next step both on and off the ice.
"I want people thinking about the Coyotes and seeing all the good that we're doing and seeing what we're trying to build here."
What they are trying to build is based on three organizational goals that include competing on the ice, building fandom in Arizona, and positively impacting the community.
"I almost feel like a startup. Regardless of department, I want everybody in the company thinking about how they can make it better." – Ahron Cohen, CEO of the Arizona Coyotes
In a market like Arizona, where fans are known to have a reputation of being front-runners, Cohen sees an opportunity to engage the community in organic ways to drive better brand affinity.
This includes partnering with local brands, taking a more deliberate approach to engaging fans who may not be able to make it out to games at normal times, and creating flexible ticket packages that allow fans to take advantage of weekend home games.
See More: How Corporate Partnerships are Evolving and How You Can Prepare
"We want to partner with local brands and other companies that are committed to making Arizona better," said Cohen. "We're also constantly looking for ways to broaden our audience, expand our fan base, and build connectivity to our team."
Part of building connectivity included the establishment of a local bar program where the organization has teamed up with different bars to make sure they are playing the team's games and that there is a team presence there in the forms of flags or logos.
"We're just really focused on building strong relationships with brands that make a significant impact in the Arizona community. We want them to share our vision of what we're trying to accomplish and we've been taking good steps forward in that regard." – Ahron Cohen, CEO of the Arizona Coyotes
As for ticketing initiatives, the team created a package called the 'Weekender Package' where fans can buy tickets just for weekend home games. They also increased the number of games they played during the day to five instead of two.
The goal? Create options that can appeal to every aspect of the fanbase.
"We have a significant number of fans that due to location may be only to make it to games on the weekend," said Cohen. "We are marketing aggressively towards them saying, 'we heard you and we know it is difficult to come during the week, but now you have another option.'"
As for the day games, Cohen sees them as a way to engage families.
"We now have an expanded opportunity to reach more families, especially younger families in those day games. The presentation and atmosphere around those games will be geared towards families so it should be a lot of fun."
[mc4wp_form id="8260″]
When it comes to the third pillar of building community engagement, the Coyotes don't just participate to check a box, they make it a whole part of their working routine. This starts with Cohen.
"This community has given us an awful lot and it's our responsibility to give back and to make this it a better place. We're doing something internally where we are I'm requiring everybody who works for our company to do a certain number of community service hours outside of the routine work to just really give back."
Don't look now, but by the time the last horn sounds on the 2018-2019 NHL season, the Coyotes might just be one of the best in the league.