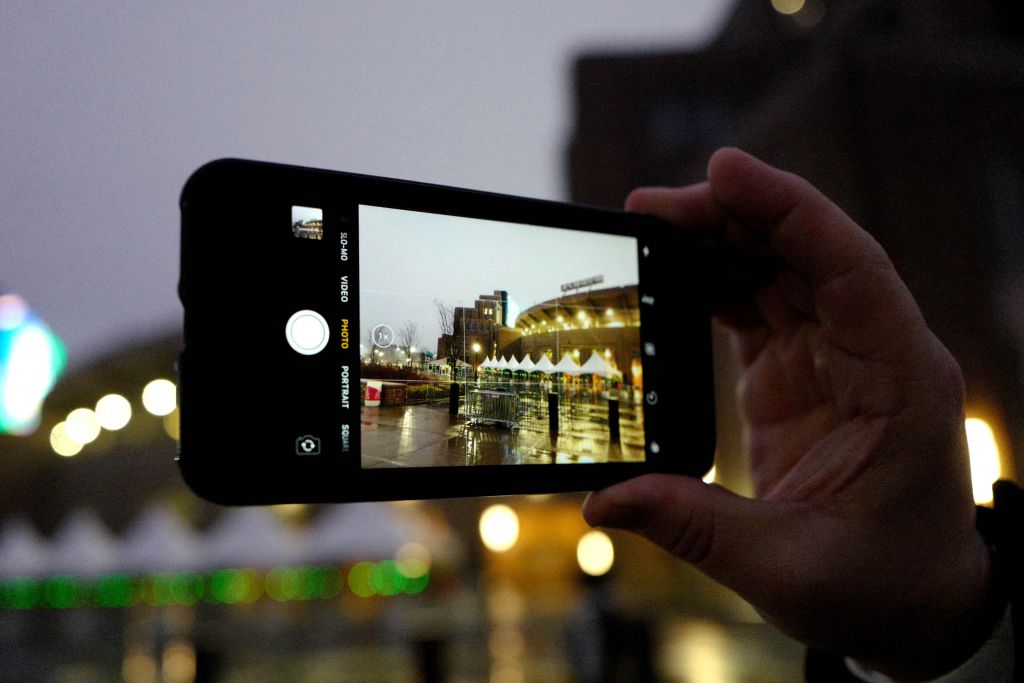 From leagues of all sizes to sports media brands to even mascots, sports properties are finding value of being on the social media platform TikTok.
One other notable sports entity that's started to reconnect again with TikTok? The NHL.
Unlike MLB and the NFL, which both launched on TikTok only in January and August, respectively, the NHL originally adopted it on October 10, 2017, according to a TikTok spokesperson. Only the NBA was on the platform earlier than the NHL among the big professional sports leagues, launching an account in October 2016.
The NHL's interest in TikTok precedes the current platform's existence, said NHL Director of Social Media Sean Dennison. In 2016, TikTok was known as Musical.ly, a lip-syncing social media application. By 2017, it was bought out by Chinese developer ByteDance, which renamed it TikTok and began expanding to markets outside of China.
When TikTok was previously known as Musical.ly, Dennison had deactivated the NHL's account as he didn't view it at the time as a massive growth opportunity. Instead, the league invested more in the building and optimizing of other social media platforms. However, as TikTok's rebrand and rapid resurgence pushed it to massive growth, it led to the NHL rejoining on November 12.
"TikTok has carved out a niche that's separate from all the other social platforms," Dennison said. "Not only in terms of the types of content that's produced and consumed for TikTok but also the audience. So we see it as an opportunity to start engaging with a much younger and diverse audience."
Since the NHL has reactivated its TikTok profile, Dennison has looked to give it a distinct voice unlike any of the league's other social media accounts. That means fewer highlight-related videos, which perform better on platforms like Facebook, Instagram, and Twitter.
The focus on TikTok is on producing content with a certain sense of humor that's mixed with culturally or socially relevant music, said Dennison.
For example, just 11 days after it relaunched on TikTok, the NHL posted its most-successful video to date when Boston Bruins goaltender Tuukka Rask stopped a shot with The Lord of the Rings' Gandalf's infamous "You Shall Not Pass" speech playing in the background. As of December 29, it has generated more than 2.5 million views and 176,000 likes.
Another video that's performed well for the NHL is featuring off-the-ice action between its players. In a post-game interview featuring the Colorado Avalanche's Erik Johnson, captain Gabriel Landeskog video bombs it by dancing to the tune of Dance Monkeys' "Tones and I." Since debuting on November 26, the video has been viewed more than 2.1 million times and garnered more than 215,100 likes.
Entering 2020, the NHL still sees opportunity to find a better footing on TikTok. As of December 29, the league has more than 179,300 followers and more than 2.5 million likes on the platform. However, while some videos like the ones featuring Rask and Johnson have performed really well, they are the NHL's only two videos to surpass two million views on TikTok, while others have generated as little as 56,400 and 58,000 views, respectively.
"We see some videos go incredibly viral where they might have hundreds of thousands of views or some that might only have tens of thousands of views," Dennison said. "The real difference between them? We can't say we know for sure just yet, so as we test out more content, we'll get a better understanding of what not only those thematics are, but the different ways we can present it. That will help drive consumption and engagement of this content."
With the NHL coming back onboard TikTok at a league level, teams all around the league are starting TikTok accounts. As of December 29, 17 of 31 NHL teams are on the app – including, most recently, the Pittsburgh Penguins.
Early on, the Pittsburgh Penguins didn't join TikTok. Instead, they opted to see how the early adopters would handle it, said Senior Director of New Media Andi Perelman.
After seeing more and more NFL and NHL teams launch TikTok accounts, a phone call was arranged between Perelman and TikTok. She went into the discussion wanting to learn more about best practices and what made sense for the Penguins.
When speaking with a TikTok representative, Perelman learned that 70% of the platform's user base is 24-years-old and younger – something that immediately stuck with her.
"That's incredibly unique from a social media perspective," Perelman said. "Most of our audiences are not that young on our social media platforms. So we were excited about that and getting young people more interested and involved with the Pittsburgh Penguins."
From there, the Penguins created their TikTok profile on October 28. Since its inception, the Penguins have accumulated more than 44,800 followers – fourth-best in the NHL – and 581,400 likes on the platform. It's also proven to resonate with a diverse audience base. Nearly 56% of the team's TikTok followers are female, nearly even with TikTok's 60-40 female-to-male split.
Two of the Penguins' most popular TikTok posts feature both notable players and content that could appeal to its female fanbase.
On November 1, Pittsburgh posted a video featuring player Bryan Rust with the "VSCO Girl" song playing in the background. Since then, the eight-second clip has been viewed nearly 791,200 times, received over 104,400 likes, and played for over 1,815 hours.
On November 9, The Penguins posted a video of a single-parent mother being surprised with a free car by Sidney Crosby. Since then, the 14-second clip has been viewed more than 963,800 times, drawn over 114,000 likes, and played for over 3,576 hours.
Before the NHL season ends next summer, Perelman is keen on collaborating with other teams to better the Penguins' TikTok presence. She said she has noticed NFL teams actively working together to create their own trends and play off of each others' TikTok feeds.
"I'd love for the NHL to get to that point where we can kind of strategize and come up with our trends with our players and start influencing the content on TikTok," Perelman said. "I'd also love to start influencing the content on TikTok to be unique to the NHL so that we can get fans to start sharing content that's similar and play off of what we are doing."
READ MORE: How TikTok Is Helping Sports Leagues And Teams Better Engage With Female Fans
Preceding the Penguins' introduction to TikTok was the Vegas Golden Knights. Since launching its first TikTok video on September 19, the Golden Knights have gained more than 51,100 followers and nearly 235,000 likes on TikTok – third in the NHL behind the Red Wings and Washington Capitals.
Unlike their other social media platforms, the Golden Knights' TikTok posts are used only on that specific platform, said senior manager of communications and content Alyssa Girardi.
Developing a rapport with Golden Knights players have helped drive the team's TikTok presence. As of December 2, Vegas's two most-popular TikTok posts involved Brayden McNabb and Marc-Andre Fleury.
Thus far, these posts have accumulated more than 638,900 and 803,000 views, respectively. They've also garnered more than 47,700 and 50,800 likes, respectively – well above the Golden Knights' average likes per post of roughly 10,677, according to Conviva, which specializes in global streaming and social media intelligence.
"It's funny to see what goes viral, and it's something that we're still trying to figure out the methodology behind," Girardi said. "But for us, it's just going to be continuing to push the boundaries and to try to find things that nobody else is doing and seeing if they resonate. If now, we adjust from there – but it's an exploratory space, which is exciting creatively."
READ MORE: TikTok: Sports' Next Great Social Media Venture?
Joining on July 17, the Detroit Red Wings have carved out the biggest following of any NHL team on TikTok. As of December 26, they have a league-best 76,400 followers. They've also generated more than one million likes and roughly 13,698 likes per video, according to Conviva.
Given the recent explosion of TikTok in pro sports, Red Wings Social Media Content Coordinator Staci Burlingame is deciding to embrace its uniquity. While one video of Red Wings players walking off the team bus has more than 1.9 million views – tops on the team's TikTok – another of them participating in the Apple Challenge has nearly 472,000 views.
Heading into 2020, the Red Wings have expressed interest in seeing what monetization opportunities present themselves on the platform, whether it'd be through advertisements or sponsorships deals. But for now, utilizing the players more frequently on TikTok is a priority going forward, said Burlingame.
"I think our content is only gonna get better," Burlingame said. "The platform itself, I think, is only going to grow, and we're spending a lot of time trying to grasp the platform and make our brand grow on there."
The ability for teams across the NHL to reach fans on TikTok will likely only be bolstered by the league's efforts as well as the efforts coming from their fellow teams, said Nick Cicero, vice president of strategy at Conviva.
"While teams in the NHL and MLB might not benefit from the support of an official partnership between their league and TikTok itself, they are learning a lot from their colleagues in other sports who have been experimenting," said Cicero. "Despite all the fanfare and huge follower numbers some accounts are putting up, it's still very early times on TikTok. There has never been a better chance to jump on, but the key is consistency."