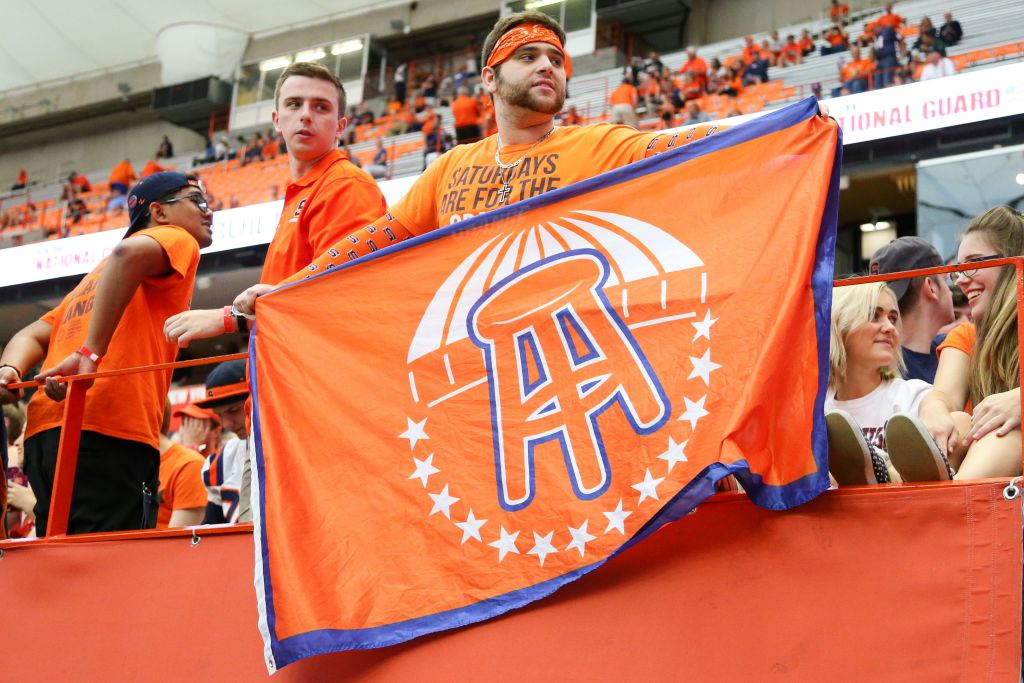 Not every company is keen on jumping onto a new or untested platform.
For Barstool Sports, CEO Erika Nardini says that Barstool is focused on experimenting with emerging media platforms to connect with its loyal fanbase as well as attract new followers.
Much like its success with podcasts, which in October 2019 attracted a larger U.S. unique monthly audience than ESPN, Nardini said Barstool saw a similar opportunity to bring that strategy to TikTok, on which it posted its first video in January 2019.
"What we've done deliberately over the last couple of years is to focus on where our audience is spending time – in particular, young audiences – and thinking about how we create the right content for those platforms that resonate," Nardini said. "So TikTok is the latest and greatest iteration of that from our vantage point."
Since officially rolling out its TikTok account in early February, Barstool Sports has slowly established its voice on the platform, said Nardini. With Barstool content featured on everything from blogs to social media, TikTok is becoming the first of its channels to launch many of its most highly-engaged posts.
Days before Halloween, Barstool posted a video featuring United States President Donald Trump and his wife Melania handing out candy to trick-or-treaters. As of December 3, it's been viewed nearly 161 million times – while the Barstool account has generated over 213 million likes in the past 28 days alone.
With the new year approaching, Nardini hopes to have Barstool be at the forefront of TikTok accounts. Barstool currently has more than 2.5 million followers – the second-highest in sports media behind only Overtime.
Nardini said that she felt Barstool was late to join social media platforms like Facebook and Twitter compared to other media outlets. Now with TikTok on the ascension, she views it as an opportunity for Barstool to capitalize on it before everyone else does.
"We have the chance to get in on the ground floor and to understand the platform and to adapt and grow, and we're seeing the momentum from that," Nardini said. "I think it will get harder over time to grow on TikTok and right now is kind of a golden age of growth on there – so we're very focused on that."
With the news that House of Highlights creator Omar Raja is expected to leave Bleacher Report on January 1, no one's certain about what the publisher will look like in 2020. But for General Manager Doug Bernstein, the goal has remained the same: grow House of Highlights into more than just an Instagram hub.
From Instagram and Twitter to TikTok and YouTube, platform-specific experts control each of House of Highlights' social-media pages, said Bernstein. With that brings different categories of content to each platform.
Despite its reputation for posting only NBA highlights, House of Highlights' TikTok feed contains none of that, said Bernstein. On TikTok, it's sports video content for non-sports fans, which is proving to connect well with followers.
For example, its most popular TikTok post is of an amateur football player proposing to his girlfriend on the football field. As of December 3, it has more than 36.7 million views and 7.1 million engagements.
Like its Instagram account – which recently eclipsed 15 million followers – Bernstein is seeing House of Highlights gain traction on TikTok. Since launching in late July, House of Highlights now has more than two million followers and is adding an average of 106,000 followers per week. With an audience that's 68% female, its diverse content is averaging one million views per 100 videos.
"The same way we used to go out and look for content specifically for Instagram, we're now going out and looking for content specifically for TikTok and knowing the right audio to put behind it to make it pop," Bernstein told Front Office Sports in early October.
"You also think about: who are the people on that platform?" he added. "TikTok skews young and it skews female, and we've been able to kind of figure out the content that resonates with that audience and serve them well."
READ MORE: TikTok's Ripple Effect Reaching Leagues Of All Sizes
Like TikTok, DAZN has quickly ingratiated itself into sports media. Since former ESPN President John Skipper became the executive chairman in 2018, DAZN has outpaced the Disney-owned platform in becoming the highest-revenue generating sports app in the first half of 2019.
A large part of this ascension came courtesy of the amateur boxing match between British YouTuber KSI and American YouTuber, Logan Paul. The fight not only generated an estimated live gate revenue of over $3.5 million and $12 million in ticket sales and pay-per-view revenue, respectively, but content surrounding it received over 108.1 million views on YouTube.
When KSI vs. Logan Paul II was announced for November 9, DAZN had a person on-site to post about the fight on TikTok, said Head of Digital Steve Braband.
For high-profile occasions like this, the behind-the-scenes coverage is equally as compelling to DAZN's TikTok followers, said Braband. With differing personalities like KSI and Paul, fans were able to get an exclusive look into their preparation that preceded the bout.
As the OTT streaming service for KSI-Logan II, DAZN had someone on hand to record the boxers' weigh-ins. With mainstream pop-culture, music and video effects catering to a younger generation, Paul's weigh-in became DAZN's most-viewed TikTok post with over 7.2 million views, more than double the previous record, receiving more than 831,000 likes.
Thanks to KSI-Paul II, DAZN achieved its most prosperous week on the platform. From November 2 to 9 – the Saturdays before and of the match – DAZN's TikTok garnered more than 10 million views. As of December 3, it's also grown to more than 147,800 followers and 1.8 million likes.
READ MORE: TikTok: Sports' Next Great Social Media Venture?
After seeing the buzz that KSI and Paul gave to DAZN, Braband wants future TikTok posts to reflect on the pre-and-post fight antics, but with room to adapt.
"As a new social platform has come across digital every single year since I've been in the social space, you have to be open-minded to it and don't go into it as an expert or someone that has the whole thing and figure it out," Braband said. "You have to be able to look at it, at the trends, at what's working and pivot based on that and make sure you're staying true to what stance you want on each social platform."
Even though it began posting on TikTok in mid-March, ESPN did not start growing its presence until later into the summer, said senior vice president of digital and social Ryan Spoon. Similar to when it dipped its toes into Instagram TV, ESPN's TikTok account signified a chance at expansion through different measures, where it could learn and experiment.
In July, Spoon said that ESPN began putting a dedicated focus on TikTok. Since then, the sports-media company has grown by more than 1.9 million followers on TikTok. An emphasis on bringing diverse content to a younger audience has helped spearhead this progression.
As of December 3, ESPN's most popular TikTok post is a clip from a September 2018 football game between North Texas and Arkansas. A North Texas player called a fake fair catch against the Razorbacks and proceeded to take it to the endzone for a touchdown. Despite taking place over a year ago, it has gained more than 28.5 million views and 3.5 million likes on TikTok.
Between September and October, ESPN's TIkTok profile accumulated more than 35 million total likes – and an average of 333,000 likes per post. It also saw more than 230 million total views during this timespan – and an average of 2.2 million views per post.
With the amount of competition it faces from its sports media competitors, Spoon says that he's only focused on what ESPN is doing on TikTok. He acknowledges that it only makes sense for them to join the social media platform, but what matters to him is seeing ESPN's TikTok improve day-by-day.
"We have the blessing from myself and my bosses and in our fans to experiment and to try to work," Spoon said. "Those are the avenues that I spend my time thinking about. I respect all the other players in the space – but that's not what drives us to do it. It's our job to, as platforms grow, make sure that we stand out to our users and that they build some connection to us that is deeper than a like."