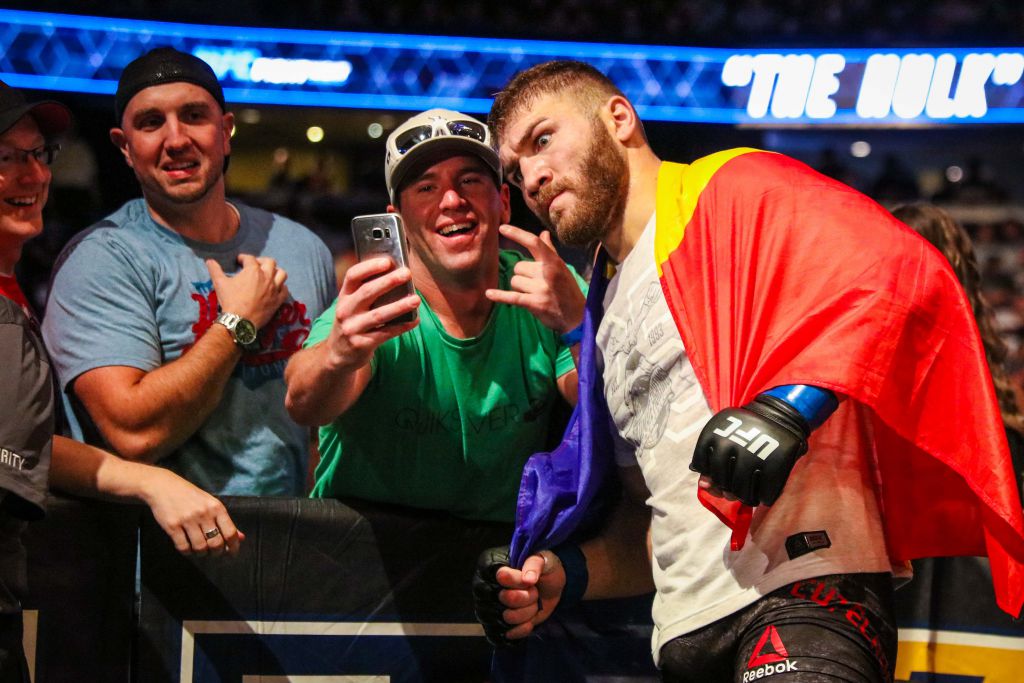 While the popularity of sports leagues like the NBA and NFL on TikTok is perhaps expected, properties and leagues of all sizes are finding success on the platform.
For UFC, the early 2000s provided more challenges than successes for connecting with its audience, said Dave Shaw, its senior vice president of international and content. Since then, it has made social media a larger part of its marketing strategy and has used it to reach its fanbase in a quick, authentic matter.
While current UFC President Dana White was a big proponent of having the league join Twitter during its early days, that audience is aging, said Shaw. As those early Twitter followers get older, it's causing the UFC demographic to age as well – creating a gap in the 13-to-24-year-old age range.
With TikTok, Shaw is using it – like many sports properties – to help UFC reach that desired Gen Z group. But he also wants it to provide a spotlight to the UFC's eclectic fighters.
In the buildup to UFC 244: Jorge Masvidal vs. Nate Diaz at Madison Square Garden on November 2, UFC launched its TikTok account five days prior, said Shaw.
A November 1 post of Dwayne "The Rock" Johnson promoting the occasion drew more than 3.2 million views and 232,300 likes. When Masvidal emerged victorious over Diaz, a video of him putting on the UFC title belt to the tune of Meek Mill's "Tupac Back" was viewed more than 4.1 million times and accounted for 287,000 likes.
In under a month, the UFC's account has grown to more than 674,300 followers – the fourth-most among professional sports leagues, according to data from Conviva – and 5.3 million likes. Perhaps more impressive has been the league's success at amassing a global audience. Of its total followers, only 22% of them come from the United States. Its ability to draw interest beyond the U.S. has even birthed a second UFC account, "UFC Brasil," which has attracted nearly 5,100 followers since its inception on November 12.
"As an aspiring global sports entity that has great aspirations of being a massive global brand and one of the biggest sports in the world, that's pretty important to us," Shaw said. "Looking at it another way, it would be pretty narrow if [TikTok] was just a U.S. platform. But in its very short history, it has proven to be a truly global platform and that's important to us because it's consistent with our overall goals and objectives."
While other sports entities used TikTok as a way of promoting marquee events or season openers, NASCAR aligned its launch around the end of its season. With less than three weeks remaining in the 2019 campaign, NASCAR unveiled its TikTok account on October 18, said director of social content Chris Littmann.
In a little over a month, NASCAR has already surpassed more than 71,400 followers and nearly 793,000 likes with diverse postings. Its first notable TikTok post – a rendition of Kylie Jenner's infamous "Rise and Shine" video featuring NASCAR driver Corey Lajoie – was viewed over 619,500 times and garnered nearly 40,000 likes.
Another video of a crew member scraping debris off a tire during a pitstop became NASCAR's most-popular TikTok post with more than 3.2 million views and 104,600 likes.
Even though NASCAR hasn't established a consistent theme with its posts yet, its variety is working well so far, said Littmann. Before TikTok, NASCAR's social media following consisted of more or less the same crowd across platforms like Facebook, Instagram, and Twitter. On TikTok, it's reaching a younger audience that he believes they wouldn't have discovered on its other digital channels.
"We know that a lot of the people that we're reaching on TikTok are not our traditional, institutional fan," Littmann said. "We know we've got a lot of [different posts] around, so we think we can serve a potentially underserved audience who's there [on TikTok] for that action, excitement and that view."
For Minor League Baseball, its TikTok approach deviates slightly from the norm, said social media coordinator Brad Friedman. Whereas other sports accounts tend to stray away from highlight-driven content and more towards fan-friendly posts, MiLB is comfortable using both on TikTok.
With roughly 160 revenue-generating MiLB teams, Friedman wants to inform the league's TikTok followers of important moments during the season. On November 12, a MiLB post that showed a bunted inside-the-park home run was the first to surpass 1 million views on TikTok. As of December 2, it has been viewed more than 3.2 million times. It has also seen over 7,290 hours of playtime and roughly 70,000 engagements.
However, there still is a place for irreverent content featuring and targeting MiLB fans. One particular post included people getting proposed to at numerous MiLB games; as of November 26, it's been viewed more than 119,000 times and has received at least 13,600 likes.
Next for Friedman, he wants to see MiLB teams follow the league's lead in adopting TikTok. Integration has been slow on the team level; with only 40 teams currently on the app, this has left Friedman wondering if that's limited MiLB's ability to attract fans to games.
"I think TikTok has clearly established itself as a great place for conversation and brand awareness," Friedman said. "But if you're a 16-year-old on TikTok, what path can TikTok take for that kid to convince their parents or friends to go out their local minor league game? That's kind of the big thing we gotta figure out. Yes, flashy view numbers are great and there are benefits to that, but at the end of the day, we're trying to monetize the baseball as a business. And we want to do what we can to possibly impact the bottom line."
READ MORE: With TikTok, Chicago Bears Aim To Broaden Their Fanbase
To connect with a younger generation of music and sports, the All England Lawn and Tennis Club – the host venue of Wimbledon – partnered with TikTok and officially launched on June 30, the night before the start of the Championships.
TikTok users at the tournament were encouraged to create and upload short-form videos to the background music of their choosing. They were also able to upload their videos onto the platform using the #JoinTheStory hashtag.
During the 13-day tournament, Wimbledon's #JoinTheStory hashtag challenge generated more than eight million views on TikTok, said Alexandra Willis, head of communications, content, and digital for the AELTC. There were over 2.2 million views on its TikTok profile overall and gained more than 500,000 followers on Wimbledon Douyin, the Chinese version of TikTok.
Heading into Wimbledon 2020, Willis sees herself investing more into Douyin and utilizing its ecommerce features. On TikTok, she hopes to use its strong local presence as a launching point for international expansion – looking specifically at the United States.
"[TikTok] is where young people are spending time," Willis said. "It is this amazing platform of creativity and we felt that there was a great opportunity to almost surprise people by showcasing Wimbledon in a very different light through TikTok. At almost the same time as we got in touch with them, they got in touch with us."
With leagues like UFC and MiLB carving out their respective niches on TikTok, attention gets lost on the fact that the World Surf League was one of its earliest sports accounts. Before creating its first TikTok post in November 2018, WSL had dabbled in its predecessor Musical.ly, said WSL Chief Community Officer Tim Greenberg.
When WSL engaged with Musical.ly, Greenberg quickly abandoned it, believing that the league never saw a clear return on investment from the app. Once Musical.ly was bought out by ByteDance and renamed TikTok in late 2017, he began closely tracking the redesigned app.
Over time, Greenberg saw the synchronicity between TikTok's musical inclinations and WSL's surfing background. "Video surfing is aspirational, and music is aspirational in a lot of ways – therefore, we have this very natural space to begin programming content because it is so endemic to who we are as a sport," he said.
READ MORE: TikTok: Sports' Next Great Social Media Venture?
On November 20, WSL posted a close-up of waves merging under a sunset with the song, "Can We Kiss Forever?" by Kina playing in the background. In only 12 days, it has mustered more than 14.4 million views – the most of any WSL post – and 2.1 million likes. As of December 2, the WSL has surpassed 611,400 followers – the fifth-most of any sports league, according to Conviva.
With the 2020 Summer Olympics in Tokyo on the horizon, Greenberg wants to further the WSL's diversity efforts. According to him, 70% of its followers are female and its three biggest countries are Australia, Brazil, and the U.S. But with TikTok, he sees the Olympics as a perfect chance of broadening both the WSL's audience and geographic reach.
"As our sport is put on the world stage, it's going to be important for us to keep [the Olympics] in mind and have a very focused, deliberate content strategy heading into 2020 that focuses on supporting our athletes," Greenberg said. "As [TikTok] creates enhanced tools and more opportunities for us to reach newer audiences, we want to make sure that we're focused on what's going to drive our business and that consumer journey that connects back to the WSL."