With no preseason games to warm up, NBC Sports is adapting on the fly as it prepares to televise the 2020 NFL Kickoff game between the Kansas City Chiefs and Houston Texans Sept. 10.
NBC viewers will notice several changes wrought by COVID-19 during 19 "Sunday Night Football" game telecasts this season.
Say goodbye to the "Collinsworth Slide" and on-field sideline reporters. Say hello to pre-recorded crowd noise that will be piped into empty stadiums that don't have any fans.
NBC's "Sunday Night Football" telecast has ranked as the No. 1 show in primetime TV for a record nine straight years. The network's coverage should give viewers a good idea of what to expect from NFL TV partners ESPN, CBS Sports and Fox Sports this season.
From arrival at the stadium to social distancing in the broadcast booth, everything networks knew about how to produce live NFL game telecasts had to be rethought during the pandemic, according to Fred Gaudelli, executive producer of "Sunday Night Football."
"We feel like we have a solid plan to start the season but know full well that we'll be adapting and adjusting as the season goes," Gaudelli told reporters during a press call Sept. 3.
Details:
– No Collinsworth Slide: NBC "Sunday Night Football" game telecasts typically start with an introduction by play-by-play announcer Al Michaels before his analyst partner Cris Collinsworth glides in from off-screen.
The so-called "Collinsworth Slide" has become a popular meme on social media. But that was before the coronavirus.
Michaels said the slide is out, at least for a while, due to social distancing guidelines.
"I was watching a baseball game the other night and the guy was trying to steal second and he goes to the ground and comes up six feet short," Michaels said. "So maybe that will be our slide this year."
– No Sideline Reporters On-Field: NBC sideline reporter Michele Tayofa confirmed a previous Front Office Sports story that the NFL won't allow sideline reporters on the field with players and coaches this season due to the coronavirus. Instead, Tafoya will be stationed in a "moat" near the first round of seats. She will be so far away from her former perch, she'll use binoculars for the first time. Still, Tafoya is "eager" to see how it works out.
"Different for sure, but you know what? Like these guys have said, this is going to be a memorable season for a lot of reasons, and so just looking forward to the challenge," she said.
– Pre-Recorded Crowd Noise: NBC will have the option but probably won't use enhanced audio in Kansas City since the Chiefs will allow 22% capacity, or around 15,000 fans, inside Arrowhead Stadium. But moving forward, NBC will utilize artificial crowd noise for games played in empty stadiums.
The league's own NFL Films taped tracks in every stadium, save SoFi Stadium and Allegiant Stadium which are debuting this season. NBC won't go as far as airing taped boos. The strategy is to create enough ambient noise in stadiums to somewhat mimic the sound of a normal crowd for players and viewers.
"They created a sound loop that's authentic to each stadium, and they've hired an audio engineer in each city to basically score the game as it's going on," Gaudelli explained.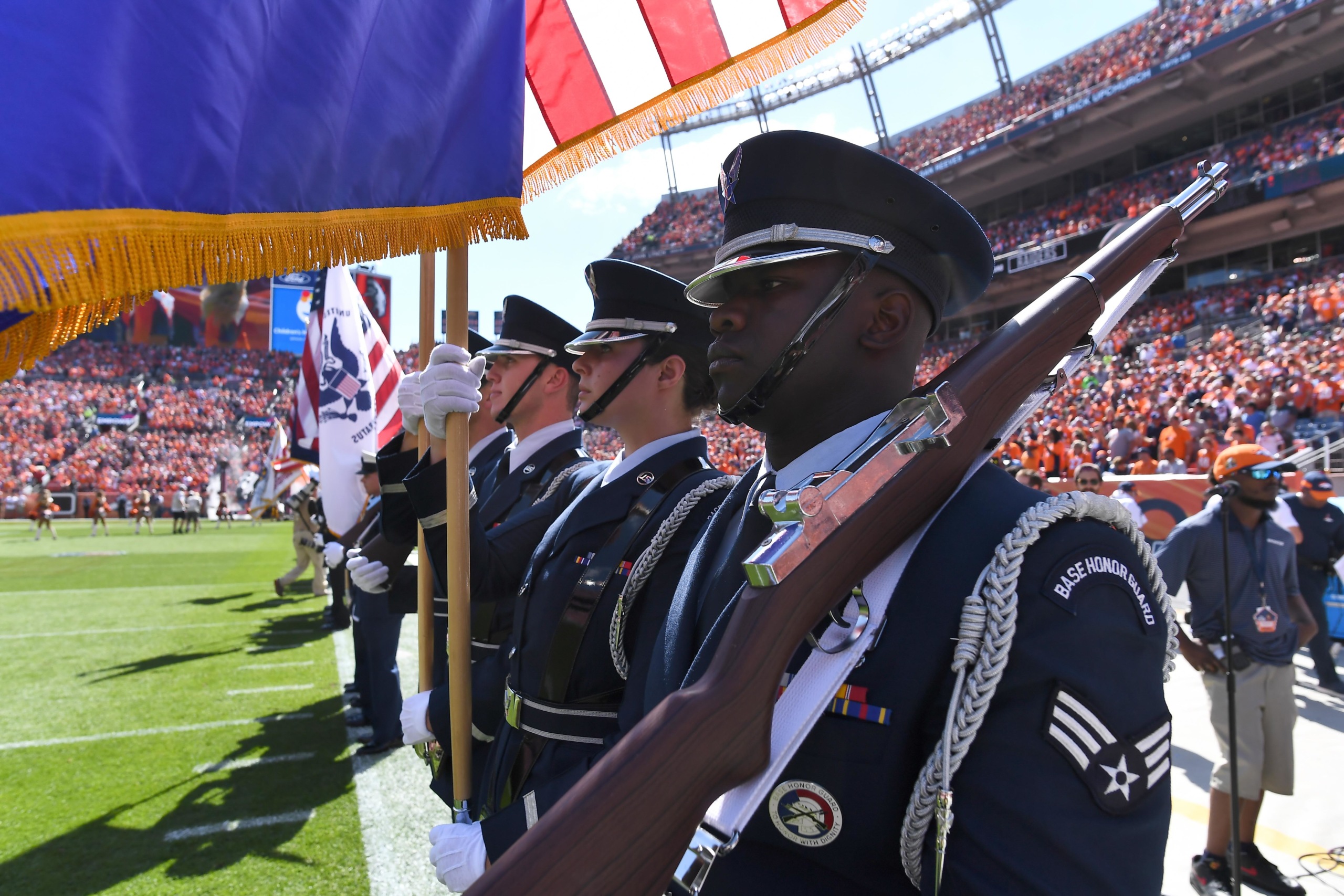 – No Virtual Fans: NBC considered, but ultimately decided against, digitally inserting "virtual" fans into empty stadiums the way Fox Sports is doing with MLB game telecasts. To configure the 25 cameras that NBC typically uses for NFL games was not doable from a financial or technical standpoint, according to Gaudelli.
"This is not a shot at Fox, because I think what they've done is tremendous, but it's just not realistic. So, you have fans, you don't have fans, and at the end of the day, it just didn't feel right to me," he said. "I know we discussed it pretty extensively inside NBC Sports, and without the ability or the financial ability to instrument every single camera, it just didn't feel right.
– Earlier Pregame Show: NBC will start its "Football Night in America" pregame show Sept. 10 a half-hour earlier at 7 p.m. ET. The expanded program will cover the raising of the championship banner in Kansas City, according to Gaudelli.
Meanwhile, Gaudelli laid out the first steps in what could be a broadcast booth succession plan for the 75-year old Michaels and 53-year old heir apparent Mike Tirico.
To cut down on Michaels' cross-country travel, Tirico will fill in during several "Sunday Night Football" telecasts this season. Tirico is expected to become Collinsworth's next broadcast partner when Michaels retires.
Gaudelli described them as "bye weeks" for the legendary Michaels, who famously asked, "Do You Believe in Miracles?" when the U.S. men's hockey team upset the heavily favored Soviet Union in the 1980 Olympics.