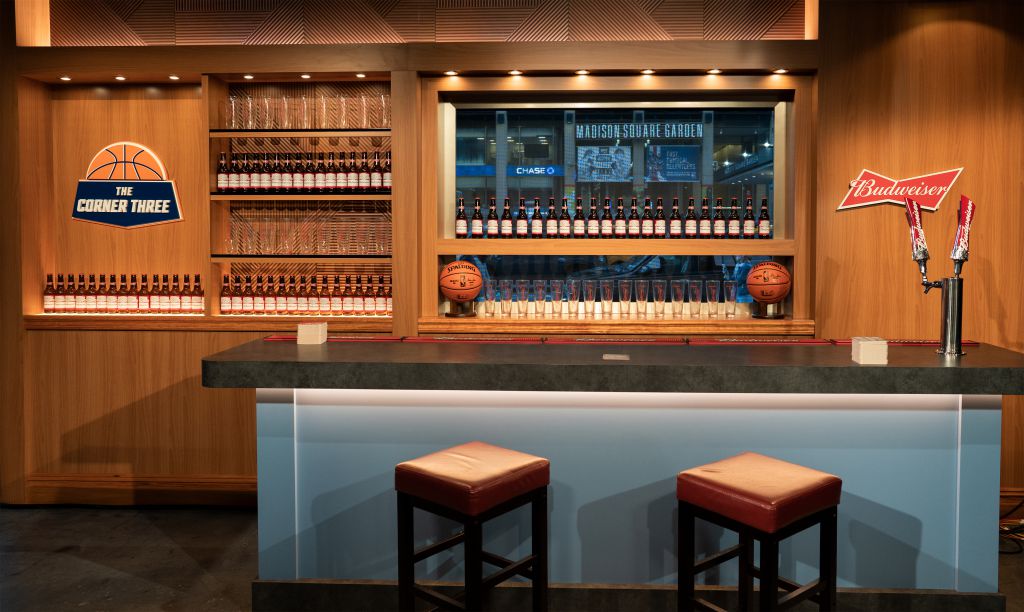 MSG and Anheuser-Busch's relationship has spanned many decades to the point where MSG Networks' senior vice president of programming and production Jeff Filippi isn't entirely sure when it officially began.
But since MSG and Anheuser-Busch announced a renewed and expanded multi-year marketing partnership in 2016 that maintained the latter's role as a Signature Partner, the pair has looked to deepen its relationship through new integrations.
Most recently, two fully programmable bars have been added down in the MSG Networks' studios. The bars, which are New York Knicks and Rangers themed with names like "The Corner Three" and "Blueshirts Bar," respectively, are meant to showcase a diverse portfolio of Anheuser-Busch's beverages.
The bars are also used for custom segments that air during the Knicks and Rangers pregame and postgame shows, with opportunities to highlight them throughout the rest of their seasons.
"Anheuser-Busch has a "people-first" mentality that guides us to authentically integrate our brands into the sports and events our consumers are passionate about," said Matt Davis, Budweiser's director of sports marketing. "We, as a company, want to move away from typical logo placements and show how our beers integrate into the way our fans are supporting their team. The MSG Networks team brought us this new concept of creating an "on-air" bar where their commentators could discuss the play, and it was a natural fit for us."
Whether it's Knicks basketball or Rangers hockey, analysts like Wally Szczerbiak and Steve Valiquette give their analysis at one of the two bars. While most sports talk shows discuss topics like division standings and advanced analytics, Filippi says that's not the point of The Corner Three and Blueshirts Bar. It's all about discussions, breakdowns, conversations, and is supposed to mirror everyday bar talk.
"It stopped me in my tracks a little bit about creating bars in each of our two studio spaces," Filippi said. "After my initial reaction, it has now turned into unquestionably one of the best things we've done from a content integration and a sponsorship relation point of view."
For Davis and Anheuser-Busch, its work with MSG Networks is the latest example of the beer brand exploring different product integration methods. While it has created similar projects on a regional level, the closest it has on a national stage is with the show, "The Cycle."
READ MORE: Kombucha Companies Making Push Into Sports As Market Expands
Done in collaboration with Major League Baseball and airing on TK, Kelly describes "The Cycle," which is sponsored by Budweiser, like a cross between College GameDay and a late-night show. On the show, host Alexa Datt interviews celebrity MLB fans like Andy Cohen and Bill Nye about their baseball fandom.
Like Anheuser-Busch, MSG Networks' sales department has made a more concerted effort in recent years to expand its branded content programming through product integration, said Filippi. It initially began with MSG Networks aiming 30-second branded-content TV spots for Anheuser-Busch, said Filippi. The ad would center around the reporting of a viewing party with Anheuser-Busch integrated into the commercial.
READ MORE: Jägermeister Lines Up Another Shot With The NHL
When the sports network reached out to Anheuser-Busch about other activation ideas, the first idea that came to Filippi's mind was creating bars in each of the latter's two studio spaces. It worked well for Davis, who wanted to make sure the execution came off as authentically as possible for viewers.
"We set out to create a space that felt as much like a typical bar as possible," Davis said. "We wanted fans to have a connection to the design and feel that it was a bar they may have visited around town recently. Both bars fit this pretty closely, with designs tailored to match the two different franchises."
Davis said that he has been happy with the MSG Networks' bars and their ability to highlight Budweiser and Bud Light's affiliation with the fandom of the Knicks and Rangers, respectively. Next year, he hopes to bring other brands like Budweiser Copper Lager and Bud Light Seltzer into the mix with MSG.
If Filippi were asked in 2010 how the MSG-Anheuser-Busch partnership would pan out, he wouldn't have expected to shoot viewing parties that simultaneously act as product-integration advertisements. He also didn't envision bar design in his future – but because of MSG Networks' relationship with Anheuser-Busch, outside-the-box thinking will remain the norm next decade.
"The best sort of ideas and integrations are the ones that work naturally and organically," Filippi said. "This is at the pinnacle of integrations that work organically because it's our talent sitting around a bar discussing sports. That's about the simplest way I could lay it out – and that's exactly what works for us, and it's exactly what works for [Anheuser-Busch]."