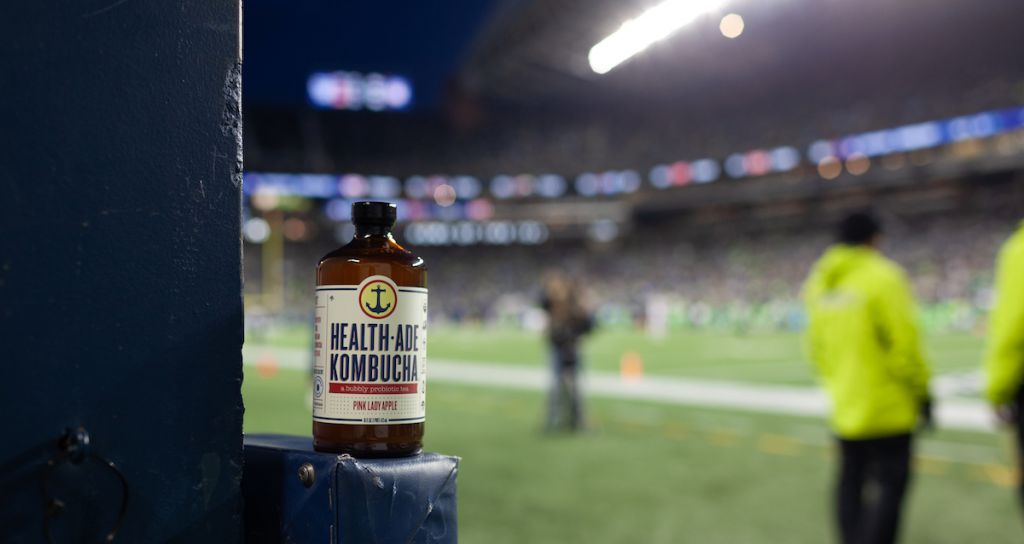 Like the recent push into sports by various hard seltzer brands, there appears to be plenty of runway for kombucha to grow in the industry, using sports as a way to connect with a broader population. Kombucha is currently a $1.2 billion global beverage category, and that figure is only predicted to grow as household penetration continues, said Jeff Rubenstein, Health-Ade president of marketing.
Health-Ade, which received a $20 million investment from Coca-Cola in May, according to trade publication BevNet, recently signed a partnership with the Seattle Seahawks. Coke has been an investor in the company since 2014.
The kombucha company reportedly had $35 million in sales in 2018, as the U.S. market closed in on $700 million. Adroit Market Research predicts kombucha will hit $3.5 billion by 2025.
"Growth comes from innovation, new younger and multi-cultural drinkers, new occasions, expanded distribution, and increased excitement in the sports community," Rubenstein said.
As the company recently launched distribution in the Pacific Northwest, the partnership with the Seahawks presented itself as a way to excite the new market about kombucha. Included in the partnership are media and social media elements, along with in-stadium distribution and retail programs. It's also throughout the Seahawks training facility, the Virginia Mason Athletic Center.
"We were seeking a partnership to supplement our retailers in the territory," Rubenstein said. "The Seahawks are the dominant cultural property in the region, so it was a top choice."
For the Seahawks, the team saw an opportunity to further connect with its "foodie market," said Zach Hensley, Seahawks vice president of venue operations and guest experience at CenturyLink Field. The Seahawks now offer a variety of flavors of kombucha at the stadium, including Pink Lady Apple, which is made with Washington-grown Pink Lady Apples.
"Our fans love to try new things and see a variety of options at the stadium," Hensley said. "We love that not only is it a nutritious beverage option, but it includes locally-sourced ingredients as well."
Hensley said the venue's concessions regularly add "the next best thing," and fans have communicated that healthy options are important.
Kombucha is often recognized as a healthy beverage with its antioxidants and probiotics. Rubenstein said there's a connection between gut and digestive health and overall well-being, making the mix of acids, metabolites, and probiotics found in kombucha a natural fit in the athletic realm.
Teams across different leagues have embraced the kombucha movement. The Golden State Warriors have it on-tap in the players' lounge at the Biofreeze Performance Center at Chase Center. The Washington Redskins include a kombucha machine among its drink options, along with cold brew coffee, at Redskins Park.
Going beyond distribution and partnerships, the Portland Trail Blazers collaborated with Brew Dr. Kombucha in 2017 to make Special Edition Rip City Happiness Kombucha in the spring. The move was made in part to provide more local options at Moda Center.
As Health-Ade realized elite athletes were drinking kombucha as a supplement to their daily diets, Rubenstein said it was obvious to acknowledge that market and take a deeper look at how to activate through partnerships. That spurred the new marketing campaign "You Brew You," meant to "encourage people to follow their dreams and be their authentic selves, both on and off the field."
READ MORE: Truly, Natural Light Pushing Hard Seltzer Further Into Sports
Rubenstein said there's a healthy amount of athlete relationships and fans across the NBA, NFL, surf and skate cultures they hope to develop further as it continues to grow. Health-Ade touts Trail Blazers forward Carmelo Anthony, Jacksonville Jaguars quarterback Nick Foles and extreme athlete Shawn White among its fans.
"For now, the plan is to continue incubating in sports culture, building authentic relationships with athletes, training, and coaches," he said.
As more large-scale beverage companies with experience in sports enter the kombucha industry, as PepsiCo, Anheuser-Busch InBev, and Molson Coors have, there certainly could be deeper penetration into sports.