It was the most electrifying sports moment of the year so far.
In the span of two pitches, young Cincinnati Reds sensation Elly De La Cruz boldly stole second and third base. Then, as Milwaukee Brewers pitcher Elvis Peguerro hesitated, the 21-year-old rookie raced home.
Reds announcer John Sadak went nuts as the Brewers home crowd roared in amazement: "HE STOLE HOME! THE MOST THRILLING MAN IN BASEBALL STOLE SECOND, THIRD, AND HOME!"
So goes the new and improved Major League Baseball.
Back in March, Front Office Sports asked if MLB's proposed rules changes — including a pitch timer, bigger bases to spur more base-stealing, and a ban on defensive shifts — would save baseball's TV future.
At the midway point of the 2023 season, the answer looks like an emphatic yes. This is not your grandfather's boring old baseball.
The games are shorter, but turbo-charged with more action. Offense and base-stealing are in, and wasting time in the batter's box and pitcher's mound are out — as are momentum-killing defensive shifts. The pitch clock has been hailed as the greatest invention since sliced bread, and with telecasts running a half-hour shorter, watching the Grand Old Game hasn't been this much fun in decades.
De La Cruz's daring base-running brought back memories of golden-age legends like Jackie Robinson stealing home. It's exactly the kind of aggressive, athletic play MLB partners want to see throughout the season — and into the playoffs.
"We are encouraged by the results of the rule changes on the field and how the improvements have led to greater fan engagement," MLB Commissioner Robert D. Manfred Jr. told Front Office Sports in a statement. "When you see an electric athlete like Elly De La Cruz steal three bases on two pitches in thrilling fashion, that is what fans love to see and the kind of action on the field we want to promote."
And in result, both national TV viewership and live attendance are trending upward for the nation's oldest professional sports league.
MLB's national TV partners — Warner Bros. Discovery Sports' TBS, Disney's ESPN, and Fox Sports — have wanted more offense for a long time. Now, a new generation of 25-and-under stars like De La Cruz, the Braves' Ronald Acuña, Jr., the Blue Jays' Home Run Derby champ Vlad Guerrero Jr., and the Mariners' Julio Rodríguez is giving it to them.
"There seems to be a renewed interest in the sport, right? Thanks in-part to the pitch-clock, the games on TBS are faster by about 30 minutes and we've even shortened our programming window for Tuesday nights in response," said Craig Barry, executive vice president and chief content officer of WBD Sports.
But will the momentum carry into October?
Numbers Don't Lie
During the offseason, MLB, which generated nearly a record $11 billion in revenue in 2022, put its infamously "timeless" sport on the clock for the first time.
The pitch clock has been a literal game-changer. This year's games are averaging 2:38 vs. 3:04 last season, on track for the best time of game since 2:35 in 1984. And after some initial complaints, players are adjusting to the new rules: MLB is averaging 0.56 violations per game for both teams, and 60.1% of games have had zero violations by either team.
Then there's the product on the field. Offensive stats are up virtually across the board. Batting averages have risen to .248 from .242, home runs are up to 2.3 per game for both teams vs. 2.2, and stolen bases have risen to 1.4 per game compared vs. 1.0 last year. Runs per game for both teams are up to 9.2 per game vs. 8.7.
The result? A more compelling TV product by several important metrics.
TBS is averaging 338,000 viewers over 14 telecasts, up 41% from last season, and its July 4 game between Shohei Ohtani's Angels and the San Diego Padres pulled 448,000 viewers. ESPN's "Sunday Night Baseball" is holding steady from last year, averaging 1.5 million viewers over 14 telecasts. MLB.TV has logged more than 7.4 billion minutes watched this season, up 9% from last year's record pace.
On the advertising front, TBS' regular-season sales are up 20% — and the network has sold out commercial time for games in its third quarter. Top-spending advertiser categories include restaurants/fast food, automobiles, retail, beverages, and insurance.
MLB says its sponsorship and merchandise sales are trending toward record levels. The league is projecting a 6% increase in sponsorship revenue for the full season from last season's record high. Clubs are estimating a 14% boost in sponsorship money, driven primarily by the sale of jersey ad patches.
The league is also making it clear that the revolution won't be (just) televised. If you include the World Baseball Classic, which stoked hype for the 2023 season, MLB's social media accounts are posting their best year ever with 3.3 billion views, up 67% from 2022.
And the boom is ultimately benefiting the gate receipts. Average game attendance is up 8.11% to 28,832. Total game attendance has risen 8% to 38.316 million vs. 35.442 million, and 23 of 30 MLB clubs have posted live gate increases. A dozen franchises are up 10% vs. last year, and Father's Day games drew over 600,000 fans, the biggest total since 2008.
But the real miracle is that America's pastime is actually facing the future. Long derided for its geriatric fan base, MLB is finally attracting those elusive younger fans.
TV viewership among fans 35 and under is up 14% this season, while a survey indicated 86% of people aged 18-24 and 25-34 are more likely to watch MLB games due to the rules changes. Even the median age of ticket buyers is six years younger than in 2019.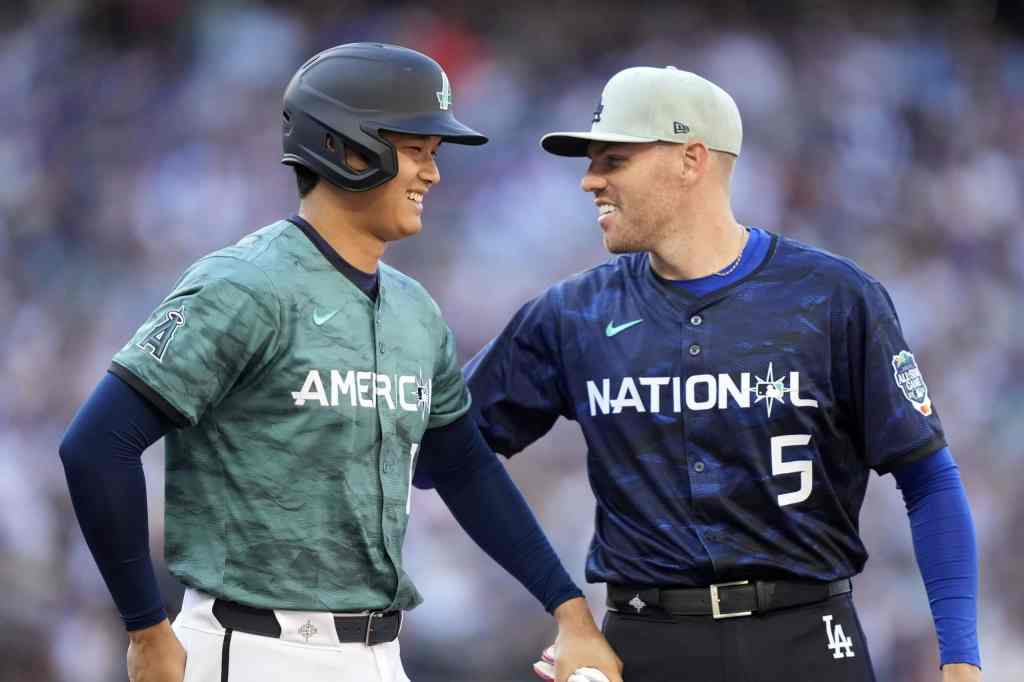 Putting Viewers In The Game
MLB's TV partners have lobbied for more on-air interaction with star players for years, and the newly experimental MLB is giving it to them.
During Fox's coverage of Tuesday night's All-Star Game, the broadcast crew interviewed Ohtani, Mookie Betts, and Freddie Freeman, all during live play. The highlight came when American League pitcher Nathan Eovaldi struck out Sean Murphy of the National League — while chatting with announcers.
ESPN has led the charge for putting microphones on players, coaches, and managers — a move unthinkable even a decade ago.
"The 'Mic'd Up' segments on 'Sunday Night Baseball' have proven to be a great platform for the players to grow their brand by taking advantage of the one-on-one conversation with our booth," noted ESPN's Karl Ravech.
The network has also employed a virtual pitch clock and an "Ump-cam" that gives a batter's-eye view of 100-mph fastballs.
TBS is experimenting with earlier first-pitch times and more star-driven game matchups, which is paying off. Despite the games running 26 minutes shorter, TBS' average watch time per game is 55 minutes — up 31% from last season.
Never one to miss an opportunity, Fox used its Super Bowl 57 coverage to trumpet its newest hire: Derek Jeter. The former New York Yankees captain joins a star-studded pregame show that includes frenemy Alex Rodriguez, plus David Ortiz and Kevin Burkhardt.
Unlikely Innovation
Did you ever think other athletes would point to stodgy old baseball as an innovator?
Think again.
After suffering through "brutally slow" play at the Masters Tournament, LIV Golf's Brooks Koepka cited MLB's pitch clock as a solution, musing that if golfers don't hit their next shot within 40 seconds, they should be hit with slow-play penalties — just like MLB pitchers and batters are penalized by balls and strikes if they violate new pitch timing rules.
"There are some guys that probably definitely could be stroked," Koepka added.
A more confident MLB is poised to experiment even further, possibly rolling out "Robot-Umps" at the big-league level by the 2025 season. This year, robotic umpires are calling over half of Triple-A games at home plate.
We'll probably never return to the halcyon days of the late 1980s and early '90s — when Ken Burns' "Baseball," "Field of Dreams" and "When It Was A Game" venerated baseball as a quasi-religion — but the new innovations have managed to stir up discussion, once again memorializing baseball as a thinking man's game.
In The Atlantic's recent cover story, "How Baseball Saved Itself," former Chicago Cubs and Boston Red Sox GM Theo Epstein tells author Mark Leibovich, "If we had let this game evolve on its own, we were on our way to an unwatchable sport."
October's Outlook
Manfred and his team deserves plaudits, but they still have some major problems to solve — namely, whether TV momentum from the rules changes translates into bigger postseason audiences. Sports TV ratings expert Doug Pucci will believe it when he sees it.
"This year's rule changes have absolutely benefited the product on the field for MLB," he said. "But whether that translates into a boost in the postseason depends, of course, on the participating teams and markets that get there.
World Series TV ratings are fading for an increasingly regionalized sport. The 2022 Fall Classic between the Houston Astros and Philadelphia Phillies drew the second-smallest audience ever, averaging 12.02 million viewers across Fox, Fox Deportes, and Fox's streaming platforms. Similarly, Fox's broadcast of this year's All-Star Game drew a record-low 7.01 million viewers, yet still has the highest-rated all-star exhibition game among the four major sports leagues.
None of this bodes well for the postseason.
"If we have teams from Arizona, Milwaukee, Minnesota, Miami, and Texas go far into the playoffs, then we may not see that huge of an uptick — or any at all — compared to recent years," Pucci said. "MLB is strongly hoping the marquee teams like the Dodgers, Yankees, Mets, and Phillies make it to October and do well."
Thanks to the electric De La Cruz, the Reds could be one of the few small-market teams that draws viewers. "The postseason would be the ultimate platform for him to shine," Pucci added.
Compounding the problem is the fact that MLB also finds itself increasingly drawn into the deteriorating financial relationships between its clubs and bankrupt cable TV operators like Diamond Sports. That's a headache that will entail years of lawsuits and counter-lawsuits. Still, TV ratings for 29 regional sports networks are up 3%, according to the league.
For now, MLB can at least savor the accomplishment of turning a pastoral sport without a clock into a faster-moving, more dynamic property for anyone financially, analytically, or emotionally invested.
And if the numbers start to fizzle out in October, the league has proved to its partners — and itself — that it can adapt to a brave new world.