For the first time in its 147-year history, Major League Baseball will be on the clock.
Say goodbye to .200 hitters stepping in and out of the box to adjust their gloves, pitchers dawdling around the mound, and interminable pickoff throws to first base.
Say hello to a 15-second pitch timer (20 seconds with runners on), a limit of two pickoff attempts or step-offs per plate appearance, limits on defensive shifts, and bigger bases to entice base-stealers.
Due partly to defensive shifts, Major League Baseball batters hit an anemic .243 last season — the lowest since the 1968 season, known as the "Year of the Pitcher," which also spurred radical changes: MLB responded by lowering the pitcher's mound and shrinking the strike zone to its modern size.
MLB predicts its newest rules will shorten overall game times and, hopefully, make baseball fast and fun again.
We don't know the full impact yet from MLB's biggest rules changes in 54 years. But we can safely predict one thing: Baseball will be a faster, more thrilling TV watch this season.
YES Network's Michael Kay is shocked at how quickly the changes have sped up games. The veteran New York Yankees' play-by-play announcer believes they were needed to fix a "broken" game.
"I think the owners are smart. I think [MLB Commissioner Rob] Manfred is smart. You've got to keep this game alive," Kay told Front Office Sports in an interview.
"Right now, it's great that the 50-year-olds and the 60-year-olds love baseball. But you better cater to the 10-year-olds for the future of business. I think we were losing them — because the game was too slow."
Baseball's TV Problem
MLB is plenty healthy financially. The 30-team league generated a record $10.8 billion in revenue in 2002, according to Forbes.
After plummeting during the pandemic, MLB's overall attendance of 64,556,658 for the 2022 season (26,843 per game over 2,405 dates) came close to the 68,494,752 (28,339 per game over 2,417 dates) for the pre-COVID 2019 season.
But there's growing concern about waning TV popularity, especially for its marquee national programming:
The 2022 World Series (Houston Astros vs. Philadelphia Phillies) was the second-least-watched edition ever, averaging 11.78 million viewers on Fox Sports. It beat only the 9.94 million viewers for the 2020 World Series (Los Angeles Dodgers vs. Tampa Bay Rays) played during the pandemic.
The 2022 All-Star Game fell to a record-low viewership of 7.5 million average viewers — the first time the Midsummer Classic dropped below 8 million viewers, per Sports Media Watch.
Fox Sports' regular-season viewership slid 12% to 2.11 million viewers in 2022, and ESPN's "Sunday Night Baseball" ticked up only 1% to 1.49 million viewers.
Networks don't like to make ratings predictions. But ESPN just posted its most-watched spring training in seven years, and the network's four-game afternoon slate averaged 378,000 viewers, up 29%.
As usual, 99% of baseball fans will experience games on TV. This year's primetime games should end at a more family-friendly hour for kids and should demonstrably improve the pace of play and action:
Spring training games were 26 minutes shorter (2:35 vs. 3:01).
The bigger bases (18 vs.15 square inches) saw increases in stolen bases per game (67%; 1.8 from 1.1) and attempts per game (44%; 2.3 from 1.6).
The distance between first and second bases has been shortened by 4.5 inches.
Making baseball a better TV show with more hits, runs, and base-stealing could attract the next generation of fans, noted Kay — and help MLB compete with the NFL, NBA, and NHL in the TV ratings game.
"The time commitment that you have to get to the game will not be nearly as long. Kids might be able to stay up for a big game rather than have it go until 10:30 or 11 o'clock," said Kay, who will also co-host ESPN2's "KayRod Cast" with three-time MVP Alex Rodriguez for the second straight season.
"I think you're going to see a lot of Yankee games end at 9:35; something like that. It's going to make that much of a difference. It's going to make the presentation much better — because it's going to be quicker."
Embracing The New Reality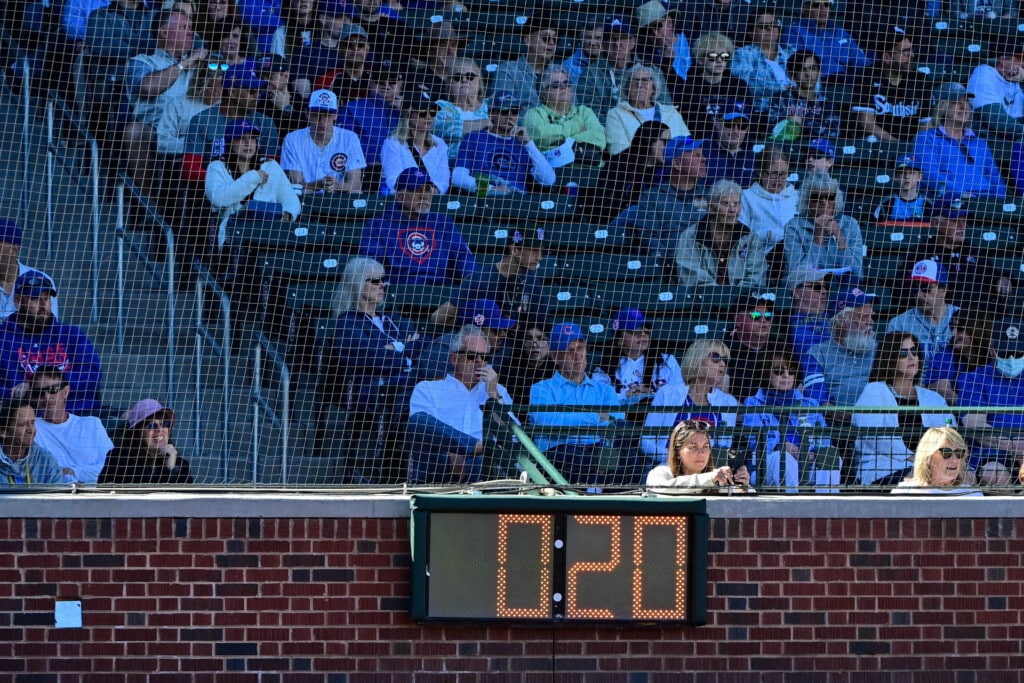 At an average age of 57, MLB has the oldest fans among the major U.S. leagues. To pull off these wholesale changes, MLB will have to convince that fan base that it's not tampering with their beloved game. Good luck with that.
When MLB announced a promotion to slap ads for "Spider-Man 2" on bases in 2004, baseball purists went bonkers. Then-commissioner Bud Selig quickly called off the deal with Columbia Pictures.
As Noah Garden, MLB's chief revenue officer admitted to FOS, it's a "blessing and a curse" to be America's Pastime.
However, the new rules were tested over 8,000 games in the minor leagues, he noted. Some doubters changed their minds when they witnessed the changes in March.
"It's really not about the time of the game. It's just that there's been a lot of downtime in the game. The idea is when somebody turns on a game at any given time you want them to see some sort of action," Garden said.
"You don't want them to see the batter going in and out of the box. Or the pitcher off the mound. You want to see a pitch in progress; a play in progress. That's made for a crisper experience for the fan. We're happy with the results."
With Yankees slugger Aaron Judge setting an American League home record, MLB enters the new season with plenty of momentum.
But some former stars like Johnny Damon aren't sold on the changes.
The two-time World Series winner played in many a four-hour marathon between the Yankees and Boston Red Sox, where hitters on both teams from Derek Jeter to David Oritz battled deep into the count.
Baseball's timeless nature is part of its appeal, he said.
"For the most part, everybody wants the game to move in a decent rhythm. Unfortunately, we always try to cut back on time," said Damon. "But baseball's a game that has no time limit. It's the advertising and the commercials that keep pushing it. And that's where the money comes in from."
Damon, who founded the new A-Game line of sports beverages, noted spring training games usually run quicker than regular-season games anyway.
He'd like to see MLB employ some of the fun, on-field antics of minor league teams like the Savannah Bananas, which unveiled a dance team of senior women dubbed the "Banana Nanas."
"Hopefully at the end of the day, they bring baseball back to the masses," Damon said.
Smooth Transition?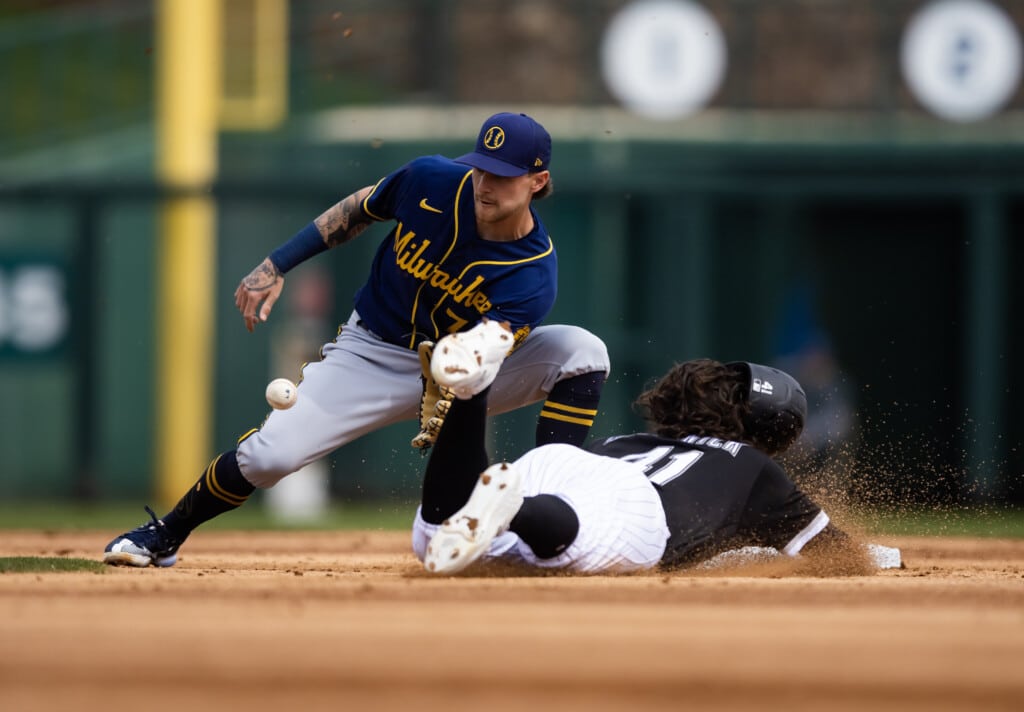 Social media has helped baseball sell the rules. One video illustrated what Kay calls baseball's often "maddening" pace of play.
During spring training, a tweet went viral showing Los Angeles Dodgers pitcher Landon Knack zipping through a half-inning of work in the same time it took slowpoke Dodgers hurler Pedro Baez to throw one pitch.
"He's taking forever," said Fox's Joe Buck in the clip, which has amassed 6 million views on Twitter.
Spring training is fine. But will MLB enforce the rules with the World Series on the line?
Kay believes they will. After all, NFL refs didn't swallow the whistle at this year's Super Bowl, which effectively ended on a penalty.
MLB's Garden agreed: "Rules are made to be enforced."
Wherever you come down on the rules debate, Kay dismisses the complaint they will change the "essence" of baseball.
Instead, he believes they will help restore the game to the version Americans enjoyed during the glory days of Reggie Jackson, Hank Aaron, and Mickey Mantle.
"I love the pitch clock," Kay said. "I think it was long overdue."
During "Sunday Night Baseball," ESPN will display the pitch clock on-screen, according to senior vice president Mark Gross. "You will see the pitch clock throughout, whether it's 15 seconds or 20 seconds," he said.
Sports TV is always changing. When Fox introduced an on-screen "score bug" to NFL telecasts in 1994, NBC Sports legend Dick Ebersol lambasted the idea.
Now TV viewers couldn't imagine watching NFL games without that familiar on-screen graphic listing the score, time, down, and distance.
Could history repeat itself with MLB's pitch clocks? Garden wouldn't be surprised.
"I think it's going to be one of those things where we say very quickly, 'Why didn't we do this a lot sooner?'"