Earlier this year, Apple became the first American company to reach a
$3 trillion
market cap. 
Even though the macro environment eventually pulled it back to ~$2.25 trillion, the Big Tech leader is still targeting accelerated growth — and is likely to use sports offerings as one of its tactics.
Chief among Apple's strategies for growth over the last few years has been a shift to services and subscription models.  
The segment has been its fastest-growing since 2015 and its second-most lucrative sector behind the iPhone, which generates around $40 billion every quarter. Services and subscriptions brought in close to $20 billion in Q2 revenues and grew at 17% YoY.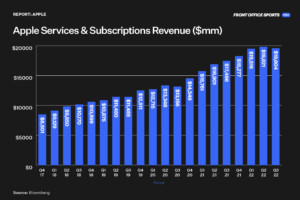 The numbers are impressive, but why is Apple pursuing such aggressive growth for this segment?
Products vs. Subscriptions 
Apple releases new versions of its main products every year with improved performance, design innovations, and new features, but critics often feel like there's a diminishing marginal utility to the constant updates, restraining the addressable market for the company YoY. 
Take the iPhone, for example. A well-maintained iPhone can last up to five or even seven years with the newest batteries and durability features. Headphones, iPads, watches, and MacBooks could have even longer lives. 
The tech giant is now increasingly pushed to focus on subscription models just as much as  traditional hardware.
Tech devices have higher up-front costs and may require diverse financing solutions — subscriptions are smaller, more

recurrent

,

manageable,

and

affordable payments

.

Subscriptions and services have higher

cash flow predictability,

providing better estimations for future income and performance. 

Users can develop more

brand commitment

.

Sunk

and

high switching costs

develop some form of customer loyalty to the different services.

Scalability and distribution of subscriptions and services have substantially lower

marginal costs of replication

.
In its latest report, Apple tallied 860 million paid subscriptions for its platforms (Apple Music, Apple TV+, Fitness+, iCloud, AppleCare, Arcade, etc.). At that number, Apple would have to at least double subscriptions to tie the current iPhone's revenue share. 
To dominate the subscriptions business, you first have to dominate the attention business — or at least that's what Apple thinks. And that's where sports come in.
Recently, Apple has taken strategic steps to expand its paid subscriptions with the help of the sports industry through diverse efforts within media, music, fitness, and original content. 
Streaming and Media
The marriage of sports rights and Big Tech is a hot topic these days, especially after Amazon acquired the rights to stream the NFL's "Thursday Night Football" on Prime, pulling in a record number of subscriptions. And this trend seems to be in its early stages.
"This summer, streaming surpassed cable and broadcast television viewing as the most-watched TV format for the first time," said Jon Stainer, Managing Director of Nielsen Sports in the Americas. 
"Major tech companies are looking at sports to attract a large streaming-hungry audience into their media ecosystem. Sports navigating to these platforms seems like a natural fit considering streaming consumption is up over 20% yearly."
Earlier this year, Apple announced a deal with Major League Baseball to stream "Friday Night Baseball" and with Major League Soccer to stream select matches on Apple TV+. Apple is also rumored to be bidding for the rights to the NFL's Sunday Ticket.
Because tech companies don't rely on advertising revenue to monetize their content, they see sports rights and OTT as a lead magnet for subscriptions and a fan engagement tool that opens new monetization opportunities.
"OTT offers a brand–new canvas to provide fans with enhanced experiences through new technology, x-ray features, languages, and alternative commentators — allowing content providers to collect data about their viewers to personalize fan engagement," said Brian Josephs, Sportradar's Head of Regional Sales, North America.
Through personalization, people will choose how they want to consume sports, creating new experiences in betting, sponsorships, e-commerce, and other segments.
"Sports fans spend a lot of money around games and their favorite teams, so OTT is an opportunity to convert viewers to customers with even less friction than with a traditional broadcaster (data, retargeting, etc.)," said Adam Seaborn, Head of Partnerships (North America), Playmaker Capital.
Original Content
Data from Nielsen showed that Formula 1 enjoyed great wide success in converting viewers of Netflix's "Drive to Survive" series into sports consumers, generating more than 360,000 new F1 fans ahead of the most recent Miami Grand Prix.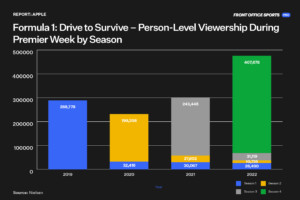 Thanks to the overwhelming success of "Drive to Survive" and Michael Jordan's docuseries "The Last Dance," sports properties and content providers began realizing the potential of such products. The PGA, WTA, and English Premier League are the latest brands interested in creating similar original content. 
Even though it's a fictional series, Apple has created a sports icon through the hit show "Ted Lasso," which now has characters featured in EA Sports' most recent edition of FIFA and a licensing deal with the Premier League itself.
Sports properties benefit from exposure to an existing subscriber base and can build a name with original content, while Apple benefits by diversifying its product mix and creating opportunities for organic advertising through product placement and OTT marketing. 
If a platform like Apple TV+ can pair original content (i.e., "Ted Lasso") with live sports (i.e., MLS) — soccer fans are more likely to stick around. 
Music
Apple has been leveraging the music industry through partnerships and acquisitions to establish its brand and pull customers into the subscription tier. 
Before launching Apple Music in 2015, it acquired Beats by Dr. Dre — the high-end headphone and speaker business — for $3 billion in 2014.
At the time, Beats was leading the headphone market in the U.S.
Since then, the Beats brand has had solid positioning among celebrities, artists, and athletes by endorsing multiple top-tier athletes like LeBron James, Serena Williams, Simone Biles, Odell Beckham Jr, and more recently, popular eSports gamers.
Besides looking for impeccable brand appeal and recognition, Apple creates full vertical integrations from the medium to the service through diverse strategies — for example, giving away free trials of Apple Music to new headphone customers. 
More recently, Apple Music became the new official partner of the biggest concert in the world — the Super Bowl Halftime Show.
It attracts over 120 million viewers — and according to MiQ, 50% of viewers who tuned in to Super Bowl LIII watched the Halftime Show from start to finish, while over 85% watched at least part of it.
The Halftime Show is yet another example of Apple's interest in the audience type, size, and brand impact of partnering with the NFL — itself the biggest brand in U.S. sports.
JPMorgan estimates Apple Music will have 110 million subscribers by 2025. While Spotify may be way ahead (188 million paying subscribers in 2022), Apple is still betting on segment growth in the long run.
Fitness and Wellness
The rising interest in healthier lifestyles and an increased focus on wellness have contributed to a booming fitness market, and Apple seems to be aiming for a larger piece of that pie.
In its latest announcement, it launched the new Apple Watch Ultra — built for athletes practicing extreme sports and designed to compete with Garmin and other brands in the space — and the new SE Watch for a more affordable option.
Additionally, Apple's expanding its connected fitness capabilities with new features for Apple Watch users, most notably its Apple Fitness+ subscription service.
After growing in relevance during the pandemic, connected fitness is a segment JP Morgan sees growing in the coming years, expecting Apple Fitness+ to top revenues of $3.6 billion by 2025, up from $300 million in 2021. 
The Trojan Horse to get people into it? Apple Watches.
Sales of Apple's smartwatch have only increased since its introduction, even during the pandemic.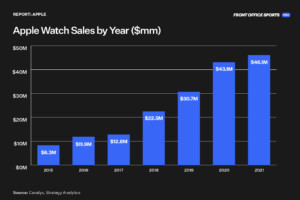 By diversifying its product mix and adding connectivity and features, Apple is looking to expand its subscription segment even through the most niche user groups within the fitness and wellness industry.
The Takeaway
Apple sees sports as more than just a way to broaden its subscription environment. Sports are a logical extension of the brand, message, fundamental values, and standard of experiences it aspires to deliver.
Apple will have a stronger chance of success at bringing on — and more crucially, keeping — new customers if it deliberately targets the segments, partnerships, and products that most correspond with the brand. All signs point to a long-term commitment.