In the News
Nielsen recently released its 2022 global sports marketing and fan engagement report. The report highlighted several key areas where consumer, and specifically fan behaviors, have changed over the recent years. The key driver has often been digital connectivity. Whether it be through IoT, 5G, streaming, or other technological advances, fans are becoming incrementally more digital.
The report indicates that connected devices are the largest drivers of this change, and as they gain momentum as great amplifiers of content, access to content continues to expand — with 40.7% of global fans now opting to stream live sports events through digital platforms. Additionally, the report indicated that as of September 2021, 32% of time spent by television users was on a connected TV device, up from 8% in September of 2011.
The pandemic also accelerated the adoption of connected devices. In August 2021, Nielsen indicated that more than 81% of U.S. homes had at least one TV-connected device, up from 72% back in August 2019. In this case, connected-device ownership includes everything from smart TVs, video game consoles, and over-the-top (OTT) devices like Amazon Fire TV Sticks and Roku devices.
Any way you look at it, consumers are increasingly moving toward a nonlinear and multiscreen viewing experience. The report details many of the ways in which this shift is occurring.
Let's break down some of the main driving forces.
Second Screen
Multiscreen viewing has become a widely adopted behavior. From Twitch streaming to social media, viewers are increasingly utilizing second and third screens while watching their favorite sports. Over the last year, multiscreen viewing activities have increased 5%, with the GenZ population seeing the behavior increase 10% year-over-year. From a macro perspective, 47% of the people who watch sports on TV or digital platforms simultaneously watch other live content, much higher than the general population (33%).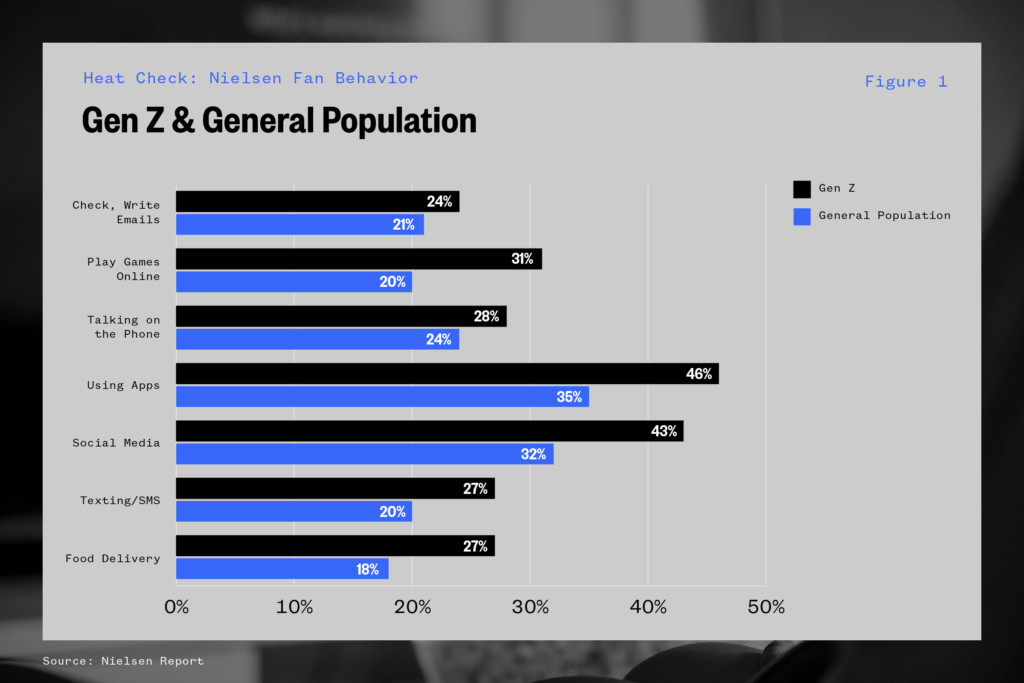 One interesting observation from the data is that 27% of GenZ regularly uses food-delivery apps while watching sports. According to data aggregated by business apps, the projected food app market is expected to grow to $42 billion in revenue, up from $26 billion in 2020. Food-delivery app growth increased by 122% in 2020. The trend largely decelerated, but delivery apps have turned to different types of ecommerce to retain users. If streaming sports events become a catalyst for ordering food, look for increased partnerships and activations between food-delivery apps and sports franchises.
OTT vs. Traditional Linear TV
The total number of platforms on which consumers can watch sports has exploded. According to Nielsen's research, OTT media rights have grown significantly in value in recent years.
OTT media rights have increased from 4% to 23% at the local level for the top five European football leagues regarding rights deals negotiated in the last two years.
Rights increased from 5% in 2018 to 23% in 2021 for the UEFA Champions League in the top five European markets.
Rights increased from 0% between 2014 and 2018 to 31% between 2019 and 2023 (forecasted) for world tennis' ATP 1000 Tour.
At the same time, linear TV has struggled. In aggregate, subscriptions are down 18% since 2019. Live sports, however, continue to be the main driver of engagement — though not necessarily large amounts of growth — for traditional, linear TV.
According to the report, in October 2021, sports content drove a 22% month-over-month increase in U.S. broadcast TV viewing, even though sports programming represented only 2.7% of the available broadcast program content. The small amount of programming is responsible for the marginal amount of growth linear has seen.
The graphic below represents the percentage of the 50 most-viewed programs in 2021.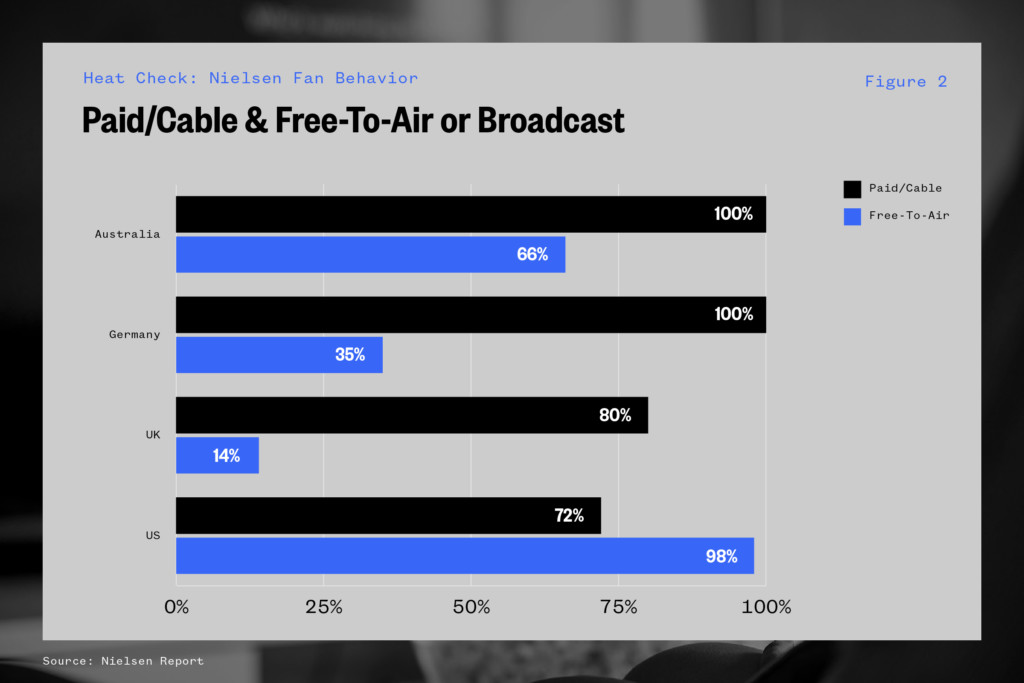 On average, more than three-quarters of the world's top programming is still viewed using linear TV — and sports makes up a large portion of those telecasts.
Unbundling Media Rights
Traditional, linear TV is not the only thing getting unbundled. Holders of sports media rights have been carefully examining the landscape to determine how best to utilize the new forms of distribution on the market. These sports rights holders are currently investing in both live and non-live content distribution. This fragmented model will be a crucial step in meeting Gen Z fans where they want to consume content — across platforms.
The report provides an example from Spain and La Liga, the country's top soccer league, which will launch its own streaming service for the super fan in early 2022 ("LaLigaPass"), which will include highlights, interviews, and press conferences, as well as live and on-demand matches in certain territories.
The change in content mix and content delivery necessities a change in how brands ultimately engage with fans on these platforms. Rights holders continue to unbundle their media and marketing rights — "sponsorable" assets have increased threefold over the last five years.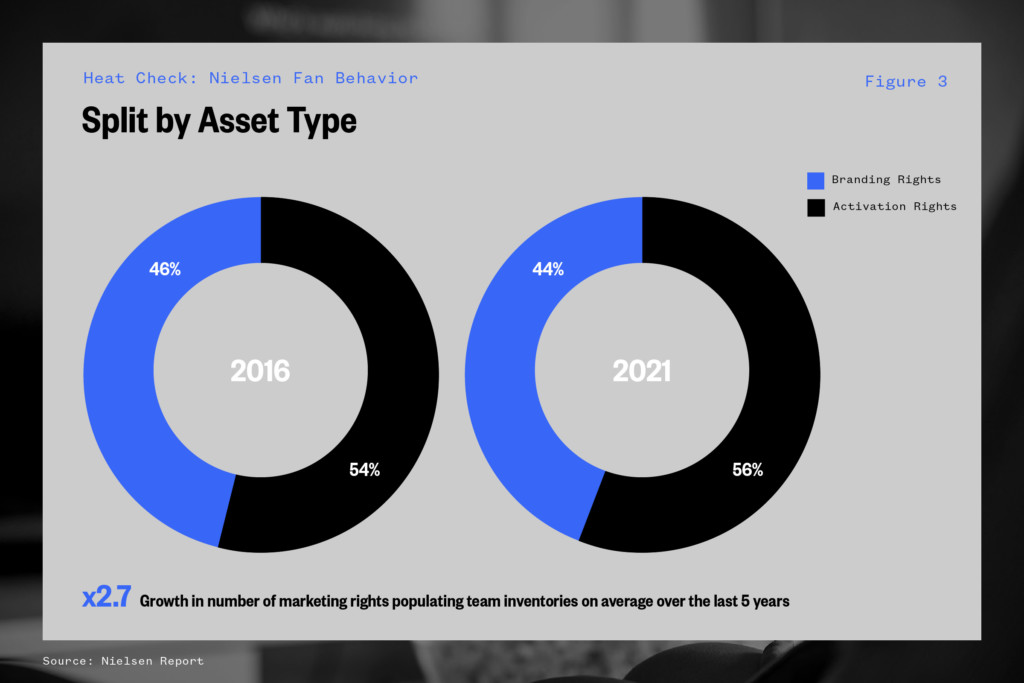 What is interesting to note from the report, however, is the fact that the ratio of branded rights and activation rights have actually remained largely unchanged (roughly a 45% -55% split). Even though the base of sponsorable assets is increasing, the model for targeting untapped opportunities has remained largely unchanged.
The Rise of 'Related Content'
We will affectionately call this the Drive to Survive Effect. Formula 1 has exploded in popularity since Netflix debuted "Drive to Survive" in 2019. This season's United States Grand Prix in Austin recorded a 42% increase in viewership over the same race two years before. Nearly 400,000 fans attended the event.
The growth has not just occured in the U.S.. The sport added an estimated 73 million fans last year in markets including Brazil, China and France. The hit Netflix show has also catalyzed a spike in the ever-coveted 16- to 35-year-old fan demographic. Nielsen Sports research found that 77% of the growth was driven by this age group. Non-live content has driven much of the growth in F1's recent surge in popularity.
From a macro perspective, the proliferation of content across platforms has also sparked increased consumption of additional sports content — both related and unrelated to live competition. The demand for related but non-live sports content is largely being driven by younger demographics.
For example, just under 44% of fans 16-29 who watch non-live sports content related to live matches do so via digital, which is just 0.4% less than those who watch live matches via digital. This indicates that the behavior of watching live matches on digital is indicative of demand for non-live related sports content. This content will increasingly become valuable real estate going forward for brands looking to reach the GenZ demographic.
It is important to distinguish between the two types of "related content." First, there is content related to a live event (match announcements, highlights, recap videos, etc.). The specific demand for this content is almost as high as it is for digitally delivered events themselves. Second, there's content unrelated to the live event itself but related to teams, leagues, and sports (think docuseries, behind the scenes, virtual events, etc.). This set of content is just slightly less sought-after than live digital event content. According to the report, this second type of content has the ability to attract new consumers and ultimately get them into the funnel for live content.
Source