There's no other category of entertainment that attracts as loyal and large an audience as sports. Whether it's the international enthusiasm for soccer captivating billions of World Cup viewers around the globe, or the wave of stateside tribalism declared annually during the Super Bowl, the fans' passion for their favorite sports and teams can be a key element of their identity, and by extension, their community.

Younger generations discover sports and embark on a fandom journey with their favorite teams and players, and the trip continues for the older generations as they watch and enjoy the pastimes they've been playing and following their entire lives.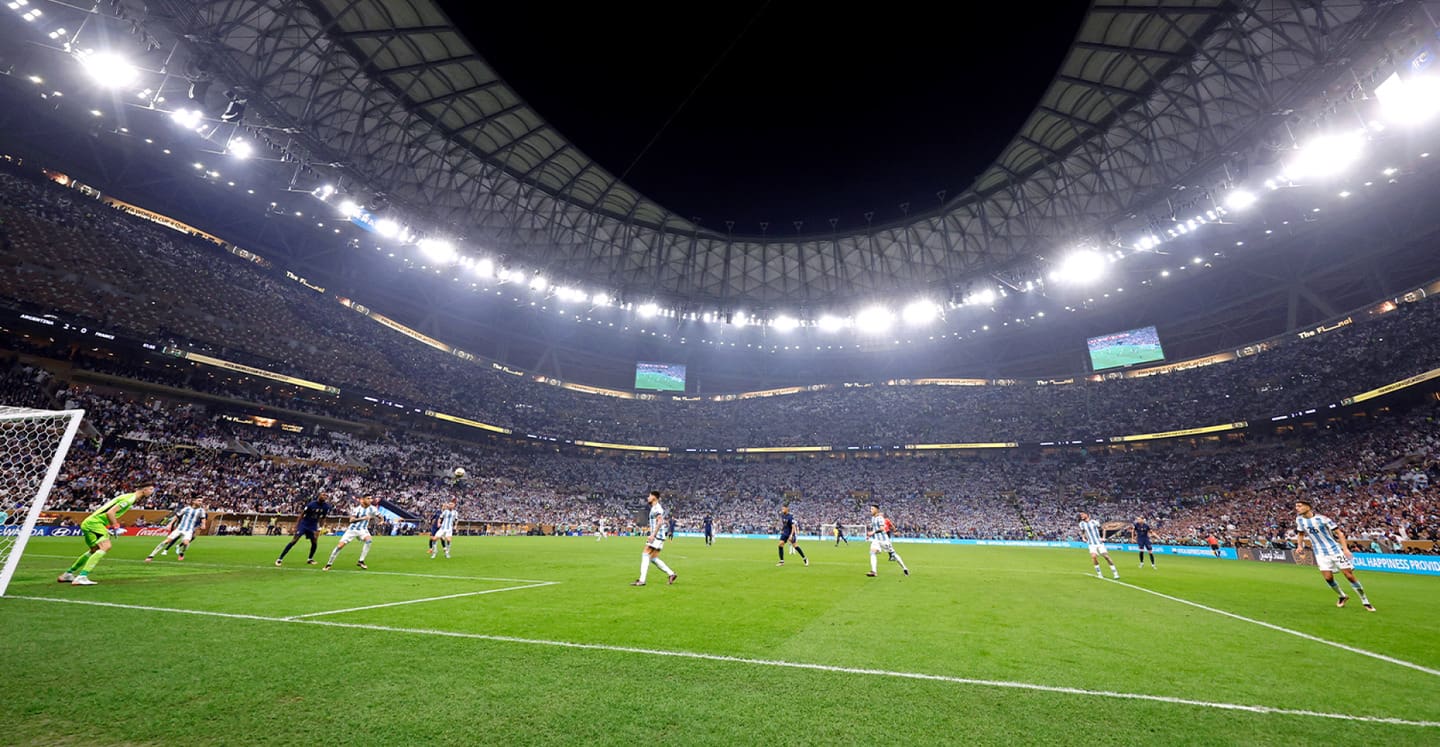 As a result, year-over-year the sports category continues to be a reliable connection to an ever-expanding, cross-demographic audience that has grown exponentially in the last few years, as technology has evolved and new opportunities to reach sports fans have emerged. However, the televised tentpole events in the sports category remain a major draw for live television viewership, and attendance at live events has returned to pre-pandemic levels – in some instances, establishing new attendance records.

Live sports programming traditionally dominates the primetime ratings on linear television, but fans gathered around their screens in record numbers last year. In 2022, 94 of the top 100 most-watched primetime telecasts on linear TV were live sports broadcasts. Super Bowl LVI was top of the list, with 101.1 million viewers tuning in to watch the Rams defeat the Bengals, and football accounted for the eight broadcasts following, with a Winter Olympics recap rounding out the top 10.
Primetime Telecasts Were Live Sports This trend continued in 2023 with nearly 113 million viewers tuning in to watch the Chiefs defeat the Eagles in Super Bowl LVII.

Fans are also returning to stadiums by the millions. Over 3.9 million spectators cheered on the LA Dodgers in 2022, the second highest number of attendees in Dodger Stadium season history, behind 2018. This past August the team set a new single game attendance record for the year with a reported 53,432 fans in the stands.

In Dallas, the Cowboys averaged over 93,000 attendees in the 2021-2022 season, up 2,000 from the 2018 average of 91,000 attendees. College football stadium attendance also made a significant comeback, with the Michigan Wolverines averaging 110,736 fans per game, a figure slightly above their 2018 attendee numbers. And in basketball, the NBA is on par with 2018 averages, attracting 17,000 fans to the stadium per game.
Sports Fans Tune Into Live Tv
The surging popularity of connected devices during the pandemic created a shift in viewership habits and how fans now consume sports media. As technology evolves and viewership options multiply, the tech-savvy younger generations are watching sports on platforms beyond the television. Always a sure bet, live TV remains the primary format of choice, with 64% of all sports fans tuning in for games, but a whopping 87% of these fans are ages 51+, while just 45% of Gen Z fans are watching.

Conversely, larger numbers of millennials and Gen Z are watching sports via online streams (31% and 30%, respectively); roughly half of fans aged 51+ are doing the same (16%). A quarter of both Gen Z and millennials consume their sports media via apps, as opposed to only 12% of viewers aged 51+ using them. Appropriately, a larger percentage of younger fans are following sports on social media; nearly half of Gen Z (47%), as opposed less than one fifth (18%) of viewers aged 51 and older.
Gen Z & Millennials Sports Habits Compared to 51+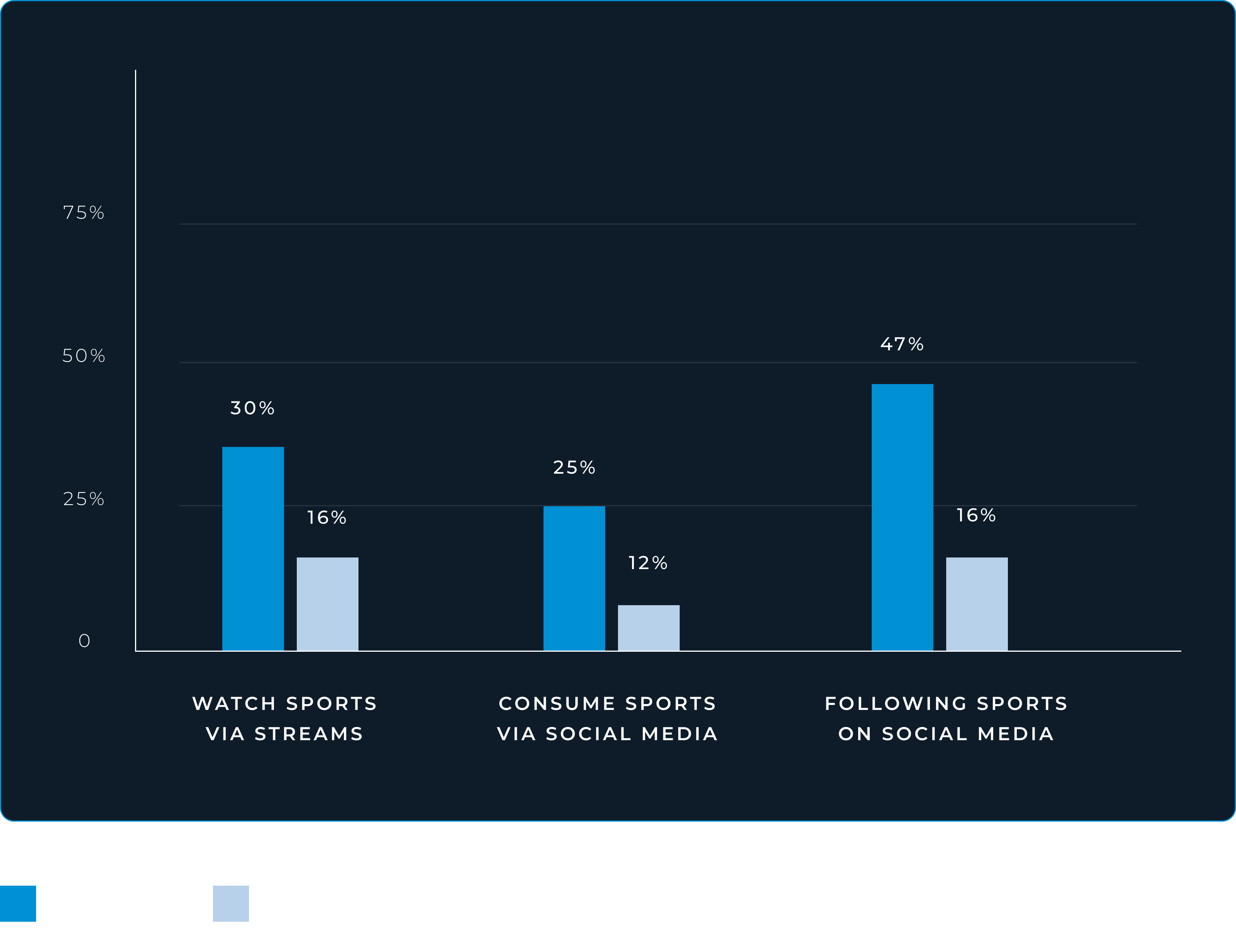 As viewership continues to fragment across multiple platforms – including streamers like Hulu, Peacock, Paramount+, Amazon Prime and Apple TV – the sports landscape has evolved in tandem, creating a multitude of new opportunities to connect with the sports fan community in the digital environment.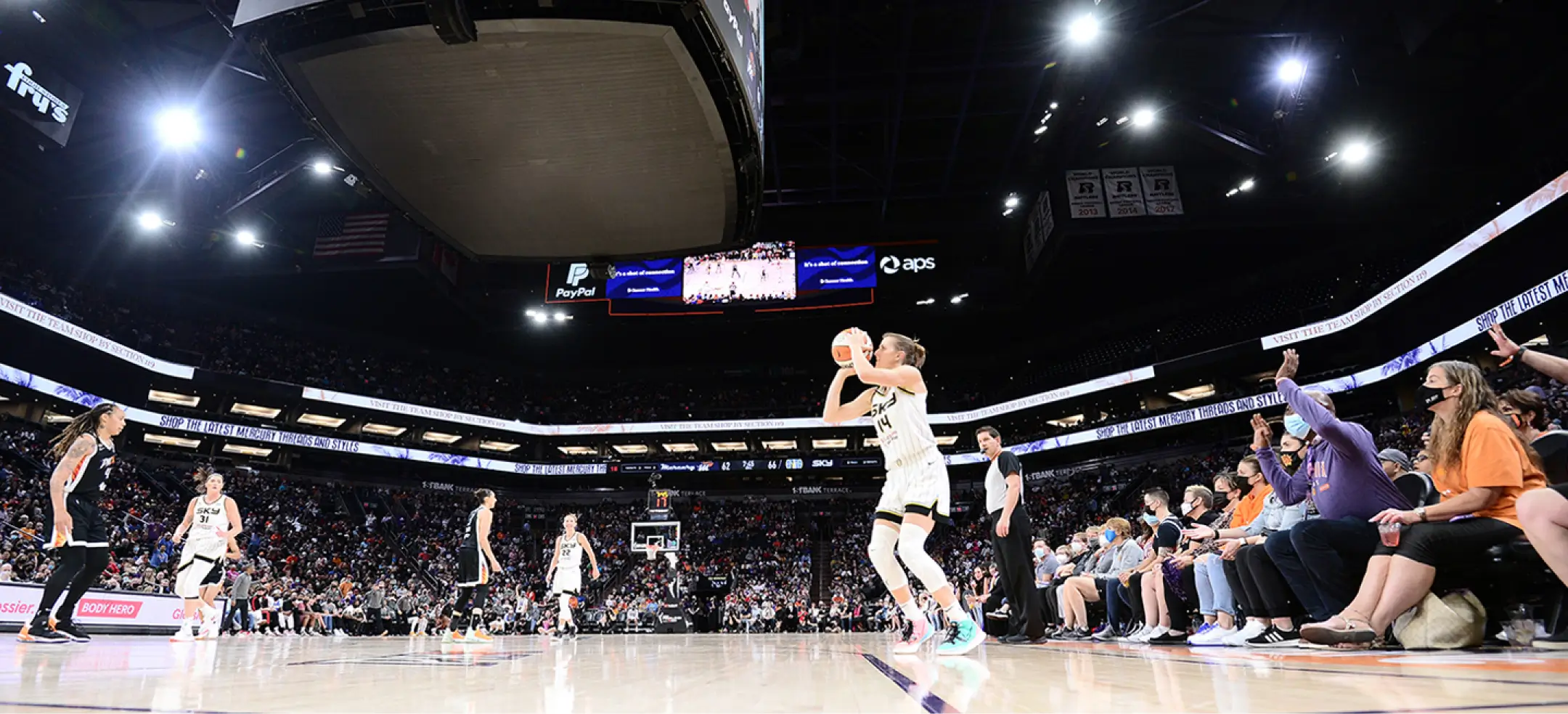 Michelle Wilson, Founder and Co-CEO of ISOS Capital Management, an investment firm with an expertise in investment opportunities in the sports, media, and entertainment industries says, "Sports is the anchor of the global media ecosystem, and will no doubt continue to be the centerpiece as the landscape evolves. And when you consider the untapped growth levers that exist for leagues, teams and sports adjacent businesses, we have only just begun to scratch the surface on the breadth and depth of fan engagement opportunities that will drive these businesses to new heights."

Wilson points out, however, that capitalizing on these opportunities is as complex as it has ever been. "It's important for sports properties to have access to the operational expertise of those who have the proven ability to create value for all the stakeholders involved."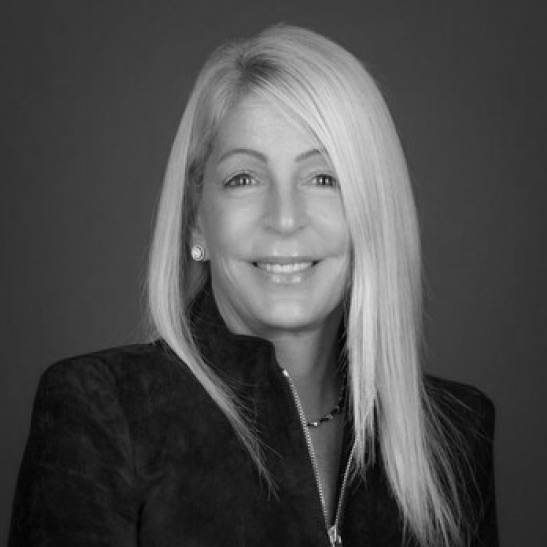 Sports is the anchor of the global media ecosystem, and will no doubt continue to be the centerpiece as the landscape evolves.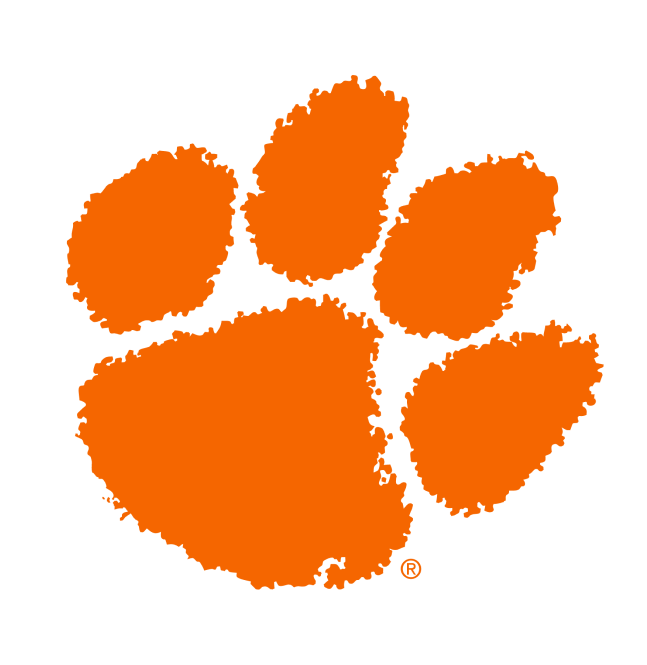 "[WSC Sports] also can analyze announcer audio to mark plays with three, four, and five-star ratings for us to filter by. Just really smart stuff."