Often in sports, the most poignant moments come not from the players or coaches, but from the people capturing those scenes for the world to later remember.
Andrew Bernstein scored his first NBA gig as a photographer at the 1983 All-Star Game. Over the course of 37 years, he has served as team photographer for Los Angeles teams like the Clippers, Dodgers, Kings and, more famously, the Lakers.
When the COVID-19 pandemic shut down the NBA season for more than four months, Bernstein was forced to be anywhere but the hardwood. Now as both the Clippers and Lakers are in the midst of an NBA Finals run, Bernstein is on the floor in Orlando covering the sport he knows best.
Front Office Sports spoke with Bernstein about life without covering the NBA, his experiences down in the bubble, and what it's been like photographing the players in that environment.
Front Office Sports: These past several months, how did you manage to keep yourself busy without having NBA games to cover?
Andrew Bernstein: My season started way back at the end of September. By the time we hit March 11th … it came to a screeching halt. It was very shocking at first of course, and disorienting because at that time of year I get myself geared up for the playoffs that are going to start [the] next month.
I've never been home in basically my adult, professional life from April to June. That was something to think about and to prepare for. On the flip side I've been working very hard on my podcast, Legends of Sport, which we launched over three years ago and we're just starting our third season. I ramped that up with my producer and we ended up doing two podcasts a week for the first couple of months of the pandemic. One podcast came out on Tuesdays with a guest and then every Friday we were coming out with a legendary sports photographer series, so we were very busy.
FOS: What does your day-to-day look like in the bubble right now?
AB: It's a little bit like Groundhog Day — you have to check your phone or your calendar to make sure what day it is. I just realized it's the first day of September, so that's another month.
The day kind of starts off with me trying to get a little bit of a workout in, and then we all have to get tested. First thing in the morning, we test each other. We test ourselves in the room with an oxygen [device] and a thermometer that's hooked into an app that's fed back to the central area where they monitor all of us. We have to go actually physically to a room to get a nasal and throat swab every single day. That's how they keep it safe and they keep all of us healthy.
Even if the games are late … I like to get to the arena very early to make sure everything's set up and ready to go. The great thing is that we've been able to leave our multi-camera set up in the building. There's two buildings right now, two arenas, and there's four of us who are sort of rotating around these games. We each have our camera remotes set up on the baskets in those arenas. It saves a lot of breaking down, packing up, going to the next city. There's a lot of wear and tear and grind on that during the playoffs, which we don't have here. It's been great and very much welcomed.
FOS: What were the expectations like heading into the bubble, and did it align with what you're experiencing right now?
AB: There was a lot of anticipation around it. I was very anxious, quite frankly, about getting on the plane. I hadn't been on a plane since March. I just was very nervous about getting on a plane and being exposed to the [corona] virus. But I was very pleasantly surprised the moment I got to LAX. First of all, LAX was almost like a ghost town when I got there. The flight was about half full and they're very careful about cleanliness and social distancing and everybody had a mask on.
I had a driver pick me up and went to the first hotel where I had to quarantine for two days. When they got those results back, they moved me to the main hotel, which is called the Coronado Springs Hotel on the Disney campus.
I had to do seven days of quarantining in my room, which was interesting, but I was prepared for that. I did bring quite a bit of work to do, and it was nice actually to just kind of insulate myself a little bit and get ready for what was coming, which is going to be getting back on the court.
That was an interesting revelation because I'd been watching the games like you and everyone else at home. It looks really cool on TV what [the NBA] did, but you can't really appreciate until you're actually in the environment because it's mind blowing the technology that they've done with setting up these courts in places that don't usually have courts.
In the hotel, for example, there are practice courts in ballrooms where the teams can practice on full-on, regular, NBA courts with the team logos on them. It's almost like you've stepped a little bit into a video game because the presentation's so different, but it's NBA-quality play. The guys are playing as hard as they ever have, and I was very impressed, honestly.
FOS: How has it been photographing the players in the bubble? What changes have there been?
AB: The changes have been that we're not on the court. If you watch the games, you'll see that the baselines are all clear of photographers and videographers. We photographers have to be off the court from basically like two shooting positions in the corner behind the advertising signage and then one that's a little bit elevated and towards center court. That was an adjustment. … I have some back issues, so it's a little bit easier on my back not to be sitting on the floor, quite frankly.
But it is a different way of shooting. The action isn't coming towards you as much as it would be if you're on the floor looking up under the basket, but I was pleasantly surprised. I was able to get some interesting photos, the games have been competitive and fun to be part of.
That's really the biggest change. Everything that we do here at the games are transmitted directly back to our editor in New Jersey, who is receiving photos from the photographer at the games. The collection of photos and workflow is much faster than it would be in a normal game, so that's cool. I get to see photos out there on Getty and published much, much faster, which is wonderful.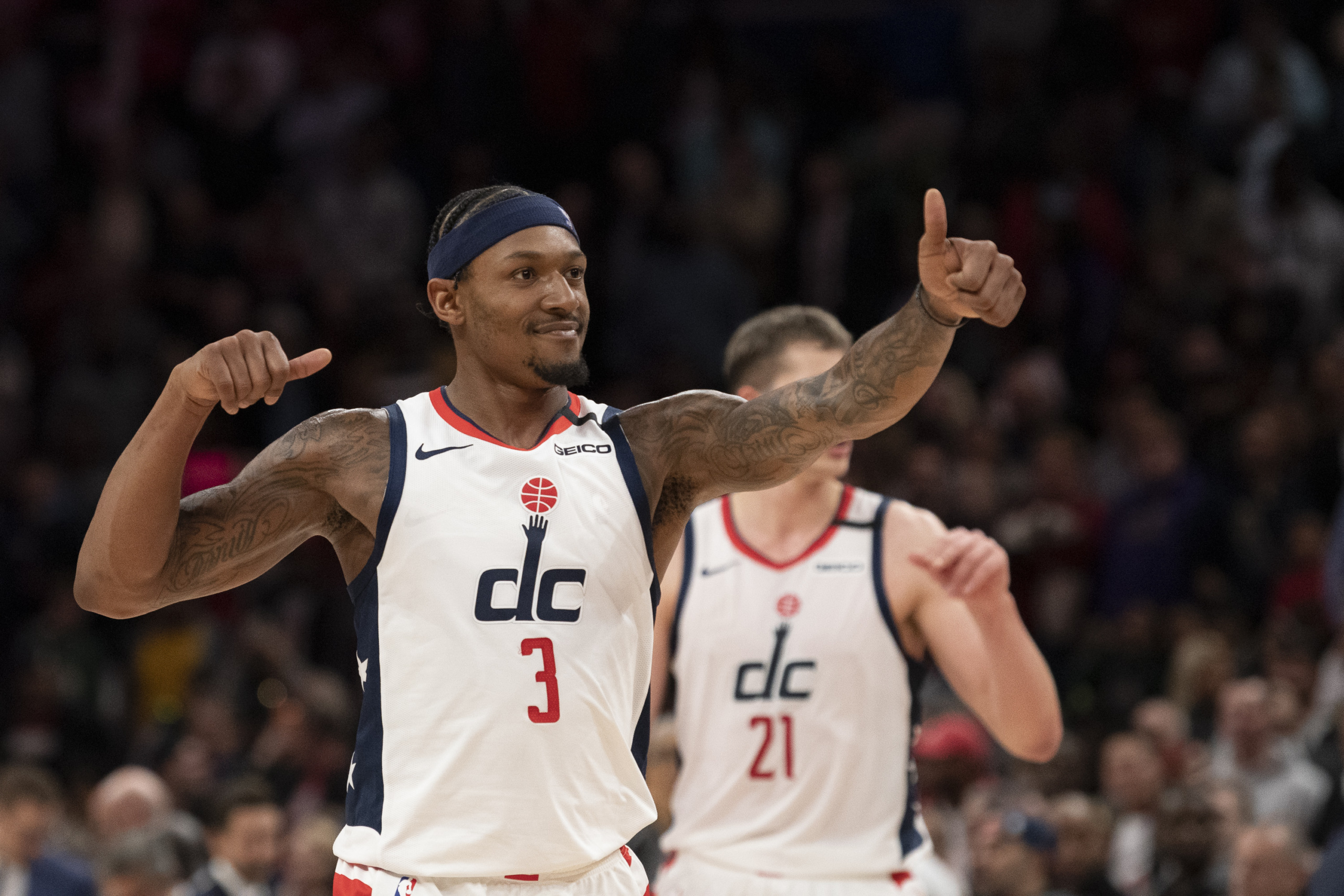 FOS: What has it been like interacting with the players in the bubble?
AB: I've seen some players around, but the NBA wants there to be a lot of social distance between us and them, which I totally respect, and I get. There isn't the interaction that you normally have when a guy comes into the arena after a game or locker room access, pregame or postgame. That's a little bit of an adjustment for me because that's always been my sort of bread and butter that I love to do — but that's just the way it is.
That was one of the protocols and one of the ways that they can ensure that everybody is safe. That was one of the main reasons they took photographers and videographers off the floor is because even though we all have the same credential level … they just want to avoid any possible problems that might come up with a player crashing into us or come into very close contact with them. When they come in, there's no high-fiving, there's no hugging or handshaking or anything like that, even among the staff. I'm a kind of touchy feely guy, so I have to get used to that, but that's the new reality. I think that's the way things are going to be moving forward in my work and in life in general.
FOS: How do you hope the bubble experience goes and what do you hope to get from it?
AB: This is still NBA basketball, no matter where it's played or how it's presented. The importance of the games is going to ratchet up as we get from one round to the next to the next, so I do feel a playoff atmosphere. You don't have the fans and you don't have all that energy in the arena, but in terms of the gains and the competitiveness, that's still the same as it's always been, and it's going to get more intense as we get further into the playoffs.
I love documenting that and that I get to be a part of that. I love the energy of that, and I have my two LA teams that I cover all the time — the Lakers and Clippers — that are playing really well. I'm keeping my fingers crossed that some way somehow they might see each other in the playoffs. That would be pretty amazing.
The two teams have never played each other in the playoffs … which is a little bit mind boggling thinking about that. But with both being good at the same time and a little bit on a collision course to play each other while we're here, it's kinda cool, honestly, so that's one of the things I'm looking forward to.