With no money coming in from ticketing, concessions, parking or merchandise, it's not easy trying to generate revenue as a professional sports franchise during the coronavirus pandemic.
With 22 NBA teams traveling to the ESPN Wide World of Sports Complex on July 7 for the league's fan-less bubble tournament, many of them are turning to digital and social media to supplement that.
For the Philadelphia 76ers, that means relying on bubble content to drive sponsorship revenue, according to Sean Spencer, the team's director of content strategy. He has looked to the in-house content studio, Studio 76, to have storytelling pay off financially for the club.
"We always say that there's like a hundred outlets that can point their cameras at the court and tell the story of the game, but really only the 76ers' Studio 76 are uniquely positioned to give an all-access, behind-the-scenes, exclusive, story-focused look at our players, our team and our brand," Spencer said. "That continues to be our focus, even heading into Orlando."
The NBA pause provided Spencer and the 76ers the opportunity to experiment with new content offerings heading into the league's restart. The 76ers were one of a handful of teams to hold a "virtual media day," where they asked all 16 players to participate by creating content around the event.
Players were also at the center of two separate 76ers content series: Posted Up! and Reel Talk. Posted Up! is a multimedia series – with articles, podcasts and videos – that details what team members have been doing during the hiatus. Featuring players like Tobias Harris and Furkan Korkmaz, the organization was able to have Caesars appear as a presenting sponsor.
Reel Talk with Budweiser has seen 76ers players like Ben Simmons and Matisse Thybulle look back at their best moments throughout the season. Between that and Posted Up!, the two series have accounted for 40% of earned social media impressions in the last 90 days. They have also helped engagement rates across Facebook, Instagram and Twitter emerge higher in May and June than in November 2019 when the season was in its early stages.
"We've had no issues at all [creating content in the bubble]," Spencer said. "I can honestly say we have not skipped a beat since the day the hiatus started and it's only continued under the bubble."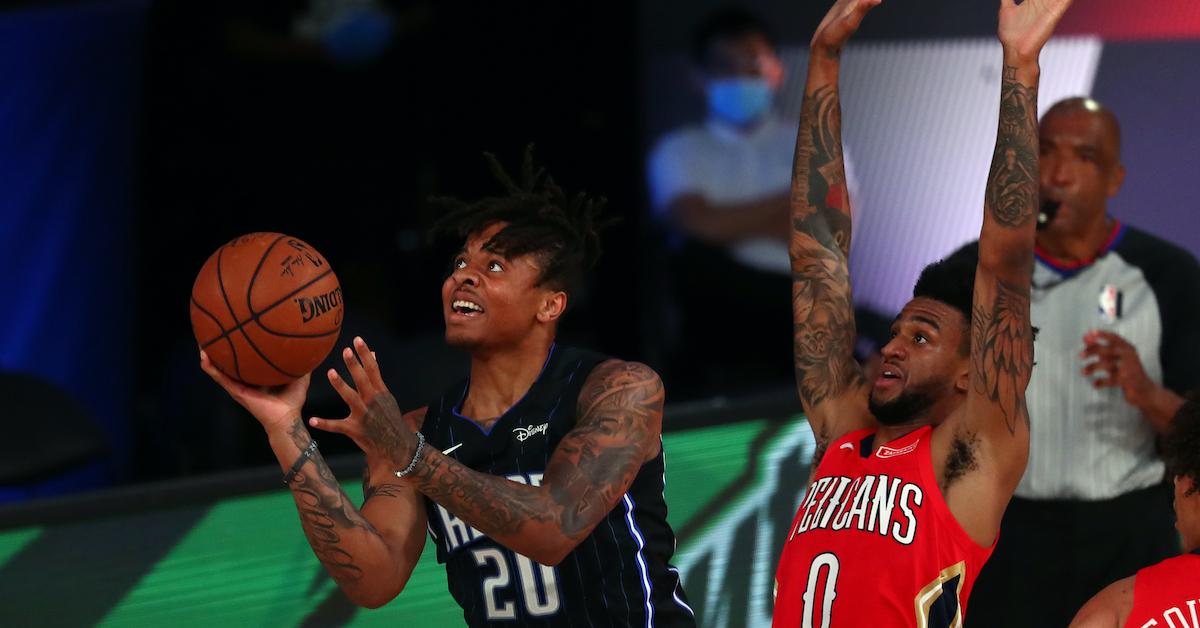 While Sean Branagan, director of the center for digital media entrepreneurship at Syracuse University's Newhouse School of Public Communications, is uncertain of the sponsored content in the bubble, the circumstances surrounding the NBA season should make brands even more anxious to experiment.
"The value [in generating revenue from sponsored content] is a little unknown at this point," Branagan wrote in an email. "Like anything new, you begin with a notion of what you think the outcome will be, you get into it, and – if you do it right – you iterate and try things and identify completely new opportunities and ways to build attention, engagement, and brand."
Other bubble teams like the Orlando Magic and Washington Wizards have turned to their at-home fans to drive their bubble-themed sponsor content.
The Magic have worked with Chick-fil-A on partner pieces that allow fans to submit their favorite team-related moments to be shared on social media. They recently launched a predictive gaming feature with sponsors like Southwest Airlines and Orlando-based Massey Services in the team app that gives fans the opportunity to win a Zoom call with team mascot Stuff the Magic Dragon.
Heading into the bubble, Geoff Krohmer, director of live entertainment and production at the Magic, says that sponsor-driven content has risen due to the lack of user-generated content caused by the pandemic. It has also led to the Magic seeing engagement in the bubble rival — and even sometimes surpass — what the team saw before the hiatus.
"We're going to do what we always do and try to deliver compelling content to our fans," Krohmer said. "The suspension and having games down at the [Disney] campus has really afforded us a little bit of time and a newfound desire to be as innovative as we can."
"Our goal is to innovate and to engage with our fans as much as we can in new and unique ways. A large majority of people are spending more time on their phones and they're more willing than ever to explore new forms, new styles, and some welcomed some experimentation at this time."
Showcasing the journey from Washington D.C. to Orlando has played a major role in the Wizards' bubble content. On July 8, the team posted a Twitter video — sponsored by Leidos Inc. — detailing its trip from getting ready to leave the nation's capital to arriving at the bubble.
The Wizards have also tried to bring their fans closer to their players in the bubble. The team recently partnered with Capital One to host an "ask-me-anything" show with point guard Ish Smith. They also held a virtual fan sweepstakes on July 26 which encouraged fans to submit their own videos for a chance to win a virtual courtside seat at their restart games along with team merchandise.
Like the other 21 NBA teams in the bubble, Zach Rosen, senior manager of digital content at the Wizards, knows that his stay in Orlando could end very quickly. As of August 3, the Wizards sit at 24-43, 7.5 games behind the last-playoff spot that is currently occupied by the Brooklyn Nets. No matter how they finish, Rosen is set on making sure Wizards supporters see what is happening with their club in the bubble.
"We're focused on covering the team," Rosen said. "We are in in-season mode, so it's about being that team media, covering the team and our content has everything to do with how performance goes … we don't know how long our stay is going to be here, so we're trying to make the most of it."
Regardless of how the rest of the season unfolds, Branagan believes that how teams and brands have created content in the bubble is a success in its own way.
"So much is said in social media circles about authenticity and being genuine," Branagan said. "This level of creativity and ingenuity sends a strong message about the brands. By itself, that is really good. But the fact that these brands are stepping into the unknown environment, trying new things, and enabling fans to see the sports we all miss is palpable. Fans will remember that … and doing it with special insider storytelling and content is spot-on."