Chiney Ogwumike may have been the No. 1 pick in the 2014 WNBA Draft, but that didn't immediately translate to overnight stardom. Her agent, Allison Galer, knows firsthand what it took to get her client to this point.
When Ogwumike was drafted by the Connecticut Sun with the first overall pick, Uncasville, Conn. — where the Sun play — may not have seemed the ideal or flashiest place to play professional basketball. Ogwumike's older sister, Nneka, was drafted No. 1 overall in the 2012 WNBA Draft by a team in a more glamorous location: the Los Angeles Sparks.
Attention was also drawn to the woman representing Ogwumike. Growing up, when Galer was still in high school, she networked her way to an internship with the Sparks. The budding basketball player became drawn to another side of the sport.
Galer wound up playing one year of collegiate basketball at Brown University before she realized that playing in the WNBA wasn't attainable. After she worked for companies like Fox Sports Net, Lagardere Unlimited and RaptorAccelerator, however, she knew where she wanted the sport to take her.
She began following in the footsteps of her uncle, Lon Rosen, the longtime agent to Magic Johnson and current executive vice president and chief marketing officer of the Los Angeles Dodgers.
Galer went on to attend UCLA School of Law and, at 22, she added "entrepreneur" to her list of accomplishments with the launch of her own agency, Disrupt the Game. Beyond player contracts, DTG is a full-service sports and entertainment agency that handles marketing and endorsements, broadcasting, speaking engagements and public relations.
Her first client was Sammy Prahalis, adding Lisa Leslie and Jacki Gemelos thereafter. At the 2014 WNBA Draft, she added Ogwumike to her clientele — who welcomed representation that wasn't necessarily indicative of the agency world.
"Her agency is Disrupt the Game, and I think that that sums up our mindset," Ogwumike said. "We knew that by being in sports and through using sports and trying to say, 'look, let's see how much we can do in this space,' we knew naturally that we were disruptors. Being women and then myself being a Black woman, it's like, 'alright, let's see what we can do here.' You have a blank sheet and let's work and see what opportunities build. We took opportunity instead of compensation because we knew, through the opportunity, compensation would come down the line."
Taking advantage of those presented opportunities is part of what helped propel Ogwumike into sports media.
With the proximity between the Sun and ESPN's headquarters in Connecticut, Galer reached out to ESPN's talent office to get Ogwumike an appearance on a "Car Wash," where talent, athletes and celebrities are shuffled through appearances on multiple shows and podcasts. As Ogwumike went from show to show, numerous company executives, including Lisa Stokes, ESPN's director of booking and talent production and development, paid close attention to the-then 22-year-old's on-air presence.
That introduction to Stokes set the stage for Ogwumike's sports media career, Galer said. It brought the WNBA star to the eyes of Amanda Gifford and Dave Roberts, coordinating producer and senior vice president of production at ESPN, respectively. After recognizing Ogwumike's talent, they placed a bet on the emerging television personality and broadcaster, who would go onto analyst roles covering women's college basketball games with ESPN and more college basketball coverage with the Pac-12 Network.
That first began with Ogwumike having the opportunity to co-host "His & Hers," featuring former ESPN talent Jemele Hill and Michael Smith, and First Take in May and June of 2015, respectively. The not-so-normal trajectory, as Galer describes it, only continued when ESPN inked a media deal with Econet Media's Kwesé in Oct. 2016. The collaboration meant that ESPN would launch a Kwesé-exclusive channel in 19 countries, which included programming like "Sportscenter in Africa."
ESPN's first choice for one of "Sportscenter in Africa's" co-host roles? Ogwumike, who is of Nigerian-American descent. Galer believes that many athletes probably wouldn't consider a role on "Sportscenter in Africa," but knows how important it was not only to Ogwumike's career development, but also to her roots.
"For most top-level athletes that are trying to build a dual career on TV, sports in Africa is not the sexiest entryway," Galer said. "But between women's college basketball and 'Sportscenter in Africa,' that's who Chiney really is. She played at a high level in women's college basketball, and she's a proud African. With those two things, they really opened up the door to her showing her value and just improving what she does and how she does it."
From the "Car Wash" to "Sportscenter in Africa," Ogwumike's upward trajectory has continued with endorsement deals with companies like Adidas, AT&T and Foot Locker.
She also remains an active WNBA player with the Sparks after being traded to Los Angeles in April 2019. Ogwumike chose to sit out the 2020 'Wubble' season due to injury concerns of playing during the pandemic.
Outside of her ESPN responsibilities, she will also be co-hosting "Front and Center," a new podcast alongside Leslie that will focus on their inter-generational dynamic as two prominent Black women talking about topics that are important to them.
The "Front and Center" podcast is the latest addition to Ogwumike's growing media resume, which received a major boost in July when it was announced that she would be co-hosting ESPN's "Chiney and Golic Jr." radio show with Mike Golic Jr. The opportunity meant that Ogwumike would be the first Black woman to co-host a national talk show on ESPN — continuing the network's embrace of diversity.
"It's vitally important," Roberts told Front Office Sports' Mike McCarthy in early August. "First of all, when you look at who's playing the the key sports that we talk about, from football to basketball, it only makes sense to have diversity and key African-American voices, whether they're male and female, to be on the air, discussing the scores and the keys to the game, along with the various issues that go along with the sports world today."
Just days after the debut of her ESPN show, the sports world was rocked by another tragedy: the Jacob Blake shooting at the hands of Kenosha, Wis., police on Aug. 23. Three days later, the Milwaukee Bucks sat out their scheduled playoff appearance against the Orlando Magic. It was the first protest of an NBA game in nearly 60 years, when Boston Celtics great Bill Russell pulled himself out of a 1961 game as a protest against racist behavior.
With the WNBA canceling all of its games the same day and postponing its three games the following day, Ogwumike quickly dove into arguably her biggest assignment to date.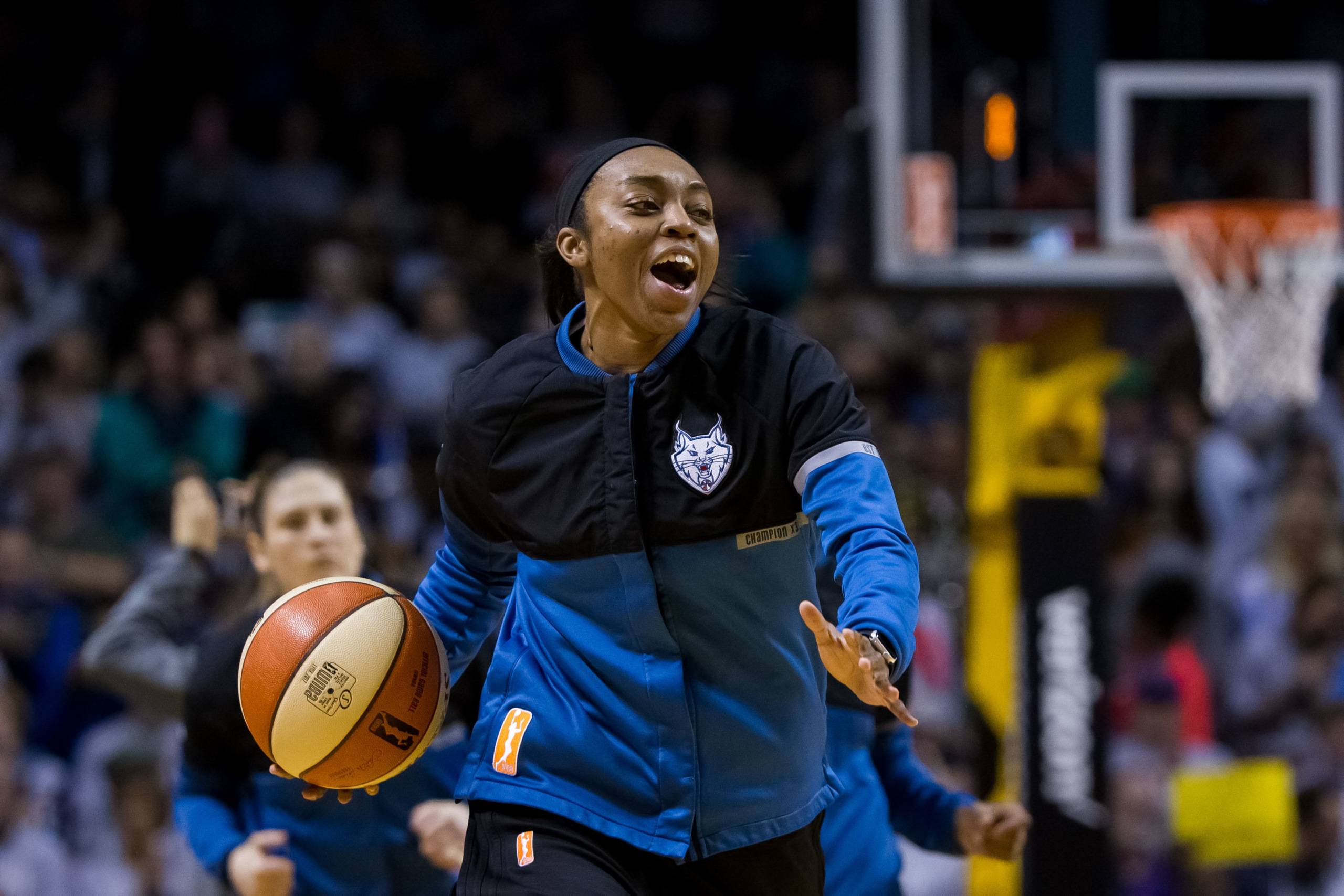 "I think that this is the first time that all of my experiences have sort of been brought into one moment," Ogwumike said. "My identity is being a Black woman, a Nigerian-American woman in America, but also being an athlete with a platform. The platform just transitioned to a national radio platform [with '"Chiney and Golic Jr.'"] to create change and also to unite people through sports."
She has also emerged as a central figure in More Than A Vote, LeBron' James' voting coalition.
"It just has been an emotional roller coaster, but I feel immensely grateful despite all of this, because I feel like I have a place to share my perspective and hopefully that can help the world," she added.
Like Ogwumike, Galer's journey from the relative unknown to an established WNBA agent has been more strenuous than easy. Now, her client list boasts several notable players, ranging from the Atlanta Dream's Elizabeth Williams to Las Vegas Aces star Liz Cambage.
No matter how much she and Ogwumike grow in the sports space, Galer doesn't plan on losing sight of what's helped them get to where they are today.
"People forget that Chiney went to Stanford — that's like not an easy thing to accomplish," Galer said. "And I went to Brown and then to UCLA Law. That's not easy either. I'm not saying like, 'Go us or go me' by any means. That's not how I'm wired. That's definitely not how Chiney's wired, but we don't have any other choice but to work twice as hard to get half as far."