As the WNBA planned out its opening weekend, its primary broadcast partner, ESPN, reached out with a broad social media campaign to create excitement online and draw attention to the athletes on the floor.
The network distributed the league's signature orange logo hoodie to stars ranging from Naomi Osaka to LeBron James, and through posts on these athletes' widely followed accounts, the #OrangeHoodie campaign was born.
By the end of a weekend that featured incredible ratings and a major on-court demonstration for social justice, the hoodies were sold out, and momentum had built for a much-hyped 2020 season from a "clean site" at IMG Academy in Bradenton, Fla., thanks to the combined might of ESPN and the WNBA.
"Orange hoodie is top selling item on fanatics = not rocket science," tweeted veteran guard and players' association leader Layshia Clarendon. "Its exposure. This is the opening weekend and the most National TV games we've had. So we're getting coverage. Our stories told."
The orange hoodie has come to represent much about the WNBA, both good and bad.
It represents the growing appeal of the league's brand, and its virality signifies momentum the league has worked hard to maintain since new Commissioner Cathy Engelbert took over in June 2019.
But it also reminds of the painful loss of Kobe Bryant, a fierce advocate for the league who frequently wore the signature piece of clothing before his passing in January, and his daughter, Gianna — precisely the type of young girl whose attention the WNBA seeks to capture.
A year of ups and downs led to an emphatically positive start to the 2020 campaign. Not only did the bright hoodie take over social media, but the league's commitment to social justice made waves as well.
On the court, the return of legends like Sue Bird, Diana Taurasi and Breanna Stewart, as well as the debut of rookie sensation Sabrina Ionescu, contributed to sky-high viewership, up 63% from 2019.
By the end of the weekend, ESPN and ABC had already ponied up for an additional 13 nationally televised contests. Twitter also renewed its partnership with the league, and will show 10 regular-season games on the social media platform.
It was, by any metric, an incredible start to the year — hopeful evidence that the WNBA can keep growing while also doing things its own way.
"We're focused on younger fans, we're focused on more diverse fans, and we're focused on highlighting our values," WNBA COO Christy Hedgpeth told Front Office Sports. "It all works together for us, but there aren't a lot of substitutes for national TV exposure, and we're just thrilled we have this unprecedented level."
Hedgpeth attributes the impressive broadcast slate, like the #OrangeHoodie campaign, to the league's strong relationship with ESPN, especially longtime executive Carol Stiff, the company's vice president of women's sports programming.
The broadcaster may be the league's closest partner, but along the sideline of any of those nationally televised contests on ESPN, CBS Sports, or NBA TV, fans will see the bold-face logo of AT&T, the presenting sponsor of WNBA opening weekend, and one of its inaugural Changemaker sponsors.
A few feet from the team benches, Nike and Deloitte, the other two Changemakers, are highlighted as well with in-court ads along the sideline.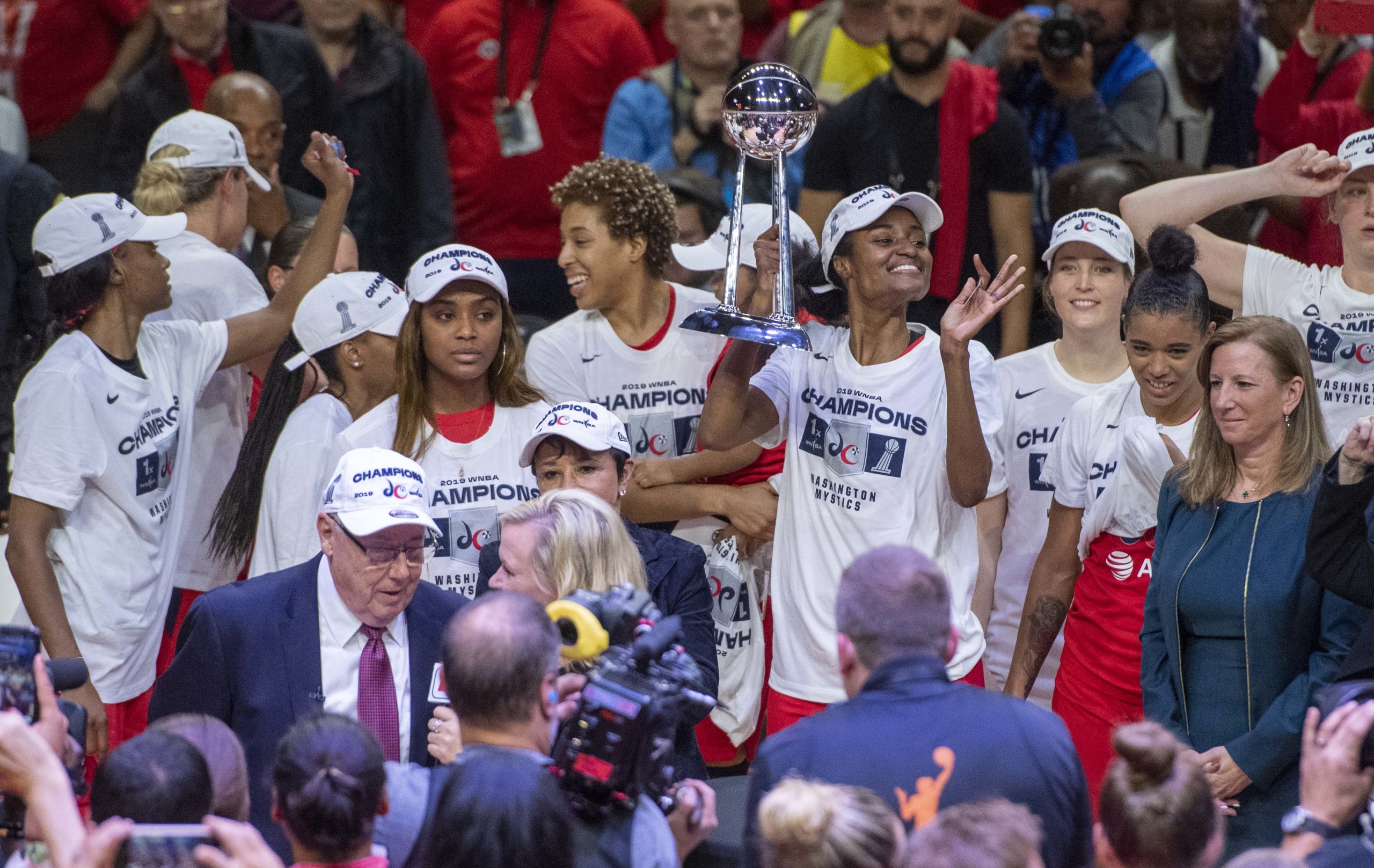 Since the inception of the Changemaker program through the passage of a new collective bargaining agreement last winter, the WNBA has centered these three brands, whose values the league believes align with its own.
Activations for these sponsorships are limited but loud. AT&T provided players with a free 5G-enabled smartphone, while the marketing power of Nike continues to highlight the WNBA's players in campaigns like the "You Can't Stop Us" spot.
The league hopes to grow that group over the course of 2020 and into 2021, potentially by creating smaller partnerships to begin before escalating like-minded companies to the Changemaker level later, Hedgpeth said.
"Now that we're going to tip off, I think we'll get back and have a call to action for others to step up," Engelbert added in a July press conference. "While we [have] signed partners since the CBA, we're looking for significant partners at the Changemaker level to really support the league. I think we'll be successful in doing that going forward."
"That's why the coverage is so important, so there's a call to action to support these elite women when they see them on the number of national broadcasts we have this year and their platform," Engelbert said. "I think it's going to be a pretty significant way to get the interest in the league, to grow the fan base, to bring in more sponsors."
Other sponsors include Clorox, who provided much-need disinfectant wipes and electrostatic sprayers for players and staff at the team site, as well as Anheuser-Busch. But like all leagues, even those with more corporate resources, the WNBA had to innovate to bring action to fans during the pandemic.
It was no coincidence, for example, that the orange hoodie was in position to make such a dent in exposure for the league. Merchandise has been a priority since Hedgpeth and Engelbert started in their positions last year. Investing in merchandise accomplishes two things at once: brand marketing and revenue, Hedgpeth said.
Hedgpeth's background as a former executive at Under Armour, Spalding, and Russell Athletic gave her a keen perspective of how ingrained identity is in what fans wear. Get them to embrace something like an orange hoodie, and they'll soon see the WNBA as a part of who they are.
"We [wanted] to be relevant and edgy and really cool and desirable visually, and we know that when people are willing to wear your brand and proudly support your brand, that we'd have reached a new level," Hedgpeth said.
In addition to expanding inventory and variety at the league level, Hedgpeth and her team have worked to expand the WNBA's relationship with Nike as a licensee for team merchandise. Last year was the first that team-branded Nike gear was available at Dick's Sporting Goods, and offerings will continue to expand in the coming months.
Putting together an outfit to support their favorite team is just one way WNBA fans can back their squad this season. The league created a tap-to-cheer program within its app to create a more interactive viewing experience for fans at home. Fans can tap the screen on their mobile device when their team makes a big play, and results are tabulated then integrated into national broadcasts. However, the WNBA app does not have a sponsor, unlike the NBA equivalent, which is presented by a rotating assortment of brands and features in-app advertisements.
In a sports environment that has seen television ad sales bounce back with the return of live games and even growing leagues like the NWSL add big-ticket corporate sponsors like Google, women's basketball is betting that putting players first and playing more nationally televised games than any women's league ever can be the perfect recipe to boost revenue and fan attention.
"The paradigm that exists in men's sports in general can be, sometimes, us versus them, and that's not how we want to operate, I don't think it's how the players want to operate," Hedgpeth said. "Speaking for the league, it really means a lot to us that we're collaborative and value each other's perspectives."
After a powerful labor negotiation in the winter, the league's C-suite is well-positioned in its improved relationship with players and increased outside investment. Headlined by a trio of Changemaker sponsors that are aligned with the progressive women's league, the business of the WNBA has a chance to bloom in 2020.