During the Challenge Cup, the NWSL didn't just successfully execute a bubble tournament that avoided a COVID-19 outbreak — they completed a record-breaking season, landing partners like Verizon and Google, and smashed ratings for both domestic and international broadcasts with new broadcast deals.
The final match of the tournament averaged 653,000 viewers on CBS, topping the NWSL's previous high of 572,000, which was set by the Challenge Cup opener. The two broadcasts smashed the league's previous record, which was 190,000 viewers for a match in 2014. The league also saw success around its international Twitch streams – it was the first year of new media rights with both companies.
"What's the line from Hamilton? Young, scrappy…and hungry?" said Portland Thorns President of Business Mike Golub of the league's ability to land more sponsors and viewers than ever before.
But because the NWSL's ability to play this fall depends on the government's ability to corral COVID-19, teams are left to find creative ways to keep the momentum going. To do that, front offices are maintaining connections with their communities using digital events and data collected during the Challenge Cup to pitch potential sponsors for the 2021 season.
Of course, the easiest way to maintain a buzz and turn a profit is to play more games where fans can attend. From a financial standpoint, teams can't possibly return to their normal working states without fans at games, said Chicago Red Stars owner Arnim Whisler, who added that the Red Stars had to furlough some staff in order to stay afloat.
But to play, teams face numerous obstacles. They must juggle disparate state-by-state COVID-19 regulations when planning when and how teams would travel, as well as consider the varying comfort levels of their own players. "You're relying on so many protocols to be right," Whisler said.
And, of course, the mental health of players is paramount. Whisler described how difficult it was for NWSL bubble-goers to quarantine for six weeks in Utah without their families, being confined to a hotel if they weren't playing or practicing.
"The idea that players want to go back into even a semi quarantine for three or four weeks in a strange city at a time when a lot of us are experiencing anxiety and depression over COVID is really hard," Whisler said. "And we're asking not just players to leave their family or children — don't forget the coaches, front office staff who have spouses or children … it's just a very hard thing to ask."
Despite the uncertainty regarding return to play, the Challenge Cup primed NWSL teams to succeed in gaining more robust sponsorship deals. "We were able to be really nimble around the Challenge Cup, and I think we were able to convince some national partners like Verizon and Google and the Secret brand to bet on us long term," Golub said.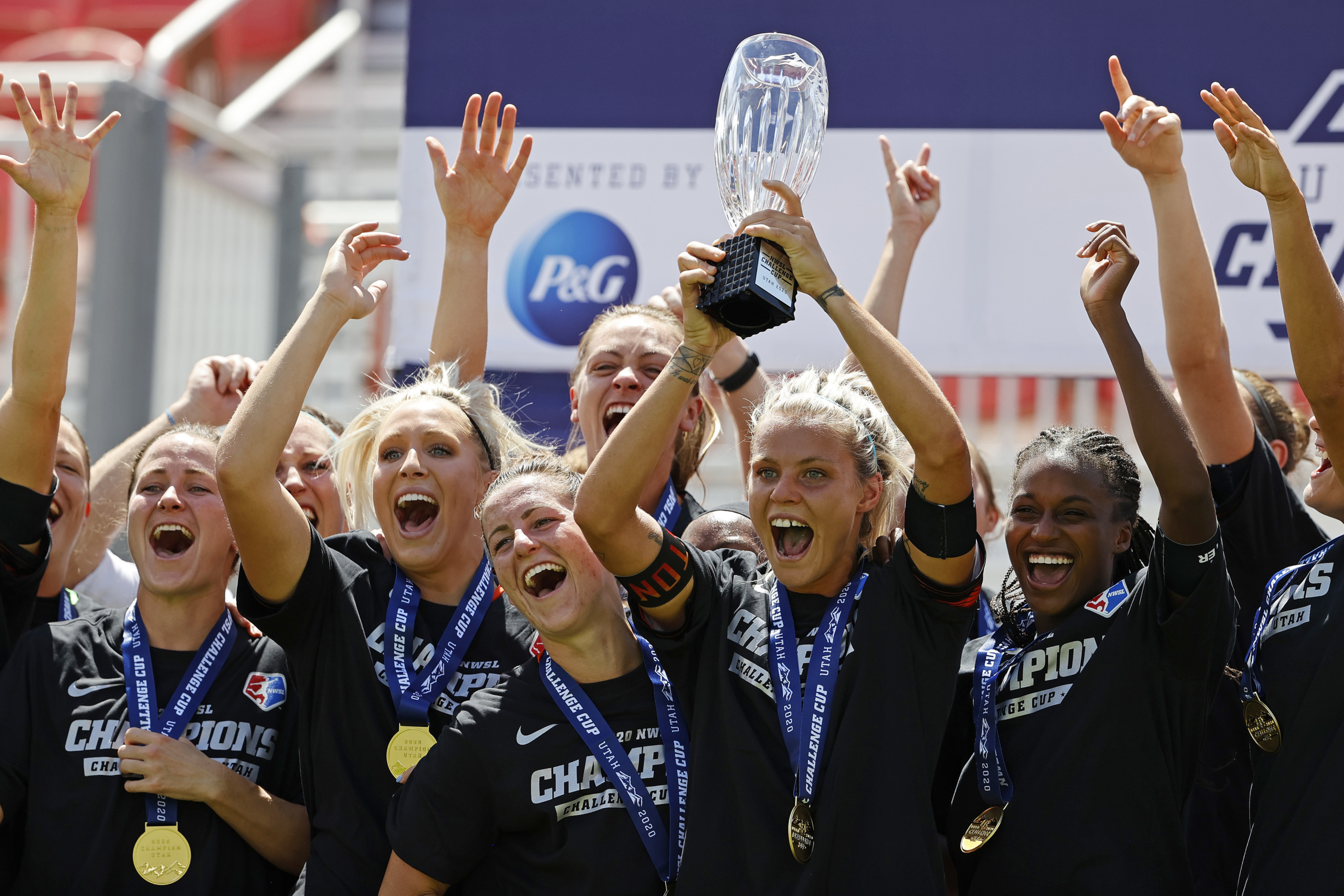 The Challenge Cup also provided teams with data regarding not just how many fans the NWSL has, but also how loyal NWSL fans tend to be to league partners, Sky Blue FC General Manager Alyse LaHue said. When the Houston Dash celebrated winning the Challenge Cup by chugging beer from their sponsor, Budweiser, fans stocked up on the beverage.
"I saw so many fans were like, 'I'm not really a beer drinker but I'm buying Budweiser now because I support the league,'" LaHue said.
Now, teams have the data to prove to future sponsors that exposure to NWSL fans will yield profits. "We've got so many more case studies, especially coming from the Challenge Cup with these high profile brands," LaHue said. "I have no doubt this is going to generate a lot of interest for other companies coming on board with our league."
Golub echoed that the Thorns are in "productive" talks with potential new partners already despite the difficult environment for selling sponsorships, and that 2021 already looks like a success.
The Houston Dash are returning to conversations with potential sponsors that wavered in interest previously, but now can see how beneficial exposure to the NWSL fanbase can be, said Dash Chief Revenue Officer Dionna Widder. Widder said her team is focusing on signing deals with partners for 2021 rather than trying to sell partnerships for fall 2020 games that may not happen.
"We have to control what we can control," Widder said. "We didn't want to look at kind of piecemealing the back half of this season and devaluing the opportunity to grow that business over a longer term agreement."
Until play can return, teams are also looking for ways to remain relevant to local fans. Sky Blue FC created a robust plan to maintain relationships with fans by providing a digital season ticket holder package that gives them access to exclusive online events, from trivia nights with players to behind-the-scenes interviews. "Whatever we can do to make fans feel less alone," LaHue said.
Other teams similarly held digital events, like the Thorns, who are converting some events that are part of a weeklong initiative called Stand Together Week to online gatherings.
The fan activation is working. In addition to sky-high Challenge Cup ratings, Sky Blue FC was able to retain many season ticket holders, and the Dash's season ticket holders are growing as well, according to LaHue and Widder. The Red Stars' main supporter group also doubled in size, Whisler said.
So how might a return to play look? Whisler floated several options, from regional rivals to "pod play," where a few teams would fly to a city and remain there for a brief round of games. He also said playing college teams was a possibility, but that that would introduce more risk to players and staff.
For now, players are set to return to their markets to begin training in mid-August, and teams will continue to pitch partners, schedule events with fans online and try to plan a few games for the fall.
"We've always known there is an extreme popularity of women's soccer, not just in this country but around the world," LaHue said. "For us, it's always been about access. It's how can fans access it whether that's through broadcast or whether that's just through general promotions."