The rising number of lifestyle-related diseases caused by poor diets, lack of exercise, and physical inactivity has increased awareness of health and wellness issues.  
According to an article published in the American Journal of Preventive Medicine, approximately 51% of the U.S. population is estimated to be categorized as obese by 2030.
During the pandemic, some research also found higher mortality rates and an increased probability of severe COVID-related outcomes among people with unhealthy lifestyles.
With this increased interest in healthy and active lifestyles, it's no wonder that the fitness and wellness market has expanded in kind. Intersecting subsegments of the health and wellness markets have also seen growing demand, including connected fitness, wearables, tracking devices — and sports nutrition.
Due to the rise in consumer consciousness, the growing number of sports clubs, and the value of digital expansion for operations, sports nutrition's future is crucial — particularly with regard to the demand for sports supplements, private equity and VC adjustments to trends, and the factors leading most of the growth.
The Sports Nutrition Market
According to estimates from Precedence Research, the global sports nutrition market was valued at $44.43 billion in 2021, is expected to top $47.79 billion in 2022, and could reach $85.7 billion by 2030 at a compounded annual growth rate (CAGR) of 7.57%.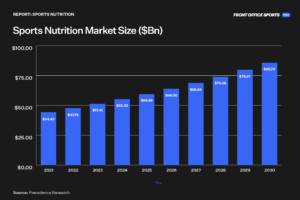 North America has dominated the sports nutrition market for years, accounting for revenue shares of 59.2% in 2020 and 45.0% in 2021. However, research from Skyquest suggests that Asia — particularly China — will be the fastest-growing market in the decade for sports nutrition and supplements due to the total addressable users and the growing demand for these products in the region.
Within sports nutrition, supplements held most of the revenue share, making up over 50% of the market in 2020.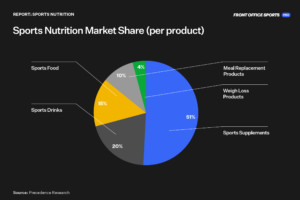 According to the data, most of the value for the sports nutrition market comes from supplements. 
Sports Supplements
There has been a longstanding debate about the efficacy of the different supplements used for sports and fitness, but that hasn't stopped the industry from selling millions of such products yearly to athletes and fitness enthusiasts.
Industry statistics found that 43.8% of gym-goers use nutrition supplements, and professional athletes perceive them as crucial for their development. As Rick Karasch, Director of Strength & Conditioning, Olympic Sports at Rice University, explains:
Athletes are constantly seeking ways to improve their performance, and sports nutrition is one of the ways to gain a competitive advantage to take their performance to the next level.  The past few years have seen many athletes appreciate that they must be a "24 Hour Athlete" that prioritizes their sleep, nutrition, mindset, and recovery as they would their training and practice. In addition, online information has allowed abundant research supporting the link between nutrition and performance to filter down to the youth athlete. "
Users can use supplements in diverse applications — from pre-workout supplements to gainers and performance and recovery enhancers — and increasing evidence suggests that under the proper dosages, supplements can also have a broad set of benefits:
Increased energy levels, focus, and muscle strength

Improved strength and endurance

Boosted muscle recovery and enhanced muscle tissue and mass

Better oxygen flow through the blood vessels
According to a survey conducted by SingleCare, whey protein is the most popular product. Still, supplements like creatine, vegetable protein, caffeine-based, and pre-workout items are also in demand.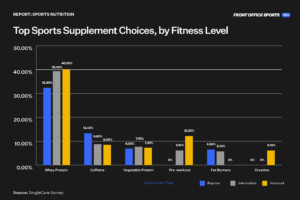 The benefits and diversity of supplements and their applications have successfully paved the way for a booming, multibillion-dollar industry in the public and private sectors.
Competitive Landscape 
While there are plenty of key players in public markets for sports supplements —MusclePharm, Glanbia, FitLife Brands, and Science in Sport PLC — the private sector has also been impactful for the subsegment.
Due to the risk profile and asset types, private equity and venture capital investments serve as a proxy for finding growing industries, sectors, and companies. And even though investments in the sports nutrition space rarely hit the headlines — that doesn't mean private equity hasn't been pouring millions into the growing market:
Other relevant startups and growing companies innovating through technology in the space include Nutrabolt, ZoneIn, EatMyRide, and Youth Sports Nutrition.
The Growth
According to Precedence Research, physical stores — which include specialty and grocery stores, fitness centers, and retailers (such as Walmart, Vitamin Shops, etc.) — had the largest revenue share in 2021 at around 75%, with digital sales making up the remaining 25%.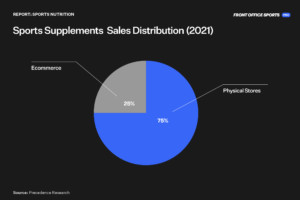 The pandemic temporarily diminished the sports supplements market growth due to the closure of fitness centers, social distancing, and a reduction in sports competitions. Nevertheless, it helped the industry boost its transition to digital sales as consumers shifted to safer ways to shop.
Additionally, Insights from Data Bridge Market Research suggest that some restraining factors for market growth in the supplements sector are the high costs of the products and the different side effects that some supplements could cause. But as technology and science evolve in the wellness industry, we could expect higher degrees of product personalization that fits any athlete's needs at lower costs.
Demand for fitness centers and optimal performance will increase, leading to a more addressable sports nutrition market. Private equity and venture capital in sports supplements also hint at the rise of investment and opportunity. The increased availability of sports supplements through digital commerce, combined with product innovation and personalization, will double the sports nutrition market over the next decade.