Every Tuesday, we partner with Conviva to release the Trending 20 Leaderboard showcasing the professional teams, leagues, and events that have generated the deepest engagement on social media of the past week.
Over the next few weeks, we are shifting that focus to highlight the college programs participating in the 2021 NCAA Basketball Tournaments.
NCAA Digital Series:
— Today (March 23) — Men's Field of 68
— Next Tuesday (March 30) — Womens' Field of 64
— Tuesday, April 6 — Player Spotlight
Engagement: We took the 68 teams who made each tournament field, then looked specifically at Twitter engagement rate over the course of the 2020-2021 basketball season (November 25 – March 14th). For each matchup in the full bracket, the program with the higher season-long engagement rate "wins" the matchup and moves on to the next round.
The first two rounds of the 2021 NCAA Men's Basketball Tournament provided no shortage of upsets. However, the volume of upsets in our engagement rate bracket actually far outweighed those in the real-world bracket.
While running our simulation, it quickly became evident early that some smaller programs of the lower seeds in the tournament combined with their dedicated fan bases, their engagement rates outperformed those of the higher seeded "blue blood" teams. In fact, there were only five games out of the first 32 in which the higher seeded teams won the engagement rate matchup:
#6 BYU (0.37%) over #11 UCLA (0.16%)
#7 UConn (0.25%) over #10 Maryland (0.16%)
#2 Alabama (0.49%) over #15 Iona (0.36%)
#6 San Diego State (1.28%) over #11 Syracuse (0.09%)
#8 Loyola Chicago (1.51%) over #9 Georgia Tech (0.52%)
Three out of the four winners of the First Four matchups went on to win their Round-of-64 contests in this Twitter engagement rate bracket. The only team that dropped its first round matchup was UCLA, as the storied program earned a 0.16% engagement rate throughout the season, falling short of BYU's 0.37% engagement rate figures. Granted, UCLA's tweets garner more impressions among their 81.7 thousand followers than BYU's do among their 34.6 thousand followers.
Of note: the Final Four teams in our engagement rate bracket have a combined Twitter audience of approximately 19,000 followers. Cleveland State won the Twitter Engagement Rate bracket with 5.54%.
If this 19,000 figure made up one team's Twitter account, it would rank 44th in Twitter audience out of the 68 teams in the tournament.
For comparison, we also filled out a bracket in which the winner of the matchups was determined by the total Twitter audience.
In this bracket, the "Final Four" programs boast a combined total of 2.31 million Twitter followers. The University of North Carolina won the Twitter Audience bracket with over 963,800 followers.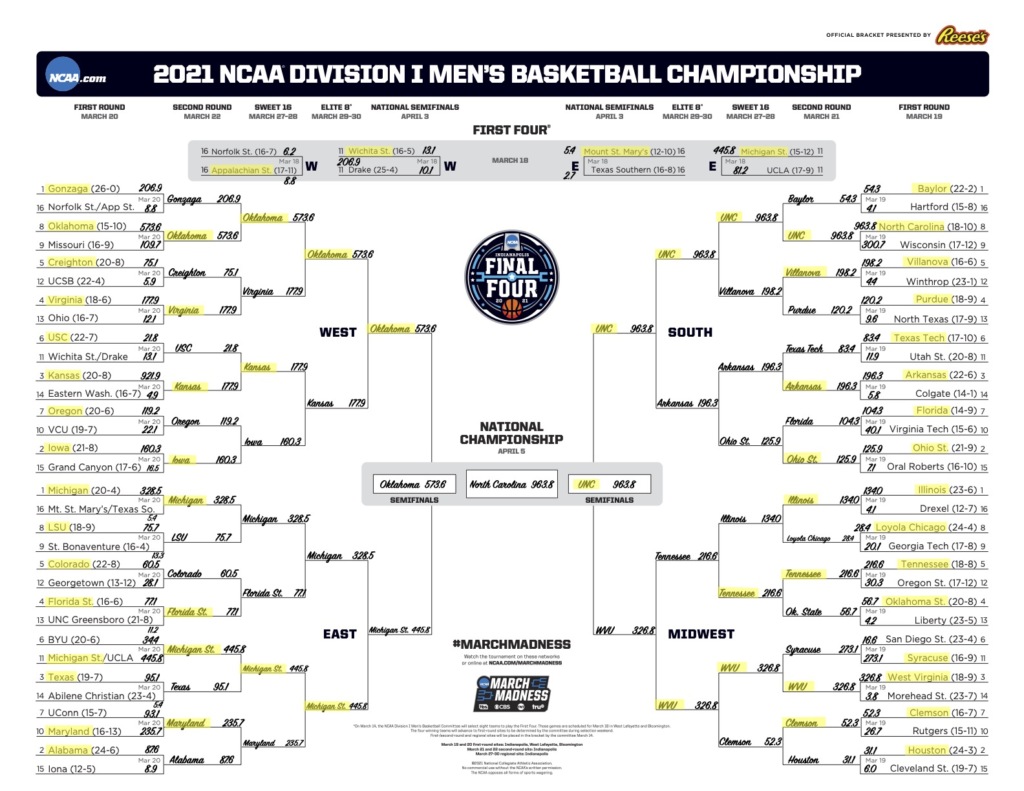 ---
Top Twitter Engagement Rates of March Madness Opening Weekend (Men's Field):
Abilene Christian: 8.29%
UCSB: 5.69%
Oral Roberts: 5.65%
Texas Southern: 4.28%
North Texas: 3.97%