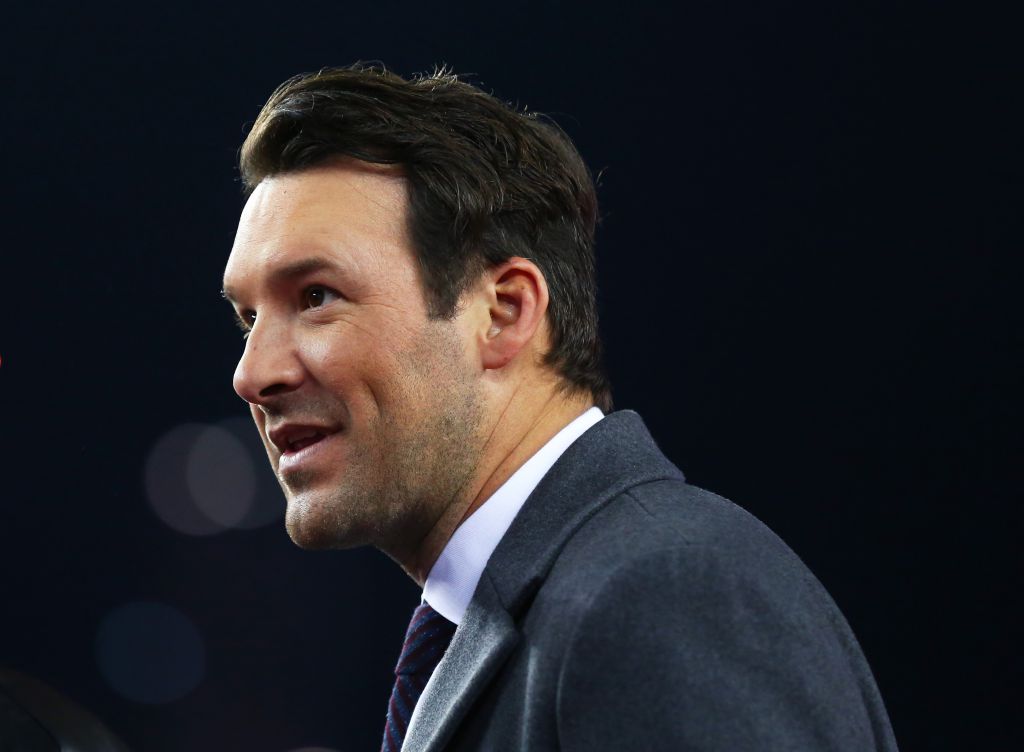 Tony Romo of CBS Sports could potentially become the most sought-after free agent in sports TV history.
With the new 2019 NFL season a week away, talks on a contract extension between Romo and CBS have stalled with little progress, said sources.
Romo's original three-year deal with CBS expires after this season. That's raising the possibility Romo will table negotiations to avoid distractions, play out his rookie contract, then hit the open market in 2020.
During CBS' NFL preview day, Romo declined to address his contract negotiations except to tell Front Office Sports: "I love football. I love working for CBS. I love the fact that I get to be an analyst doing football games."
Odds are still very good the former Dallas Cowboys quarterback re-ups with CBS, said TV insiders. The network loves him; he loves the network. The 39-year old Romo is close friends with play-by-play partner Jim Nantz, sharing a mutual love of football and golf.
During CBS' upcoming 60th NFL season, the network's No. 1 team of Romo, Nantz, and Tracy Wolfson will get to call the best games from the AFC.
With CBS and NBC swapping spots in the Super Bowl rotation, Romo is also poised to broadcast his second Super Bowl after the 2020 season. CBS Sports Chairman Sean McManus said he expects to keep Romo on the network for a long time.
But stranger things have happened. Romo's reps at Creative Artists Agency are seeking a hefty raise to $10 million annually from his current $4 million-a-year pact, said sources.
Legendary NFL analyst John Madden ended up working as a color analyst for four networks during his TV career: CBS, Fox, ABC and NBC. If Romo becomes the first sports analyst to earn an eight-figure contract, he'd eclipse even Madden, who earned $8 million during his 1990's heyday, according to The Ringer.
That would also make Romo the highest-paid NFL analyst currently on TV. Troy Aikman, Fox Sports' No. 1 game analyst, makes around $7.5 million per year. Before returning to the Oakland Raiders, Jon Gruden earned over $6 million a year from ESPN to call Monday Night Football.
CBS is willing to give Romo a substantial raise to stop him from testing the free-agent waters, according to Andrew Marchand of the New York Post. CBS also has the right to match competing offers for its star analyst, he wrote.
The risky decision by McManus and CBS Sports President David Berson to install the TV rookie over veteran Phil Simms as CBS' No. 1 NFL analyst in 2017 has paid off "brilliantly," said John Kosner, the ex-ESPN executive turned president of Kosner Media.
After a second regular season together, Romo and Nantz called a virtually flawless telecast during the Patriots thrilling 37-31 overtime win over the Chiefs in AFC Championship Game. If CBS doesn't pay Romo, another bidder will, Kosner predicted.
"Tony Romo is an exceptional, expert analyst working on America's most popular TV sport. Considering how much networks and advertisers are paying — and will pay — for NFL live game rights, his ask is not outlandish," Kosner said. "He is a reason to watch. His chemistry with another exceptional talent, Jim Nantz, is special and unique as well. If CBS were to pass, someone else would meet his number."
The rest of the sports TV industry is watching closely. If Romo pulls off an annual eight-figure payday, it would "set a new paradigm," said a source, enabling other analysts to ask for more money.
"Romo's worth more than $10 million," that source said. "Look, 88 of the top TV broadcasts last year were sports. Tell me why Ryan Seacrest is worth $20 million a year? But a No. 1 NFL analyst isn't? Live sports covers all the bills."
Still, other TV insiders are doubtful Romo will reach the eight-digit mark. Instead, they think the $10 million figure is more of a negotiating gambit. When all is said and done, they think he'll end up roughly doubling his pay to the $7 million to $8 million a year range.
"I do think he'll get a serious increase. But frankly, he'll only get $10 million if somebody else is willing to pay him $10 million," said another source. "And I think that's unlikely."
Romo's been nicknamed "Romostradamus" for his uncanny ability to predict plays and coverages on the field. He's such a unicorn in that respect that even if he gets the big payday, it won't change the landscape, warned Patrick Crakes, a former Fox Sports executive turned independent media consultant.
"The spread/gap between the top flagship analysts and everyone else grows," Crakes said. "He's his own thing."
During his 14-year career with the Cowboys, Romo banked $127.4 million in salary, according to Spotrac.com. Romo's still a young man. There's an outside chance he even walks away from television to pursue other opportunities.
Romo told Richard Deitsch of The Athletic he's received "legitimate offers" to return to the NFL. Gruden, for example, attracted a monster 10-year, $100 million deal to leave ESPN's Monday Night booth and return to the league as coach of the Oakland Raiders.
READ MORE: Exclusive: NFL Planning Business Partnership With Jay-Z's Roc Nation
Marketers and even Hollywood have come knocking too. Romo has endorsement deals with Corona, Skechers, and Ralph Lauren's Chaps brand (The young husband and father appears with his wife and kids in Chaps ads).
Romo's been approached to host entertainment shows, ala Michael Strahan of Fox Sports, said sources. There's even talk the scratch golfer might try his hand on the PGA Tour after winning the American Century celebrity golf tournament for the second year in a row.
Yes, Romo loves CBS. But he's not a network lifer like Nantz. He's a businessman. Don't forget, Madden played CBS, ABC, and Fox off against each other so expertly, that he made more than any active player in the league at the time. Many younger athletes/TV analysts like Romo don't like to negotiate contracts once their "season" starts, viewing it as a headache.
Waiting in the wings as potential Romo bidders in 2020 are ESPN and Fox. Not to mention deep-pocketed tech companies like Amazon and Google seeking NFL game rights during the next round of negotiations in 2021-2022. "$10 million's a rounding error for these companies," said a source.
If CBS gives Romo $10 million a year, Kosner would want a "commitment" from their superstar analyst that he'll continue to work on his TV game over the next five years.
"His play call predictions in the 2024 AFC Championship will hopefully be on par with what we saw at during the New England-KC game," Kosner said. "I would probably look to add him to other programming and gain his commitment to work with our advertisers. Find more ways to make my investment pay without overusing him."
READ MORE: Spill The Wine: NFL Clubs Pushing Team-Branded Wine Collections
Romo laughed off the "Romo-mania" that made him one of the biggest stars at Super Bowl 53. Leading up to the big game, the sports media swarmed him more than most of the players.
"I don't know what you're talking about," he quipped. "I'm just trying to make sure I don't say the wrong thing."