A bottle of white, a bottle of red. Perhaps a bottle of team-branded NFL wine instead?
As the NFL prepares to kick off its historic 100th season, teams such as the Indianapolis Colts, Tennessee Titans, Carolina Panthers and New York Jets are marketing their own wine collections to fans.
Beer and football have long gone hand-in-hand, but shifts in drinking habits mean you're increasingly likely to see someone enjoying a Cabernet Sauvignon at a game instead of a Coors Light.
That's being pushed by younger consumers, who are now more likely to ditch beers for lower-calorie wines, spirits, and hard seltzers. U.S. drinkers now choose beer less than half the time, according to the Beer Institute. That's down from over 60% in the mid-1990s.
Also, as a team's fan base become more diverse, so too does its drink offerings.
For example, the Indianapolis Colts' fan base now skews almost 50-50 male/female, according to Roger VanDerSnick, the team's chief sales, and marketing officer. Selling a "Colts Wine Collection" marks a "logical next step," he said.
"Not everyone drinks wine, clearly. But not everyone drinks wine or spirits either. The volume isn't perhaps as high as malt beverages. But it still a meaningful overlap," said VanDerSnick.
The Colts team collection by André Hueston Mack, a master winemaker at Maison Noir Wines, has something for everyone.
If you revere ex-Colts QB Peyton Manning, there's a limited edition No. 18 bottle autographed by the man himself for $400. If your tastes are less expensive, you can buy a bottle of Cabernet Sauvignon celebrating the Colts' 35th year in Indianapolis for $19.95.
Manning's not the only sports personality with a wine connection, noted VanDerSnick. Everybody from ex-quarterbacks Dan Marino and Joe Montana to Heisman Trophy winner Charles Woodson and Jim Nantz of CBS Sports have their own wine labels.
Who can forget the image of LeBron James showing up at a Los Angeles Lakers game sipping a glass of red wine?
"If you look broadly across all sports, you'll see athletes who have acquired a passion for wine and are doing more and more endorsements for it," added VanDerSnick.
There are other reasons why more NFL teams are getting into wine, said Ralph Ockenfels, vice president of corporate sponsorships for the Titans.
The franchise's limited release red wine last year gave it a unique way to celebrate its 20th season in Nashville. It was such a hit with fans and retailers the Titans are selling it again this season.
The Titans sell their label to 70,000 fans on game day. The brand is also served to club seat holders and suite-holders at Nissan Stadium. So fans who sample it in-stadium can purchase it at retail, where a bottle of "TN Titans Red Blend" sells for $19.99.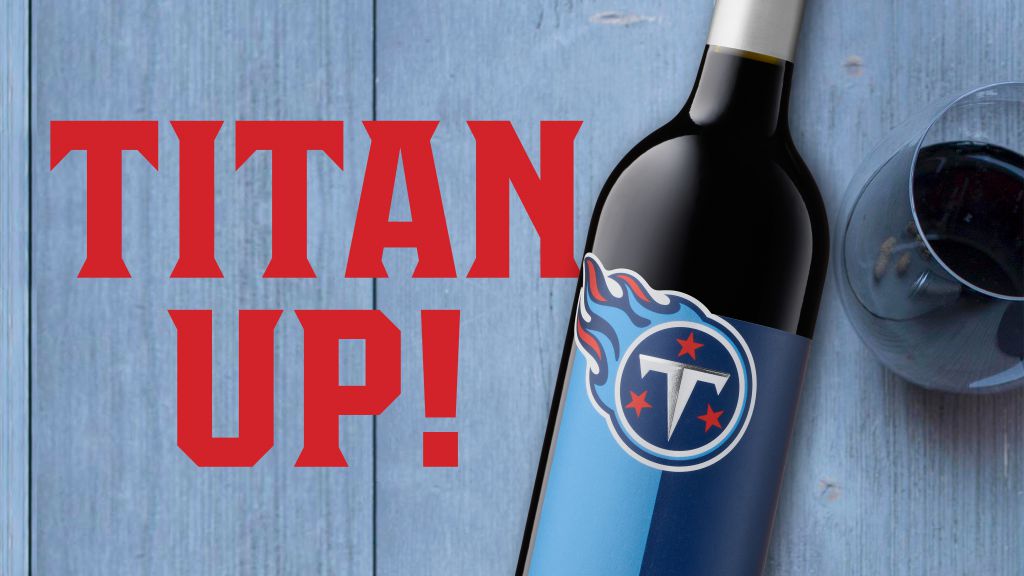 "Once they try it on game day, they're like, 'Wow, this is great, I can go out to retail and pick it up,'" said Ockenfels. "For us, from a branding standpoint, it's great to be at retail throughout the state of Tennessee."
Team-branded wines also make a nice, take-home "keepsake" for sponsors and corporate partners. The Titans, for example, gifted plenty of team-branded vino to key league stakeholders during this spring's 2019 NFL Draft in Music City.
Like the Titans, the Panthers and Jets are pegging their wines around important team anniversaries.
The "Carolina Panthers Reserve" celebrates the expansion team's 25th anniversary. Prices range from $19.99 for a single bottle to $119.94 for a half case.
The "Jets Uncorked Championship Reserve" celebrates the 50th anniversary of the team's upset victory over the Colts in Super Bowl III. The California red wine sells for $24.99 through the tri-state area.
NFL teams have always been masters at pushing everything from sweatshirts to cuff links bearing team logos, according to George Solomon, the former Washington Post sports editor who became the first director of the Shirley Povich Center for Sports Journalism at the University of Maryland.
Team wines are just the latest example.
"Why not? They'll do anything they can to make a buck," Solomon said.