Being relegated can be disastrous for a team.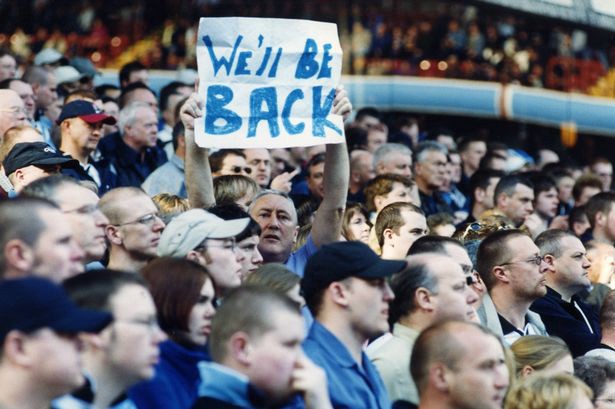 I want you to imagine something: NCAA Division I teams playing in the NFL and vice versa. I know we joke about what college teams could beat the Cleveland Browns (let's be honest, they're easy to pick on), but what if that were actually the case?
What if, say, Clemson, after winning the national championship, were "promoted" to the NFL, and the Browns, having the worst record in the NFL, were "relegated" to division I college football? While this would obviously never happen due to the NFL being a closed league and the NCAA consisting of amateur sports, I would still like you to pretend with me for a second here and think about the implications of something like this.
The Browns would lose millions of dollars in revenue due to sponsors being less willing to associate with them. Given their wildly passionate fan base, their attendance numbers might not go down. But, in order to keep those numbers up, it is likely they would have to decrease ticket prices, concessions prices, merchandise prices etc., resulting in more lost revenue. They wouldn't have the Pittsburgh Steelers or Green Bay Packers coming into town, which are games that are ultimately going to drive attendance. The Browns would forfeit hundreds of millions of dollars in television revenue as well. It would be simply disastrous for the team and organization.
https://frontofficesports.com/barcelona-madrid-el-clasico-miami-soccer-futbol-messi-rinaldo-66ae1582ffea
Clemson, on the other hand, is going to reap the benefits of moving up to the NFL. They already have a dedicated fan base that would be willing to put up with increased ticket prices, given the higher level of play. Sponsors would be even more willing to associate with Clemson upon their arrival to the big stage. Television revenue would give them a huge financial boost. The list goes on.
This is exactly what happens in European football (soccer) every year. Each season tells a beautiful story. There are tragedies, moments of brilliance, injuries, prosperity, and hopefulness, for players and fans alike. Every game is a new page, and at the end, many are content while others are overjoyed or devastated depending on where their team ended up. This is the promotion/relegation system. While traditional American sports experience many of these ups and downs as well, there is nothing like the misery of relegation or the delight of promotion.
The promotion/relegation system makes every game extremely high stakes. Every single point counts, and there is a much bigger impact than the analogy I previously made. Division I College football is huge in the United States. The English Football League (EFL) Championship, which is second tier to the English Premier League (PL), is not huge in England. Getting relegated from the PL to the EFL Championship is detrimental and it might take a team many years to get back to the top flight. One major component that makes this system work is the fact that these teams are not constricted on how much money they are allowed to spend on players. In other words, they have no salary cap.
https://frontofficesports.com/barcelona-madrid-el-clasico-miami-soccer-futbol-messi-rinaldo-66ae1582ffea
While this system is largely the same across the top leagues in Europe, I will focus on the PL and EFL Championship. The three teams at the bottom of the PL table at the end of the season are automatically relegated to the EFL Championship. The top two teams in the Championship are promoted to the premier league with the third spot being battled for in playoff fashion by teams placed 3–6. The worst teams in the league are not rewarded with top draft picks. They are punished and sent down to a league where revenues are diminished and top players do not want to play.
In order to fully understand the extreme implications of a system like this, let's start with television revenue. Sky Sports and BT Sport inked a deal in 2015 that would allow them to retain the domestic television rights for the PL. Starting in the 2016–17 season, they were to pay about £7.9 billion over three years, a 70 percent increase over what they were paying prior. That number does not include international rights. Factoring that in, the PL will bring in about £4.3 billion per year over the next couple years. So, all that being said, the worst ranked PL team this past season got over £100 million just from television revenue. To put it in perspective, the average Championship club pulled in about £6.3 million.
Aston Villa is really feeling the effects of this. Having been in the top flight since their inauguration, they were relegated at the end of the 2015–16 season. That means they lost over £90 million in television revenue this past season. No big deal, right?
Last year after getting relegated, caretaker manager at the time, Eric Black, spoke on the misfortune.
"It's not been overnight but I think when the realization hits that it is official, it's a sad, sad dressing room," he said.
"It's difficult, certainly, under the circumstances. I thought they worked extremely hard for it in today's performance, but it's not today that it was confirmed. It's devastating really."
According to worldfootball.net, Aston Villa's total attendance numbers for the season dropped by over 5 percent while their average attendance dropped by about 22 percent. This includes home and away matches. Additionally, Aston Villa played in eight more games in the Championship. When you pile on this attendance drop with their loss in television revenue, they are in a pretty bad place. They also finished middle of the table in their first season in the Championship.
This year, Newcastle United, Brighton & Hove Albion, and Huddersfield Town will enter the top flight of English football and experience all of the positives that come with it. On the other hand, Hull City, Middlesbrough, and Sunderland will head down to the EFL Championship with hopes of returning to the PL one day, preferably soon.
Hull City and Middlesbrough are prime examples of how difficult it is to be promoted and remain in the top flight. Both teams were at the top of the Championship at the end of the 2015–16 season, granting them to the Premier League. After one short season, they have both been sent back down to the EFL Championship. Burnley, the third team that saw a promotion at the end of the 2015–16 season will remain in the PL for a second straight season after escaping the relegation zone by a mere six points. But, that just goes to show how much every point truly counts. This is their third time being promoted and their first after being relegated the year prior.
To look at the other, and more positive, side of this system, we will evaluate Burnley and their 2015–16 season in the Championship versus their 2016–17 season in the PL. Beginning with their attendance numbers, Burnley saw a massive jump once entering the premier league with their overall total attendance increasing by almost 35 percent and their average attendance per game increasing by a whopping 63 percent according to worldfootball.net. This insane jump was largely due to their away game attendance when they were visiting the likes of Manchester United, Chelsea, Arsenal and so on. That is one of the major benefits of playing in the top flight. Increased ticket prices or not, those numbers are going to boost revenue by a lot. All of those top teams also came to Burnley, which is again going to boost home attendance numbers and move more product inside the stadium.
On top of that, they began receiving PL television money as opposed to the EFL Championship television money that we discussed earlier. The more money Burnley has, and the more quality players they can acquire, will result in a longer stint in the PL, which is exactly what every team dreams of.
Now, even after mentioning everything I have, I would be crazy not to include the team that did the unthinkable: Leicester City. I am sure most, if not all, have heard about this fairy tale in one form or another. This team was an absolute anomaly amongst money giants like Manchester United, Chelsea, and so on.
After being promoted to the PL in 2014–15 for the first time in 10 years, they finished just four spots out of the relegation zone. However, what came next season shocked the world. Starting the 2015–16 season as 5,000–1 outsiders to the title, Leicester City won the PL in dramatic fashion. This title win granted them a large sum of money (a whopping £93 million) as well as a birth into the UEFA Champions League, resulting in another huge revenue boost via prize winnings, television deals, sponsors, attendance, merchandise, etc.
https://frontofficesports.com/barcelona-madrid-el-clasico-miami-soccer-futbol-messi-rinaldo-66ae1582ffea
As far as prize winnings and television money go, Leicester brought in nearly £90 million, which is more money than any English team has brought in before them. Making it to the quarterfinals of the competition saw them win £27.6 million. Additionally, half of the English country's TV pool is distributed to clubs based on where they placed in their domestic league the previous season.
The other half is based on how deep they made it into the Champions League. So, a PL championship and a quarterfinal fall out granted Leicester City a huge sum of money at seasons end. With the talent they have along with the money they have been able to accumulate, Leicester City looks to be in the PL for the long haul.
All of these examples paint a great picture of how impactful being promoted or relegated is to a team and its fan base. There are millions of dollars at stake, as well as the overall reputation of the club. The road to the Premier League is not an easy one, but it sure is worth it.
This type of open league is one that will probably never see the light of day in the MLS given that teams are limited by a salary cap. The only way this system works in a format where teams and owners are not limited to what they can spend. Additionally, this format creates far too much uncertainty for owners and would ultimately hinder the growth of soccer in the United States.
"I think this idea that we need to slavishly follow the norms of other leagues in other parts of the world is a little silly. This is still the United States. There's a tremendous amount that we can learn from those leagues, but that doesn't mean we have to follow everything that they do," explained Kevin Payne, US Club Soccer CEO/Executive Director. "The MLS system is designed to create a sustainable model for the long haul where every team has the opportunity, in any given year, to compete."
It appears as if Riccardo Silva of the media company MP & Silva, also co-owner of NASL team Miami FC, is strongly for a promotion/relegation system. He made a bid of $4 billion for the global media rights of the MLS, but with one contingent: the MLS must institute a promotion/relegation system that allows for the movement of second tier teams into the MLS and vice versa.
Without promotion and relegation, Silva's Miami FC will likely never play in the top flight. This bid was rejected by the MLS. While it is unclear whether or not this was a genuine offer, Silva was clearly looking to make a stance for the system and at the very least put the idea in the back of MLS executive's minds. Dan Courtemanche, an executive in the MLS, spoke on the issue.
"It is also important to note that since its inception, MLS, like the other North American leagues, has dealt directly with its domestic broadcast partners, rather than through agents or brokers," stated Dan Courtemanche, MLS EVP of Communications. "This ensures that the league and its partners can structure an agreement that addresses all elements, such as scheduling, marketing and digital distribution, that are required for a successful partnership."
Additionally, the MLS is contractually not allowed too discuss their media rights with other distributors. Given the nature of United States sports leagues, it is highly unlikely we see the implementation of a system like this. The model of the MLS is much more like the NFL than the PL. Why? Because NFL teams make money.
---
Front Office Sports is a leading multi-platform publication and industry resource that covers the intersection of business and sports.
Want to learn more, or have a story featured about you or your organization? Contact us today.