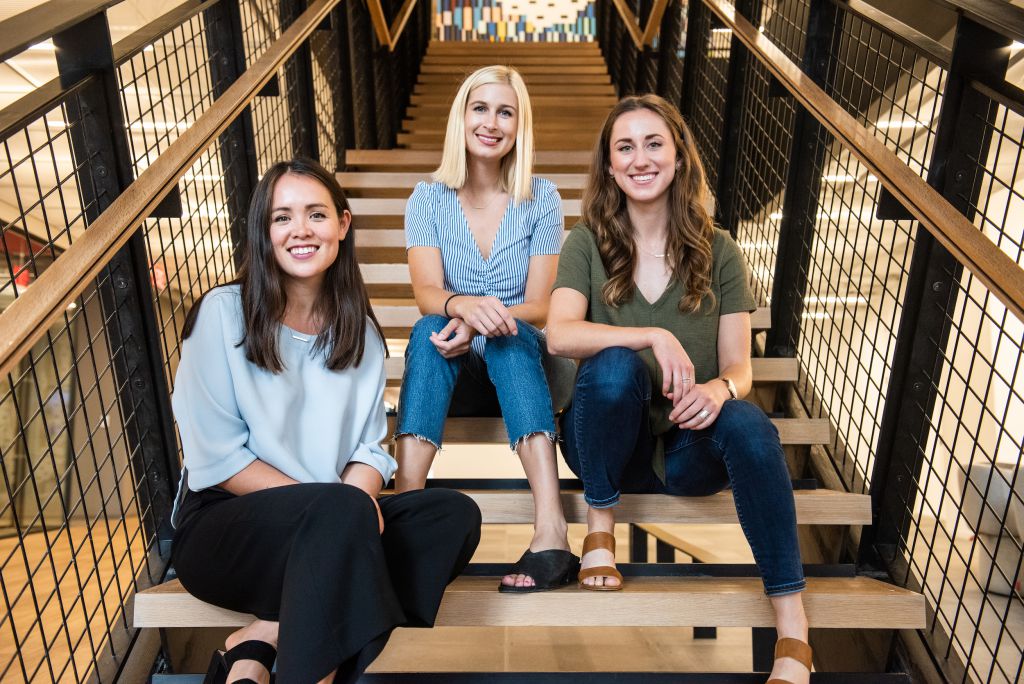 "We write in a way that it feels like you're receiving your sports content from your sports-obsessed best friend."
So says Jacie deHoop, one of the three co-founders of The GIST newsletter/sports site.
Her quote serves as the startup's mission statement – and challenge – as it seeks to expand from its native Canada into an overcrowded U.S. sports media market.
Starting a sports news site that can stand out from the crowd was no easy task in 2009 – never mind 2019.
But deHoop believes The GIST's fun, female voice will help cut through the noise.
Written for female sports fans by female sports fans, this is not another site aiming to hit college-age boys, or a stats-heavy startup for analytics seekers.
Instead, it's more experiential. The GIST's free, twice-weekly newsletter seeks to provide women with a quick and easy way to learn what they need to know about the sports world. Without that context, many women feel like sports is an intimidating boy's club.
The new company's goal: create a dedicated and loyal community of GISTER-ers, who faithfully read the newsletter and commune in person at live events.
"The GIST is both a content experience and a community that is by women and for women," said deHoop. "We offer a real female perspective and a real female voice that we found was missing in the sports landscape."
The GIST covers both male and female athletics, but it naturally puts a strong focus on women's sports. That's reflected in its motto: "Leveling The Playing Field."
The online media company was created after a girls night out between friends deHoop, Ellen Hyslop and Roslyn McLarty, according to the Toronto Star.
Over takeout and a bottle of wine, the trio discussed the state of the Toronto Maple Leafs.
They decided there was an opening for a sports site aimed at women and casual sports fans. The new site was born. They worked nights and weekends on their creation.
Eventually, the trio all left their regular jobs to work full-time on The GIST. They formally launched in July, 2018. Their lofty goal: become the go-to site for sports for women.
The GIST started with local newsletters for Toronto and Ottawa. Then they launched Canada-wide and U.S.-wide newsletters. Last month, they launched their first U.S. city-specific newsletter for Philadelphia. Now they're planning city-specific newsletters for Boston, Chicago and New York. The GIST hopes to have six U.S. newsletters up and running by the end of 2020.
From an initial 500 readers, it has grown to 50,000 subscribers/social media followers across North America.
The GIST has "very aggressive" growth goals for next year, deHoop said. "It will largely depend on funding. We're hoping to be pretty big by the end of 2020."
The startup serves its readers several ways: there's the twice-weekly newsletter, in-depth interviews with female pro athletes, and "deep dive" features into hot topics such as serial child molester Larry Nassar, the NFL player protests for social justice and mental health problems in sports.
Plus, "GIST U" guides to various sports for more casual fans who want to quickly come up to speed.
There are live community events, such as in-person viewing parties for the Stanley Cup Playoffs, Super Bowl and World Cup.
The startup has also enlisted a team of "GIST influencers," including Rosie MacLennan, a two-time Olympic gold medalist, Sharon Fichman, a doubles tennis player and Natalie Spooner, a well-known Canadian hockey star. 
The GIST is not alone in seeing a business opportunity among sports fans. Yes, the digital sports media market is already overcrowded with ESPN, Bleacher Report, The Athletic and others. But brands with a voice feel they can still break through.
Take the Axios Sports newsletter, founded by Kendall Baker in 2017.
Started as an independent site called Sports Internet, Baker grew it to 11,000 subscribers. Since Axios officially took over in January, it has exploded to over 100,000 subscribers.
That's been part of a push by Axios across all its newsletters, which it has grown from 375,000 subscribers in December 2018 to more than 725,000 today.
The company's various sports, politics and media newsletters have an "open rate" of 40% vs. the industry average of 17.58%, according to Sailthru.
Co-Founder and President Roy Schwartz said in a statement that the company sees a "viable market for a sports newsletter."
"Industry professionals and sports fans alike are craving smart, efficient content that gets them caught up on the stats, news and storylines that matter in sports," he said.
READ MORE: House Of Highlights Founder Omar Raja To Leave Bleacher Report
Aside from the digital revolution, the rapid rise of female sports fans has been one of the most transformative shifts in the sports marketing landscape over the last 50 years, according to Nielsen.
Across 24 countries in the Americas, Europe and Asia, nearly half of women say they are interested, or very interested, in sports compared to 69% of men. The female audience for sports such as tennis and the Olympics is often bigger than the male audience.
"We now see the impact of a second generation of young women growing up with a much higher chance of developing an interest in sports, and female sporting celebrities providing role models who are closing the gap with non-sport celebrities and their male counterparts," said Nielsen in its Women and Sport study.
READ MORE: 80 Years Ago Today, NBC Televised NFL Game For First Time
The co-founders of The GIST are very familiar with that Nielsen research; deHoop sees the proof of it every day.
"Girls are growing up with Serena Williams and Megan Rapinoe as their role models. We're really at the beginning of a real change in times where women's sports are more at the forefront," she said.