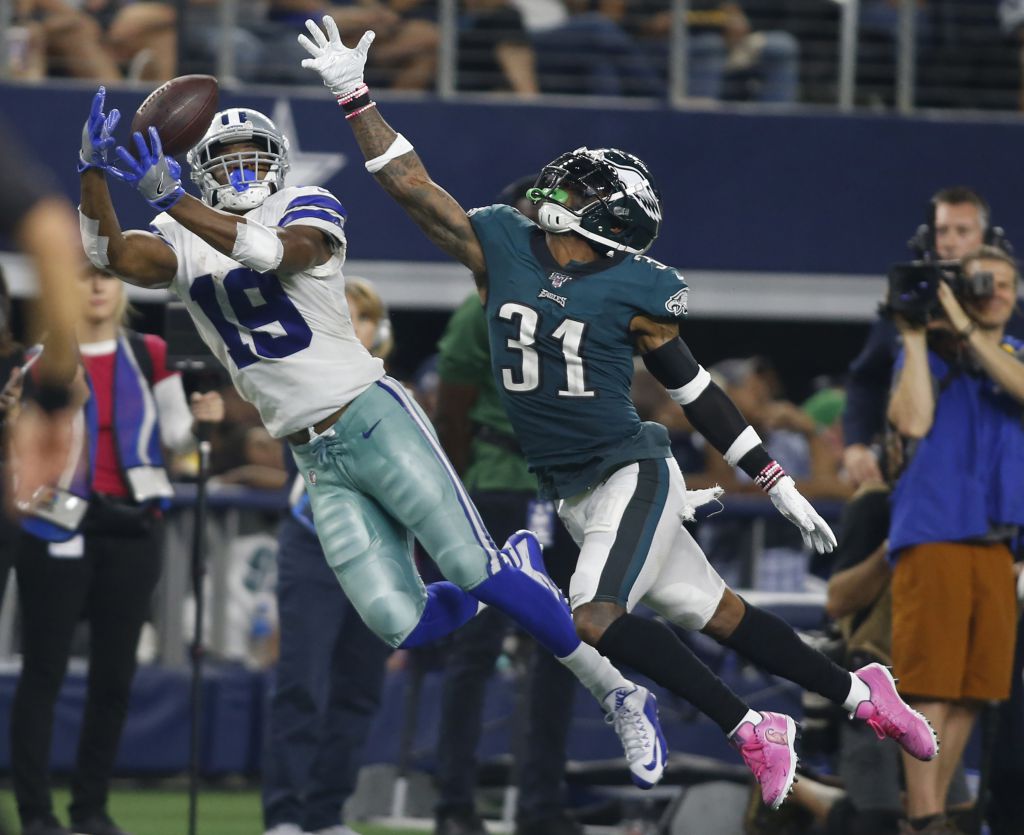 Exactly 80 years ago today, the most powerful TV sports property was born during a game featuring a team that no longer exists – playing in a stadium lost to sports history.
On October 22, 1939, NBC televised the first NFL football game between two losing squads, the Brooklyn Dodgers and Philadelphia Eagles, at Brooklyn's Ebbets Field.
No, not Jackie Robinson's famous Boys of Summer. But the football version of the Dodgers. Play-by-play announcer Allen "Skip" Walz called the Dodgers 23-14 win over the Eagles, before a crowd of 13,050.
As NBC's Al Michaels and Cris Collinsworth noted during the Cowboys 37-10 Sunday Night Football win over those same Eagles, that first NFL experimental telecast was a bare-bones operation.
Including Walz, NBC employed a crew of eight to televise the game on the network's experimental station W2XBS.
Two "iconoscope" cameras captured the action in fuzzy, black and white images. One camera was placed around the 40-yard line; another in the mezzanine section of the old ballpark. Nobody knew what the "big trailer thing" (forerunner of today's ubiquitous TV trucks), was as it sat parked on Flatbush Avenue.
"The game went to a 1,000 homes in New York City," noted Michaels. Others watched inside the RCA Pavilion at the World's Fair in New York.
As Walz recalled later, he was flying blind. Instant replay hadn't been invented. Nor could Walz rely on the spotters, high-tech visual aids, screens and monitors used today. The cameramen gamely tried to follow his commentary. As the game wore on, the NBC crew lost their light source: the sun.
"It was a cloudy day, when the sun crept behind the stadium there wasn't enough light for the cameras," recalled Walz, according to the Pro Football Hall of Fame. "The picture would get darker and darker, and eventually it would go completely blank, and we'd revert to a radio broadcast."
As for the Dodgers football team? They struggled on until 1945, when they became the Tigers. Iconic Ebbets Field fell to the wrecking ball in 1960.
The Eagles were more successful. They won NFL titles in 1948, 1949 and 1960 and their first Super Bowl title in 2018. As Eagles Encyclopedia noted: History was made that day. But barely anyone bothered to notice.
Only two decades later, NBC's nationally televised 1958 NFL Championship Game between the New York Giants and Baltimore Colts was hailed as "The Greatest Game Ever Played." And the NFL was launched on a rocket ride to overtake baseball as America's most popular sport.
Fast-forward to the present and the NFL is unchallenged in TV land. Pro football game telecasts are not only the most-watched sporting events, they're the most-watched TV shows in the country, period.
Unlike that day at Ebbets Field, today's game crews typically require 150-200 employees and 12 to 20 cameras for a regular season game, according to NFL football operations. NFL owners approved instant replay in 1986, dumped it in 1992, brought it back again in 1999.
As Mike Lombardi, the ex-NFL executive turned writer for The Athletic, put it to Front Office Sports on Monday, "The one marriage that was truly made in heaven: NFL and TV."
If the NFL could wave a foam 'We're No. 1′ finger at TV networks they'd do it. Because live NFL game telecasts blow away all other sports and TV formats, including Hollywood dramas, sit-coms and reality shows.
Take Sunday night's Cowboys-Eagles telecast on NBC. It was the most-watched Week 7 Sunday Night Football telecast in five years, averaging 22.0 million viewers across NBC TV, NBC Sports Digital and NFL Digital platforms.
That's up 35% from 16.3 million for last season's comparable Kansas City Chiefs-Cincinnati Bengals game.
To put that 22 million into perspective, that's more viewers for a regular season NFL game than the 20.5 million average aggregate viewers in the U.S. and Canada for the 2019 NBA Finals between the Toronto Raptors and Golden State Warriors.
Since the 2019 regular season kicked off September 5, NFL games have accounted for all 25 of the Top 25 shows on TV. The most-watched game: Fox Sports' telecast of Cowboys vs. Packers in Week 5, which averaged 24.9 million viewers.
In 2018, NFL programming generated 15 of the Top 20 Most-Watched TV shows. The Super Bowl, as usual, was No. 1, with Super Bowl 52 between the Eagles and New England Patriots averaging 103.5 million viewers.
NBC's Sunday Night Football ranked as the No. 1 primetime show for a record eighth straight year in 2018. The previous record? Try six years in a row for American Idol; five for The Cosby Show, Cheers and All in the Family; and four for Gunsmoke.
One of the keys to the NFL TV success has always been its embrace of free broadcast TV, according to Brian Rolapp, the league's chief media and business officer.
READ MORE: Anchored By Kirk Cousins Show, Vikings See Podcasting Growth
While other sports like boxing or horse racing put themselves behind pay-per-view or cable TV paywalls, the NFL stuck to free broadcast TV. The strategy has paid off.
"Our entire media model is based on reach. It's been that way for decades. I think that what separates us from most sports is we look for media strategies that will get our games in as many households as possible," said Rolapp.
"That has traditionally been broadcast television. And broadcast television is still very powerful. If you want to aggregate 20, 25 million people at any given time, like our 4:25 (p.m. Sunday afternoon game telecasts) do, broadcast TV is still the best way to do that. "
READ MORE: NFL Exec: Love Seeing 'Woke' NBA Hoisted By Own Petard
The late Frank Gifford used to say football was the most perfect game ever invented for television. Here was a game played on a rectangular field, noted the Monday Night Football announcer, that fit perfectly inside your TV set.
Viewers were able to see nearly every player on the field at the same time before the snap of the ball, said Gifford. The frequent stoppages and whistles provided natural breaks for TV commercials.
That's why CBS Sports chairman Sean McManus had a simple answer for financial analysts when he was asked what the Tiffany network would do to retain NFL TV rights? Whatever it takes, answered McManus.