It was one of the longest time pars ever set.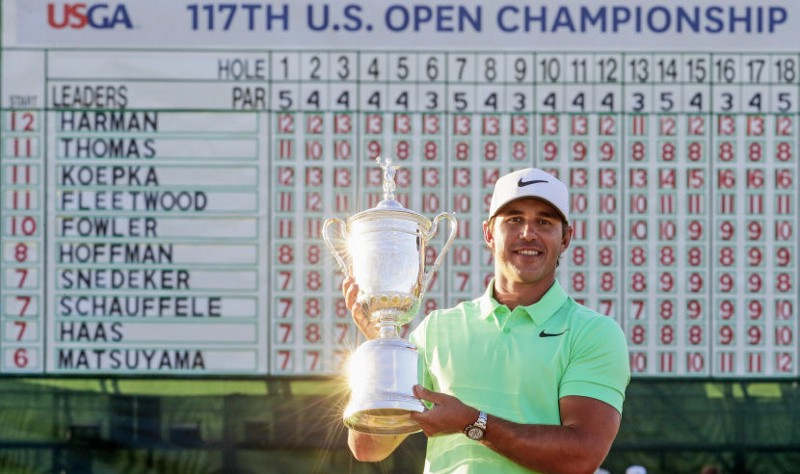 The U.S. Open is arguably the best golf tournament of the year. All facets of a player's game are tested and any weakness will be exposed. The United States Golf Association (USGA), who runs the tournament, is quoted as saying their target winning score is even par.
When winners' scores during a regular season TOUR event can sometimes eclipse 20-under, the USGA offers the ultimate test.
Because the stakes are extremely high at the U.S. Open — after all, winning the tournament is a life-changing experience (not to mention the winner also gets extra FedEx Cup points, world ranking points and a hefty check worth approximately $2,000,000+), players do everything they can to succeed.
But these guys are used to playing for high stakes every week, and experience major championship pressure four times a year. What made the 2017 U.S. Open unique was its venue.
https://frontofficesports.com/from-tennis-to-golf-how-one-entrepreneur-is-aiming-to-revolutionize-an-industry-e9bf8d9a9aaa
For the first time in history, the U.S. Open was played in Wisconsin, about 25 miles northwest of Milwaukee at Erin Hills. Very few players had seen the new, long and quirky golf course in competition therefore, U.S. Open competitors took their time — maybe too much time.
Prior to this year's tournament, the USGA set its time par (the time it should take for each group to complete their round) for the first two rounds at 4:52. This is one of the longest allotted time pars the USGA has ever set. The organization did this for a number of reasons, including the new venue, long walks between greens and tees, and a difficult, undulating terrain.
After Rounds One and Two, the average round took between 5:15–5:30. Although it was not the six hour rounds as some had predicted, it is still a long time to be on the course.
If the USGA wants to reconsider the importance of pace of play, one consideration the organization could make is to allow distance measuring devices.
To the golf historian and purist, even the concept of allowing a rangefinder in competition is blasphemous. However, if the USGA allowed rangefinders in competition, two positives could happen.
First, pace of play may improve. According to a Bushnell study conducted in 2013, pace of play for low handicap golfers sped up by a whopping 30 minutes per round, and for high handicappers a still respectable 17 minutes per round. A second potential positive if the USGA allowed distance measuring devices may be increased quality of play. Every player would quickly know exactly how far they have to the pin, hazard carry distances and other important data without the need to constantly check yardage books or pin sheets.
https://frontofficesports.com/from-tennis-to-golf-how-one-entrepreneur-is-aiming-to-revolutionize-an-industry-e9bf8d9a9aaa
Currently, nearly every amateur event allows the use of distance measuring devices, and the PGA TOUR will be testing the devices at nine events on three mini-tours this summer. The impact of allowing distance measuring devices is yet to be seen, but it is worth at least taking a second look.
Pace of play has long been an issue on the professional golf stage, and it was highlighted at this week's U.S. Open. Meaningful steps should be considered to speed up the game, and it seems the USGA and PGA TOUR are headed in the right direction.
---
Front Office Sports is a leading multi-platform publication and industry resource that covers the intersection of business and sports.
Want to learn more, or have a story featured about you or your organization? Contact us today.
If you liked this, click the???? below so other people will see this here on Medium.